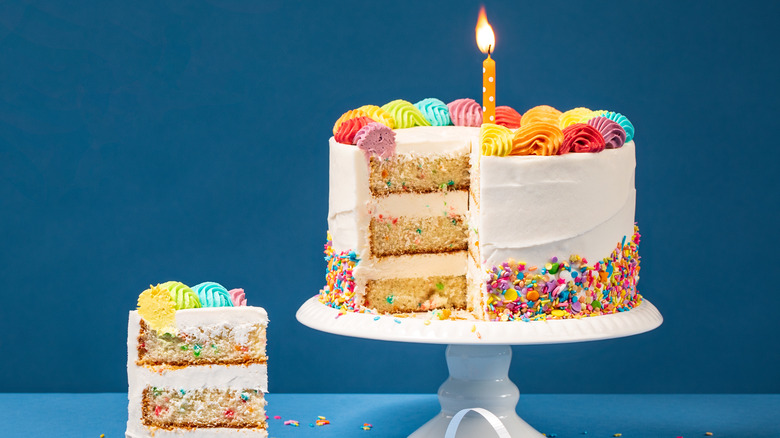 Funfetti cake is wildly popular and deeply nostalgic for just about everyone who experienced some part of their childhood in the 1990s. The sprinkle-filled cake mixes were created by Pillsbury in 1989, and according to the New York Times, the reemergence in popularity and artistry of the beloved children's cake is due in no small part to the "funfetti generation" (essentially, millennials) growing up and recreating their childhood favorite. Even pastry chef Christina Tossi of Milk Bar and MasterChef fame has a crowd-pleasing naked birthday cake rendition of the dessert.
While many people casually call these cakes funfetti cakes, there's legally only one "funfetti" cake — which is the original made by Pillsbury. All of the other cake mixes are technically "confetti" or "rainbow birthday cake" cake mixes or some other colorful iteration to express a yellow cake that's been baked with sprinkles in the batter, and served at a birthday party.
In the 30+ years since the first funfetti cake made its appearance, almost every major brand has created a version of it. There have also been new developments, including additional flavors, cake styles, and flour mixes to appeal to a broader range of cake lovers. To help you choose which confetti cake mix is the best, we've tasted and ranked 13 of the most prominent and readily available mixes on the market. Read on to see how your favorite stacks up.
13. Great Value Deluxe Moist Confetti White Cake Mix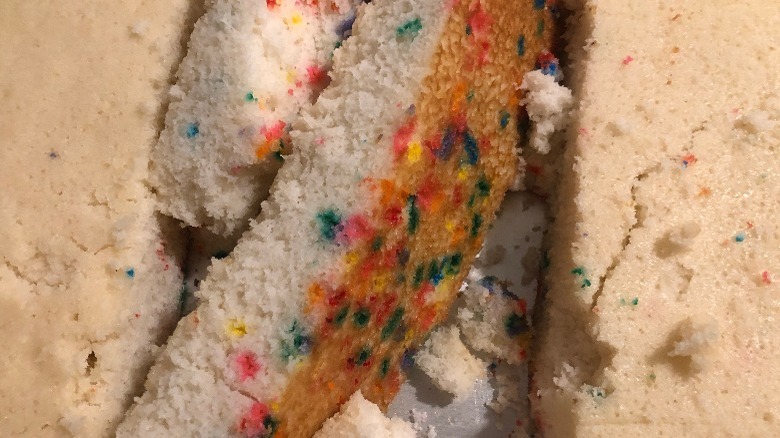 Ninety-four cents seems like an impossibly good price for just about anything, much less a box of cake mix. Granted, the price of the Great Value cake mix may vary depending on where you purchase it, and the additional egg whites and oil are going to cost you a little extra, but this is still the most economically priced mix in this lineup. We were hoping that this would be the best funfetti mix on the market, but were painfully disappointed by the outcome instead.
The first thing you'll notice about this particular mix is that it's technically a "white cake" mix. White cake mixes typically do not include egg yolks or naturally-colored vanilla — the two major ingredients that give yellow vanilla birthday cake that classic yellow color and rich buttery and vanilla taste. White cake mixes are typically reserved for occasions like all-white weddings, where yellow cake is a birthday party classic. So it seems a little odd to us that we're making a festive birthday-style cake with a more formal and arguably less delicious cake style.
The cake itself baked up spongy soft and lightly sweet, like a denser angel food cake. Unfortunately, all of the sprinkles sunk to the bottom making it a white sheet cake with sprinkles clumped at the base. Not a beautiful or appetizing result. The cake itself would definitely need to be slathered in frosting to make up for the bummer of a cake underneath.
12. Arrowhead Mills, Oat Flour Confetti Cake Mix
With a larger selection of gluten-free cake mixes on the market, there's also a larger variety of mix ingredients available. Where some mixes lean heavily on rice flour or garbanzo flour, the Arrowhead Mills Confetti Cake Mix is made predominantly with oat flour. The Arrowhead cake mix is a relative newcomer to the market, only hitting store shelves in early 2021, according to iHerb. Even though it's not a wheat-based mix, it's got a comparable calorie count and nutrition information as the typical boxed mixes.
The mix requires the same additions as the other boxed mixes: water, oil, and eggs. But there's still a difference when it comes to some gluten-free mixes, either in texture or taste. One reviewer on iHerb notes, "It's not terrible, but not great either. The texture is more coarse/crumbly than a regular cake. The sprinkles are fun and overall the flavor is … fine." Since this particular boxed mix costs a little more than many of the other mixes available, we'd prefer it if it was better than fine — and there are several other gluten-free options to choose from.
11. Betty Crocker Rainbow Chip Cake Mug Treats
The prospect of having freshly baked cake in your hands in less than five minutes is hard to turn down. We can think of plenty of scenarios where a single-serving microwave cake could come in handy. They're great for college students, at work, or anywhere the microwave is the primary cooking equipment. Even if you've got an oven, there are times of year when the prospect of turning the oven on is stiflingly hot. Or maybe you just don't need a whole cake.
In a pinch, we think the Betty Crocker Rainbow Chip cakes will do for all of the very good reasons we've previously mentioned. Unfortunately, we thought it fell short of satisfying when it came to taste and texture. It only took a minute and 15 seconds for the cake to inflate in the microwave, which was amazing. The cake itself was nicely spongy, but it lacked the buttery and intense vanilla flavor of nostalgic birthday cake. The flecks of rainbow chips are festively dispersed through the cake and frosting which is, of course, the main attraction. The rainbow chip frosting is the same that Betty Crocker sells in tubs, just squeezed out over your warm cake — which is a little odd because the frosting then melts. But you should eat the cake before it cools entirely and dries out. Overall, these little microwave funfetti cakes are fine, but we'd take the sheet cake version over a single serving any day.
10. Duncan Hines Confetti Cake Mug Cakes with Vanilla Frosting
Not to miss a trend, Duncan Hines also creates individual servings of cakes you can quickly and easily "bake" in a coffee mug in your microwave, including a confetti cake option. Nothing really beats the convenience of stirring a little bit of water into a perfectly portioned about of cake mix and satisfying your sweet tooth.
This particular instant cake mix should be able to quickly give you the comforting birthday cake hit you're looking for. "The Confetti Cake is surprisingly good," writes Adam from The Impulsive Buy. "I got notes of a strong vanilla and buttercream element throughout the cake, which was light and fluffy yet still moist. The little bursts of sprinkled sweetness provide a great touch, especially when you consider that you don't have to eat them at a 10-year-old's birthday party."
This is especially good news if you don't have any children with upcoming birthdays readily available. The cake is yummy whether or not your enjoying it with the frosting. The only drawback is that the texture of the cake may cook up a little gritty, or taste like uncooked flour. Not the end of the world, but not exactly ideal either.
9. Pillsbury Chocolate Funfetti Cake & Cupcake Mix with Candy Bits
So you love the idea of funfetti cakes, but deep down you really prefer chocolate cake over yellow cake? Well, the pioneering masterminds over at Pillsbury realized that they could appeal to a wider audience by bringing the funfetti and chocolate cakes together, creating a chocolate funfetti cake. It all sounds amazing — in theory. But in practice, it's just chocolate cake with some confusing specks in it. Maybe it's because funfetti is an unconventional addition to chocolate cake, that makes it unexpected when slicing into the layers. Maybe it's because some of the sprinkles blend into the cake and the ones you can actually see look oily and out of place. But when it comes down to it, we didn't experience the same excitement and joy when slicing into the chocolate version of the funfetti cake that we did when slicing open the traditional funfetti cake.
For what it's worth. It's a classic chocolate cake. The chocolate flavor is sweet and delicious. It's not overwhelmingly bitter or extra-fudgy, but a perfectly fluffy and moist chocolate cake that should appeal to just about anyone. Either chocolate or vanilla frosting would go well on it. But maybe skip the funfetti and just make the chocolate cake of your dreams and cover it in a healthy amount of sprinkles for a similar festive effect — without making people think you accidentally spilled something that doesn't belong into the cake mix.
8. Sur La Table Very Vanilla Sprinkle Cake
This is a boxed cake mix for people who want to make a cake from scratch, but maybe don't want to let go of the box quite yet. Formulated and produced for Sur La Table by the baking geniuses and cookbook authors at Baked NYC, this is a hands-on cake mix that requires more than the typical water, oil, and eggs to bring it together. You're really only provided with a flour and sugar mix (that includes sprinkles of course), and it's up to you to provide butter, shortening, eggs, egg whites, milk, and buttermilk for both the cake and the frosting. In the end, you'll have enough cake and frosting for a two-layered eight or nine-inch round cake.
Those who've purchased the cake mix have said the mix makes a nice and fluffy cake, that's plenty moist and packed with vanilla, just as the name implies. It's that strong vanilla flavor, married with a buttery yellow cake that sparks so much nostalgia. While we think this mix might be great for someone who's a more enthusiastic baker, the $12 price point seems a bit steep for a boxed mix that you still have to add so many other ingredients in order to actually make a cake. Since this particular cake requires more of a time and ingredient investment, we'd suggest just going at it completely from scratch.
7. Betty Crocker Confetti Angel Food Cake Mix
If you've ever had a pillowy-soft angel food cake before, you know how heavenly they can be. If you've ever tried making one before, you know how fickle they can be. The cakes have the added benefit of being fat-free and typically aren't served with frosting (but sometimes whipped cream of fresh meringue). Don't let that fool you though, according to the nutrition information, they pack a similar amount of calories as a typical piece of cake.
Now, angel food cake is probably not going to knock any socks off at a kid's birthday party. And if you're a funfetti classicist, you might not be sold on the idea either. But if you're an angel food cake fan first, and a funfetti cake fan second, this mix is going to probably save you a lot of struggle. With that said, most angel food cakes need to be made pretty close to when you'll be enjoying them. Since they're so nicely aerated and have no fat to hold moisture, they tend to dry out a little faster than traditional oil-based yellow cakes.
6. Betty Crocker Super Moist Delights Rainbow Chip Cake Mix
The closer we get to the top of the list, the more the cake mixes have in common. If you aren't tasting them all side-by-side, there's a good chance you won't be able to tell one from the other. Luckily, that's just what we did, looking for the subtle differences in each cake. Betty Crocker is undoubtedly one of the major players on the boxed mix shelves. The box claims that "There's pudding in the mix!", although we couldn't decipher which ingredients were considered pudding and there was no additional pudding pouch in the box.
The Betty Crocker confetti cake mix had a nice rise, baked evenly, and produced a lovely light golden brown crust. The cake itself is tender and sweet, and studded with plenty of sprinkles. But overall, it's kind of bland. Sure, it's a boxed cake mix and it's unreasonable to expect a lot of complexity when simplicity is the name of the game here. But even so, it's all texture with not much flavor. Some frosting or jam would certainly give it a little bit of a boost. If you're serving a group of kids who don't like a lot of strong flavors to begin with, this might be just the cake for you.
5. Pillsbury Funfetti Gluten Free Cake Mix
Not only did Pillsbury pioneer the original funfetti cake mix, but they've also released an equally extensive gluten-free baked goods line over the last several years — including a gluten free version of the famous funfetti cake mix, among others. When it comes to gluten-free baking, it's nice to have the same simple and easily accessible options as traditional wheat-based baked goods.
"The directions for the cupcakes were very easy to follow and typical of most boxed cake mixes. It calls for water, oil and eggs, baked for around 20 minutes. Nothing out of the ordinary, which is exactly what I was looking for," writes Rachel Wadsworth of All Kinds of Yumm. It's not the most elaborate or complex cake mix, but that's entirely the point. It comes together just as easily as the traditional version, and according to those who have enjoyed it, tastes just like the original. So don't fret about serving these gluten-free cupcakes at your next birthday party, no one will even notice the difference until you tell them.
4. Pillsbury Funfetti Cake Mix
The original. You'd think that since Pillsbury has the longest-running funfetti cake mix on the market with the actual trademark on the name "Funfetti" that this would be the Holy Grail of funfetti cakes — and it's pretty high up there, all things considered. It hits all the right notes: ultimate "birthday cake" flavor, moist, soft and spongy, sweet, and beautifully speckled with sprinkles. When we baked it in a 9 x13-inch pan, the cake rose nicely and evenly, only slightly crisp around the edges and sprinkles evenly distributed throughout the cake.
But every time we'd come back to give it one more taste, or compare it to another cake, something just tasted off. After eating nearly the entire cake (without frosting, mind you) we noticed that this particular funfetti cake has an ever-so-mild chemical aftertaste that was making it slightly less appealing than some of the other top-rated cake mixes. In an attempt to figure out what that flavor might be, we took a look at the ingredients list on the box, but were immediately lost when trying to figure out what many of the ingredients on the dense list actually are. So we may never know exactly what's off-putting about this particular mix. With that said, if this was the cake that was available, we'd still bake it and eat it because it's funfetti cake. The funfetti cake that launched a sprinkle revolution.
3. King Arthur Baking Company Cake Mix, Gluten-Free, Confetti
It doesn't matter if you're gluten intolerant or not, you're going to enjoy this cake, which probably shouldn't be surprising given that it's been formulated by the baking masters over at the King Arthur Baking Company. We were especially impressed by how the crumb of the cake so closely resembles wheat-based cake crumb. The cake also bakes up nice and evenly, which will be great for those planning on turning it into a stacked layer cake. The sprinkles are the larger round confetti version which are slightly different than the rainbow sprinkles in other mixes but perform exactly the same way.
If we were going to be picky about anything, it would be that this cake is ever so slightly denser and less moist, but only by degrees. It's still incredibly satisfying, with an almost professionally baked quality to it, and no peculiar tastes or textures. Regardless of your gluten needs, this cake is going to hit the spot.
2. Annie's Organic Confetti Cake Baking Mix
If you're anything like us, you've baked enough funfetti cakes and can recognize the smell of the cake mix as it comes out of the bag. Typically it's a sweet smell, with a hint of "birthday cake" flavoring. But Annie's cake mix has a noticeably different smell, that actually smells more like flour and sugar. You'll also immediately notice that while it's got a similar quantity of sprinkles in the mix, the colors aren't the same vibrant rainbow colors you'll find in other cake mixes. Instead, the sprinkles are more subdued colors, with an almost pastel palette. You won't find any Red 40 or Blue 2 food colorings in this box. Instead, the sprinkles are naturally dyed with organic turmeric, annatto, carrot juice, elderberry juice, red cabbage juice, and red radish juice. Don't worry, they don't taste like carrots and radishes.
While this cake mix requires one more egg than most of the other mixes, the add-ins are the same: eggs, water, and oil. It takes about the same amount of time to bake and produces the same quantity of cake. We were impressed with how high and evenly the cake baked, and were pleased with the almost homemade texture of the cake. The flavor of the cake is a little less sweet than some of the other boxed mixes, but aside from the color of the sprinkles, we don't think that anyone would be able to tell that this cake is organic.
1. Duncan Hines Confetti Cake Mix
The very first taste of the Duncan Hines confetti cake warm and straight from the oven had us immediately craving more. But we showed some restraint and let it cool off before tasting it again … and again. And again with frosting for good measure. And before we knew it, the whole cake was gone, along with our meal planning for the day. We liked it warm and fresh, and cold from the fridge the day after it was baked. We liked it without frosting, and of course, with some funfetti frosting.
Now, it's not so dramatically different than the mixes that came in a close second, third, and even fourth on our list. But everything comes together delightfully with the Duncan Hines confetti cake mix. It's ultra tender and moist, even 24 hours after baking. We thought that was interesting, given that it has slightly less oil in it than some of the other mixes. It's got that great vanilla yellow cake flavor that taps into all of your favorite birthday cake memories, and plenty of sprinkles studded throughout the cake to make it plenty festive. It bakes up evenly for smooth stacking if you're planning on making a layer cake instead of a sheet cake, and will keep its integrity if you need to make it in advance. Count yourself lucky if there are any leftovers — from first-hand experience, it's great for breakfast too.