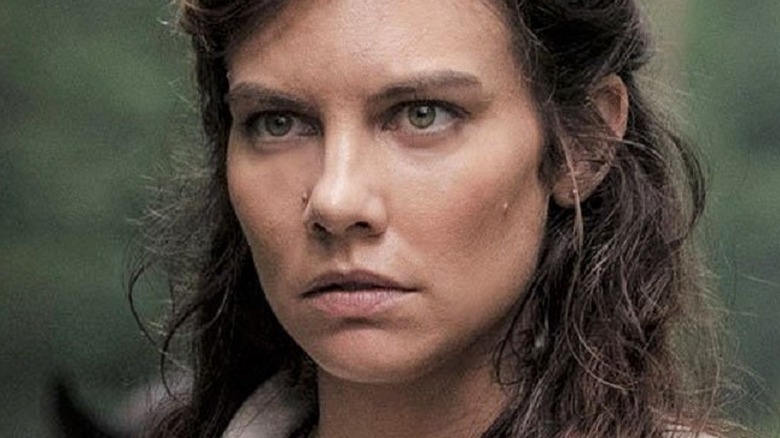 We tend to think of TV and film productions as enjoying bottomless budgets. Of course, you wouldn't be wrong to think there are mountains of money thrown at big and small screen productions, but at the end of the day, entertainment coffers are still finite. Otherwise, every top-billed Hollywood star would be in every single movie (instead of just Dwayne Johnson being in every single movie), and Weta Digital would be there to whip up something like their Mumakil vs. Rohirrim battle scene for every screen of every theater.
And sometimes, actors find themselves with their noses right up against the limits of what the market will bear. They want more, they say so, and then all of a sudden, a movie fails to be made, a TV show ends, or everything goes as planned … just without a beloved character. In some cases, you could say the actors are greedy, while in others, they deserve every penny they're asking for and more. And in extreme cases, they ask for so much that it seems like they're pushing the envelope because they want to leave the role. For whatever reason, all of the following actors asked for a bigger slice and lost the whole pie because of it.
Hilary Duff found herself between her mom and Disney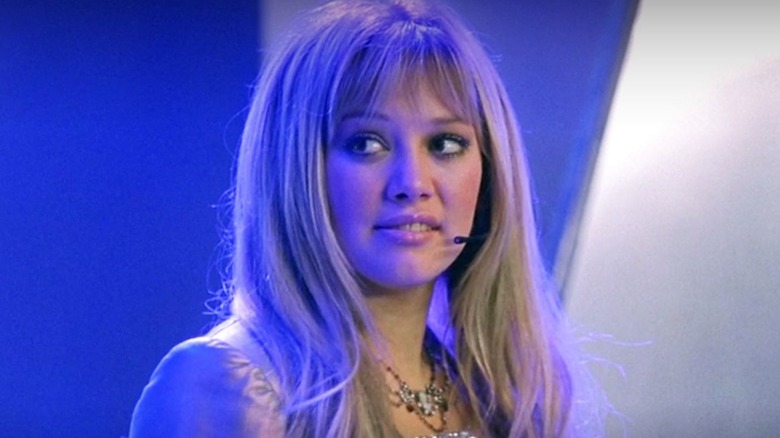 For three years, the teen comedy "Lizzie McGuire" ruled the Disney Channel roost, with Hilary Duff in the titular role.
Unfortunately, the success of 2003's "The Lizzie McGuire Movie" marked the beginning of the end for the fictional teen sweetheart. That same year, Entertainment Weekly spoke to Susan Duff — Hilary Duff's mother and manager — who said Disney ended negotiations for a film sequel when she asked for a promised bonus to be paid immediately. She also told EW that Disney was trying to shortchange her daughter to continue on the "Lizzie McGuire" series — offering only $35,000 per episode even though they knew she was being offered six figures by outside parties. Both the TV series and the plans for a movie sequel ended.
In 2019, news broke that a revival series was being planned for Disney+, with Duff back in McGuire's shoes. But by the end of 2020, Duff told fans on her Instagram (via Deadline) that the planned series wouldn't happen. Earlier stories from The Hollywood Reporter and others said that the revival series — which would begin with McGuire as a 30-year-old — wasn't family friendly enough for Disney+ because of adult topics such as sex and infidelity being mentioned.
Kirstie Alley was lowballed out of her Star Trek role
When fans first saw 1982's "Star Trek II: The Wrath of Khan," they were likely confused for a couple of minutes. Instead of Captain Kirk (William Shatner) at the helm, the film opens with the young Starfleet officer Saavik commanding the crew of the Enterprise. This eventually proves to be a simulation, and we learn Saavik — a Vulcan played by Kirstie Alley in one of her first roles — is a trainee. But she leaves a deep impression in that first scene and throughout the rest of the film.
Saavik appears twice more in the film series … but without Alley. In 1984's "Star Trek III: The Search for Spock" and 1986's "Star Trek IV: The Voyage Home," it's Robin Curtis who steps into the role, and then the character disappears forever. So, what happened to the original Saavik?
According to Alley in her 2016 interview with StarTrek.com, it wasn't so much that she asked for more but that she was offered less. "That never made sense to me," Alley said. "Like, you're not paying as much as the first one, and it's a bigger role?" She added that in spite of her asking "sort of gently" the reason for the lowball, she never got an answer and was replaced without explanation.
Crispin Glover's absence from the Back to the Future sequels led to a lawsuit
In 1985's "Back to the Future," Crispin Glover played Marty McFly's dad, George McFly. However, the star was not only absent for 1989's "Back to the Future Part II" and its sequel — except for shots recycled from the first film — but his disappearance indirectly led to a lawsuit.
The Hollywood Reporter, among others, said that Glover was unhappy with the script for "Back to the Future Part II" and demanded the same salary as lead Michael J. Fox — $1 million — to return. In 2012, Glover told The A.V. Club this was a lie and that he was offered $150,000 for the sequel, which he claimed was around half the amount offered to Lea Thompson and Tom Wilson, who had similar sized roles. He also said when he tried to negotiate, the offer was actually decreased by $25,000. The following year on "Opie & Anthony," Glover said he did express issues with the script and implied that the studio's supposedly low offer was punishment for his questions.
With Glover out, Jeffrey Weissman stepped into the role, and he was outfitted with a mold made from Glover's face — a mold that turned out to be much more expensive than the filmmakers expected. In 1990, Glover sued the producers of "Back to the Future Part II" for using his likeness without permission. The producers settled for a reported $760,000.
Laurence Fishburne got paid for a movie he wasn't in
In 1988's "Die Hard" and its 1990 sequel, Bruce Willis' John McClane takes out the bad guys pretty much on his own. But in 1995's "Die Hard with a Vengeance," he gets a sidekick in the form of electrician Zeus Carver. In a 2020 episode of "The Rewatchables" podcast, Quentin Tarantino said the part of Carver was written specifically with Laurence Fishburne in mind, adding that Fishburne — believing he had the producers over the proverbial barrel — demanded a $1 million payday.
But then came the 1994 Cannes Film Festival, where producer Andy Vajna was impressed with Samuel L. Jackson's performance in "Pulp Fiction." As anyone who's seen "Die Hard with a Vengeance" knows, Jackson took the part of Carver, and the producers escaped Fishburne's barrel. Or so they thought.
In July 1994, before "Die Hard with a Vengeance" made its way to theaters, Fishburne hit Vajna's production company, Cinergi, with a lawsuit for breach of contract. The lawsuit was settled three years later for $750,000 — a couple bucks shy of what Fishburne would've gotten if the producers had agreed to his initial asking price.
Bruce Willis tried to get an insane daily rate for The Expendables 3
The action star clown car that is the "Expendables" franchise boasts names like Sylvester Stallone, Arnold Schwarzenegger, Jet Li, Jean-Claude Van Damme, Jason Statham, and many more. Of course, starting with 1988's "Die Hard," Bruce Willis joined the ranks of actors best known for filling bad guys with bullets. And fittingly, Willis enjoys a cameo in 2010's "The Expendables," along with a larger role in the 2012 sequel "The Expendables 2."
But while most fans expected Willis to reprise the role of Church for 2014's "The Expendables 3," it wasn't to be. In August 2013, Sylvester Stallone excitably announced a major cast change on Twitter with, "WILLIS OUT … HARRISON FORD IN!!!! GREAT NEWS!!!!! Been waiting years for this!!!!"
By the following day, The Hollywood Reporter was claiming Willis' exit from the franchise was due to a huge paycheck demand. According to THR's source, "Willis was offered $3 million for four days of consecutive work," and he allegedly demanded a pay bump to $4 million — $1 million per day. The source added that Ford was cast within 72 hours of Willis' exit.
Marcus Chong made weird demands
Tank — played by Marcus Chong — is one of the few members of the Nebuchadnezzar crew to survive the events of 1999's "The Matrix." But unlike the other three survivors, Tank doesn't show up in either of the sequels, and the story of why swerves into bizarre territory.
The writer/director team of the Wachowskis wanted Chong to reprise the role of Tank, and sources differ on what he was offered. In Chong's own 45-minute YouTube documentary "The Marcus Chong Story," he says the Wachowskis offered him $250,000 to appear in 2003's "The Matrix Reloaded" and "The Matrix Revolutions." Other sources put the figure at $400,000. Regardless, neither amount was enough for Chong, who wanted $1 million. When the Wachowskis said no, Chong resorted to a strange negotiation strategy. Chong had a lawyer send a letter to the Wachowskis in which he asked either for $500,000 … or he would do the work for free. Apparently, the Wachowskis had enough because they chose option three and had Tank killed off-screen.
In the aftermath, Chong unsuccessfully sued the Wachowskis, their production company Eon, Warner Bros., and AOL Time Warner for breach of contract, slander, and fraud. He was also arrested for allegedly making threatening phone calls to the filmmakers.
Sean Connery need more dough to keep playing Bond
To this day, plenty of fans name the late Sir Sean Connery as their favorite actor who played the sexy spy James Bond. However, the producers who negotiated with Connery may have felt differently.
Connery's first turn as 007 came with 1962's "Dr. No," and he played the charming secret agent in four more feature films before demanding a lot more compensation. By the time Connery starred in 1967's "You Only Live Twice" — for which he was paid $750,000 plus a 25% share of merchandising — the actor was reportedly bored with playing the super spy and demanded $1 million to appear in the next Bond film, plus a percentage of the gross. Producers tried to use George Lazenby as a bargaining chip, but Connery didn't budge. And so, the producers said goodbye to Connery, and Lazenby made his one and only appearances as James Bond in 1969's "On Her Majesty's Secret Service."
According to the documentary "Becoming Bond" (via The Express), in spite of negative reviews for Lazenby's only Bond film, the actor said he was offered a contract for six more movies, which he turned down on his agent's advice. Without Lazenby, United Artists lured Connery back to the world of espionage with a $1.25 million offer for 1971's "Diamonds Are Forever."
Lauren Cohan left The Walking Dead … but not forever
Since the early second season of the hit zombie apocalypse drama "The Walking Dead," Maggie Rhee — played by Lauren Cohan — was a staple of the series, but in Season 9, Maggie left the relative safety of the Hilltop Colony to join up with a different band of survivors. At least, that was the narrative reason for her absence.
Behind the scenes, however, Cohan's contract renegotiations for Season 9 hadn't gone the way she'd hoped. Cohan refused to settle for less, and she was written out of the show and went on to star in the ABC action dramedy "Whiskey Cavalier." According to Cohan, in spite of early reports that her only concern was money, she already had one foot out the door before contract negotiations broke down. In a 2018 discussion with Andy Cohen on "Radio Andy," Cohan said she'd already been looking to explore "comedy and happier fare." Talking to EW, Cohan mused that "eight years is a long time to spend in one character."
Thankfully for Maggie fans, the character was written off but not killed off. And in October 2019, news broke that Cohan would be returning to "The Walking Dead" as a series regular for the eleventh and final season. In fact, Cohan showed up early in a recurring role toward the end of Season 10.
ABC may have made an example out of Suzanne Somers
In 1980, ABC's "Three's Company" was one of the most successful sitcoms on television. The story about two women and one man living together as roommates in a Santa Monica apartment was a hit, and Suzanne Somers — who played the voluptuous and ditzy Chrissy Snow — thought a pay raise was in order. However, her efforts ended with her getting booted off the show.
The Hollywood Reporter revisited the story of Somers' firing in 2015, saying that Somers was getting paid $30,000 per episode, while co-star John Ritter was bringing home $150,000. When Somers asked for more, ABC offered her a bump of $5,000 per episode, but the actress stood her ground and demanded the same amount Ritter was receiving.
After ABC refused Somers' demand, the actress missed the tapings for Season 5's third and fourth episodes and was soon fired. Before it happened, Somers' manager and husband, Alan Hamel, was allegedly warned. Earlier that year, ABC had bowed to pressure and given raises to Penny Marshall and Cindy Williams, who at the time were the leads of "Laverne & Shirley." Hamel said a friend with connections at ABC called and told him that — not wanting to spare any more big paydays to leading women — the network planned to make an example of Somers.
Terrence Howard was angry about leaving the MCU
When Marvel fans first met James "Rhodey" Rhodes — who would later become the Avenger known as War Machine — it was Terrence Howard playing the character. But in 2010's "Iron Man 2," it was Don Cheadle in the role, and Cheadle would continue to play Rhodey for the rest of the character's appearances in the Marvel Cinematic Universe.
Howard wasn't happy with his ousting from the MCU, and for a while, he was pretty brazen about letting people know about it. In 2013, on "Watch What Happens Live," Howard told Andy Cohen that when it came time to make "Iron Man 2," Marvel only wanted to pay him one-eighth of what they owed him. He also added that when he reached out to co-star Robert Downey Jr. for help, he was ghosted. Two years later, Howard told Rolling Stone he'd volunteered to take a $1 million pay cut to get Downey cast as Tony Stark in 2008's "Iron Man," though Marvel disagreed with Howard's story.
In 2017, Howard returned to "Watch What Happens Live" and said he and Downey were friends once more. He also claimed he was drunk when he'd appeared on the show in 2013 and blamed his inebriation for what he'd said. He stopped short, however, of saying his initial version of events was false.
Robert Duvall has no regrets about being absent from The Godfather: Part III
The first role that made critics take real notice of Robert Duvall was that of Tom Hagen — the shrewd but overcautious consigliere of the Corleone crime family — in 1972's "The Godfather." Duvall earned his first Academy Award nomination for his work in the film, and he reprised the role in 1974's "The Godfather: Part II." But while Hagen survives the events of the first sequel, he's nowhere to be found in 1990's "The Godfather: Part III." Instead, we learn Hagen has passed away in the years between the two stories.
Speaking to Charlie Rose in 2004, Duvall said he left Tom Hagen behind not only because he wasn't offered enough money but because someone else got way too much. "I said I would work easily if they paid [Al Pacino] twice what they paid me, that's fine," Duvall told Rose. "But not three or four times, which is what they did." In 2010, Duvall told Reuters he had no regrets about not appearing in the film since – as many critics and fans agreed – "it wasn't as good as the other two."
Terry Farrell's character was killed off on Deep Space Nine
We're not sure about what kind of raise Terry Farrell asked for during "Star Trek: Deep Space Nine" contract negotiations, only that it was apparently too much. When negotiations broke down, her character, Jadzia Dax, was written out of the show — murdered in the Season 6 finale by the villain Gul Dukat.
There have been different stories told about what happened with Farrell's departure, including versions where money doesn't come into the picture. For example, in a 2011 StarTrek.com interview, Farrell implied she'd left of her own accord, mainly because the work schedule was far too demanding. However, in the 2019 documentary "What We Left Behind," Farrell breaks down in tears while talking about tension between her and the producers during contract negotiations. Most memorably, Farrell says one unnamed producer told her she should agree to whatever salary was offered because if she wasn't on "Deep Space Nine," she'd be "working at K-Mart."
Rob Lowe fell behind his co-stars
When NBC's political drama "The West Wing" premiered in 1999, it looked like Rob Lowe's Sam Seaborn — the idealistic speech writer working for the Bartlett administration — was the main character. But over the course of three seasons, Seaborn's role on the show diminished, and finally, a Season 4 storyline was written to facilitate his departure, though he returned in a recurring role in the show's final season.
According to CBR, Rob Lowe's departure from "The West Wing" wasn't just because he had trouble getting the show to pay him more money. Instead, it was because he was the only lead actor in the series who couldn't get more money. While many of Lowe's co-stars had their salaries doubled since the beginning of the series, his had reportedly remained the same. For example, while CNN put Lowe's compensation at $75,000 per episode, Martin Sheen was receiving $300,000 per episode.
In an official statement Lowe released in July 2002, he said that while he was "grateful" to have been a part of the series, it had been "increasingly clear, for quite a while, that there was no longer a place for Sam Seaborn" on "The West Wing."