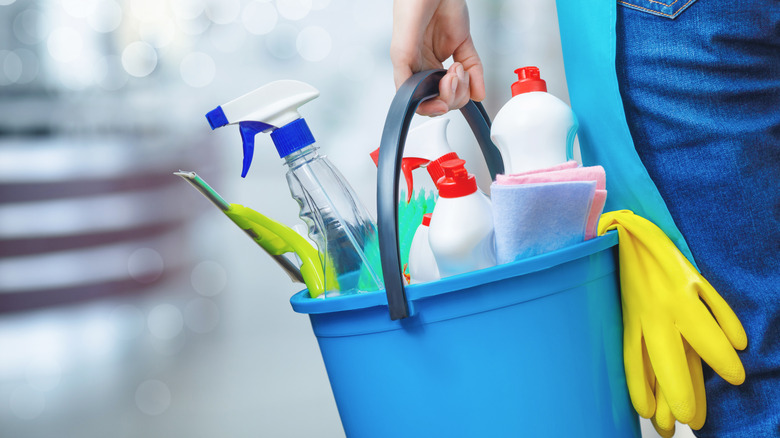 We're going to cut to the chase here: Cleaning the kitchen can be a giant hassle. Cooking, by nature, creates dirty dishes, stovetop spills, and, if you aren't careful, difficult stains. Plus, spots like tile grout and the inside of the oven slowly but surely take a beating, and over time they can become so dirty they are hardly recognizable.
What's worse is that many of the cleaning products we rely on don't hold up as well as they should. While some surface cleaners cut through oily messes, others simply push kitchen gunk around. Even the dishwasher tablets you trust to clean your dishes can leave your appliance clogged and full of grime. What a nightmare!
The good news is there are plenty of great cleaning supplies — if you know where to look for them. If you don't know where to look, well, you've come to the right place. Read on to find our essential cleaning products for kitchen messes big and small and see how your current arsenal stacks up.
Mr. Clean Magic Erasers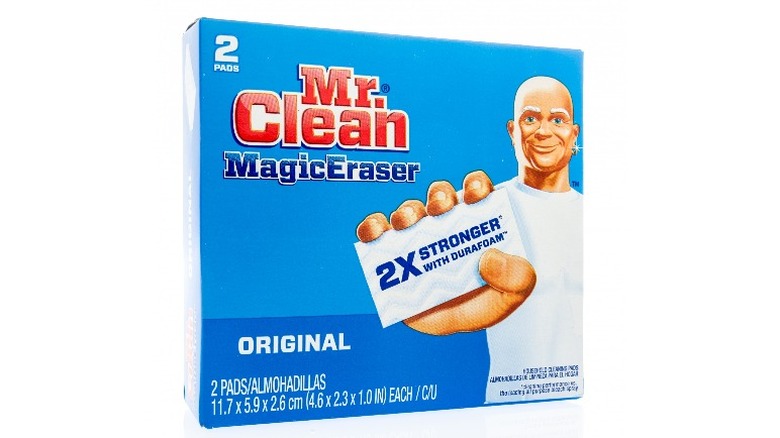 If you haven't tried Mr. Clean Magic Erasers yet, you really, really should. Not only do they cut through gunk and stains faster than almost any other product, but the feeling of using one for the first time is truly something else. Imagine staring at the same stain for weeks, throwing everything you can possibly think of at it, just to have this little guy plow through it in a matter of seconds. You'll never be the same.
Magic eraser reviews speak for themselves. The Reader's Digest team loves this product, calling it "amazing." Amazon customers have hailed the erasers as "Nothing Short of Magic," and even posed the question, "Do you want to save your life? Cuz Mr. Clean and his Magic Eraser saved mine." These unassuming sponges cut through grease, scuffs, paint, stains, even rust, and are sure to become one of your new favorite cleaning implements.
Our only warning is to be mindful of what surfaces you clean with these. Magic erasers are made of melamine foam, which essentially acts like ultra-fine sandpaper, using abrasion (in addition to a little liquid) to get through messes (via How Stuff Works). The microscopic size of the grain makes it totally fine on most surfaces, but it can create scuffs on stainless steel, stone, and non-stick pans, according to 21 Oak.
Method All-Purpose Cleaner
For a multi-purpose cleaner that won't harm you or the environment, look no further than Method All-Purpose Cleaner. Their lack of powerful chemicals often gives green cleaners a bad rap, but this eco-friendly spray can put even the toughest of messes to bed. In tests by Dengarden, the Method surface cleaning line (all-purpose, glass, granite, and stainless steel cleaner), beat out both the Seventh Generation and the Mrs. Meyers versions of the same products. According to the tester, they would use Method to clean up "film and streaks" the other green cleaners left during their tests. Amazon reviewers say they've "yet to find a better product," and that it "cleans like crazy." So, rest assured that you are not only making the greenest choice for your home, but the cleanest.
In addition to rave reviews about its cleaning abilities, Method users love the brand's nature-inspired scents. With flavors like French Lavender, Yuzu Ginger, and Clementine, clean doesn't have to smell like chemicals. Plus, for fans of the Clorox wipe, Method makes a canister of wipes soaked in their own solution for ease of use.
Microfiber cloths
Microfiber cloths are like your current cotton rags but infinitely better. They use millions of tiny (micro!) fibers to scrub away dirt and destroy bacteria without the use of chemicals (via Grove Collaborative). Innovative Cleaning Services loves that they're super absorbent, machine washable, and last longer than cotton rags (or paper towels).
Cleaning expert Leslie Reichert told Today that with microfiber, "since it's the fibers that do the work, bargain cloths do not clean as well as quality cloths, nor do they last as long." So, while many of the products on this list are both effective and great bargains, we'd advise you to get slightly pricier microfiber cloths. E-Cloth brand rags are highly rated by the experts at RealSimple, who say their specialized designs make them well worth the price. However, if you're looking for something more budget-friendly, Mr. Siga towels are a great all-purpose solution for cleaning all kinds of surfaces.
Bar Keepers Friend Powder Cleanser
To keep your pots and pans sparkling clean, reach for Bar Keepers Friend Powder Cleanser (via Amazon). Per the company's website, Bar Keepers Friend uses oxalic acid, detergents, and mild abrasives to cut through grease, scorch marks, and hard water stains. This means it can revive blackened sheet pans, make scorched pots look new again, and even clear up your glassware or porcelain dishes. According to Expert Home Tips, it even has a whole load of uses outside of the kitchen, from cleaning showers to polishing the rims on your car. Reviewers small and large love this product. One Bon Appétit writer called this cleanser "my only friend." On Amazon, where it ranks highly among the most popular household cleaners, one reviewer proclaimed, "BKF accomplished what I thought was impossible."
Just like with the Magic Erasers, you do need to be careful of what you clean with Bar Keepers friend. Don't use it on surfaces like plastic, stone, or non-stick pans, and when in doubt, consult our good friend Google (or this list). Additionally, the Bar Keepers Friend website has a handy list of ways to use the product safely, such as using gloves and not letting it sit too long — remember, people, abrasion! However, don't let these warnings scare you out of using a great product. As long as you do your due diligence you should be totally fine, and you'll be on your way to a sparkling clean home in no time!
Glisten Foaming Disposer Cleaner
Garbage disposals make it everyone's problem when they get clogged. They get an awful smell, flood the sink, and loudly complain when you try to use them. Luckily, if you've got problems, we've got answers. Enter Glisten Disposer Care Foaming Cleaner (via Amazon). These lemon-scented tablets foam up when you run water over them, which allows them to scrub hard-to-reach areas like the underside of the blades. After a couple of minutes, the foam recedes down the drain and you have a working appliance again.
Amazon reviewers noted this product worked when all hope had been lost, and shared how it cleans so well it might even change the color of your sink: "I saw something silver in my drain that caught my eye and omg, it was my garbage disposal. I've lived in this apartment for three years and legit didn't know it was silver down there — and I clean it regularly!" This product works like a dream, and its popularity attests to that: Glisten's tabs are the third best-selling household cleaner on Amazon.
Easy Off Professional Fume Free Max Oven Cleaner
Cleaning the oven is a hassle, so most of us don't do it as often as we should. You only really see the gunk when you open the door, and it's annoying to have to reach in there and scrub. Plus, the buildup on the oven floor doesn't seem like it's getting in the way of the cooking process. However, cleaning experts told Metro that a dirty oven can lead to bad tasting food, food poisoning, and even fire risk. We hate to break it to you, but you should probably get on that…
For an oven cleaner that gets the job done, look for Easy-Off Fume Free Oven Cleaning Spray (via Amazon). All you have to do is coat your oven with the spray, wait two hours, and then wipe it off. It melts through grease and those caked-on, blackened bits, so you don't have to spend hours scrubbing, and it cleans even the dirtiest ovens in one go. Consumers love how well this product works. Several different versions of Easy-Off are on the list of the most popular oven cleaners on Amazon. The tester from The Kitchn said it made her oven so beautiful she sent a picture to her mom. If that doesn't convince you, the impressive before and after videos circulating on YouTube speak for themselves. This spray is best-in-class, and at only $5, it's definitely worth the buy.
Swedish Dishcloths
These dish towels are the Swedes' answer to America's nasty paper towel habit, and let us tell you, they are definitely worth the hype. Swedish dishcloths are essentially a cross between a sponge and a paper towel. According to New York Magazine, they're absorbent enough "to soak up 20 times their own weight in liquid," dry quickly, and are great for scrubbing a variety of kitchen messes. From countertop grime to stuck-on dish debris, these towels always do the trick. They're also reusable, so when the mess is cleaned up, chuck them in the washing machine to make them good as new. Swedish dishcloths are made of 100% cellulose, so at the end of their life, they can be disposed of guilt-free in the compost.
New York Magazine loved them for their absorbency, their scrubby texture, and the plethora of cute patterns in which they are available. Popular designs include lemons on a vine, a herd of dogs, or plain bright colors, but you are sure to find something that matches your kitchen decor and vibe. The multicolored pack is a best-seller on Amazon, and you can find plenty of other whimsical or chic options pretty easily. We love anything that makes cleaning more fun, so when it comes to Swedish dish towels, run, don't walk!
O-Cedar EasyWring Microfiber Spin Mop
Mopping is probably one of the least liked household chores. If Reddit is to be believed, people really hate it. And with traditional mops, it's no secret why: Wet mops get heavy, leave fibers all over your floors, and push around dirt instead of cleaning it up. Luckily, since we are privileged enough to live in the 21st century, a series of mopping innovations have come along to make the process more manageable.
Perhaps the best one so far is the invention of the O-Cedar EasyWring Spin Mop. This mop, beloved by TikTokers and Amazon shoppers alike, uses a microfiber head to effectively scrub stains, trap dirt particles, and actually soak up water from the ground (via EatingWell and Yahoo). Although the microfiber head alone is a revelation, the star of the show is the wringing system, which spins the mop head when you press the foot pedal on the bucket. That means there's no stooping down to wring the mop, no getting your hands near the gross water, and no more worrying if the mop will be too wet or too dry (the pedal wringing allows you to get pretty precise with your moisture level). The mop even boasts more five-star features, like a machine-washable head, a triangular-shaped edge for getting into corners, and a telescoping handle to make it just the right height. Its thoughtful design is what makes it such a bestseller, and why we recommend it for your kitchen.
Finish Quantum Powerball
While a cleaning product that gets the job done is certainly great, what's even better? Something that does two jobs at once! Finish Quantum does just that by cleaning your dishes AND keeping your dishwasher free from gunk and grime — two birds (via Amazon)! Finish Quantum is loved by many, from bloggers like Linda Hoang to YouTubers like DIYPinto. It's popular with consumers as well, showing up in Amazon's ranking of best-selling dishwasher detergents.
If you're worried about your environmental impact, these are a good choice for you. They are gel packs, which means they aren't individually wrapped in disposable foil. Plus, they work so well on grease and stuck-on food that you don't need to pre-rinse, which saves water — and is actually something the brand advocates for. On their website, you can "take the pledge" not to pre-rinse your dishes, something which they claim has saved nearly 20 million gallons of water so far. For clean dishes, a clean dishwasher, and a clean conscience, we recommend Finish Quantum.
Weiman Stainless Steel Wipes
Weiman wipes dominate Amazon's list of top stainless steel cleaners. They're very popular, and for good reason: These wipes gently remove fingerprints, streaks, and messes from your stainless steel appliances, plus they leave a protective coating to prevent future messes. While many of the Weiman stainless products are popular, the ease of use of these presoaked pads makes them stand out from the crowd. Simply pull out a wipe, clean in the direction of the grain, buff off the residue with a microfiber cloth or paper towel, and voila! Your appliances will be shiny and clean as new.
The wipes come with a rave review from the staff of The Kitchn, who say "they worked like a dream." Additionally, customers have noted that "you don't have to work very hard" because "it gets in there and actually cleans" (via YouTube). We recommend these wipes for a stainless cleaner that is as easy as it is effective.
OXO Good Grips Deep Clean Brush
Grout is another kitchen area that is often overlooked. You clean your floors (or counter, or backsplash), so you don't always think to squint at the space between each tile. Also, unless you live in a new building or installed the thing yourself, you might have moved into your home after the grout had undergone a serious color transformation. For those of you who would like to know what color your tile is supposed to be, we recommend this brush set (via Amazon).
The OXO Good Grips Deep Clean Brush set comes with two bristled brushes of different sizes (including one with a "wiper blade" tail) for those smaller cleaning areas. They work well for cleaning grout and sink drains, but can even help you detail your appliances or clean that pesky gap between the sink and the wall. Per Apartment Therapy, OXO has a reputation for impeccable design, and these brushes certainly live up to that. They have an ergonomic sticky grip that suits a variety of hand sizes and won't leave ejected bristles all over your surfaces. Amazon reviewers note they are "designed with the human form in mind," as well as being "sturdy and effective."
The Pink Stuff
If you haven't heard about The Pink Stuff yet, we hate to break it to you, but you might live under a rock. This goopy, multi-use cleanser is all the rage on TikTok and has quickly become a hit on Amazon. And the hype isn't just with Gen Z; media powerhouses like Today, Reader's Digest, and Epicurious have gotten in on the action.
So what's all the hype about? The Pink Stuff uses a mix of quartz, detergent, sodium silicate, and baking soda to buff out particularly tough stains all while cutting through grime. To use, simply apply a glob to a sponge or towel, wet it, and get to scrubbing. The product description claims it is "ideal for cleaning saucepans, barbecues, ceramic tiles, glass, rust, sinks," as well as a handful of other non-kitchen surfaces, but consumers have used it on stovetops, grout, counters, and even sneakers. It has proven to be effective on a variety of stains and surfaces, plus, it has a delightful pink lemonade scent. What's not to love!