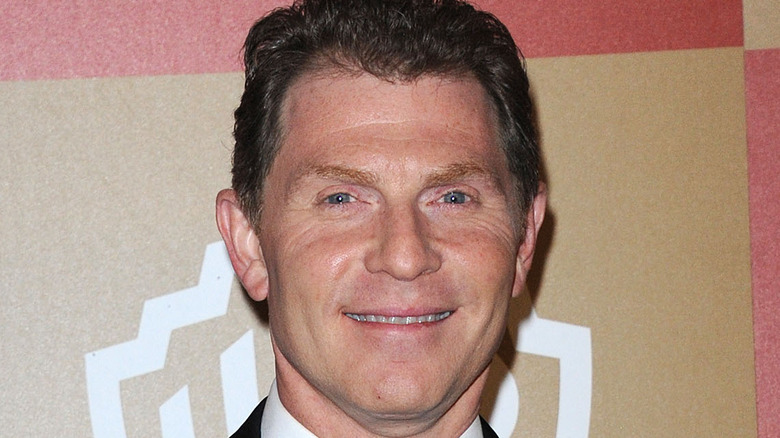 The following article includes allegations of sexual misconduct, workplace harassment, and child abuse.
Cooking shows have been a part of television for decades, with charming professionals providing step-by-step instructions on how to cook a dish from their purpose-built kitchen on what was obviously the set of a modestly-budgeted public TV show. By the 1990s, when the size and scope of cable TV allowed for dozens of channels devoted to niche topics, cooking was more than ready to be the star — and thus, the Food Network was born. Both jumping onto and perpetuating the emerging "foodie" phenomenon, Food Network showed that cooking and eating on TV was about a lot more than practical instruction: there could be talk shows, lifestyle shows, highly specific regional cooking shows, travel shows, and more. That all helped to make Food Network one of cable's biggest destinations, and it made stars out of its personalities.
But along with the fame and fortune of TV popularity comes the chance that one's dirty laundry will go public. Here are all the times that the seemingly innocuous, warm, and inviting cooks and chefs of Food Network let their dark side out and sent their bosses scrambling.
The ugly truth about Paula Deen emerged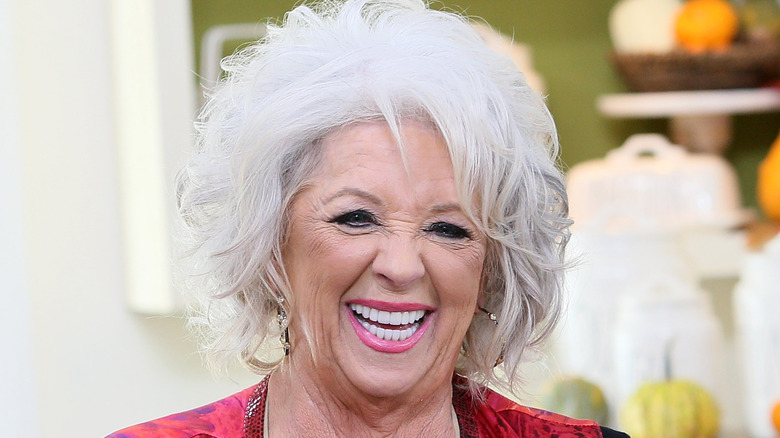 Paula Deen was among Food Network's most magnetic personalities. On "Paula's Home Cooking," the Savannah, Georgia-based cook and caterer joked around as she made rich, fattening, sugar-filled, and butter-loaded dishes in the Southern traditional style. Deen also operated some food businesses, including the Savannah restaurant, Uncle Bubba's Seafood and Oyster House.
However, in 2013, Deen sat for a deposition in a discrimination lawsuit filed by former manager Lisa Jackson, alleging that the TV star fostered a work environment full of inappropriate and offensive racial comments, according to Today. When asked if she'd ever used the N-word, Deen admitted that she had, although not recently. "That's just not a word that we use as time has gone on," she testified. Deen also owned up to the facts surrounding a wedding she'd planned, where she floated the idea of hiring Black men to dress like slaves, so as to add some old-time Southern authenticity, per E!. (Which… yikes.)
Shortly after the deposition went public, Food Network released a statement affirming that it "does not tolerate any form of discrimination and is a strong proponent of diversity and inclusion. We will continue to monitor the situation." Deen cancelled an appearance on "Today" and then released a YouTube video of apology to "beg for your forgiveness." That same day, according to E!, Food Network announced that it would not renew its contract with Deen, essentially firing her after 11 years with the channel.
Food Network's Calorie Commando tried to hire two hitmen
One of Food Network's most well-received specialty shows in the mid-2000s was "Calorie Commando." The host: former pastry chef Juan-Carlos Cruz, who, according to the Los Angeles Daily News (via the South Florida Sun-Sentinel), lost 100 pounds and learned to make healthier, lower-fat, lower-calorie versions of familiar comfort foods. He shared those tips and techniques for four years on "Calorie Commando," as well as in a spinoff cookbook.
Off-screen, the helpful and jovial Cruz had some extremely dark impulses which landed him in prison. According to CBS Los Angeles, in May 2010, he was arrested in Santa Monica, California after offering two unhoused men, David Carrington and David Walters, $500 to kill his wife, Jennifer Campbell. Per CNN, one of the two individuals reported it to police, who set up a videotape sting operation and obtained footage of Cruz ordering the hit once again, as well as driving the men to his apartment to give instructions on how to get inside of the secure complex.
After pleading no contest to solicitation of murder, Los Angeles County prosecutors dropped an attempted murder charge against Cruz. In late 2010, he was sentenced to a nine-year prison term.
Mario Batali was accused of harassing and stealing from his employees
Mario Batali was one of the first Food Network stars, and one of the first people made a star by Food Network. After establishing the beginnings of a restaurant empire, per the New York Post, Batali started hosting the Italian cooking show, "Molto Mario," in 1996. Batali parted ways with Food Network in 2007 (except for the occasional "Iron Chef" appearance), but in 2017, per Variety, the channel produced a revival of "Molto Mario."
However, those episodes never aired, and Batali also lost his job as co-host of the ABC daytime talk show, "The Chew." According to Variety, Food Network and ABC both declined to be in the Batali business after Eater published an exposé, in which four women accused Batali of inappropriate touching and groping in incidents at his restaurants that stretched back more than 20 years. Per Time, Batali apologized for his behavior via his email newsletter. "I have made many mistakes and I am so sorry that I have disappointed my friends, my family, my fans, and my team," he wrote. … And then he included a recipe for Pizza Dough Cinnamon Rolls, "a holiday-inspired breakfast" and "fan favorite."
Those events aren't the only time Batali behaved improperly at his restaurants. According to HuffPost, he and his business partners settled a lawsuit in 2012, paying out $5.25 million after being called out on tip-skimming by former employees.
If you or anyone you know has been a victim of sexual assault, help is available. Visit the Rape, Abuse & Incest National Network website or contact RAINN's National Helpline at 1-800-656-HOPE (4673).
Ina Garten refused to meet with a Make-A-Wish kid
As the host of "Barefoot Contessa," named after her high-end gourmet food market in the Hamptons, Ina Garten has been one of Food Network's most signature personalities for years, cooking expensive dinner party food for high-profile guests and humble fare for her devoted husband, Jeffrey. Among Garten's many fans: Enzo Pereda. According to ABC News, at the age of three, Pereda was diagnosed with leukemia, and while convalescing over the span of three years, he'd watch "Barefoot Contessa" in bed. When the Make-A-Wish Foundation reached out, he had just one request: to meet Garten and make a meal with her. In late 2010, Garten was noncommittal, citing too many obligations over a book tour to meet at that time. Undeterred, Pereda asked again in early 2011. This time, Garten expressly said no to cooking a meal to a now six-year-old child facing leukemia.
After Pereda's mother blogged about Garten's refusal, the story went viral, prompting Garten to recant her rejection and offer Pereda an invite to the "Barefoot Contessa" set, along with an explanation. "Ina receives approximately 100 requests a month to support charitable causes," her team said in a statement. "Sadly, it's of course not possible to do them all."
This time it was somebody else's turn to say no. "We're not going to do it," father Adrian Pereda said. "I don't want my son to go through any other stress. We just want to go on with our life."
The Pioneer Woman made light of Asian culture on Food Network
After her blog about life on a cattle ranch became extremely popular, Food Network gave Ree Drummond her own show, "The Pioneer Woman." The series wears its old-fashioned, Americana vibe on its sleeve, and that can come at the expense of other cultures. In a Season 2 episode called "The Big Game," Drummond makes football snacks for her husband and two of his college buddies, and whips up a tray of "Spicy Asian hot wings," according to Eater. The guys in her home appear confused and annoyed. "Where's the real ones?" one man asks. "I don't trust 'em," another guy says about the wings that have been sauced with unfamiliar ingredients. "I'm just kidding guys, I wouldn't do that to you," that pranking Drummond eventually responds, before presenting a tray of familiar Buffalo wings. "Now those are some wings," one of the relieved men says.
"Thick Dumpling Skin," a website and podcast about Asian-American issues, tweeted a clip of the scene, and called out Food Network for its "anti-Asian sentiment." On its site, the publisher explored the issue further: "Why must we watch non-Asian cooks who can't pronounce 'Sriracha' and don't have a chopstick drawer show us how to make our own dishes? And how come, when they do, we have to watch as their entire family mocks it?"
Food Network didn't heed the calls to remove the episode from circulation.
The host of Dinner: Impossible faked his credentials
Debuting in 2007, "Dinner: Impossible" was one of Food Network's most audacious shows. Far outside its comfort zone of cooking instruction shows, the reality series tasked high-energy chef Robert Irvine with difficult assignments, like executing a meal for 200 wedding guests in 10 hours, or cooking for food historians using only ingredients and tools available in 18th-century Virginia. But viewers, the show's diners, and crew members figured they were in good hands with the can't-lose Irvine, well prepared by extensive life experience like owning a Scottish castle, cooking for four American presidents, and baking Princess Diana's wedding cake, all of which supposedly culminated in a friendship with Prince Charles and a knighthood, according to The New York Times.
A year after "Dinner: Impossible" first aired, however, the Tampa Bay Times revealed that Irvine had lied about most of those impressive feats. "It was like trying to keep up with the Joneses," Irvine said, adding of his entirely false claim that he's a knight, "I was sitting in a bar one night and that came out. It was stupid." Reporters then started unpacking all the other falsehoods on his resume. For example, per BBC News, he never had a castle, he only helped pick the fruit used in Princess Diana's wedding cake, and he didn't so much cook for four presidents as he did prepare food for the U.S. Navy at the White House.
Irvine, who was "truly sorry," lost his job as host of "Dinner: Impossible" (but only for a year).
Was the Neelys' marriage a sham?
Food Network had a big hit in the late 2000s with "Down Home with the Neelys." Long-married couple (and high school sweethearts) Pat and Gina Neely unlocked the secrets of traditional Southern cuisine, particularly barbecue, in their breezy show taped at their kitchen in Tennessee, with plenty of spontaneous breaks to hug and kiss each other.
The pair's casual warmth and open, brazen affection with one another is probably one big reason why their statement (via People) announcing their divorce in 2014 after 20 years of marriage came as such a shock. "Moving forward our focus will be on our individual brands and we are optimistic about our respective futures," the Neelys said in the joint press release, referring to their restaurants, endorsement deals, and charitable drives.
Two years later, on OWN's "Where Are They Now?" Gina Neely revealed details from her marriage that cast "Down Home with the Neelys" in a sad, new light. "We went to therapy 12 times," she said (via People). "I tried to leave five times and I just didn't have the strength but the fifth time I held on to that." Still, his wife leaving took Pat Neely by surprise, and their divorce proceedings took just six hours to complete, per People.
Food Network star Bobby Flay may have been unfaithful
No-nonsense, ultra-confident New York chef Bobby Flay has been the virtual face of Food Network for more than 20 years. He's headlined a long list of shows for the channel, including "Iron Chef," "Boy Meets Grill," "Beat Bobby Flay," "Throwdown," "Bobby's Dinner Battle," "Barbecue Addiction," "Chopped," and "The Worst Cooks in America." On many of these series, Flay occasionally allows viewers a glimpse of his personal life, accounting for the frequent guest-star appearances of his wife, actor Stephanie March, who played Detective Alexandra Cabot on "Law and Order: Special Victims Unit."
Their seemingly stable marriage of 10 years fell apart in 2015, when Flay filed for divorce after their relationship had "broken down irretrievably," he wrote in legal documents obtained by TMZ. But according to Page Six, the true impetus for the split may have been infidelity on the chef's part. The column reported that around Thanksgiving 2014, March allegedly learned that Flay had been secretly meeting up for trysts for three years with Elyse Tirrell, a hostess at his Bar Americain, who then became the chef's personal assistant.
While the divorce and other legal issues were argued in court, Flay became the first celebrity chef to be honored with a star on The Hollywood Walk of Fame, according to HuffPost. While Flay gave an acceptance speech, a hired airplane flew overhead pulling a banner reading, "CHEATER."
Anne Burrell allegedly mistreated employees
Anne Burrell hasn't been exactly retreating and demure across the hundreds of hours she's spent on Food Network shows, bringing a loud, frank, boisterous, and informal energy to "Secrets of a Restaurant Chef," "The Worst Cooks in America," and "Chef Wanted."
But in 2009, not long after Burrell started appearing all over Food Network, the restaurant where she had worked as an executive chef, the New York Italian haunt Centro Vinoteca, filed for Chapter 11 bankruptcy, according to Eater. In the aftermath of that, restaurant industry blogger Abbe Diaz reported that a group of former Centro Vinoteca employees sued Burrell, the restaurant, and its owners for alleged discrimination. According to the filing, Burrell allegedly frequently uttered insulting, profane, and off-color language, reportedly calling coworkers things like "stupid dumb whore" and "saggy," as well as making statements of a sexual nature, including commenting on an employee's chest and asking another if they had "f***ed" a coworker "yet."
After entering complaints against Burrell, the plaintiffs also claimed that they were fired in "retaliation." The case never went to trial, but the allegations may have harmed Burrell's reputation.
A Next Food Network Star finalist lied about his background
"The Next Food Network Star" (later retitled "Food Network Star") tries to do for TV cooks what "American Idol" does for aspiring singers: Give them national exposure before embarking on fame and fortune. Food Network discovered on-air talent like Guy Fieri and Jeff Mauro of "The Kitchen" in this manner, and there was a chance that Josh Garcia could have joined that elite circle of victors.
In the show's third season, which aired in 2007, Joshua Adam Garcia (nicknamed "JAG") made it all the way to the final two alongside Rory Schepisi, according to The Orange County Register. But before a final vote could be made, Garcia exited the competition, and eliminated contestant (and eventual winner) Amy Finley returned. Per a report issued a few weeks earlier by Army Times (via Reality TV World), Garcia had apparently lied about both his extensive cooking background and history of military service. He had not graduated from the New York Restaurant School, nor had he spent two years as an infantry soldier, and he had not served in Afghanistan.
After an internal investigation by Food Network, Garcia was ousted from "The Next Food Network Star."
Alton Brown and his history of inappropriate comments
With "Good Eats," Alton Brown explored the science of food with comedy bits and experiments — and it's the juxtaposition of his controversial comments with his whimsical work that's gotten him in trouble.
In 2020, food writer Allison Robicelli shared that, in one of his books, Brown stated his enduring love of "The Frugal Gourmet," written by PBS food personality Jeff Smith, who was accused of various acts of sexual assault. "I don't care what he does or did in his personal life," Brown wrote. Social media backlash against Brown followed, per Eater, during which Twitter users uncovered a blog post by David Rheinstorm recounting a 2011 event in Iowa, where Brown held up a cookbook about the South. "It's got a few things in it that might be kind of foreign and exotic to you Iowans," he reportedly said, before pointing to a picture of a Black man and saying, "Look! A real live Negro!" Brown was met with silence — also the response when he singled out a child in the audience for having two parents of the same sex. "Man," Brown allegedly said, "If that guy next to you is your other daddy, I'm in the wrong state."
All this went down in the middle of another Twitter snafu (via Insider). "Do you think the … camp uniforms will be striped, like the ones at Auschwitz or will plaid be in vogue," Brown, um, joked on election night. He deleted that tweet, and apologized for making light of the Holocaust with his "flippant remark."
A "Worst Cooks in America" winner was arrested for murder
Food Network's popular and long-running series, "The Worst Cooks in America," takes a funny, deprecating, and roundabout way to food prep instruction. Rather than just directly show not-very-talented home cook viewers how to do better, it brings in admittedly bad-at-cooking "recruits" for a kitchen-based boot camp, where they compete in a season's worth of challenges to win money and improve their skills to the point where they can prepare a restaurant-quality meal.
In August 2020, South Carolina-based cook Ariel Robinson was declared the victor of the 20th season of "Worst Cooks in America," taking home a bunch of kitchen gadgets and $25,000, according to People. But there are certainly worse things a person can be than just inept at making dinner. Six months after achieving reality show fame and winning a small fortune, Robinson, along with her husband, Jerry, were arrested and charged with homicide by child abuse, per the Greenville News. Three-year-old foster child Victoria Smith died while in the Robinsons' care, with Jerry alleging that Ariel would frequently physically abuse the child, aligning with a coroner's assessment that Smith died of "blunt-force injuries." The "Worst Cooks in America" winner claimed that the child died after over ingestion of water.
In response to the tragedy, Food Network pulled Robinson's entire season of "The Worst Cooks in America" from Hulu, YouTube, and Discovery+, per Deadline.
If you or someone you know may be the victim of child abuse, please contact the Childhelp National Child Abuse Hotline at 1-800-4-A-Child (1-800-422-4453) or contact their live chat services.