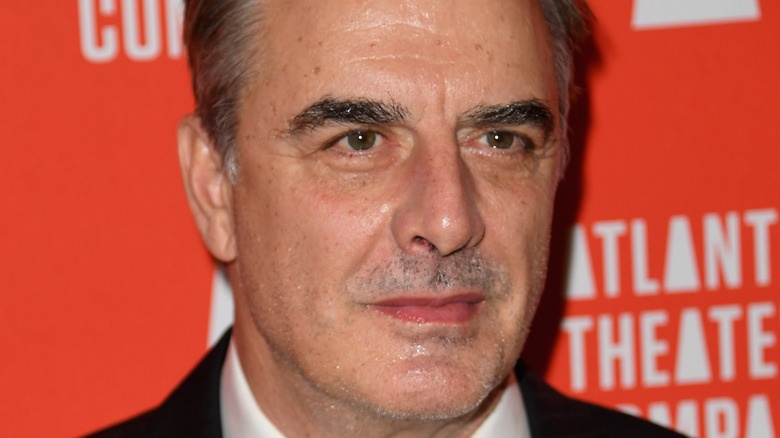 You may know him as Mr. Big, or Detective Mike Logan, or Peter Florrick. Regardless of what character you most closely associate him with, there's no denying it — Chris Noth is one of TV's most notable and prolific actors.
Noth didn't necessarily start out with dreams of starring on the small screen, but TV aficionados are certainly glad he found his way to Hollywood eventually. A graduate of the Yale School of Drama, he was trained as a theater actor and has appeared on Broadway. Stage work isn't always the steadiest option when it comes to paying the bills, but Noth started to earn film and television roles, too. These on-screen roles have led to four SAG Award nominations and two Golden Globe nominations.
Outside of his work, Noth is a fairly private person. He married Tara Wilson in 2012 and shares two sons with her, one born in 2008 and one born in 2020. Generally speaking, the heartthrob keeps the details of his life under wraps. But we're here to draw back the curtain, taking a closer look at his life, career, finances, and net worth.
So without further ado, let's get to it. Starting with this: Chris Noth is worth an estimated $16 million, as of 2021.
Chris Noth was a troubled kid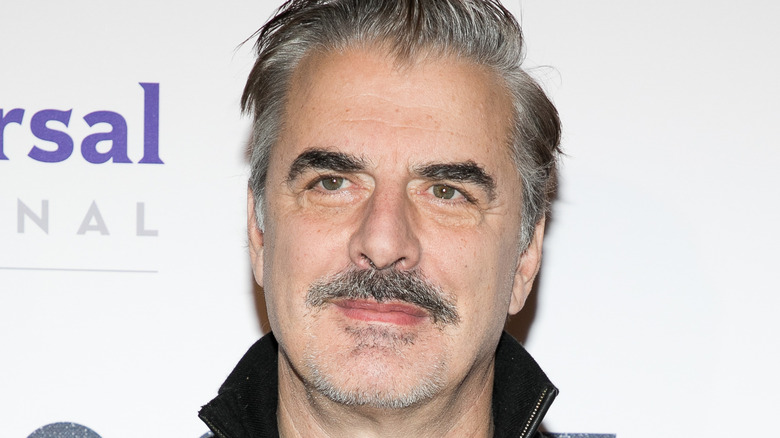 Born on November 13, 1954, in Madison, Wisconsin, Chris Noth spent most of his childhood and adolescence in Stamford, Connecticut, a wealthy New York City suburb where home prices are just above a half-million dollars. He came from a solidly upper middle class family. Noth's famous mother, Jeanne Parr, was one of CBS' first female correspondents. Variety notes that Parr covered the New York/Newark riots of 1967 and the Republican National Convention held in San Francisco; she even hosted "The Jeanne Parr Show" on CBS and was an author and producer. Chris Noth's father, Charles James Noth, was the vice president of a marketing firm in New York. When Chris was just 11, Charles died in a car accident, leaving Jeanne a single mother.
Reeling from the loss of a parent, Chris Noth began engaging in some (mostly harmless) illegal activities that could have led to "a lifestyle of possible juvenile crime," as he told Entertainment Weekly. Fed up with his antics, Noth's mother sent him to a boarding school in upstate New York that he credited with saving his life and turning him "from a juvenile delinquent into someone for whom the arts were alive" (as he told OOOM). In the end, it was his time at the school that set him on the path that would eventually make him a multi-millionaire.
Chris Noth struggled in his 20s
After graduating, Noth moved to New York City in the early '70s to pursue acting. Broke and desperate, he worked as a "bad waiter in a dozen different restaurants for five years," Noth told the Chicago Tribune. These early years were certainly hard on the actor financially. He recalled living in a maid's room for $89 a month at one point, before moving to a basement studio apartment that was $400 monthly, telling OOOM, "To me, that seemed like an enormous sum, and I had to wait on many tables to pay for that." The actor even said that during his 20s, he "was teetering on the edge of financial ruin."
Noth told an interviewer at the La Costa Film Fest that "$5.00 meant a lot" during this time when he took things "day by day." The actor was accepted into the Yale School of Drama and "cherished" his time there. As a student, he performed in 25 plays. When speaking with OOOM, Noth acknowledged that "it has become very difficult to make a living in this world with theater." Thankfully, the camera loves him.
In the 1980s, Noth landed a recurring role on "Hill Street Blues," a gritty cop drama. An incredibly successful series (it was the first TV show to get a $1 million budget for one episode, according to MeTV), it's likely that Noth earned a pretty decent salary there, though exact numbers aren't known.
Chris Noth's salary-centered Law & Order exit
Chris Noth's true big break came in 1990 when he was cast as Detective Mike Logan in a new series by Dick Wolf called "Law & Order." For five seasons, he played the cocky, womanizing, short-tempered detective, before being let go in 1995. He talked to the Chicago Tribune about landing the role, saying "I was coming out of Yale Drama school and regional theater when I got 'Law & Order.' I'd had some guest roles on shows, but I was like every other actor, scrounging around for a job. And it was just so rare to have a TV show shoot in New York, it was just a gift from the gods."
While we aren't sure what he was making per episode on the show, it seems that money played a major part in his dismissal from the series. Producer Dick Wolf set the record straight with AP News, saying that had Noth's contract been re-negotiated, his raise would have been "huge" and "impossible to grant, given the age of the show." The head of Noth's management company reiterated to the outlet that the actor was disappointed a deal couldn't be reached, but at the same time, "he's had five great years and his feeling is that it's time to move on."
His role as Mr. Big
Chris Noth's next project after exiting "Law & Order" was "Sex and the City," where he played Mr. Big, the playboy love interest of Carrie Bradshaw. Exact salary information for Noth hasn't been made public, although we can do a bit of guesswork about the size of those paychecks.
In a 2004 appearance on "Friday Night with Jonathan Ross," Kim Cattrall discussed asking for a $1 million payday on each episode. That would have been a substantial raise from the reported $350,000 she was making. "I felt after six years it was time for all of us to participate in the financial windfall of Sex and the City. When they didn't seem keen on that I thought it was time to move on" (via E! News). Chris Albrecht, former HBO CEO, told Marie Claire in 2008, "Sarah [Jessica Parker] was becoming more and more famous, and her salary increased beyond what was contractually committed, which is normal for hit shows. The other actresses wanted to keep up."
It's likely Noth wasn't earning quite as much, either, since he didn't appear in every episode. It's probable that he made more on the movies (for the first film, as he has a much bigger role). Cosmopolitan estimated salaries of $2 million, $7 million, and $15 million for Kristin Davis, Kim Cattrall, and Sarah Jessica Parker, respectively, on the first movie. Per Variety, Parker, Davis, and Cynthia Nixon are reportedly earning $1 million per episode for the revival, "And Just Like That…" Noth Instagrammed several 2021 pics from working with Sarah Jessica Parker on the new series.
His potential payoff from The Good Wife
On his third major TV series, "The Good Wife," Chris Noth played Peter Florrick, Alicia's sex scandal-ridden husband who becomes the Governor of Illinois. Unsurprisingly, exact pay information is unknown, but we can make a good, educated guess. Celebrity Net Worth reports that Julianna Margulies, the show's other lead, was making $180,000 per episode, so it's likely Noth was making the exact same thing (or at least something very close).
Noth has suggested that he could appear in the "Good Wife" spin-off, "The Good Fight." He told a former Entertainment Weekly writer, "I'd be happy to do a couple of episodes. I'd love to see where that guy ended up." Once again, his former co-star, Margulies, spilled some tea about the pay he'd likely receive, were he to ever do the show. Deadline reports that she told Sirius XM host Jessica Shaw, "I also know for a fact that any male star who got asked to go on a spin-off of their show would have been offered at least $500,000. I know that for a fact." If that's true, Noth could be looking at a hefty paycheck somewhere down the line.
Tequila time
Despite his success as an actor, Chris Noth isn't putting all his eggs in one basket. He's wisely reinvested some of his earnings into other business ventures. In 1999, he became part owner of The Cutting Room, a New York City music venue and bar that's hosted Sting, Lady Gaga, John Mayer, and David Bowie. While there's no word on how much that ownership earns him, given the size of those acts, it's likely the venue is making quite a bit of money and that Noth's take-home pay is substantial.
A synergic investment saw Noth buy a majority stake of Ambhar Tequila for an undisclosed sum in 2018. The investment was a smart one, not only because Ambhar has become the official tequila of The Cutting Room, but also because celebrity spirits brands can be incredibly lucrative. For example, Vine Pair writes that George Clooney sold his tequila brand, Casamigos, for a cool $1 billion just four years after launching it. Noth told The Drinks Business that he believes his tequila is better than Clooney's. While his brand isn't as ubiquitous or valuable yet, it's possible he could sell it for several million someday if he chooses to.
Chris Noth's real estate holdings
Chris Noth isn't just diversifying his income when it comes to business opportunities; he's also diversifying his real estate investments. As of this writing, he owns four homes: one in Greenwich Village, one on the Upper East Side, one in Sherman Oaks, California, and one in Great Barrington, Berkshire County, Maryland.
Let's start with the New York City places. Of all his homes, Noth has owned the Greenwich Village apartment the longest. He purchased the two-bedroom, two-bathroom apartment in 1994 and put it on the market for $2.19 million. The co-op building it's located in was previously home to "Sex and the City" creator Candace Bushnell, according to the New York Post. But just because he's selling his downtown apartment, that doesn't mean the actor has any plans to leave the city. In 2017, he purchased an apartment in an Upper East Side co-op building for $1.85 million. The home reportedly boasts pre-war original details, like a herringbone wood floor and a real fireplace, as well as high ceilings and oversized windows.
Outside of NYC, Noth has two more places where he can lay his head. There's a family home in Sherman Oaks, California, that he bought in 2007 (right around the time he was expecting his first child) for $1.445 million. There's also his vacation home in Great Barrington, Berkshire County, Maryland, that he bought in 2013 for $1.485 million. Taken all together, these properties represent $6.97 million in assets for the performer.
How Chris Noth enjoys life and gives back
Despite being worth millions of dollars, Chris Noth maintains that his wealth hasn't changed him. He told Parade in 2011 that he still took the subway regularly (a MetroCard swipe is $2.75), and told Intelligencer in 2014 that he loves Citi Bikes (a ride is $3.50). He was also keeping an old Toyota around, preferring to drive that when necessity dictates he leave the hub of public transport.
While most of his habits are fairly mundane (he loves a good cigar and a stiff drink) he does occasionally indulge in a bit of extravagant travel. He told Conde Nast Traveller that he's enjoyed visiting the exotic locales of Hong Kong, Jakarta, and Dubai, and that he always chooses to fly first class or business class (although his partnership with HomeToGo might lower these vacation costs a little bit).
When he's not busy wandering around the city or jetting across the globe, Noth is an ardent supporter of the Rainforest Action Network, an environmental charity that aims to protect the climate and rainforests and challenge corporate powers whose policies would destroy them. He hosts the NYC gala and auction each year, donating his time and offering a dinner date with himself as an auction item for the organization's 25th anniversary.