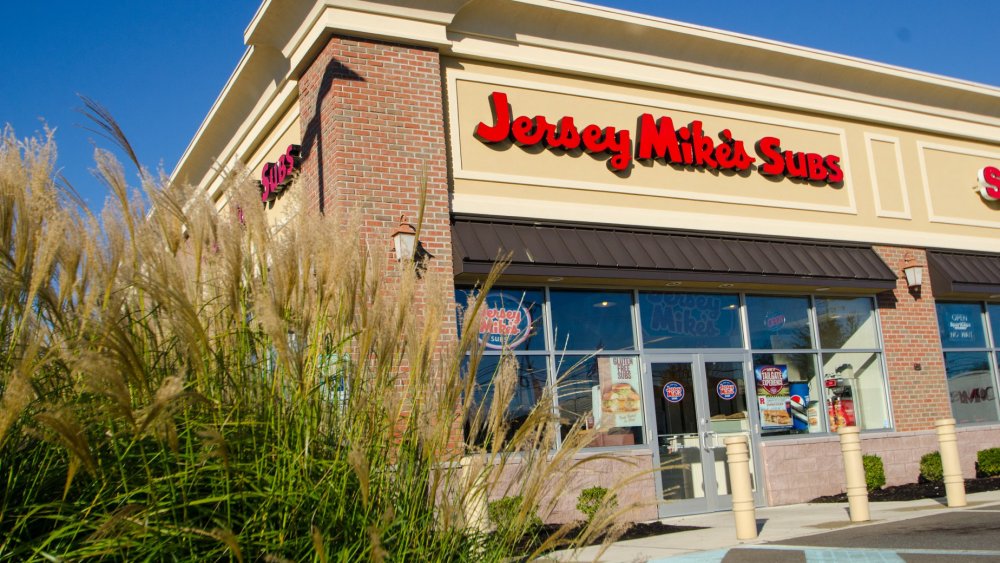 Uh oh. Hunger just attacked your belly like an army of gladiators ready to wage total war and you have nothing in your cabinets except stale crackers and outdated creamed corn. You're in trouble, plain and simple. If you don't fill that rapidly-expanding void soon you'll be forced to eat something you regret, and no one ever wants to succumb to that drastic measure. So, what do you do? Well, after weighing your options — maybe a trip to the supermarket? (ugh, annoying!) — you realize there's a Jersey Mike's not far away! Boom, the answer just revealed itself.
When faced with a great appetite debacle — as we all encounter from time to time — a delicious sub sandwich rarely misses the mark. How could it? The Jersey Mike's menu caters to anyone looking to dive head-first into a winning sandwich and drive that vicious appetite army far away (for the meantime, at least). It's impossible to peruse the variety of cold cuts and toppings and not find something that stands out as a winning combination. But, on the rare occasion something on the menu doesn't strike your fancy, what other options are there? Jersey Mike's concocts their own delicious sandwiches, but there's a whole secret menu available for those who want to walk the plank and jump into an ocean of new flavors. Jersey Mike's is ready for anything. But, are you? Of course you are.
These are the Jersey Mike's secret menu items you'll wish you knew about sooner.
Jersey Mike's Big Kahuna Cheese Steak with Chipotle Mayo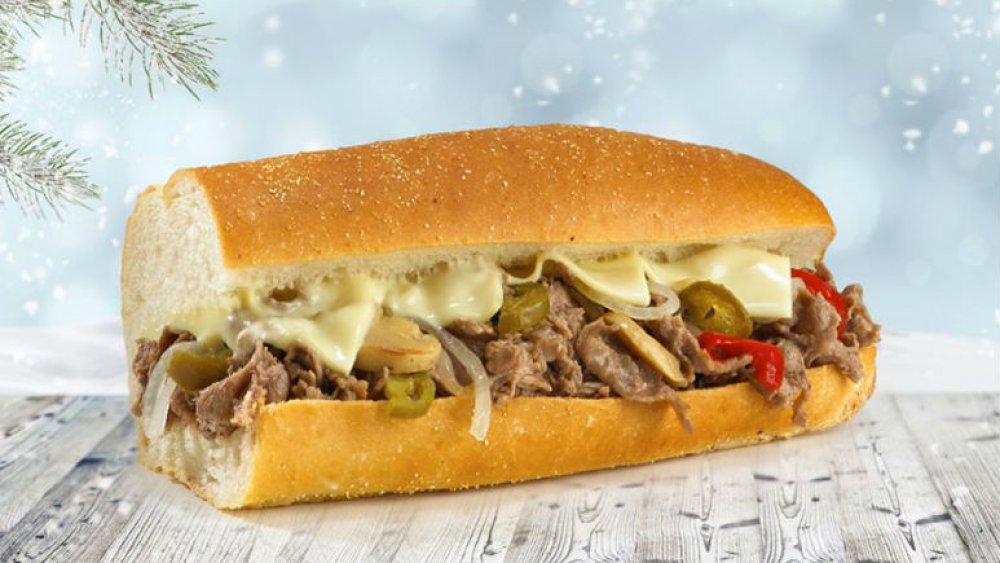 Sometimes a raging appetite calls for all the reinforcements to come in and quell that raging pit in your stomach. A salad just ain't gonna cut it this time around. Even though you might want to stick to a somewhat healthy diet, every once in a while you have to treat yourself to what you know is the only answer to your stomach's question. And, that often means a sandwich towering with glistening meat and enough saturated fat to make any doctor cringe. Hey, you only live once, and that's why jumping in bed with the Big Kahuna Cheese Steak with Chipotle Mayo (also known as #99) is the right move.
You might recognize the term "Big Kahuna" from that classic Sam Jackson scene in Pulp Fiction. However, that was only a hamburger. Jersey Mike's goes full-throttle and cranks the Big Kahuna-ness up to an entire cheesesteak, and there's no going back once that bad boy arrives at the plate. All you have to do is combine the Big Kahuna Cheese Steak and the Chipotle Cheese Steak, and it's worth every penny.
Tender grilled steak, a heaping pile of grilled onions, mushrooms, pepper, jalapenos, and four slices of American cheese — or pepper jack if you're feeling frisky — all come together for a lightning strike of flavor ready to electrify your taste buds. Top it off with the zest of chipotle mayo and you have yourself your new favorite sandwich.
Jersey Mike's R & R Special
There aren't too many things in life better than a Reuben sandwich. The combination of corned beef — or pastrami, in some cases — sauerkraut, swiss cheese, and creamy Russian dressing is perfection. Even people who tend to shy away from the bitter flavor of kraut welcome it on a Reuben. It just works. Well, Jersey Mike's is well aware that Reuben-heads exist in droves, and in order to win their service, they created their own mouth-watering version of arguably the greatest sandwich ever to exist.
Now, even though you might hear through the grapevine that Katz's Deli in Manhattan has the world's greatest Reuben, not everyone can easily take a trip into the Big Apple, and that's exactly why Jersey Mike's added a fantastic solution to their secret menu: their R & R Special. There's no need to schlep all the way into the midtown area of the busiest city in the world when Jersey Mike's is only a hop, skip, and jump (or, car ride) away.
Not only do you get the amazing flavor of corned beef, but the gracious people making your sandwich can also tack on pastrami for a wallop of savory flavor your mouth was born to experience. As with any classic Reuben, there's also melty Swiss cheese, the fresh crunch of coleslaw, and a hefty drizzle of Russian dressing to complete this all-star item.
The BLT from Jersey Mike's
Let's cut right to the point. A BLT isn't an odd sandwich. In fact, it's probably one of the most common in the world. However, if you glance at Jersey Mike's menu, you won't see it listed. How could a place known for sandwiches leave off one of the most basic — and delicious — combinations of ingredients ever? Fear not, hungry patron. Just because you don't see it on the menu doesn't mean Jersey Mike's isn't prepared to whip you up one of the best darn BLTs of all time. All you have to do is ask.
Obviously the letters "B," "L," and "T" are self-explanatory, so you don't have to worry about your sandwich coming prepared with some curveball ingredient ready to throw your appetite off course. But, there are so many ways to improve upon those basic three ingredients, so have at it! If you like a spice in your life, throw on some jalapenos or ask for a drizzle of chipotle mayo. What if you're looking for the texture of creaminess but want to avoid any sort of condiment? Easy, throw some avocado in the mix and call it a day.
The BLT will forever remain a classic sandwich, and Jersey Mike's gives you the option of enjoying it with some awesome additions if you're trying to crank up an oldie-but-goodie from 10 to 11.
Jersey Mike's Sub in a Tub
Carbs are the devil. Or, at least that's what some people think. This starchy fear drives hungry consumers far away from the sandwich lifestyle, and makes it hard for anyone following those guidelines to enjoy the deliciousness that is Jersey Mike's. Two pieces of bread? No way! But, Jersey Mike's is well aware of the quick-growing anti-carb movement, so they stepped in to help with the Sub in a Tub.
Now, while a Sun in a Tub isn't technically a secret menu item, it's definitely something most people aren't aware exists. Let's say you just get done with a grueling workout and need some sustenance to burn off afterward. You're craving a sandwich but really don't want to tack on any kind of carbohydrate and undo the progress you made. Well, Jersey Mike's has you covered.
Ask for your sandwich Sub in a Tub style and you'll get everything on whatever sandwich you order without the bread. It's that simple. It's basically like eating a sandwich as if it was a salad. You get the meat and veggies — and sauce, if your little heart desires — without the guilt of all those super tasty carbs.
Jersey Mike's Cancro Special
When you own a company, in order for success to show up knocking at the door day after day, it's imperative you feel passionate about the service you offer customers. Why would anyone try to launch a business if they didn't care about the end product? Well, the end product at Jersey Mike's is a delicious sandwich, so you better believe the man running the whole show behind that metaphorical Oz curtain certainly loves sandwiches, and he's even got one named after him — though you won't find it on the menu boards.
Peter Cancro was just a teenager when he invested in Jersey Mike's. At 17 years old, he had no idea what he was doing, but he believed in the Jersey Mike's brand and he was dedicated to pumping out a great product the public craved. Of course, as the owner of the shop, he had his own delicious concoction of ingredients that he liked to order. The Cancro Special wasn't a big seller though, so it's no longer an official Jersey Mike's sub. Of course, that doesn't mean you shouldn't give it the old college try yourself.
Why didn't a sandwich with provolone cheese, fresh roast beef, and pepperoni fly off the shelves? It's hard to say, but if you walk into Jersey Mike's and ask for the secret Cancro Special, expect a delicious meal fit for a CEO.
The Chicka-Fila-Roni from Jersey Mike's
Before you head out to Jersey Mike's, you might ask a buddy who's been there before for a recommendation. When they tell you to get the Chicka-Fila-Roni, it might sound like they're setting you up to ask for some bizarrely named fictional item that'll result in odd looks from the employees. But, what they're actually doing is letting you in a secret menu item that will set your mind ablaze with flavor.
Not only does the sandwich have everything a Philly cheesesteak has — other than the fact the protein is chicken instead of steak — but once all the basic cheesesteak toppings are added, grilled pepperoni is placed on top and, wait for it… chipotle mayo for a massive win. You get the clean taste of poultry plus the savory addition of spiced 'roni, as well. Both meats join forces to create a meal tasty rough to satisfy even the pickiest sandwich eaters. How could adding pepperoni to a sandwich ever make it less appealing? Here's a hint: It can't.
The sauce is the finishing touch, naturally, and you can order it with ranch or marinara. Or, if you want the full effect — and why wouldn't you? — get them both so you can savor the rich tomato flavor of the marinara while also enjoying the creaminess of ranch.
The Meateor from Jersey Mike's
Sometimes the carnivore in us needs to take over and blindly sprint into a culinary arena filled with so much meat we forget vegetables even exist. That's exactly what a YouTuber who goes by theendorsement did one particularly hungry afternoon at Jersey Mike's, and he shared his epic experience with the world. Needless to say, he's owed a massive thanks from everyone for creating his own secret menu item, and boy is it meat-tastic!
When it comes to the "Meateor," vegetarians and vegans better run for the hills and hide. The YouTuber suggests bravely adding all eight meats Jersey Mike's offers to a six-inch roll. Ask for turkey, ham, roast beef, pepperoni, salami, prosciuttini, capicola, and bacon to join hands for a sandwich that should go down in the Jersey Mike's history books.
Every single bite contains a little bit of everything, so even though you'll be smacked in the face with meaty goodness, you'll also be able to snag the flavors of the mayonnaise, oil and vinegar, lettuce, and pickles — or, whatever else you decide to add to this behemoth of a meal. When it comes time to scratch a savory food itch, ordering up The Meateor is absolutely the way to go.
Jersey Mike's Surf 'n' Turf
When we think of surf 'n' turf, only two foods should come to mind: steak and lobster. It's a perfectly rich pairing that makes you wonder why everything you eat can't have at least a hint of crustacean with a fatty medium-rare cut of beef. Now, when it comes to sandwiches, a steak and lobster one-two punch would get costly real quick, so that's why Jersey Mike's came up with their own unique twist that still leaves people with a taste of both land and sea.
According to the Jersey Mike's website, their hardcore fans say about this particular sandwich, "You either get it or you don't. You just have to see for yourself." Well, those who brave the waters and want to get their surf 'n' turf Jersey Mike's style better strap in. First, you want to order up the #9, the Club Supreme. Then, substitute provolone cheese for Swiss, take out the turkey and add tuna, and finally remove the bacon (roast beef acts as the turf). You can also add whatever fixings you want to perfect your new-found love interest.
The next time you see surf 'n' turf on a menu for some exorbitant price, always know you can head to Jersey Mike's for something way more affordable instead. Maybe it's not steak and lobster, but after you finish, your mouth won't care.
The Martian from Jersey Mike's
No, this sandwich isn't based off the Matt Damon film with the exact same name — what would that even look like? It is, however, named after the planet Mars because it's so darn tasty it's outta this world (cue corny dad-joke music). Oh man, big things are happening on The Martian.
Ready to hop aboard this insane medley train? Fire up an order for the #5, The Super Sub. Then, in two quick savvy moves, replace the ham with salami and the prosciuttini with pepperoni. Bam! These cuts come together to basically make the greatest cold-cut combo of all time. You wouldn't be wrong to add some provolone, either — in fact, you'd be so right. Maybe Jersey Mike's named this sandwich The Martian because they knew if space invaders ever were to touch down and wanted to explore the various cuisines planet Earth had to offer, they'd return to their galactic commune singing praises about this sandwich.
If you're feeling a little spacy and need something to get your mental Wonkavator to return to humanity's gravitational pull, walk into Jersey Mike's and let them introduce you to The Martian. Live long and prosper.
Sweet Pepper Wrap from Jersey Mike's
If you don't eat meat, it's perfectly natural to hesitate before a trip to Jersey Mike's. "Are they going to have anything there for me? Even if they do have vegetarian options, are they any good?" Why would you want to go somewhere that's so famous for subs that contain animal products? Well, the reason is quite simple: They also have dope vegetarian options that won't leave you feeling like a culinary pariah among your carnivorous amigos.
Perhaps the best route to navigate when avoiding anything that would start fights with a PETA representative is the Sweet Pepper Wrap. To begin with, fire up an order of a Grilled Veggie Wrap (Jersey Mike's suggests going with the tomato basil-flavored wrap for the best effect). Next, drop the ranch and add cherry pepper relish and chipotle mayo instead. Finally, sub out the bell peppers for hot peppers, but then add grilled bell peppers, instead. Of course, you can always opt to go white American cheese over the Swiss and provolone, as well. Yowza.
You might feel the urge to go to church to remove the naughty culinary thoughts that just cartwheeled through your head. After confessing your sins, however, head to Jersey Mike's and for one of these wraps.
Jersey Mike's Lumberjack Salad
When you pull up to Jersey Mike's you're likely not there to indulge in a salad. That'd be like going to a seafood restaurant and ordering the chicken dish — it just doesn't make sense. However, that doesn't mean you shouldn't order up one of their delicious creations. Maybe take that urge to splurge on a sub and redirect it towards the secret Lumberjack Salad, instead. Sure, you might not scratch a sandwich itch, but you are going to leave with a satisfied smile on your face, and that makes it all worth your time (and money).
With a name that includes the word "lumberjack," you can be sure this ain't your average prissy salad with a bit of lettuce and a tomato or two. No way in hell. To receive this aggressive concoction, order up a #9 (Club Supreme) in a Tub (meaning no bread). Take out the turkey, add prosciuttini, and finish it off with a drizzle of spicy mustard. This is an item for people who really crave meat in their salads.
Can you really call this thing a salad? That's not up to anyone but the creatives at Jersey Mike's, and it looks like they boldly did.