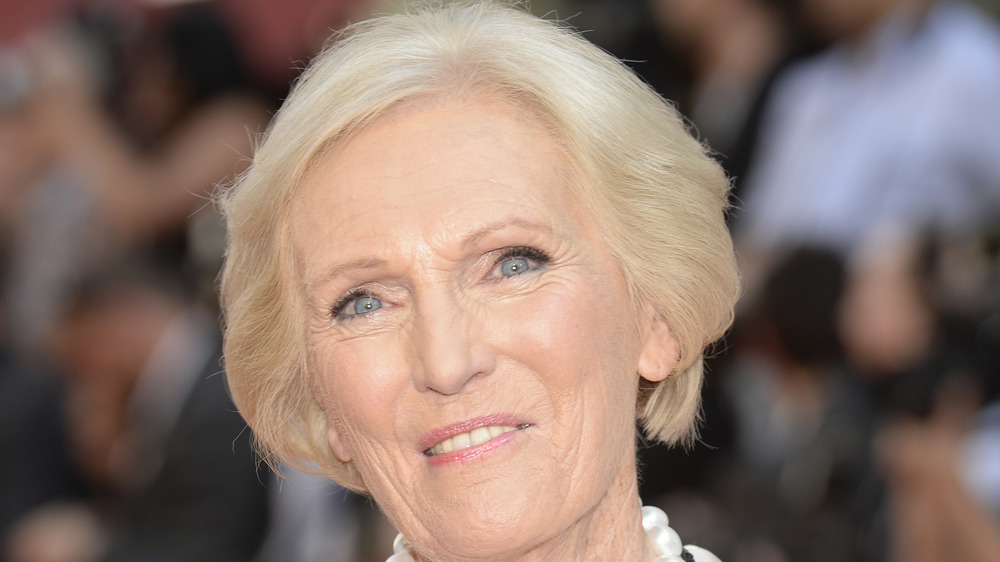 With her charming personality, dashing style, and strong distaste for "soggy bottomed" pastries, Mary Berry established herself as the world's queen of baked goods while rising to international fame as host of The Great British Baking Show. But her sixty-plus year career is far more extensive and impressive than just the few seasons she spent judging the popular cooking competition show.
Over the years, Berry has worked as a food journalist, television personality, and prolific cookbook author. On the personal side, she's been happily married for six decades, according to Hello! magazine, is a leading philanthropist, and last year was even awarded damehood (via BBC).
So how did Mary Berry go from struggling school student who was nearly paralyzed for life to one of the world's most prominent chefs who can lay claim to having more television shows than you can count and hanging out with literal royalty? Let's unpack how the queen of baking's impressive transformation has been turning heads for years.
Mary Berry discovered her love for cooking at school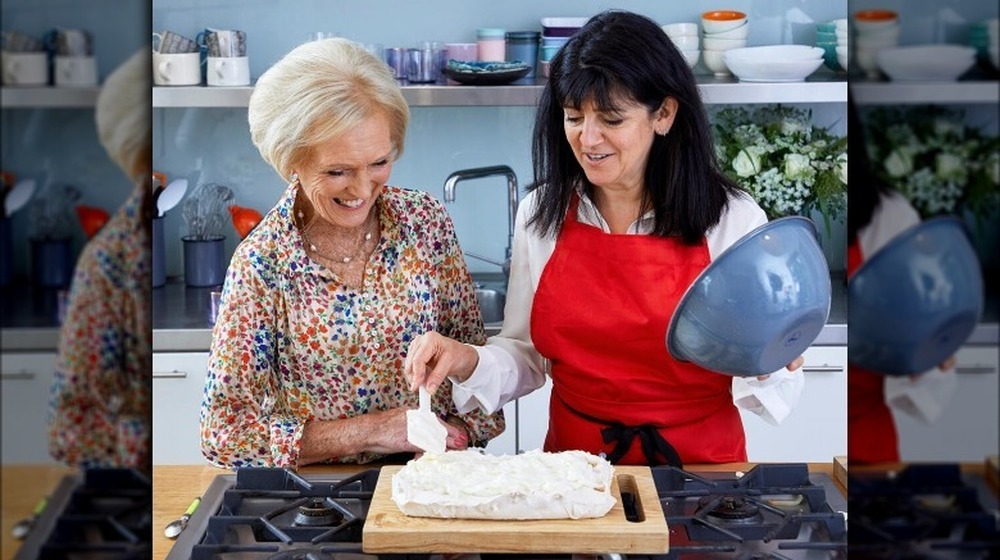 It didn't take long for Mary Berry to discover her love for baking, as it happened while she was still just a schoolchild. This fateful encounter occurred not because Berry was immediately drawn to cooking, but instead was due to the fact that she wasn't a particularly good student in any other subject.
According to the biography Mary Berry: The Queen of British Baking, young Berry struggled with traditional school subjects like math and Latin. But one teacher noticed Berry's skill at cooking in her Domestic Science course. "It was all, 'could try harder' until I gave up Latin and Maths and went to the Domestic Science department," she recalled. "Miss Date was the teacher and she was wonderful! Miss Date praised me, she helped me, she encouraged me." This encouragement would prove to be fateful indeed for young Mary.
That was all the guidance Berry would need to plunge into the world of cooking. She excelled in the course and has never looked back. Berry even remembers the first thing she cooked in school. It was a dessert, of course, a treacle sponge pudding that, according to The Telegraph, was so good that Berry's father compared it favorably to her own mother's recipe.
Mary Berry contracted polio at the age of 13
Not long after Mary Berry discovered what would become her lifelong passion, she was dealt a nearly fatal blow. Shortly after her 13th birthday Mary was diagnosed with polio, according to her biography. Polio is a life-threatening viral disease that affects the spinal cord and can cause paralysis and, in severe cases, death (via CDC). Berry contracted the disease less than five years before the development of the polio vaccine.
Because there were very few treatment options at the time, she faced the very real possibility of paralysis. Berry was kept in isolation at the hospital for a full month and then at a separate orthopedic hospital for another two months. Fortunately, she was fortunately able to make a full recovery.
The disease did leave her with one physical remnant, however — her "funny left hand," as she calls it (via Express). Berry's weakened left hand is slightly misshapen and somewhat smaller than her right. While she often leaves it out of view on camera, Berry claims her damaged hand doesn't prevent her from much. "Everybody thinks I've got arthritis," she told Express. "I look a bit funny when I'm rolling pastry, but I have no other difficulties whatsoever." Her childhood disease also led her to enthusiastically support the Covid-19 vaccine. "If you're in a hospital like I was, with people in callipers, people in pain," she said, "I think everyone should take the vaccine" (via BBC).
Mary Berry studied at the prestigious Le Cordon Bleu
As Metro reports, Mary Berry continued her culinary training at the Bath College of Domestic Science, where she studied catering and institutional management. After graduating, she got a job with the local electricity board, which meant that she would travel to customers' homes to demonstrate how to use ovens. The demonstration usually involved Berry baking a Victoria sponge cake.
It was during this time that Berry was able to convince her boss to sponsor her for a month-long course at the prestigious Le Cordon Bleu culinary school in Paris. As fortunate as Berry was to have this opportunity, it wasn't an easy experience. Classes were taught in French and, although the tuition was paid for, Berry still had to finance room and board, which was a challenge. According to Express, she stayed at a hostel and ate only baguettes during her time in the City of Light.
She completed the course, however, and even went on to gain acclaim from her old school. In 2012, Le Cordon Bleu reported that Berry had received an Honorary Diploma from the culinary school as recognition "for her vocation and contribution to the culinary arts."
After her studies, Mary Berry moved into food journalism
After graduating from Le Cordon Bleu, Mary Berry did not wind up where you would expect, which you may assume would have been in a professional kitchen somewhere, baking delectable treats. Instead, according to her website, Berry took a different culinary path into food journalism.
In the 1960s, Berry became the cookery editor for Housewife magazine, according to Mary Berry: The Queen of British Baking. She didn't so much accept the position but was rather told to do it. The current cookery editor had gone abroad and the magazine needed a replacement. They called Berry's workplace, a PR firm called Bensons where she was employed as a recipe tester, and asked if they knew of a qualified replacement. Without checking with Berry, her boss told the magazine she would do it. "My boss said, 'Housewife's cookery editor has gone to Spain on a press trip and the pages aren't done. You will do it,'" Berry recalled in an interview with BBC Radio's Desert Island Discs.
And so began a busy and ultimately successful career of introducing readers to the world of food through the written word. Berry followed that first editorial job up with a stint at Ideal Home magazine, according to Mary Berry: The Queen of British Baking.
Mary Berry accepted her husband's marriage proposal on his third try
Mary Berry and her husband Paul Hunnings have been happily married for more than sixty years, as Hello! magazine reports. It seems they were destined for each other –- but that wasn't always the case.
Berry met Paul through her brother, who was Paul's friend. Soon after, Mary and Paul began dating. But Paul was not the only man she was seeing. "I had another boyfriend in Bath, and he was in London and I used to go home at the weekend," she said. "Paul was the London one and I had a Bath one, actually there were several in Bath. You keep your options open."
When Paul decided to propose, he was apparently a little too inebriated for Berry's liking. "I do remember the first proposal and I think you were drunk," Mary said to him. "I think you had too much and I can remember telling you, you were drunk and thinking 'I'm not going to have anything to do with this man.' But you came back."
It's not clear what went wrong with the second proposal, but Berry rejected that offer as well. But third time proved to be the charm, although not the most romantic. On the third proposal, Paul said to his future wife, "I'm getting on in age, so either it's yes or no." It was a yes. And, of course, Mary Berry made her own wedding cake.
Mary Berry has been on television for nearly 50 years
Mary Berry's television career began way back in the early 1970s, according to IMDb. Her first regular series was Afternoon Plus, a collaboration with television presenter Judith Chalmers, according to Berry's website. By the 1990s, she was hosting her own shows, including 1994's Mary Berry's Ultimate Cakes and, in 1997, Mary Berry At Home, which showcased the chef cooking her favorite everyday meals in the comfort of a home kitchen.
In 2014, Berry hosted one season of Mary Berry Cooks. The show was a follow-up to the Berry's cookbook of the same name, which was released in February of that year (via Mary Berry). The program followed Berry along as she delivered easy-to-follow, step-by-step instructions for creating delectable dishes and treats like strawberry jam (via BBC).
In between all this cooking, Berry has made plenty of appearances on other types of television shows. She's often featured on The Graham Norton Show, BBC Breakfast, and Woman's Hour, amongmany others, along with her participation in several televised charity events.
Mary Berry's son died when he was just 19
As fruitful as Mary Berry's life has been, she is no stranger to loss. In 1989, her son died suddenly in a tragic car accident. William Berry was home from college for the weekend when he asked to borrow the family car to get a copy of The Times newspaper. He and his sister Annabel were driving into town when the accident happened. Annabel was unharmed but William died. He was just 19 years old.
"He went out with Annabel and it was a beautiful sunny morning," she said in an interview with The Independent. "The doorbell rang, I went, and there was a policeman there […] He said, I'm afraid to say your son has died.'"
Berry has since tried to use her loss to help others. She works closely with Child Bereavement UK, a charity that helps families following the death of a child. Over the years she has helped the organization raise money by participating in numerous fundraising events for the charity.
Mary Berry gained international acclaim as a host of The Great British Baking Show
After decades in front of the camera, Mary Berry was a well-known entity by 2010. But that year, her fame skyrocketed when she signed on to be a judge on a new BBC cooking competition called The Great British Baking Show, also known as The Great British Bake Off to British viewers (via Good Housekeeping).
The premise of the show is straightforward enough. A group of amateur bakers face off in a series of baking challenges aired every week. One by one, they are eliminated until a winner is crowned and given a commemorative cake stand. The competition proved to be an immediate hit soon after its debut, bringing in 2 million viewers and only growing in popularity in later seasons (via The Guardian).
Viewers were particularly charmed by Berry and especially by her famous distaste for pastries with "soggy bottoms," as well as her chemistry with co-judge Paul Hollywood. It wasn't long before other versions of the show were popping up in countries around the world, as The Guardian reports.
Not only was The Great British Baking Show a commercial success for Berry, but it provided her with some wide awards as well, such as when, in 2017, the UK's National Television Awards named her the Most Popular TV Judge (via IMDb).
Mary Berry shocked fans when she left The Great British Baking Show
All good things must come to an end, it's said. Mary Berry surprised many fans when, in 2016, she announced she would be leaving The Great British Baking Show, proving that even supremely good things can't last forever (via Good Housekeeping). Behind the scenes, the show was undergoing a bit of a transition. After seven seasons on BBC One, the show moved to a new home on Channel 4. At the same time, hosts Mel Giedroyc and Sue Perkins left the program. In a move of solidarity, Berry chose to depart as well. "It was the BBC's program, it grew there," Berry said. "So I decided to stay with the BBC, with Mel and Sue."
Thankfully, fans of Berry did not have to wait long to see her on television again. In 2017, she debuted two new shows on the BBC, Mary Berry Everyday and Mary Berry's Country House Secrets. Since then she has also hosted Classic Mary Berry, Mary Berry's Quick Cooking, and Mary Berry's Simple Comforts, along with multiple specials and guest spots (via Mary Berry).
Mary Berry has become a style icon
In case Mary Berry wasn't perfect enough, she also knows how to put together an outfit. In fact, she has demonstrated such good fashion sense that she's made herself into a style icon. Berry's sartorial acumen rose to prominence during her tenure on The Great British Baking Show.
"Over the subsequent seven series she stealthily worked her way through a catalogue of bright punchy versions from Oasis, Damart and Ted Baker," The Guardian wrote in 2016. "She introduced other tics, of course: fuchsia lipstick, her off-blonde lampshade of hair, a power clash of pink, but the bomber jackets were a cut above."
What makes Berry's style of particular importance within the fashion world and beyond is Berry's age. As The Guardian goes on to explain, we're simply not accustomed to older women on television making such bold wardrobe choices. "How older women represent themselves on TV has long stirred debate […] but Berry's defiance in wearing "historically" youthful looks, such as the Marks & Spencer oversized stork print jacket and Preen's pink leather bomber jacket, suggested a turning point." Or, as Berry herself told You magazine regarding her fashion choices: "I don't do boring."
Mary Berry has written more than 80 cookbooks
Nowadays, it's just about a requirement for a television chef to have a cookbook… or a dozen cookbooks. But Mary Berry has put nearly everyone in the culinary world to shame in this category, writing over 80 books during the course of her career. To be fair, she did have a head start, as she was writing about food before she ever jumped in front of the camera, and she has enjoyed a very long career of nearly five decades. Still, that's undeniably an impressive number of publications for anyone.
It started with the aptly title Mary Berry's Cookbook in 1970, followed two years later by Popular Freezer Cookery, which taught readers how to freeze food and use them in recipes later on. Other notable titles under Berry's name include Cook Now, Eat Later; Baking Bible; Fast Cakes; and Mary Berry's Absolute Favorites. Her latest work, Simple Comforts, was just released last fall. It contains more than 120 easy-to-follow recipes that result in delicious comfort food.
Mary Berry has received Britain's highest individual honors
It's always an honor to be recognized for your work and Mary Berry has certainly received her fair share of acknowledgements. In fact, she has received the highest honors Britain can bestow on one of its citizens.
Per the BBC, in 2012, the chef was named a Commander of the Order of the British Empire (CBE). As The Gazette explains, this is the second-highest Order of the British Empire award. The CBE is given to an individual who has shown distinguished and innovative work in any one particular field, so you know this is a pretty big deal for Berry and other CBE honorees.
If that wasn't enough, in 2020, the BBC reports that Berry received damehood, thus giving her the official title of Dame Mary Berry. "When I was first told that I was going to be a dame, you don't really believe it," she told the BBC. "Then it's so exciting and you feel very proud." Berry joins an extremely prestigious list of those who have been named a dame or knight including Anna Wintour, Paul McCartney, and Judi Dench (via Town & Country).
Sticking to her humble nature, Berry said that the award, while a huge honor, won't really change her. "Being a dame is going to make no difference at all," she told the BBC. "I suppose it will be on the envelopes, won't it, when people write to me, but I'll still be the same person."