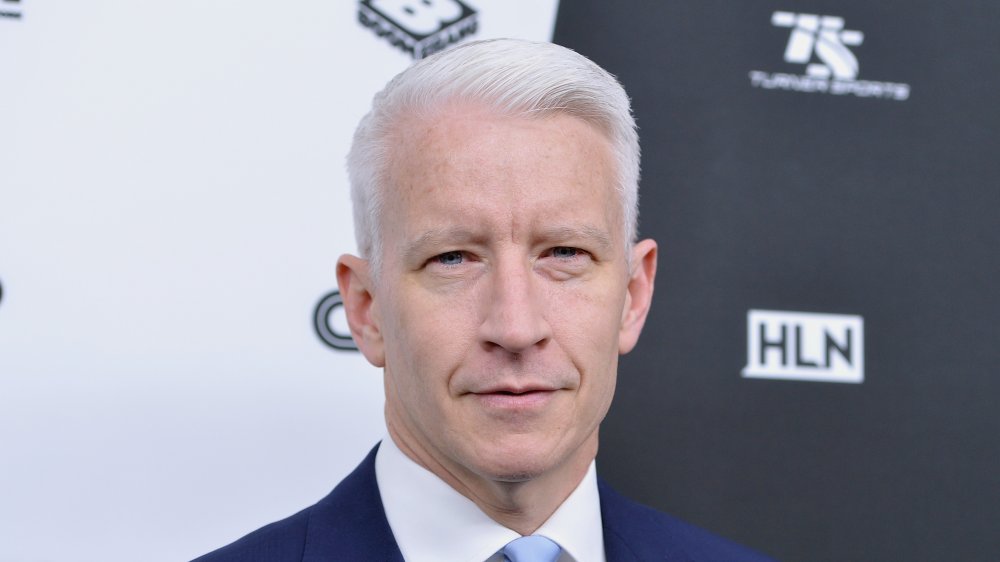 Since 2003, Anderson Cooper has been a staple in cable news — and his influence is only growing. In 2020, the CNN anchor's show, Anderson Cooper 360, had its third-highest January on record, beating out MSNBC's All in With Chris Hayes in the key adult demographics for the first time since the year prior. Beyond that, the TV news host basically invented the term silver fox and sparked thousands of internet crushes across the globe (those blue eyes, come on!)
Though things are looking up for the star, who's a brand-new father and somehow managing to amicably co-parent his son with his ex, he's been haunted by tragedy. Anderson Cooper's life has more or less been defined by loss, and even though he was born into money — with mom Gloria Vanderbilt inheriting the famous Vanderbilt fortune — his path to success was riddled with near-misses. This is the tragic, real-life story of one of CNN's most beloved on-air talents.
Anderson Cooper was permanently changed by his father's death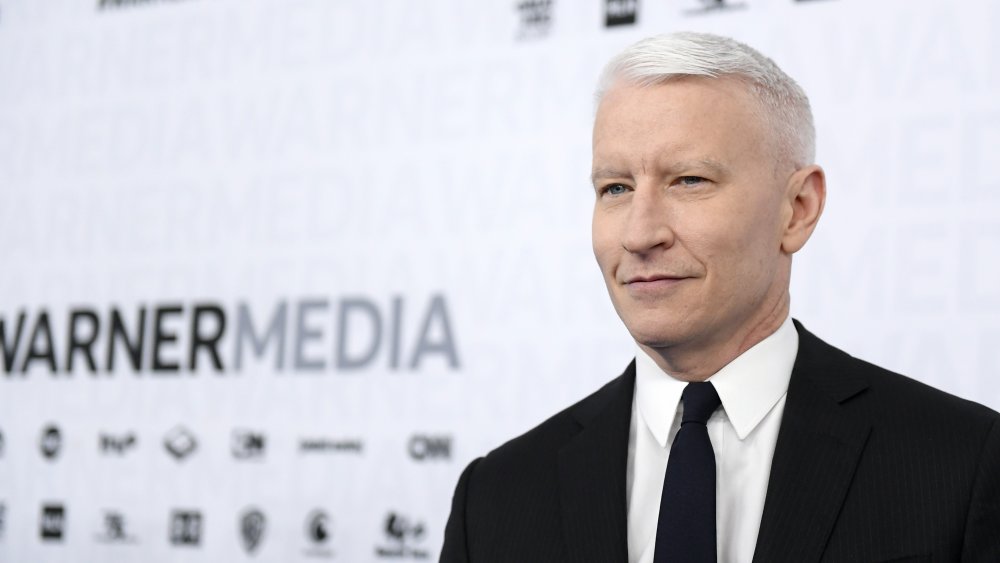 Anderson Cooper went through something most kids never have to endure. According to the Huffington Post, the CNN anchor's father, Wyatt Cooper, died during open heart surgery when Anderson was just 10-years-old — and the loss permanently hardened him.
"Loss changes you. Particularly when you lose a parent at a young age. The world suddenly seems a much different place. More dangerous," he said during a segment for CNN called "The Person Who Changed My Life" (via Huffington Post). "The person I was before my father's death, the person I was meant to be was far more open, more interesting than the person I've become. I wish it wasn't so. But the self-reliance I learned has also served me well."
Self-reliance wasn't the only thing Cooper learned at a young age. Anderson's father left him with one great quality that helped him rise to the top in a wildly competitive industry. "He gave me the sense that I had value, that my ideas mattered," Cooper said during the segment. "That instilled in me a confidence I don't think I would have otherwise had."
A creep made Anderson Cooper quit his 'embarrassing' modeling career
If Anderson Cooper wasn't a journalist, he could've had a backup career as a model. The star inadvertently jumped into the world of modeling when he was just a baby, and it was nothing short of controversial. According to an archived New York Times article, Cooper's baby photo ended up in exhibits in famed museums like the Met and LACMA — but how?
Cooper's portrait was first captured by Patricia Bosworth in an effort to prove she didn't only photograph "freaks." She snapped elegant people too, and one of those elegant people happened to be Gloria Vanderbilt. Bosworth took a photo of the socialite's sleeping baby for a Valentine issue of Harper's Bazaar, but the photo was so haunting that Vanderbilt refused to let the magazine publish it. Eventually, she relented, and the photo was used in Bosworth's retrospective at the Museum of Modern Art in 1972.
That was only the star of Anderson Cooper's modeling career. After his father died, he wanted to be independent and make his own money. The only problem was that there were only a few things a 10-year-old could do for cash. According to New York Magazine, the star signed to Ford and modeled in campaigns for Calvin Klein and Macy's. "It's embarrassing," he told the publication. He ultimately ended up quitting when he was 13-years-old because a "creepy male photographer propositioned him." Gross.
He still struggles with his brother's suicide
In 1988, Anderson Cooper lost his brother, Carter Cooper, to suicide. According to The New York Times, the 23-year-old, who was receiving treatment for depression, died after jumping from the terrace of his mother's 14th-floor, New York City penthouse. His tragic passing has haunted Anderson for more than 30 years.
In a CNN essay, Anderson revealed that he still struggled with asking himself why. "You always hear tales about brothers who can feel each other's pain. This isn't one of them. When my brother died, I didn't feel a thing," he wrote. " … I didn't see the pain he was in. And when I did get a glimpse of it, it scared me so much I didn't know how to help."
Anderson admitted that the days following Carter's death were particularly difficult. He stayed inside to avoid the reporters that gathered in front of his building. He left just once to go to his brother's apartment to pick out a suit for the burial. "The place was just as he'd left it," he wrote. "A half-eaten turkey sandwich was on the kitchen counter. The air was stale, the bed unmade. I remember it still smelled of him, and I bent down to his pillow to feel close to him. I can't remember what he smelled like anymore."
If you or someone you know needs help, please call the National Suicide Prevention Lifeline at 1-800-273-TALK (8255).
It almost pulled Anderson Cooper's family apart
Carter Cooper's death was particularly devastating for Anderson's mother Gloria Vanderbilt. The New York Times reports that she was there on the terrace when Carter jumped to his death. She told People that it's something she's never been able to get closure from, and at the time, Anderson pulled back in his grief, which made things even more difficult.
In an excerpt from The Rainbow Comes and Goes, the memoir Vanderbilt co-authored with Anderson, she explained how both of them struggled to cope. "Although at first I was aware of your distance from me, and upset by it, soon the waterfall of tears that kept flowing from me washed away any awareness that you were shutting me out," she wrote (via The Star). "I wanted to die and I only knew the stream of pain I kept going over and over and over again was what was keeping me alive."
Eventually, Carter's death did bring the pair closer together. The CNN anchor admitted to People that "you can't help but come closer going through something like that," but the sense of loss never left them.
Anderson Cooper's inner pain sparked his interest in journalism
In a 2014 interview with Howard Stern (via People), Anderson Cooper admitted that "not a day goes by" where he doesn't think about Carter's death, but his brother's passing also made him reevaluate his own life and his career. The CNN anchor claimed that his older brother, a Princeton graduate, was always the smarter one. If Carter did what he did, was there also the same darkness hidden somewhere within Anderson himself?
"I don't worry about it anymore, but I certainly did at the time," Anderson told Howard Stern, later adding, "I think he had this impulse that he could not contain."
These unanswered questions led Anderson to pursue a career in journalism as he worked through his own loss by examining the losses of other people. In a piece for Details (via New York Magazine), the anchor admitted he specifically sought out places riddled with conflict like Thailand, Vietnam, Rwanda, and Bosnia. "I'd come to be a reporter," he wrote. "At least that was the excuse. The only thing I really knew is that I was hurting and needed to go someplace where the pain outside matched the pain I was feeling inside. Somalia seemed a good place to start."
Fake it 'til you make it
Anderson Cooper was admittedly a little lost when he started his career as a journalist. Reeling from the death of his brother, the star just jumped overseas after graduating from Yale and faked his way into a massive career.
In a New York Magazine profile, the star revealed that he started freelancing in war-torn areas after buying his own video camera and creating fake press passes, which surprisingly worked to give him access. He sold the reports to Channel One, a closed-circuit classroom news network, but it eventually led to a job at ABC. There, he became one of the youngest correspondents in the network's history, but his DIY reports — which were often six minute-long, camcorder-shot quick hits — got him relegated to the overnight shift at World News Now. Cooper claimed "no one within ABC actually watched" the program.
That's when Anderson Cooper pulled a move completely out of left field. He jumped into the world of reality TV and became the host of the hit 2001 reality competition The Mole. As we know, everything worked out, but the gig majorly threatened his career as a serious reporter. He justified the switch to New York Magazine, admitting, "Frankly, I didn't see much of a difference between the stuff that I was seeing on news shows and reality TV."
Anderson Cooper's big break was almost a miss
Anderson Cooper wasn't an immediate success. In fact, his career is littered with misses. It was only when he had nothing to lose that he was able to show his true talent. According to New York Magazine, CNN took a chance on Cooper following his stint in reality TV, but it was no easy task convincing viewers that the host of The Mole was a serious reporter. In 2002, they gave him a co-hosting slot on their morning show with Paula Zahn. He only realized he was failing when they sent him to Afghanistan without so much as a camera crew.
"I don't think they liked me very much, and I don't think I was very good," he told New York Magazine, adding. "I got to Kabul and I was like, 'Hey, wait a minute. This is how you get pushed out. You get sent far away without any backup.'"
Anderson Cooper's big break came when he got the opportunity to fill in for Aaron Brown on NewsNight. The week he was there, he threw caution to the wind because he had "nothing to lose." He played with the audience and they majorly responded. Not long after, he was given Anderson Cooper 360 and never looked back.
Anderson Cooper's last moments with his mom
In 2019, Gloria Vanderbilt passed away days after being diagnosed with an advanced form of stomach cancer, but Anderson Cooper did get to share some sweet last moments with the 95-year-old, who he called his best friend in a touching eulogy on Anderson Cooper 360. In the segment (via CNN), Cooper revealed that he spent the last nine days of Vanderbilt's life by her side.
"They were the most extraordinary days of my life and I'm very grateful," he said, adding, "Though I was holding her hand and her head when she took her last breath, it's still a little hard for me to believe she's gone."
Cooper described his mother as the last of his immediate family and "the last person who knew [him] from the beginning." He was devastated by her loss. "They're all gone and it feels very lonely right now. I hope they are at least together," he said on-air. Nonetheless, the star did get a chance to share some happy news with Vanderbilt before she went. During an appearance on Live with Kelly and Ryan (via People), Cooper admitted he told his mother that he was going to be a father, even though it was just an "idea in [his] head." She was "thrilled."
Where's that Vanderbilt fortune?
Gloria Vanderbilt was born into one of the wealthiest families in America. According to Page Six, she had a $2.5 million trust fund which is roughly equivalent to a spending power of $35 million today. At one point, her denim business was valued at a reported $100 million, but at the end of her life, there wasn't much left. By the 1990s, she was selling off properties to pay the IRS back taxes, and at the time of her passing, she didn't leave Anderson Cooper with a whole lot.
"My mom's made clear to me that there's no trust fund. There's none of that," Cooper told Howard Stern in 2014 (via Page Six). "I don't believe in inheriting money … I think it's a curse … From the time I was growing up, if I felt like there was some pot of gold waiting for me, I don't know if I would have been so motivated."
Though some reports claimed Cooper was going to inherit up to $200 million, Page Six reported that the CNN anchor received less than $1.5 million from her estate, with his mother's $1.2 million Midtown co-op left to her eldest son, Leopold "Stan" Stokowski. It's not like Anderson Cooper is hurting anyway. According to Celebrity Net Worth, the star makes $12 million a year and has an estimated net worth of $200 million.
Anderson Cooper was stalked for years
For six years, Anderson Cooper had to deal with one of the scarier pitfalls of fame. The CNN anchor had a stalker who repeatedly visited him and his then-boyfriend Benjamin Maisani from September 2007 until he was finally arrested in July 2013. According to the New York Daily News, Alex Hauser, who suffers from schizophrenia, repeatedly made phone calls to the couple and showed up at CNN studios and their NYC apartment. The New York Post reports he pleaded guilty to "felony menacing and harassment charges" in 2014 but maintained the fact that he never meant to cause any harm.
"I'm sorry that [Cooper] feels that way. He was never in any danger. I would die for him," Hausner told reporters outside of the courthouse (via the New York Post).
According to the New York Daily News, Hausner ultimately made a deal to avoid jail time in exchange for extensive psychiatric treatment, time served, and five years of probation. Once he was released, he bizarrely alleged that Maisani was the one stalking him online. He claimed people were sending him messages on Maisani's behalf, and he feared for his life. Nothing came of that claim.
Anderson Cooper's come-out was a long time coming
For years, Anderson Cooper's sexual identity was subject to a lot of speculation, which was pretty bizarre considering he didn't exactly hide his dating life. According to Gawker, the CNN anchor "never lied about being gay," and it was known in some New York City media circles despite the fact that the "rest of the world didn't really have a clue." He was even described as "openly gay" in a 2003 issue of the gay lifestyle magazine Metrosource, but that wasn't quite the case. His sexuality wasn't a secret, but it wasn't not a secret.
Cooper didn't acknowledge his sexuality on air or in the press until 2012. In an email to a Daily Beast reporter (via CBS News), the star definitively revealed, "The fact is, I'm gay, always have been, always will be, and I couldn't be any more happy, comfortable with myself, and proud." So why did he finally set the record (not so) straight?
In the memoir he co-authored with his mother (via The Daily Beast), Anderson Cooper admitted, "At a certain point it started to feel like by not saying something, I was saying something. It seemed like I was uncomfortable about something, which wasn't the case." At the time, he was already leading an openly gay life with his partner and hanging around gay bars where anyone could easily recognize him.
Co-parenting in a pandemic
In May 2020, as lockdowns swept across the nation following the outbreak of the novel coronavirus, Anderson Cooper announced the birth of his first son, Wyatt Morgan. In an Instagram post, the star revealed he was "beyond happy" and named the baby after his father and his mother (Morgan is a family name on his mother's side). Later, in an on-air segment, the journalist dove into the complicated emotions found in experiencing joy during an era of great loss.
"It has been a difficult time in all of our lives, and there are certainly many hard days ahead," Cooper said (via CNN). "It is, I think, especially important in these times of trouble to try to hold on to moments of joy and moments of happiness. Even as we mourn the loss of loved ones, we are also blessed with new life and new love."
Anderson Cooper plans to co-parent Wyatt with his ex-partner Benjamin Maisani. According to The Daily Mail, Cooper split from his longtime boyfriend sometime before March 2018, though they were living together. In an interview with Stephen Colbert (via USA Today), Cooper admitted, "Even though we're not together anymore … he's my family and I want him to be Wyatt's family as well."