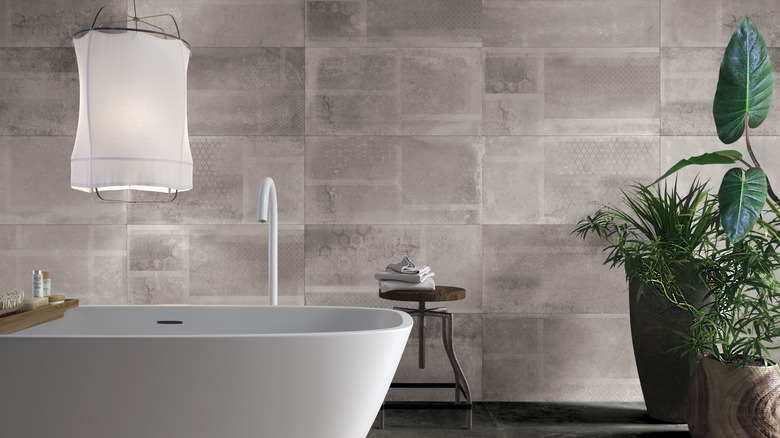 Relaxing in a bath after a long day is one of the simplest, finest pleasures in life, as noted by the Cleveland Clinic. Whether you have the best-smelling bath bombs and a fancy Whirlpool tub, or you have to push aside the kids' bath toys to squeeze into a standard sized tub with your glass of wine, there's no doubt that you're in for a few moments of pure bliss.
But for every rare moment you get to decompress in the bathtub, there's probably been a handful of hours you've had to scrub, scrub, and scrub some more, just to get rid of that week's soap scum and build up. After all, nothing says relaxing spa night like a clogged drain and a rusty, stained tub, right?
Wrong! Rest assured, we've got some of the best tips and tricks for regularly cleaning your bathtub — that way, your favorite hideaway is always bright, clean, and ready for your next night of relaxation.
1. Draw a warm vinegar bath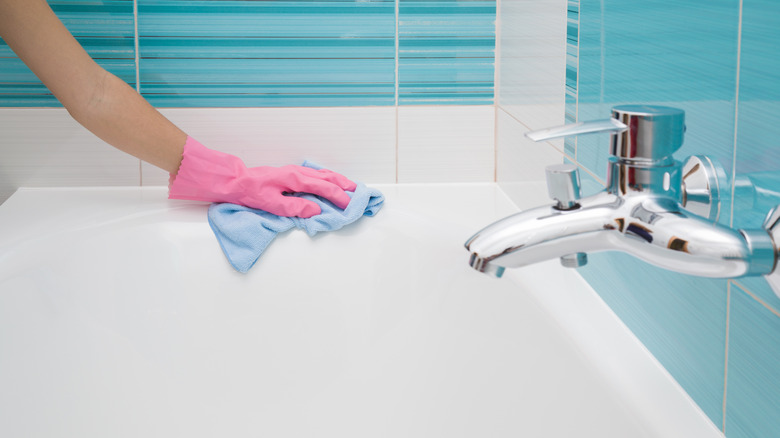 Depending on the make of your tub, you may want to avoid some harsh chemical cleaners and any abrasive scrubbing products, like too-gritty Magic Erasers which might scratch the surface. Always do the proper research to make sure that the method you're using makes sense for the material you're cleaning.
But whether your tub is acrylic or fiberglass — two of the most common options — vinegar is an easy place to start. Home Depot suggests filling the tub with piping hot water (just be sure to save some for the bath you've penciled in for later!), and pour in a generous amount of vinegar. You can also drop in some essential oils to mitigate the vinegar scent, or just let the natural cleaner work its magic on its own. After about 15 minutes, you can drain the tub of the mixture, and then give it a good wipe down with a microfiber cloth, then rinse.
This method is especially helpful for caked on soap scum stains, so if you're not particularly fond of scrubbing on your hands and knees, start with this easy option to clean your tub.
2. Clean your bathtub with dish soap and vinegar
This combo is just about the holy grail of bathtub cleaning methods, and the best part? You probably have everything at home already — there's no need to find room for another bottle of cleaning solution in the cabinet. All you need is some grease-fighting dish soap, like Dawn, some white vinegar, and a fresh broom. Don't use a dirty one that you have laying around, since the last thing you want is to bathe in some stubborn dust after your day of cleaning. Instead, buy a cheap one from the store, but try to grab one with softer bristles in order to protect the surface.
The blog One Good Thing recommends squirting the dish soap directly on the tub floor, or mixing it with some vinegar and pouring it in for some extra cleaning power. Wet the broom and start "sweeping" away the scum with brushing motions. The dish soap alone is enough to start loosening up the gunk on the floor and sides of your tub, but when combined with vinegar, it's an unbeatable paste that practically does all the hard work for you!
3. Unclog jets with powdered dish detergent
If you're one of the fortunate homeowners that has a Whirlpool tub, then you're also one of the unfortunate homeowners who has the dreaded task of cleaning the jets. You don't necessarily have to break your back scrubbing every nook and cranny of your jacuzzi bathtub, though, with this easy cleaning hack.
Of course, as with most cleaning projects, you'll want a little bit of vinegar on hand to really cut through the grime. Simply fill your tub up past the jets with some warm water, then pour in 1/2 cup of vinegar, and about 4 tablespoons of powdered dishwasher detergent. Run the bathtub jets on full speed for about 15 minutes — and prepare to be left with some pretty disturbing water, filled with gunk and debris that's been caked into the jets, per Clean Mama. All that's left is to drain it, then give the bathtub a good rinse before comfortably soaking the day away!
4. Clean bathtub caulking with bleach
Traditional bathtub caulking is one of the most common areas for mold and mildew to appear in the bathroom, and that's what makes it such a pain to clean. Even the brightest, whitest caulking can quickly look dingy against your shiny shower tile if you don't regularly maintain it.
While it's relatively simple to clean your bathtub caulking with bleach, we don't recommend doing so until it's later in the day after showers have been had, and teeth have been brushed — you're going to want to properly ventilate the space overnight to be as safe as possible.
SF Gate recommends suiting up with some gloves and goggles, then soaking some paper towels or cotton balls in liquid chlorine bleach. Place the soaked pieces along the edge of the tub where you're seeing spots of mold peak through, and let them sit overnight, or for a few hours. Swipe the bleach along the area in one quick motion to fully remove any debris when you return, and fully rinse the area with some soap and water. The bathtub caulking should be bright and clean, and certainly shouldn't stand out against the tile any longer!
5. Cleanse your bathtub with baking soda
Baking soda is another one of those staples you always want to have on hand when cleaning, especially if you're looking to do it the DIY way. Badeloft Luxury Bathrooms recommends sprinkling it straight into the tub, then turning on the faucet to add just enough warm water to create a paste. You don't want it to be too runny, because the goal is to scrub the at-home cleaner into the tub's surface with a cloth or sponge. Since baking soda is non-toxic, this is a great option if you're nervous about how the residue of some cleaners may interact with sensitive skin when it actually comes time to use the tub.
Another great use for baking soda in the bathtub is deodorizing your drain. Whether or not you've had the pleasure of dealing with hair down the tub drain before, it's still important to keep it clean and clear to prevent any further build-up of soap scum. Better Homes & Gardens says the easiest way to achieve that is to pour an entire cup of baking soda down the drain, followed by a cup of vinegar. The mixture should start to bubble after a few minutes, clearing old gunk and debris out in the process.
6. Use Scrubbing Bubbles to scrub your bathtub
As much as we love a good tried and true DIY cleaner, sometimes, you just need to bring in the big guns — and by big guns, we mean the Scrubbing Bubbles. The self-touted "Bathroom Grime Fighter" does just that, and with very little effort. All you have to do is give a generous spray all over the surface of your bathtub, and let it sit for a few minutes before wiping away the foam. A 4-pack on Amazon runs for under $30.00, and the reviews more than make up for the price tag. With over 3,000 reviews, Scrubbing Bubbles sits at a 5-star rating, with multiple shoppers claiming they won't dare use anything else on their tubs.
So, if the thought of actually scrubbing your bathtub is enough to have you settle for a shower instead, consider investing in a bottle of the store bought stuff. After all, their motto speaks for itself: "We work hard so you don't have to."
7. Wet a few dryer sheets and wash your bathtub
If you happen to have a spare pack of dryer sheets laying around, try using them outside of the laundry room. According to Hunker, fabric softener-based dryer sheets are actually a secretly simple way to bring your tub from dirty and drab to soak-worthy and shiny. The outlet explains that all you have to do is wet a dryer sheet to activate its bathtub cleaning powers, and lightly wipe it over any stuck-on soap scum. They're typically gentle enough to remove stains and build-up without scratching the surface — as a matter of fact, any grime should peel right off the tub floor — and the fresh scent doesn't hurt, either. You can really use the dryer sheets to clean up anywhere in the bathroom, so this is a great option for when you're trying to get the most cleaning done in one go!
Believe it or not, but you can actually reuse the used ones that have already made their way through a dry cycle, too. Less waste and a cleaner, fabulous smelling tub? Sign us up!
8. Invest in a drain catcher for your bathtub
We've all seen the cheesy TV commercials for the TubShroom by now, but trust us: This is one of those "gimmicky" products that you actually need in your life if you want to have a clean bathtub without all of the effort. The TubShroom acts as a filter for any rogue hair that might make its way down the drain, which not only protects your plumbing, but it saves your bathtub from an extra layer of dirt and debris, too.
According to the company's website, you can leave the TubShroom in place for weeks and it'll passively collect whatever hair happens to come out on wash days. Of course, removing it and cleaning it is a whole other story (we're sorry in advance), but it beats wiping down the sides of the tub between uses.
If the very last thing you want to do is regularly keep up with cleaning your bathtub to get rid of all of that unwanted hair, then add this one to your online cart — the whole family will thank us later.