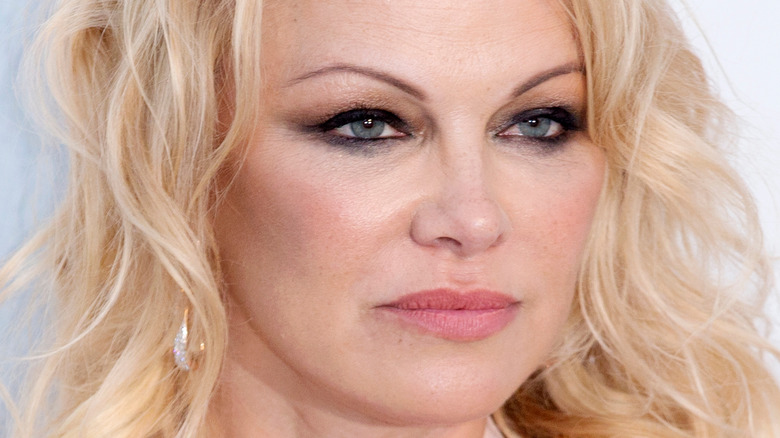 People seem to get married for all kinds of reasons. Love is presumably at the top of the list, but many also marry for things like financial security or just plain old companionship — even if their spouse isn't their ideal mate. Then you have those who seemingly believe that life is far better being someone's husband or wife rather than a single person, based on the many times they've wed. It happens with celebrities all the time.
For this one, we chose a list of stars who've been married multiple times, some of them with very little time in between those marriages. A few celebs walked down the aisle at a young age, then continued to marry different people all through their adult life. Sadly, some never had a marriage that lasted longer than a few months, with others even shorter than that. But on the opposite end, there are a number of famous folks who've had a long-lasting marriage after divorcing multiple people, so they finally got their happy ending. Which celebrities can't seem to stay married for very long?
Halle Berry is into athletes and artists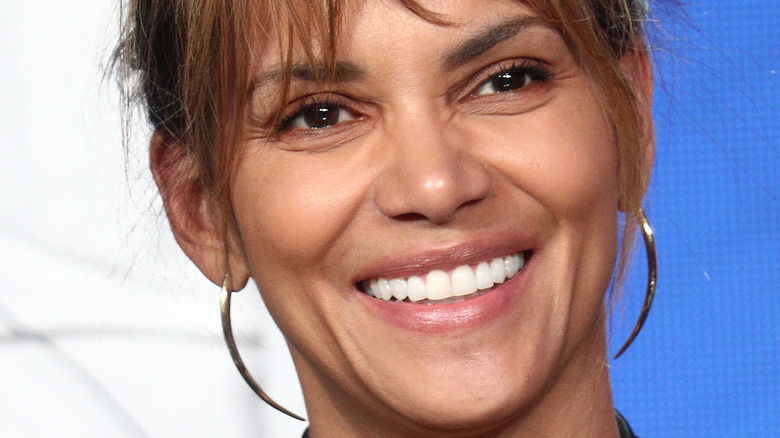 Halle Berry has been an object of desire for people near and far since hitting the scene in the early '90s. However, there are three men out there who not only can say they captured her heart, but they can also call themselves her ex-husband. Berry's first hubby was former Major League Baseball player David Justice, who she was married to from 1993-1996. They met one year before getting married after Berry saw him on MTV's "Rock n' Jock," as detailed by PopSugar. But things went south once their divorce got underway because Berry filed a restraining order against Justice. As a result, gossip flew that he was abusive. He's always denied the claim, most recently in 2015 while speaking to People (via the New York Daily News).
Berry's next marriage was to singer Eric Benét, who she met at a concert in Los Angeles, according to People. They exchanged vows in 2001 and divorced in 2005. At some point, Berry learned that Benét was cheating on her, according to what she told Oprah Winfrey in 2004. She also revealed that he admitted to being unfaithful once the news came out in a tabloid. Actor Olivier Martinez was Berry's third husband, who she met on the film "Dark Tide," per Entertainment Weekly. They tied the knot in 2013, divorced in 2016, and had a son named Maceo-Robert. In a joint statement to People, Berry and Martinez said they decided to divorce with a "heavy heart" and only want what's best for their boy.
Charlie Sheen got married after six weeks
Charlie Sheen is a three-timer when it comes to walking down the aisle. His first wife was model Donna Peele, who he wed in 1995. They met in New York while filming a commercial and were married after just six weeks of dating, per The Deseret News. "My research and travel has shown me people who court for a decade usually have a marriage that lasts only a couple of years," Sheen told The New York Times about why he chose to marry Peele so quickly. But ironically, the marriage barely lasted a year, and they divorced in 1996.
Sheen then wed actor Denise Richards in 2002. Per The Sun, they met on the film "Loaded Weapon 1" in 1991 but waited for a while to be a couple. They eventually had two girls, Sam and Lola Rose, but got divorced in 2006 after some of their problems spilled into the press. The "Wall Street" star's third marriage was to Brooke Mueller in 2008, and they had twin boys, Bob and Max, before divorcing in 2011. Similar to Sheen's problems with Richards, alleged fights with Mueller made headlines. Plus, Sheen was arrested in 2009 in Aspen, Colorado after Mueller said he pulled a knife on her, as CBS News reported then.
If you or someone you know is dealing with domestic abuse, you can call the National Domestic Violence Hotline at 1−800−799−7233. You can also find more information, resources, and support at their website.
Angelina Jolie had a super contentious divorce
Angelina Jolie is a card-carrying member of the three-time marriage club. Her first marriage was in 1996 to British actor Jonny Lee Miller. They met on the set of "Hackers," according to E! News, and divorced in 1999. Jolie then married actor Billy Bob Thornton in 2000 after meeting him on the film set of "Pushing Tin," per InStyle. Thornton was still engaged to actor Laura Dern at the time, so it's safe to say that she didn't send them a wedding gift.
Probably one of the most reported stories about Jolie and Thornton is when they began wearing vials of each other's blood. In 2014, Thornton told students at Loyola Marymount University's School of Film & Television (via E! News) the vials were a way to keep him and Jolie connected since they were often apart. But the blood didn't keep them connected for long because they divorced in 2003. Jolie's third marriage was to Brad Pitt in 2014 after they met on the film set of "Mr. and Mrs. Smith." Their marriage ended in 2016 but not before they welcomed several children (three via adoption). Their divorce, and child custody battle, was highly contentious. In 2021, Jolie accused Pitt of abuse, which he's strongly denied. He was also cleared of committing child abuse by the Los Angeles County Department of Children and Family Services in 2016.
If you or someone you know is dealing with domestic abuse, you can call the National Domestic Violence Hotline at 1−800−799−7233. You can also find more information, resources, and support at their website.
Pamela Anderson is far from a quitter
Pamela Anderson is apparently a firm believer in the saying "if you don't succeed, try, try again." That's because she's been married five times, with her first marriage to Mötley Crüe drummer Tommy Lee in 1995. They exchanged vows in Cancún, Mexico just six weeks after being introduced to each other, per Us Weekly, and divorced in 1998. Then in that same year, Lee was arrested and charged with felony spousal abuse after Anderson told police she was assaulted. Lee was eventually arrested and sentenced to 180 days in jail, according to MTV. They also had two children together during their union, Brandon Thomas Lee and Dylan Jagger Lee.
Anderson's next husband was Kid Rock, who she was married to from 2006-2007. The two cited "irreconcilable differences" as the reason for the split. But according to a report from the New York Post (via CBS News), the divorce had to do with Rock not liking that Anderson was in Sacha Baron Cohen's film "Borat" since it focuses on Borat Sagdiyev wanting to marry the former "Baywatch" star. Anderson was then married to Rick Salomon, Paris Hilton's ex, from 2007-2008, and again from 2014-2015. The former "Home Improvement" actor wed Jon Peters after that, a man she'd met 30 years prior, but the marriage lasted for just 12 days. But later in a statement, shared by USA Today, Anderson said the marriage wasn't legal. Her fifth marriage was to her bodyguard Dan Hayhurst, who she wed in 2020 on Christmas Eve.
If you or someone you know is dealing with domestic abuse, you can call the National Domestic Violence Hotline at 1−800−799−7233. You can also find more information, resources, and support at their website.
Billy Bob Thornton is a marriage type of guy
Billy Bob Thornton was just 23 years old when he married his first wife Melissa Lee Gatlin in 1978. The marriage only lasted until 1980, and Gatlin has kept out of the public eye since the divorce, with very little information on her available online. Actor Toni Lawrence was Thornton's second wife. They were married from 1986–1988. Similar to Gatlin, there isn't much known about Lawrence aside from her past TV work.
Thornton walked down the aisle with actor Cynda Williams after that, and the marriage lasted from 1990-1992. Some might know Williams from Spike Lee's 1990 film "Mo' Better Blues." Pietra Dawn Cherniak was wife number four, with that marriage lasting from 1993–1997. She had two children with Thornton, William and Harry. But the actor's most headline-grabbing marriage was to Angelina Jolie, who he was married to from 2000-2002. It seemed the media loved the quirky nature of their relationship and joint star power. Thornton then married makeup artist Connie Angland in 2014, and as of 2021, they're still going strong. The couple also has a daughter named Bella Thornton.
Gary Oldman hasn't let divorce slow him down
Gary Oldman has been in a long list of films and TV shows since the early '80s, but one of his main roles in life has been that of a husband. In fact, he's played the role five different times and not always to critical acclaim. Oldman first married fellow English actor Lesley Manville in 1987 but they split in 1990. They met at Royal Court Theatre in London and have a son named Alfie. Soon after the split, Oldman married Uma Thurman and they were together from 1990-1992. Per Yahoo! News, the former couple began dating on the film set of "State of Grace," with Thurman once telling Vanity Fair that she was 18 years old when they met and he was 30. She also said the marriage was a "mistake."
From 1997-2001, Oldman was married to Donya Fiorentino, and in 2018 she accused him of physical and emotional abuse. She made the accusation to TMZ after he won a Best Actor award for his role in "Darkest Hour." Wife number four was singer Alexandra Edenborough, who Oldman was married to from 2008-2015. Edenborough cited irreconcilable differences as the reason for the divorce, according to the Los Angeles Times. Oldman then married Gisele Schmidt in 2017 in Beverly Hills, California.
If you or someone you know is dealing with domestic abuse, you can call the National Domestic Violence Hotline at 1−800−799−7233. You can also find more information, resources, and support at their website.
Sean Bean thought he was done with marriage
English actor Sean Bean can certainly be called a fan of marriage (or at least weddings), having walked down the aisle five times. Debra James was his first wife. The Mirror says they dated as young students, and their marriage lasted from 1981-1988. Melanie Hill, also an actor, was Bean's second wife. They were also married for seven years, from 1990-1997, and have two daughters together. "I love Sean because he gave me my children and I will always love him," Hill said in a 1997 interview during the divorce, which was shared by The Free Library.
After that marriage ended, the "Game of Thrones" actor met his third wife, Abigail Cruttenden, on the set of his TV series "Sharpe," as Express points out. They exchanged "I do's" in 1997, then divorced in 2000. Eight years later, Bean married actor Georgina Sutcliffe, but they divorced in 2010. Us Weekly reports that Bean was arrested after it was suspected that he assaulted Sutcliffe. He was also arrested in 2012 for allegedly harassing her via phone calls and text messages. He married his next wife, Ashley Moore, 26 years his junior, in June of 2017. "I wasn't planning on getting married again, but then I wasn't planning on meeting someone as amazing as Ashley," Bean told the Daily Mail in 2017. "I can't wait to spend the rest of our lives together."
If you or someone you know is dealing with domestic abuse, you can call the National Domestic Violence Hotline at 1−800−799−7233. You can also find more information, resources, and support at their website.
Eva Longoria kept her marriage a secret
Eva Longoria may not have been married as many times as others on this list, but she's certainly not a novice at being someone's wife. Walking down the aisle three times, the "Desperate Housewives" alum first got married in 2002 to actor Tyler Christopher. At the time, the public didn't even know they eloped in Las Vegas — not until they were divorced in 2004. "We both have our habits that we won't give up," Longoria told Soap Opera Digest in an interview that was captured by Wayback Machine.
Retired NBA star Tony Parker was Longoria's second husband. They were married from 2007-2011, and it was said the split was caused by Parker exchanging explicit text messages with Erin Barry, the wife of Brent Barry, his former teammate on the San Antonio Spurs. A TMZ source said that Parker denied physically cheating on Longoria but admitted to sexting with Erin. Longoria also found hundreds of those racy messages on Parker's phone, according to US Weekly, so he was caught red-handed. The Texas native then married José Bastón in 2016 in Valle de Bravo, Mexico, after they dated for nearly three years, which People detailed. Bastón is the president of Televisa, the biggest media company in Latin America, per The Sun. As of 2021, the couple is still going strong.
Kim Kardashian got married as a teenager
Kim Kardashian has been one of the most famous people on the planet for some time now, which means her three marriages have all been placed under a big bright spotlight. But her first marriage was before she reached celebrity status, and it was to songwriter Damon Thomas from 2000- 2004. She was only 19 years old at the time, according to Screen Rant, and he was 29. And get this: the reality star once admitted on an episode of "Keeping Up with the Kardashians" that she married Thomas while high on ecstasy. She also called him controlling and physically abusive, which he denied.
Kardashian's second marriage in 2011 was to retired NBA player Kris Humphries, and she filed for divorce after just 72 days. Most probably associate the brief marriage with the fancy-schmancy wedding they had, which cost a reported $10 million and aired over two nights on "Keeping Up with the Kardashians." In 2017, while on "Watch What Happens Live with Andy Cohen," Kardashian said she knew the marriage was a mistake as soon as the honeymoon. Ouch! Her next and most talked about marriage was to Kanye West, tying the knot to him in 2014 in Florence, Italy. In between the many paparazzi photos of the couple and red carpet moments, they found time to have four children together — North, Saint, as well as Chicago and Psalm, who were born via surrogate. Problems surrounding the couple began surfacing in 2020, with Kardashian filing for divorce in February of 2021.
If you or someone you know is dealing with domestic abuse, you can call the National Domestic Violence Hotline at 1−800−799−7233. You can also find more information, resources, and support at their website.
Maybe the third time will be the charm for Britney Spears
Britney Spears has made it clear that she wants to marry fiancé Sam Asghari. Unfortunately, due to the restrictive conservatorship she was under for years, that wasn't possible. Now that dad Jamie Spears is no longer running her life, the pop singer may find that the third time's the charm if she winds up marrying Asghari, who proposed to her in September 2021. But before him, there were two husbands.
First up was childhood pal Jason Alexander, who she was married to for a whole 55 hours. It was New Year's 2004, and Spears invited Alexander on a trip to Vegas. "She just came out and asked me," Alexander said to ABC News. "She was like, 'Well, let's get married.' And I was like, 'Sure. You know, let's do this.'" He claimed that the two had been drinking, but don't blame this quickie wedding on the alcohol. Alexander insisted he "was in love with her." Once Spears' family and managers got wind of the nuptials, however, things fizzled just as quickly, ending in an annulment.
Spears tried it "one more time" in 2004, when she tied the knot with backup dancer Kevin Federline, just three months after they started dating. As Federline told People in 2008, "I was madly in love with her." The couple had two sons, but split in 2007. Hopefully, things will be different with Asghari, who Spears has been dating since 2016.