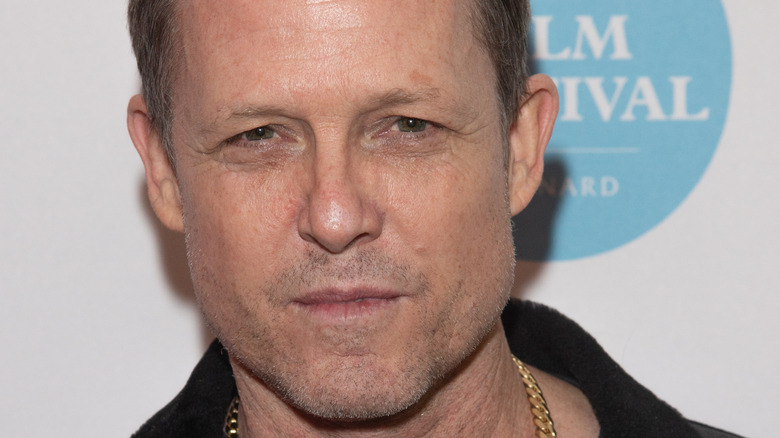 As has been noted time and time again, there are many celebrities who have opted to go through surgery to change their physical appearance. There are some stars, however, who have had less of a choice in the matter after sustaining traumatic injuries or dealing with significant health issues. According to the nonprofit Amputee Coalition, there are millions of people in the United States alone who have experienced an amputation, and some of those individuals happen to be public figures.
Losing an appendage is, as author Emily Rapp Black wrote in Newsweek, "particularly hard in a country where medical care and medical devices are astronomically expensive and prohibitive for many, and where representation of people with disabilities is either absent or problematic." A number of celebs have opened up in interviews about their own experiences with amputation, and many have continued to pursue careers in music, movies, sports, and more. As Black noted, "Losing any part of the body is an immediate and permanent shift in identity, no matter how old you are, or what shape your body was in before the change. It doesn't mean your life is over, but it will need to be reimagined."
Take a look at these stars you may not have known had amputations.
Rick Allen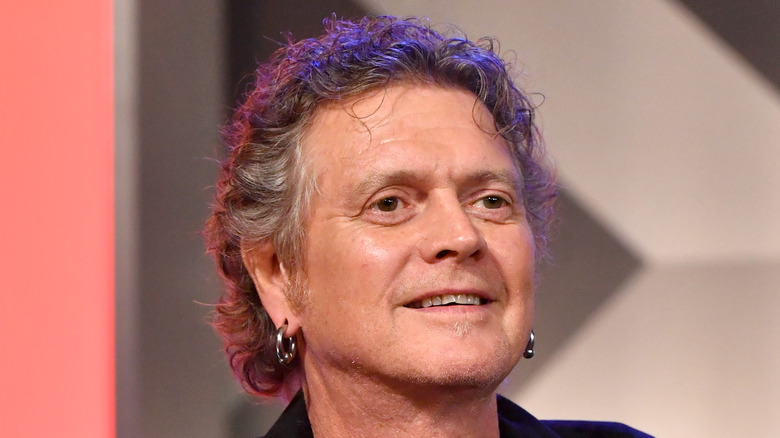 Rock history isn't without its wild and crazy moments and Def Leppard's Rick Allen has one of the most intense tales. The drummer was involved in a scary car crash in 1984 where he lost his left arm, but that didn't deter him or his bandmates from giving up on his career.
Recounting the accident to ABC News, he shared that he lost his limb as his Corvette rolled. "The seatbelt came undone and the seatbelt took my arm as I was flying out through the car," he said. As a drummer for a mega famous rock band, being without an arm sounds devastating, but Allen relearned how to play with just his right arm and his feet. Once Allen recovered and with his band's full support, they would go on to release their best-selling record to date, 1987's "Hysteria." Looking back at that nightmarish day, Allen recalled to ABC News, "In many ways, I think it enabled me to grow in many ways. It became a blessing, a responsibility, a responsibility to you know, to other people. To myself … I think that has become a huge gift."
Allen has embraced the silver lining. "I stopped comparing myself to how I used to play," he said on "The Howard Stern Show" in 2019. "And I stopped comparing myself to others and I went, 'What I do is really unique, go with that.' It was such a weight lifted."
Ella Fitzgerald
Known as "The First Lady of Song," jazz singer Ella Fitzgerald captivated audiences with her unique voice for nearly 60 years. Regarded as one of the greatest jazz vocalists of all time, her official website biography states that she has recorded over 200 albums by the 1990s, and throughout her career has worked with the likes of Frank Sinatra, Louis Armstrong, and Duke Ellington. Fitzgerald became a worldwide sensation but her health would begin to deteriorate by the '80s.
Fitzgerald underwent heart surgery in 1986 and she was also diagnosed with diabetes, which caused her eyesight to worsen. However, she continued to perform, giving one of her last performances at New York City's Carnegie Hall in 1991. Unfortunately, because of her diabetes, she had both of her legs amputated below the knee in 1994, with The New York Times writing at the time that she was "in really good shape and good spirits."
While the songstress would no longer perform, her biography notes that she spent the rest of her days in her Beverly Hills home until she died at the age of 79 on June 15, 1996.
Heather Mills
Heather Mills had overcome a horrific accident before she became known for marrying Beatles rocker Paul McCartney, whom she later divorced after four years of marriage in 2006. In 1993, Mills was struck by a police motorcycle and had to have her left leg amputated below the knee. Detailing that grisly day to Pan American Health Organization, she shared, "I was crossing the street carefully when a police motorcycle came along and chopped off my left leg, crushed my pelvis, and punctured my lung. I flew one way, and my leg flew the other way."
Mills has gone on to say that she would've needed to have an above-the-knee amputation if it was not for a change in diet. She told Bang Showbiz (via The Washington Post), "I didn't really have an understanding of healthy food when I went vegan, I did it to stop my leg from being chopped off more, I didn't want to lose my knee. My friend told me that she cured herself of breast cancer by going completely vegan, and I went, 'Vegan, smegan, what on earth? I can't just give up meat.' But she dragged me off to America and basically saved my knee.'"
Since losing her leg, Mills has supported several charities that focus on people with disabilities and even worked with The London Prosthetic Center to create a prosthetic ski leg that helped her become the "fastest disabled woman on the planet" when she became a speed skier.
Amy Purdy
Amy Purdy was 19 years old when she contracted meningitis that resulted in the loss of both her legs below the knee, plus the loss of both of her kidneys and her spleen, per Sports Illustrated. Before she had contracted the illness, Purdy shared that she had found a love for snowboarding, telling the outlet that it gave her "the freedom to just create new things." After she had her legs amputated, she didn't give up on snowboarding and even built her prosthetic leg.
Speaking about how she did not let go of her sport, she shared, "Snowboarding is what got me through my toughest days because I was so passionate about it that I didn't even think about walking again, I just thought about snowboarding. I set my goals high; I wanted to snowboard again. I didn't know I was going to compete again, but I knew that I wanted to be out there on the snow with my friends."
Purdy would go on to become a three-time Paralympic medalist for Team USA, winning one silver and two bronze. Besides her Paralympic Games experience, Purdy was also on Season 18 of "Dancing With the Stars" and Season 21 of "The Amazing Race."
Jerry Garcia
Some fans of the Grateful Dead might have never known that beloved guitarist Jerry Garcia was missing a part of his middle finger. The musician lost his finger when he was a child, but thankfully, it never hindered him from performing with one of the biggest rock bands of all time.
According to his website biography, Garcia lost "much of the middle finger on his right hand" in a wood chopping accident with his brother when he was five years old. However, he shared with Guitar Playing that being without almost his entire finger "never bothers me, never ever," and even wondered why no one asked him about his missing appendage.
Garcia did share the story of how he lost the digit to Rolling Stone in 1991, stating, "For me, the traumatic part of it was after the doctor amputated it, I had this big cast and bandages on it. And they gradually got smaller and smaller, until I was down to like one bandage. And I thought for sure my finger was under there. … And that was the worst part when the bandage came off. 'Oh my God, my finger is gone.' But after that, it was okay, because as a kid, if you have a few little things that make you different, it's a good score.'" Garcia died in his sleep in August 1995 at the age of 53.
Frida Kahlo
Frida Kahlo was a celebrated Mexican artist, but her life was full of pain and suffering. She was just six years old when she caught polio, which caused her right leg to be shorter than her left. While she managed to overcome the disease, she would be involved in a horrific bus accident as a teenager. Her injuries included an impaled pelvis, a broken spine, and a crushed foot. Kahlo was bedridden for months and had to have several surgeries, but used that time to paint from her bed, even painting her plaster torso cast.
Kahlo's most famous paintings depict her sufferings. Her painting "Without Hope" is a self-portrait where she is being force-fed due to her chronic illness, per The Collector. Her 1944 painting titled "The Broken Column" depicts the Surrealist artist's chest split in two by a cracked Ionic column where her spinal column should be. In the painting, Kahlo is seen crying with nails piercing her skin.
In 1953, Kahlo had her right leg amputated below the knee after it had become infected with gangrene. Having to use a prosthetic, Kahlo had it custom-made and embroidered with dragons and painted red, per The New York Post. The artist had to also use a wheelchair for the remainder of her life and died a year later in July 1954.
Waylon Jennings
Country singer Waylon Jennings is best remembered as one of the founders of the Outlaw Movement in country music. Jennings, along with country icon Willie Nelson, created a subgenre of country music in the '70s that "rebelled against the pop-influenced and orchestrated country music coming out of Nashville," per MTV. These artists didn't let producers or record companies dictate their musical stylings and instead had creative control of their sound. In his autobiography, Jennings wrote (via PBS), "For us, 'outlaw' meant standing up for your rights, your own way of doing things. It felt like a different music, and outlaw was as good a description as any."
In 1974, he reached No. 1 for the very first time with "The Time," which would be followed up with "I'm a Ramblin' Man," per Biography. In the late '70s, he would have major success with his country comrade Nelson on their duet album "Waylon & Willie" and would continue to make music well into the '80s.
Jennings was diagnosed with diabetes in the 1990s, and per Billboard, had to have his left foot amputated because of an infection in December 2001. The singer died in February of the next year at the age of 64 in his home in Arizona, with The New York Times reporting that he "had been plagued with diabetes-health problems."
Jim Byrnes
Jim Byrnes didn't let the loss of both his legs stop him from pursuing his dreams. The actor and blues singer suffered a devastating accident in 1972 when a car slammed into him as he was trying to push a pickup truck off the highway during a stormy night. The crash resulted in both of his legs having to be amputated.
"I remember being pulled out from under the truck, and my right leg was torn off," the actor recounted to People. "It was like watching a Sam Peckinpah movie." When a doctor told him that both of his legs were gone, Byrnes stated, "I thought, 'Is this guy kidding me? This can't be.'" However, instead of living the rest of his life in a wheelchair, Byrnes learned how to use prosthetics, and added, "If you're in a wheelchair, people expect you to finger-paint and make dust cloths."
After having difficulties landing acting gigs, he finally found his calling 15 years after his tragic accident and starred in the CBS series "Wiseguys" from 1987 through 1990. Besides acting, Byrnes is also a talented blues musician with nine records under his belt. Byrnes told AP that he wasn't going to live the rest of his life sulking after losing his limbs, stating, "I told myself, there's absolutely nothing I can do about this, no matter how many tears I cry, it is not going to change the fact that I lost my legs, so let's get on with it."
Dean Winters
Fans of actor Dean Winters, who's been in notable hit television shows like "Oz," "30 Rock," and "Law & Order: SVU," might have never realized that he has gone through several amputations. Though not quite noticeable, Winters has had his two toes and half of his thumb amputated in 2009, after he contracted a bacterial infection.
Speaking to Page Six, Winters shared that a bacterial infection caused him to go into cardiac arrest for more than two minutes in June 2009. Paramedics were able to revive him, but he still contracted gangrene, with Us Weekly reporting that he underwent 10 surgeries, resulting in multiple amputations. However, the Allstate insurance spokesman did reveal to Page Six that he has been "in pain" since the procedures, sharing, "I've got neuropathy on, you know, on a whole different level where I can't feel my hands and my feet. But if I stepped on a pebble, it's like I go through the roof." He added, "Nothing you can do about it. I've been sucking it up because, you know, the alternative is not a place where I want to be."
Though constantly in pain, Winters' acting career has continued on. In June 2021, Deadline reported he will be in Peacock's drama series "Joe Exotic," which follows the criminal case of Joe Exotic, the infamous big cat zookeeper.
Tom Whittaker
Tom Whittaker isn't an Academy Award-winning actor or a prolific artist, but he did make history when he became the first amputee to climb Mt. Everest. Whittaker, an expert mountaineer, accomplished the 29,028-foot climb in three days in 1998 with one foot. As he told Olympian slash motivational speaker Devon Harris, his right foot had to be amputated following a car accident in 1979. "So, I spent the next two years training really, really, hard," he said. And for the next several years, he kept on training really, really hard.
Per The Guardian, after he suffered "altitude sickness and frostbite" on his first attempt and had to quit his second try due to low oxygen, the third time was the charm for Whittaker. In 1998, he scaled the world's tallest mountain with the use of his prosthetic foot. He told Mountain Zone that he could use the prosthetic to his advantage "because he's able to get a more solid purchase without calf and ankle fatigue."
Whittaker's climb became a huge inspiration to amputees and climbers in general. British mountaineer Chris Bonington shared (via The Guardian), "The great role model that Tom has been is to show that if you have a dream and determination, it is amazing what you can do," adding, "For anyone to get to the top of Everest is a bloody good effort and if you have lost your foot, it is a hell of an achievement."
Totie Fields
Totie Fields, whose real name was Sophie Feldman, was, as The New York Times wrote, a "raucous‐voiced nightclub comedienne" who found success in the '60s and '70s. Fields would perform mostly in nightclubs and made numerous appearances on "The Ed Sullivan Show," famously starting her routines by talking about her figure. She once said (via The New York Times), "I come right out and say, 'I'm fat!' This deprives the wise alecks from mouthing loud asides all night, 'Gosh, she's fat,' as they glimpse me in a tent dress. They're left with nothing to say.'"
Later on in her life, Fields suffered from diabetes and had several surgeries, per the NYT. In 1976, Fields' leg had to be amputated after she developed phlebitis. During that time, she also underwent eye surgery, but she filed a lawsuit against the surgeons who performed on her, stating that the procedure caused her to develop phlebitis, according to The New York Times. Per "Women In Comedy" (via "Performing Marginality"), she had also undergone a mastectomy and had two heart attacks.
Fields' died in 1978 at the age of 48 of "apparent heart failure," and per UPI, her lawsuit was finally settled after her death in 1984.
Tony Iommi
Black Sabbath's Tony Iommi is undoubtedly one of heavy metal's most influential guitarists of all time, but before the band was officially formed, Iommi suffered a horrible industrial accident that saw the star almost give up on playing guitar.
Recalling the grisly details at the Musician's Institute in Hollywood, California, the rockstar shared, "I'd be on the line and they'd pass stuff down to me and I'd weld it, and then it'd go on to somewhere else. One day, the person that would be sending me the thing to weld never turned up, so they put me on this giant, huge press — a guillotine-type press. … Bang! It came down. It just took the ends off [my fingers]." He said he was "left with two stalks."
After the accident, he was given an EP by Django Reinhardt, a jazz guitarist who had lost two fingers in a fire. As he said at the Musician's Institute, hearing Reinhardt play was a turning point for him. "It really sort of inspired me more to overcome what had happened," he shared. Iommi created tips for his fingers to be able to play his guitar and his unique sound resulted in what we know now as heavy metal. "That's, I think, what sort of made me come up with the sort of Black Sabbath thing, the sound," he told GibsonTV. "Because I'm trying to make the sound bigger, to fill in for the full chord I couldn't play anymore."
Zas Zsa Gabor
The late Zsa Zsa Gabor's right leg was amputated in early 2011, but she did not know the procedure had taken place for a while. Her husband Prince Frederic von Anhalt told The Post (via Page Six) that she had learned about the amputation "a half-year later." But at the icon's memorial service in 2016, her husband shared that she was actually made aware of it years later.
Gabor was 93 years old when she needed to get her right leg amputated after it was infected with gangrene, per BBC. While the operation was a success, her husband told parishioners at a Beverly Hills church (via The Sun) that Gabor believed she was just going in for an X-ray and it wasn't until three years later that she noticed that her leg wasn't there. "And all of a sudden she looked down and she said, 'There's a leg missing.' I said, 'No, your leg is here, right in front of you. I'm your leg. You don't need a leg,'" he recounted.
Anhalt believed it was best to keep her amputation a secret. At the time of her operation, he shared (via CNN), "Eventually, she will feel it, and then she will ask me and at that moment I don't even want to think about it." However, it looked like Anhalt had a few years to think about what he would say to his wife before she finally realized her leg was gone. Gabor died in 2016 at the age of 99.