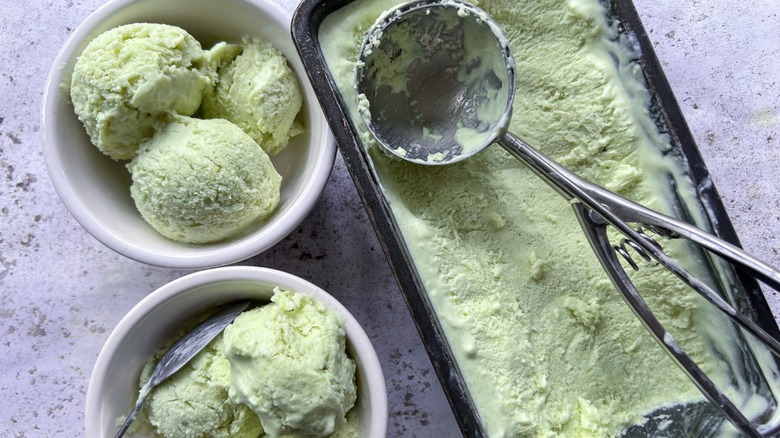 You don't have to be looking for a way to make use of your ripe-and-only-getting-riper avocados to appreciate this recipe for no-churn avocado ice cream, but it definitely sweetens the deal, according to recipe developer Ting Dalton of Cook Simply. That's because you can make it any time you have 20 minutes on your hands, along with a couple of nice, soft avocados that you haven't earmarked for, say, guacamole. And what could be better than honoring said avocados by turning them into something unexpected and incredible like this no-churn avocado ice cream?
"This is a super easy no-churn ice cream recipe," Dalton tells Health Digest. "It's light, zesty, creamy, and silky," and it offers a nice, surprising "coconut hit." It's not too sweet (think of vanilla ice cream but a tad bit less sweet), which makes it perfect for a light, healthy dessert after a big meal. Furthermore, you'll definitely want to make this recipe ahead of time because while it doesn't require an ice cream machine, it does require eight hours to freeze through and then another 10 to 15 minutes at room temperature to soften back to the ideal ice-cream-eating temperature.
Ready to get started?
Gather the ingredients for no-churn avocado ice cream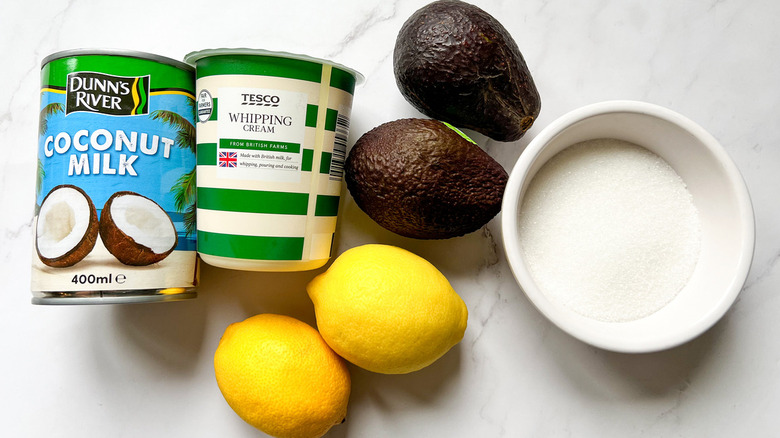 Dalton's recipe for no-churn avocado ice cream requires, as noted above, a couple of avocados with flesh that is soft to the fingertips when pressed gently (in other words: ripe!). To transform these lovely green fruits into ice cream, you'll need one 14-ounce can of coconut milk, the juice and zest of two lemons, half a cup of sugar, and one and one-third cups of whipping cream. "If you want a vegan version, leave out the whipping cream and add coconut cream instead," Dalton advises. "It may not be as light and airy, but it will still taste delicious."
Prep your lemons
Rinse off your avocados and lemons, and pat them dry. Roll each lemon around on the counter (or any hard surface) to help get the juices flowing, then cut each lemon in half crosswise, and use a manual or electric juicer to extract all the juice you can. Repeat with the second lemon. Then use a fine grater or a lemon zester to create lemon zest from the lemon rinds — but only use the yellow part of the peel, Dalton advises. "It holds a lot of flavor," she explains to Health Digest.
Turn to the avocados, and get not-churning
Halve each avocado, remove the pit, and use a spoon to scoop the avocado flesh into a blender or food processor. Add the coconut milk, lemon juice, lemon zest, and sugar, and "blitz until smooth," as Dalton says. Then transfer the avocado ice cream base to a large bowl, and place it in the refrigerator while you turn to the heavy cream. In a clean, medium-sized bowl, use electric beaters to whip the cream at low speed until it holds soft peaks (as pictured). This should take two to three minutes. Then turn immediately to the next step.
Note: If you're making this with coconut cream rather than whipped cream, then you can mix all of the ingredients together in one bowl rather than whipping the coconut cream separately.
Put the avocado mixture together with the whipped cream
Very gently, fold about a third of the whipped cream into the avocado, lemon, and coconut mixture. And by "very gently," Dalton means that you want to make an effort not to flatten out the whipped cream as you work with it. You don't want to lose all that air you just whipped into it! Then repeat again for the rest of the whipped cream until it's been completely blended throughout. Transfer this mixture into a container for freezing, cover it, and put it into the freezer for at least eight hours.
When you're ready to serve this no-churn avocado ice cream, take it out of the freezer, and let it sit at room temperature for 10 to 15 minutes. Then scoop into bowls, serve, and enjoy.
juice and zest of 2 lemons
2 ripe avocados
1 (14-ounce) can coconut milk
½ cup sugar
1 ⅓ cups whipping cream
Prep the lemon juice and zest.
Halve the avocados, and scoop the flesh into a blender or food processor.
Add the coconut milk, sugar, lemon juice, and lemon zest, and blitz until smooth.
Transfer to a large bowl.
In another large bowl, using electric beaters, whisk the cream on a low speed until it holds soft peaks, around 2 to 3 minutes.
Gently fold the whipped cream in thirds into the coconut mixture, keeping as much air in the whipped cream as possible.
Place in a container, cover the container, and freeze for 8 hours minimum.
Allow to defrost at room temperature for 10 to 15 minutes before scooping and serving.