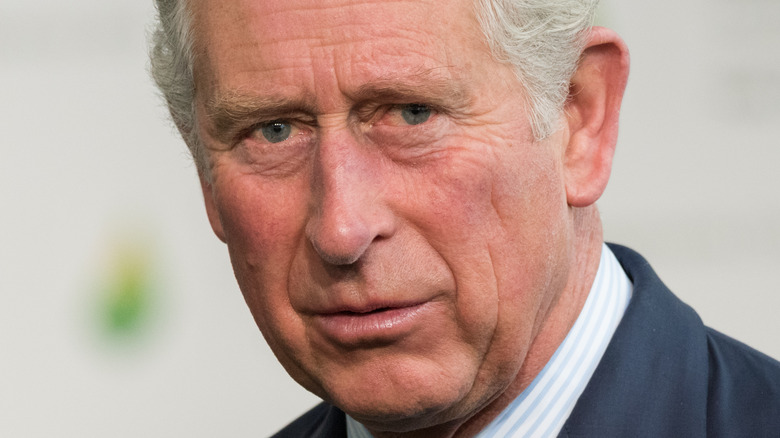 Prince Charles and Princess Diana said "I do" in a highly publicized wedding on July 29, 1981. The two met after Prince Charles had a relationship with Diana's older sister, Sarah Spencer, in 1977; they were engaged in 1981 after a series of phone calls and only meeting in person for a total of 13 times (per Town & Country). As many royal watchers know, their relationship was marred by the shadow of Camilla Parker Bowles, the ex-girlfriend of Prince Charles with whom he'd eventually have an affair.
Despite the ending of their marriage and the unexpected death of Diana in 1997, it's hard to deny that the princess had a powerful impact on the life of her ex-husband. As the BBC noted, 750 million people worldwide watched their wedding on TV, and the day was a highlight for fans of the royal family. Even now, decades after her death, Diana's presence continues to be felt and celebrated around the world.
Here is a look into the relationship Charles and Diana shared and at the impact Diana had on the life of the man she would be married to for 15 years (per Vogue).
Prince Charles spent most of his marriage living a double life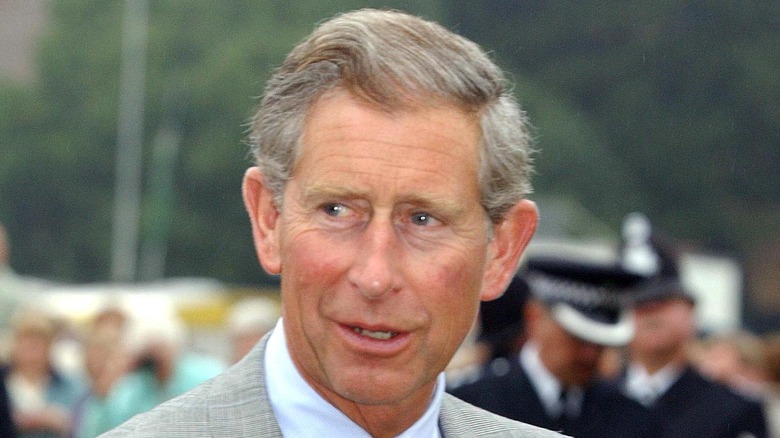 Prince Charles met his second wife, Camilla Parker Bowles, all the way back in 1970 when the pair were both at the same polo match. They hit things off quickly and were soon in a relationship. However, as reported by Town & Country, the pair broke things off when Charles went away to serve in the Royal Navy for eight months. When he came back home, Camilla was engaged to her first husband, Andrew Parker Bowles.
Charles began dating his first wife, Princess Diana, in 1980, seven years after Camilla married Andrew Parker Bowles. Charles and Camilla were still close friends, and both Camilla and her husband were among the people who reportedly approved of Diana as a suitable partner for Charles, per the Daily Mail. The publication also alleged that, unbeknownst to Diana, Camilla and Charles had continued the physical aspect of their relationship until he proposed.
Though Charles and Camilla both claim they didn't resume their physical relationship until years later, there's no doubt that Charles spent much of his marriage living a double life as both Diana's husband and Camilla's lover. Diana's butler Paul Burrell later shared that he believed she had "every right" to mistrust her husband, as he reportedly lied to her constantly, as reported by the Daily Star.
Princess Diana initially brought a lot of fun into Prince Charles' life
While the relationship between Prince Charles and Princess Diana fell apart rather dramatically, by all accounts, the beginning of their courtship had plenty of light and fun moments. Per Tatler, in her book "The Diana Chronicles," royal author Tina Brown recalls that Diana told friends all the way back in 1977, before she and Charles were even an item, that she would marry him. The two were reintroduced in 1980.
The two were interviewed in 1981 following the announcement of their engagement, and Charles took the opportunity to praise Diana's energy and personality. He said, "I remember thinking what a very jolly and amusing and attractive 16-year-old she was. I mean, great fun, and bouncy and full of life and everything."
For someone who grew up with strained and complicated familial relationships (per Good Housekeeping), it's not a surprise that Charles found Diana to be a breath of fresh air. Royal author Penny Junor has noted that the first few years of the pair's marriage were playful and light, with visitors to Kensington Palace often glimpsing Diana playing hide-and-seek with a young Prince William who didn't want to go to bed or even Charles romantically running after Diana up the stairs to their room (via The Mirror).
Early on, Prince Charles could also confide in Princess Diana
When the two reconnected three years after the first time they met, it sounds like Prince Charles found someone that he could confide in with Princess Diana. After they were both invited to a mutual friend's home, Charles and Diana found themselves having a chat. Diana later explained that Charles was reeling from two blows.
The biggest and most consequential was that his great-uncle and close confidante, Lord Mountbatten, had just been killed. At the same time, Charles had to face down a much more common and pedestrian woe: He and his girlfriend at the time had ended their relationship. Diana later recalled that the combination of the two events left Charles in a pretty pathetic state, but it opened up the door for the pair to connect.
Per Tatler, she later explained, "We were talking about Mountbatten and his girlfriend and I said, 'You must be so lonely.'" This sentence spurred Charles into action, and he reportedly started kissing the woman who would become his wife. Despite how their relationship ultimately played out, it seems that early on Charles was moved by Diana's willingness to help make him feel better and to be someone he could trust.
After the wedding, Prince Charles began to separate himself from Princess Diana
In Andrew Morton's biography "Diana: Her True Story in Her Own Words," Princess Diana tells the author that on her wedding day she believed that all was right in the world and certainly in her relationship. As shared by Oprah Daily, she said, "I remember being so in love with my husband that I couldn't take my eyes off him. I just absolutely thought I was the luckiest girl in the world."
Unfortunately for the pair, that energy seemed to have shifted pretty rapidly. Author Martin Gitlin later wrote in "Diana, Princess of Wales: A Biography" that the young princess actually ended up spending most of their honeymoon with the crew on board the 14-day-long cruise the two took while Charles pursued other activities. Apparently, the differences between them were already magnified. Gitlin wrote, "The clash in personality and interests became apparent during the honeymoon. So did the vast age difference. The prince was most comfortable fishing or reading" (via Oprah Daily).
This is backed up by body language expert Patti Wood, who told Reader's Digest that even Charles and Diana's famous balcony kiss on their wedding day revealed they were in different places emotionally and mentally. Wood explained that Diana was "bending over backwards" to connect with her husband, who didn't seem as interested.
Prince Charles became a father during his marriage to Diana
There is one major way Princess Diana changed the life of Prince Charles forever: The couple had two sons together, Prince William and Prince Harry. But while Princess Diana's enthusiasm for motherhood was well-documented throughout her life, from her trips to fast food restaurants with the boys (per Hello! magazine) to her willingness to participate in school sports day events (also via Hello! magazine), Prince Charles' parenting style has been criticized by one of their sons.
In 2021, Prince Harry and his wife, Meghan Markle, sat down for an intimate interview with Oprah Winfrey in which they collectively peeled back a few layers of the monarchy. At one point, Harry claimed that his father "failed to break the cycle" of repeated trauma within generations of the royal family and shared that he's even taken "ancestral healing" classes (per the Express).
Royal author Tom Quinn disagrees with Harry's take. The author of "Kensington Palace: An Intimate Memoir" spoke in the documentary "Prince Charles & Harry: Father and Son Divided" about Charles and Harry's relationship, sharing that he believes Charles has done a wonderful job as a father. Quinn said, "Charles made enormous efforts to do a lot more for the boys, to spend more time with them, to go to various events with them, and that was all to the good I think that worked very well" (per the Express).
Prince Charles became more likeable to the public thanks to Diana
One way Princess Diana changed the lives of Prince Charles and arguably the entire royal family was that she was truly a breath of fresh air for the monarchy as a whole. As noted by The Week, before Diana joined the monarchy, the royal family was a big fan of adopting the "stiff upper lip" as a central personality trait. For her part, Diana made a point to connect with people in whatever way she could, from big gestures to small ones, such as never wearing gloves so that she had a direct physical contact with the people she greeted.
As Diana's popularity as a member of the royal family grew, it shed a positive light on the institution as a whole. Enthusiasm for the royals reached far beyond the United Kingdom; Insider notes that when Charles and Diana visited Japan in 1986, at least 100,000 people lined the streets as their motorcade traveled through Tokyo.
Writer Alicia Carroll also noted that the Diana effect swept all the way across the Atlantic. She wrote in The New York Times, "Before she came on the scene in 1980, very few people in the U.S. paid attention to the royals or could tell you the name of the queen of England."
Prince Charles continues to live under the weight of public adoration for Princess Diana
The affection the public had for Princess Diana during her life has continued following her death in 1997, and it's a weight that Prince Charles is reportedly still living under to this day. As reported by BBC News, in 2017, the number of people who believed Prince Charles was making positive changes in the monarchy had fallen from 60% to 36% — and the poll took place as the British media was producing numerous articles about the 20th anniversary of Diana's death. As the publication noted, "Charles's many supporters will argue that Diana's adverse impact on his popularity will recede with each passing year. But 20 years on, her influence still registers."
However, the BBC goes on to note that perhaps public interest in Diana will have slowed by the 30th anniversary of her passing in 2027, and that it's entirely plausible that when Charles ascends the throne the public will be more forgiving of his past transgressions against the princess they have loved for decades. But for now, one thing remains clear: Princess Diana is very much a present force for many, and that's something that Charles may well have to just live with.
After Diana's death, Prince Charles said the monarchy should change
Princess Diana's death sent a tsunami of changes that hit Buckingham Palace hard. The British public grew increasingly frustrated with the royal family for their prolonged silence following Diana's car crash. After spending days hiding out at Balmoral, Queen Elizabeth begrudgingly bent to the will of the public and returned to London to greet mourners (per BBC News).
The changes were felt by Prince Charles, too. As Diana's ex-husband and the father of her children, Charles found himself thrust into unfamiliar and unexpected territory. In a move that surprised some, the man who is often described as "thin-skinned," "intolerant," and "resentful" (per the New Yorker) flew to Paris and brought Diana's body back home to England himself (per the Associated Press).
Over 20 years later, Charles still seems to be impacted by the woman who taught the monarchy a thing or two about being more accessible (per the New York Times). In May 2021, the Sunday Times reported that Charles intends to turn the private homes of the members of the royal family into publicly accessible spaces. A source told the publication that the move is one Charles believes will ensure that the monarchy continues to grow with the times. "The Prince wants to bring people in to connect with the institution. He recognizes it needs to keep evolving, and in the modern era people want to be able to access their palaces," the paper reported.
Princess Diana might have made Prince Charles a better father
Despite the fact that their marriage ended in separation, allegations of infidelity, and ultimately divorce, many sources have noted that Prince Charles and Princess Diana were able to co-parent quite well. Royal expert Emma Cooper told Us Weekly that, despite the ups and downs that have come since Prince Harry stepped back as a senior member of the family, it's clear that Prince William and Harry were parented well and that they were able to love each parent fully.
Cooper says that when it came to co-parenting, the exes just made it work. She explained, "Charles and Diana had no problems bringing up their children together, whether they were together or apart, and you can see in the sort of deep love that their sons have for both of them." Cooper also noted that Harry and William are both quite "balanced," which sheds light on the kind of parenting they received from each parent. By putting their sons first, Diana was able to have a strong co-parenting relationship with her ex-husband for the brief period between their divorce and her death.
As tragic as Diana's passing was, it also seems that the event forced Charles into a parenting role he might have left to her otherwise. In "The Queen and Prince Charles: Mother and Son," royal expert Lady Julie Montagu explained Charles had to learn to be a dad in a new way. She said, "He really stepped up in that parenting role when he needed to" (via Marie Claire).