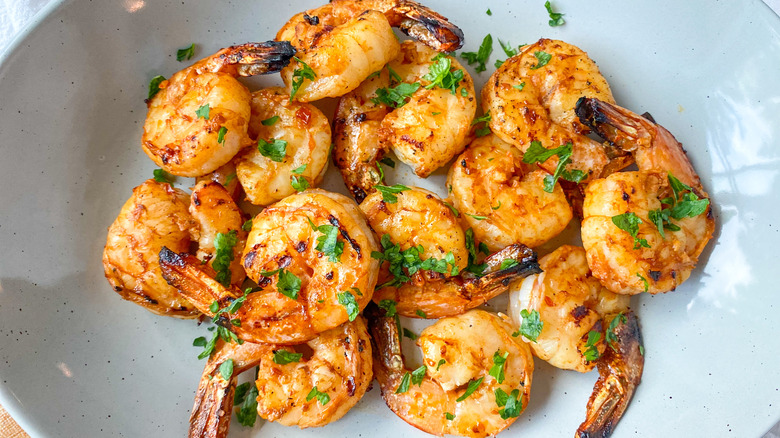 There are plenty of ways that you can dress up shrimp, and honestly, there's no wrong way to do it. If you are a lover of all things spicy and have a soft spot in your heart for shrimp in particular, then we have the perfect recipe to please your palate. One thing we love about this recipe is the fact that you cook this shrimp on the grill, and the spicy flavors are like a beautiful symphony in your mouth. Trust us when we tell you that this is next-level good, and it's a great excuse to bust out your grill for something other than a burger or hot dog.
Recipe developer Hayley MacLean gave us the gift of this shrimp, and we're so grateful. "I love how full of delicious spice this recipe is! The amount of heat is not overwhelming, though, and can be adjusted to your liking," MacLean shares. "The chili garlic sauce is so full of flavor, which is deepened by the Worcestershire and lemon. Everything comes together so well for one awesomely spicy bite!"
Keep reading to find how to make this dish.
Gather the ingredients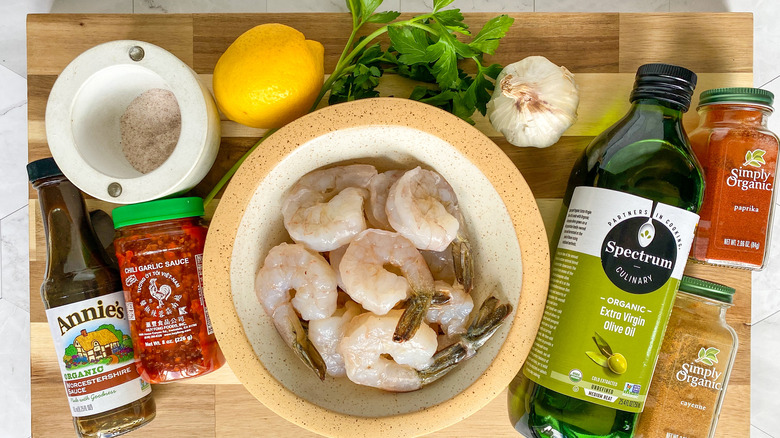 The first thing you need to do is gather all the ingredients you need to make this tasty and easy shrimp. Be sure to check what you have at home before heading to the store, as you may already have a few of these ingredients on hand. When you go to the store, grab some olive oil and chili garlic sauce. Then, pick up lemon juice, Worcestershire sauce, and garlic.
To add a kick to the shrimp, be sure to grab cayenne pepper and paprika. You will also need to get some salt. To complete your list, get peeled and deveined shrimp and fresh parsley for serving.
Make the sauce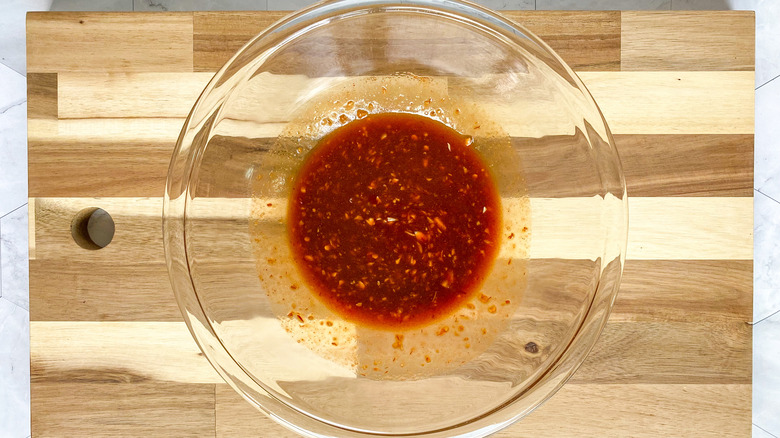 Once you are ready to begin, place all items on the counter in front of you. This makes them easier to access. Then, grab a large bowl and toss in your liquids and spices. This includes the olive oil, chili garlic sauce, and juice from a lemon. You will also need to throw in the Worcestershire sauce and garlic. As a reminder, you should have minced the garlic ahead of time.
Next, toss in the spices that you grabbed. Start with the cayenne pepper and paprika, and then add salt. Using a whisk, mix everything well.
Add shrimp and marinate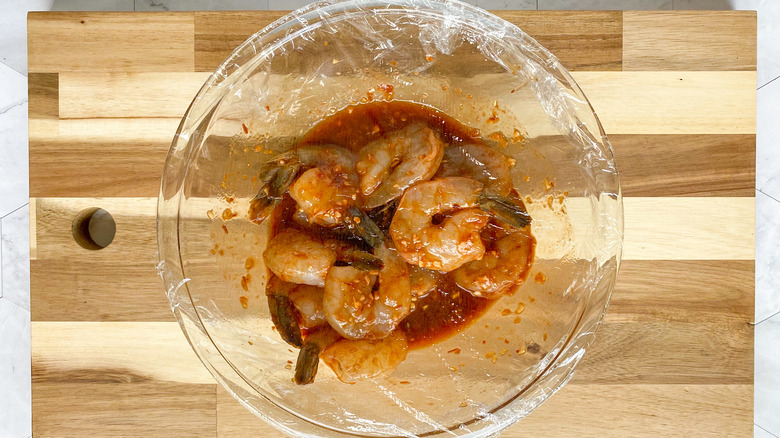 Now that your sauce is good to go, you can toss in the star ingredient: the shrimp. Dump it in the same bowl as your sauce, and then stir to coat the shrimp evenly. Cover the bowl, and then place it in the fridge to keep cool. Let the shrimp marinate in the refrigerator for about 20 minutes. "It is a good idea to marinate these shrimp in the fridge to avoid any possible food contamination issues," MacLean notes. "By allowing them to marinate at a temperature lower than 40 F, you can inhibit the growth of harmful bacteria during the marinating process."
While the shrimp is marinating, preheat your grill to medium-high heat.
Grill the shrimp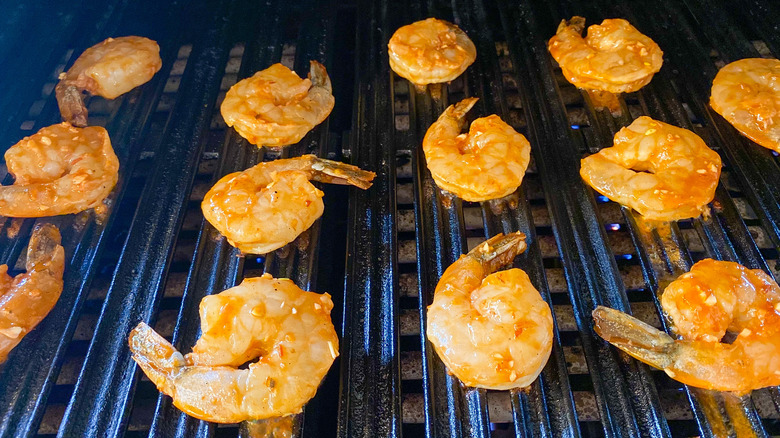 After your timer goes off, remove the shrimp from the fridge. Take a walk out to the grill, and place the shrimp on one by one. Grill each side for about two to three minutes or until the shrimp curl and turn opaque or pink. You can also check the temperature of the shrimp by using a meat thermometer. The temperature should read about 120 F.
"I always use a meat thermometer to check my shrimp just to be sure. However, to check for doneness, they should be opaque all the way through and a light pink color, no grey remaining but not feel tough or rubbery," MacLean notes.
Remove and serve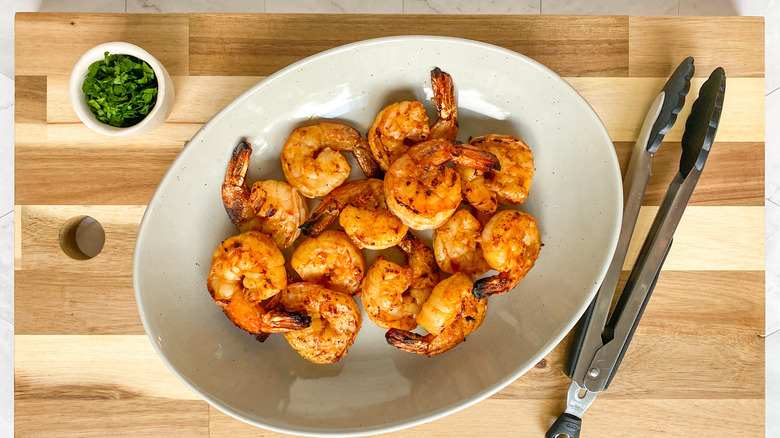 Once the shrimp finish cooking, remove them from the grill and plate them as you wish. These are best when served immediately. If you'd like, you can add a little fresh chopped parsley over the top and pour a little more of the extra chili garlic sauce for dipping.
"These shrimp are definitely best hot off of the grill!" MacLean notes. "Shrimp do not reheat well, as they tend to become rubbery when overcooked. So, these are great to serve during a gathering of friends for a game or a holiday get-together. Serve them with toothpicks on the side so people can pick them up individually as an hors d'oeuvre!"
We hope this dish wowed you as much as it wowed us.
2 tablespoons olive oil
¼ cup chili garlic sauce, plus extra for serving
2 tablespoons lemon juice
2 tablespoons Worcestershire sauce
4 cloves garlic, minced
¼ teaspoon cayenne pepper
¼ teaspoon paprika
½ teaspoon salt
1 pound shrimp, peeled and deveined
Fresh parsley, chopped, for serving
In a large mixing bowl, whisk together the olive oil, chili garlic sauce, lemon juice, Worcestershire, garlic, cayenne pepper, paprika, and salt.
Add the shrimp to the bowl, and stir to evenly coat. Cover and place in the refrigerator. Let the shrimp marinate in the mixture for 20 minutes.
While the shrimp marinate, preheat the grill to medium-high heat (350 to 400 F).
When the shrimp is done marinating, remove from the marinade and place on the grill. Grill on each side for 2 to 3 minutes, or until the shrimp curl up and turn opaque and pink (a thermometer should read 120 F when inserted).
When the shrimp are done cooking, remove from the grill and serve immediately garnished with fresh chopped parsley. Serve with extra chili garlic sauce for dipping, if desired.