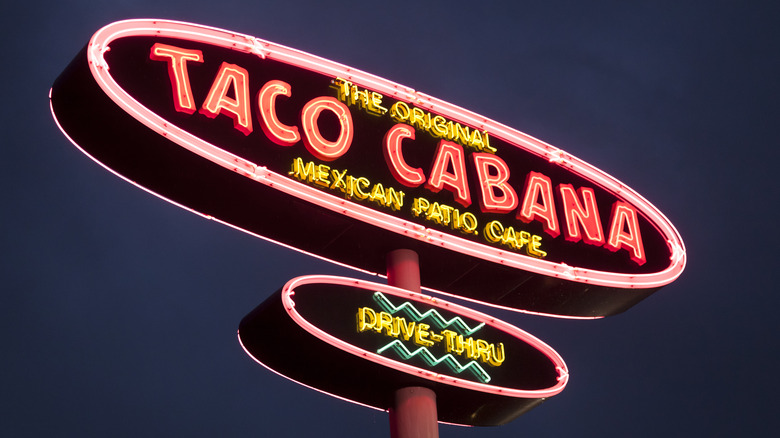 If there's one open secret all fast-food lovers in Texas know and love, it's Taco Cabana. The decades-old Tex-Mex chain is beloved for its festive patios, 24-hour drive-thru, and authentic, homestyle recipes (via YouTube). From tacos and quesadillas to full-on enchilada platters, everything at Taco Cabana is made with their warm, soft, signature house-made tortillas. Whether you want a quick bite on the road or plan to hang out on the patio and enjoy a drink from the massive margarita menu, Taco Cabana is bound to have something you'll love.
Unfortunately, you won't find Taco Cabana everywhere. While it has seen major success since it first opened its doors in San Antonio, Texas, Taco Cabana has only expanded to a few states outside of it. For those who live there, if you know, you know. For everyone else, you might be missing out, but Mashed has you covered. Start planning your trip to the Lone Star State and keep reading for the untold truth of Taco Cabana.
Taco Cabana is more than 40 years old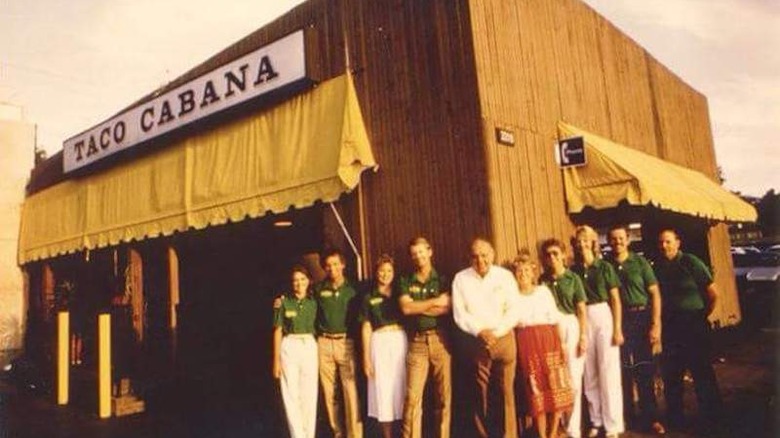 Taco Cabana was the brainchild of a man named Felix Stehling. In the late '70s, he got his hands on an old abandoned Dairy Queen building and planned to use it to expand his popular bar, the Crystal Pistol (via YouTube). However, he wanted to find a way to generate income all day, not just at night when the bar was open. Like any true Texan, he loved Tex-Mex food, so he decided to turn the building into a Mexican restaurant. Stehling opened the doors of the first Taco Cabana in San Antonio, Texas in 1978. In case you were wondering, the name was inspired by memories of Stehling's family vacations in Mexico.
Soon, the second Taco Cabana restaurant opened not too far away. For that location, founder Felix Stehling's family and friends suggested painting the exterior pink to catch people's attention as they were driving by. The second restaurant also featured lots of colorful, Mexican-inspired decorations to create a festive atmosphere. That's the Taco Cabana that fans today would most likely recognize. According to Thrillist, more than four decades later, people still think pink when they think of Taco Cabana.
Taco Cabana is a Texas institution
Taco Cabana has been a hit from the very start, with customers flocking in at all hours of the day (via YouTube). When you combine good food with a great atmosphere and even better price deals — in 1978, Taco Cabana served a breakfast taco and coffee for 50 cents, plus 29-cent bean-and-cheese tacos — you've got a recipe for success. To this day, there is something distinctly authentic about Taco Cabana. Just as the founder intended it, you can see food being prepared fresh in the open kitchens. Tortillas and salsas are hand-made in-house every day, and heaping orders of fajitas are served on hot, sizzling skillets.
Apparently, customers couldn't get enough, and Taco Cabana has expanded over the years to more than 160 locations. Unfortunately for a lot of us though, the company has remained a Texas institution through and through. Taco Cabana has opened a handful of restaurants in neighboring New Mexico and Oklahoma — although it's worth noting that, according to the Tulsa World, the last location in that state closed in 2015. However, the overwhelming majority of its locations are sprinkled throughout the major metro areas of Texas, including Dallas, Austin, and Houston.
Today, Taco Cabana is owned by a California company
While Taco Cabana stays true to its Texas roots through its menu and its locations all over the Lone Star State, it's worth noting that the company itself isn't technically Texan anymore. In July, Taco Cabana's former owner, Fiesta Restaurant Group, sold the brand to California-based YTC Enterprises, which also owns names like Jack in the Box, El Pollo Loco, TGI Friday's, and Denny's (via Nation's Restaurant News). Per CBS, the deal helped keep Taco Cabana, which was in a massive amount of debt and facing restaurant closures, from going bankrupt altogether.
This second chance for Taco Cabana came after a long history of changing hands. According to the All of San Antonio Foundation, less than ten years after the company opened for business, the founding family had a falling out, and most left the company. The company changed leaders again twice before it was sold to Carrols Restaurant Group in 2000, which would eventually split off into Fiesta Restaurant Group. Despite Fiesta's best efforts to revive the brand, they were forced to sell after the pandemic made years of falling sales even worse (via San Antonio Business Journal).
Per Business Wire, the good news for Taco Cabana lovers is that the chain is finally starting to see increasing sales, so the comeback it's been looking for may finally be here.
Taco Cabana is open 24 hours for a very unique reason
Whenever a taco craving hits, no matter what time it is, loyal fans know they can turn to Taco Cabana. The chain has been open for 24 hours since the early days. However, the reason for that isn't as obvious as it would seem. Taco Cabana decided to stay open all night not just to please hungry late-night snackers, but to tackle another problem as well — theft (via Fox San Antonio). That's right, keeping the restaurant open and the lights on meant they didn't have to risk the patio furniture getting stolen after close, which reportedly happened on the company's very first night. Perhaps the extra customers were just a bonus. And as founder Felix Stehling's son learned, "if somebody wants to give you money, you take it" (via YouTube).
It's worth pointing out that Taco Cabana's decision to stay open 24 hours had another positive impact as well — it led to a lot of innovation for the business. In order to feed more customers, the kitchen had to make food faster and work more effectively. Eventually, Taco Cabana began pre-mixing its signature spice blends and even came up with the creative solution of using a cement mixer to make big batch recipes.
Taco Cabana is not afraid to get creative with its menu
When you visit Taco Cabana you know you're in for some classic, authentic Tex-Mex food. The chain's been doing that from the beginning, since the original cook Connie Gutierrez came up with all the recipes (via YouTube). When Taco Cabana first opened, it served things like tacos, enchiladas, chalupas, and carne guisada, most of which are still on the menu today. This dependability is what keeps many Taco Cabana fans coming back year after year.
However, Taco Cabana is also known to get outside the box with its menu and serve up some creative and delicious limited-time items like the Yucatan Shrimp Quesadillas that hit the menu in 2021 or the Beyond Meat Nachos that were available during Nacho-Mania (via QSR Magazine and Chew Boom). The best thing to do is hit the patio ASAP and see what new exciting thing is on the menu before it's gone.
Taco Cabana also takes its drink menu very seriously
While the drive-thru is never a bad option, you'd be missing out if you didn't take advantage of Taco Cabana's patio at least once and help yourself to something from the chain's festive drink menu. You can get beer, you can get shots, and you can get frozen margaritas in a rainbow of rotating flavors. There are the standby classics that are always available, including lime, strawberry, and mango. You can also mix it up with seasonal creations like Pineapple Jalapeno, Dragonfruit, Orange, and more bizarre flavors like Violet, Pistachio, and Chili Lime Cucumber (via Culture Map).
The chain is always coming up with new flavors — yet another reason you'll just have to go check it out for yourself. And the best part of all? All the margaritas are only $2 each, all day every day, because it's always a party at Taco Cabana.
Don't be afraid to try Taco Cabana's Pickle Margarita
We weren't kidding when we said Taco Cabana isn't afraid to get creative. The chain recently offered its own version of a pickle margarita. You read that right. Taco Cabana first tried this two years ago as an April Fool's Day prank, but this time around the pickle margarita is no joke. You can actually order the limited-time item, at least when it's on the menu (via Austin-American Statesman). And how can you not try this odd creation when you get the chance?
Unfortunately for the more ardent pickle enthusiasts out there, the reviews vary, and many of them aren't great. Some say the drink itself doesn't have a very strong pickle flavor. On the other hand, one unhappy customer on Facebook said it tasted like a sweeter version of pickle juice. Either way, it's nothing to get too excited over. My San Antonio reported that the margarita is made by adding some pickle juice to the bottom of a cup before the restaurant's regular frozen mix is poured on top.
You can get breakfast all day at Taco Cabana
Nachos, enchiladas, and quesadillas are great, but Tex-Mex cuisine wouldn't be complete without breakfast tacos. Naturally, Taco Cabana serves them up all day every day. No matter what time of day it is, you can get a selection of breakfast tacos — bacon and egg, chorizo and egg, steak and egg, bean and cheese, and more — all served on hot, fresh flour tortillas.
You can also usually get away with ordering your own custom breakfast tacos. Speaking from experience, we can say potato, egg, and cheese make an excellent combo at Taco Cabana. Go for the bacon and sausage duo if your heart desires. And don't forget to get plenty of their fresh salsa on the side to douse every taco with. There's something about the flavors of the salty egg, the soft tortilla, melted cheese, and that tangy salsa that just hits the spot every time, whether it's breakfast or not.
You have to hit the salsa bar at Taco Cabana
A trip to Taco Cabana is not complete without loading up your meal at the salsa bar. Whether you keep things mild or really like to spice up your tacos, there are several salsa options to choose from. There's also pico de gallo, of course, along with freshly diced onions and jalapeños. Plus, look out for special limited-time additions (via PR Newswire). All of them are handmade fresh every day in each kitchen restaurant.
According to the company, the salsa bar came about as a logistical solution simply because Taco Cabana got so popular. Originally, salsas, pico, and the like were served individually with each order, but as the crowds of customers came pouring in, the kitchen in the back couldn't keep up. That's why they started serving things up family-style, which was a huge hit. From there, the salsa bar eventually came to life. Customers loved it, and it's been a signature part of the Taco Cabana experience ever since.
Taco Cabana is open about its animal welfare policy
As a society, we've become more concerned with how our food is made and how the animals we eat are treated (via National Institutes of Health). This is a great thing, and Taco Cabana is trying to do its part by being very open about its animal welfare policy. Customers can easily find a link to it on the company's About Us page and read for themselves exactly what the company's stances are.
Unsurprisingly, Taco Cabana says it is committed to the humane treatment of animals, and it requires its suppliers to meet industry and government standards. More specifically, Taco Cabana says the chicken suppliers it works with must meet certain standards of living for grow houses, allow chickens to roam free range, and keep the animals well fed. Bottom line — you can enjoy your chicken quesadillas and beef tacos at Taco Cabana while feeling totally guilt-free … well perhaps unless you eat too many tacos.
Taco Cabana won a Supreme Court case in 1992
As true fans know, there can only be one Taco Cabana, and anyone who tries to copy the Tex-Mex original is wasting their time. One company learned that the hard way when Taco Cabana fought them all the way up to the Supreme Court and won a trademark lawsuit in 1992 (via Lexis Nexis).
It all started when a Houston restaurateur opened up his own Tex-Mex restaurant called Two Pesos. It came complete with an indoor/outdoor patio, bright festive colors, umbrella tables … you get the idea. According to Cornell Law, the whole concept had too many Taco Cabana vibes going on, and Taco Cabana already owned a trademark on the look and feel of its restaurants. The company sued Two Pesos over trademark infringement; the case was appealed and eventually made its way up to the high court. The court ruled in Taco Cabana's favor, and ironically enough, Thrillist reports that after losing the case, the owner of Two Pesos eventually sold all of his restaurants to Taco Cabana.
Taco Cabana was hit hard by winter storms in 2021
The pandemic was difficult for everyone in the restaurant industry in 2020, but Taco Cabana was hit by another disaster that slowed sales dramatically in early 2021. In February, winter storms battered the state of Texas. The rain, ice, and freezing temps caused major damage across the state, and wiped out power for millions (via Texas Tribune).
According to Restaurant Business, Taco Cabana saw some sort of storm damage at more than 125 of the chain's 160 locations. The company reportedly suffered more than $2 million in damages and was forced to close all of its stores for several days. Per the San Antonio Business Journal, Taco Cabana saw a nearly 20% slump in sales for the quarter. Fortunately, Taco Cabana is working on a comeback and is seeing customers rally behind the brand. The chain went on to see the highest Cinco De Mayo sales in years.
Taco Cabana loves to find reasons to celebrate with deals
If the bright colors around the patio and the rotating frozen margaritas don't already make it clear, Taco Cabana loves any reason to celebrate. More often than not, hungry customers will find some sort of deal or special on the menu like dollar tacos all day in honor of National Taco Day in October (via San Antonio Current). There's also the dollar drinks during Margarita Palooza in the summer and the meal deal for two at Valentine's Day. CBS San Antonio reported that taco Cabana also offered a taco deal to celebrate its birthday.
Taco Cabana likes to give back while getting festive, too. At Halloween, the company brought back its beloved bean and cheese taco coupon booklets for $2, with all the proceeds going directly to local food banks in San Antonio, Austin, Dallas-Fort Worth, Houston, and El Paso (via QSR Magazine).