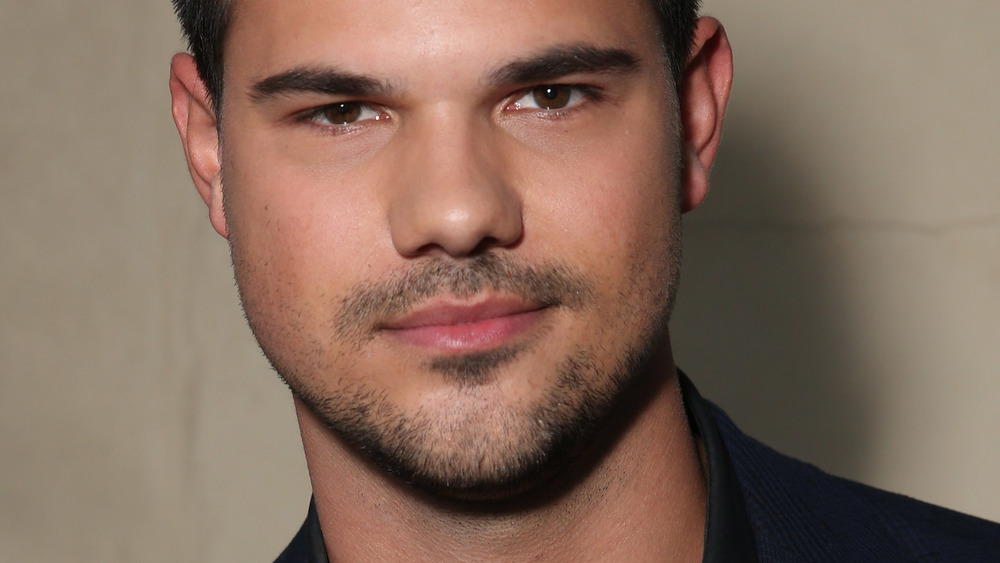 Between 2008 and 2012, there was only one pressing entertainment question on the world's mind: are you Team Edward or Team Jacob? Although Taylor Lautner got his acting start at an early age (hello, Sharkboy), it was the Twilight franchise that made him an overnight star as the werewolf with the golden abs, er, heart of gold — yeah, that's it. The massive success of the franchise earned him millions of screaming fans so it was assumed he would go on to make untold millions for himself and Hollywood studios who were more than ready to cash in.
Unfortunately, that wasn't the case. Immediately after his time in the iconic film series, Lautner had a series of flops that didn't do his career any favors. "I can't recall another teenage star so opaque. If his physiognomy — recessed eyes that don't seem to focus, a wide snub nose and Elvis-y lips — conjure Neanderthal manhood after a cosmetic makeover, his boyish monotone with its utter lack of inflection suggests that he is really an advanced robot simulating human speech without registering emotion or even comprehension," wrote The New York Times' Stephen Holden in his review of Abduction. Yikes.
He had somewhat of a career resurgence in 2018, on the hit BBC sitcom Cuckoo but since then his career has basically been radio silent. So, what's really going here? Let's take a deep dive and found out why Hollywood still won't cast Taylor Lautner.
Taylor Lautner still can't escape Twilight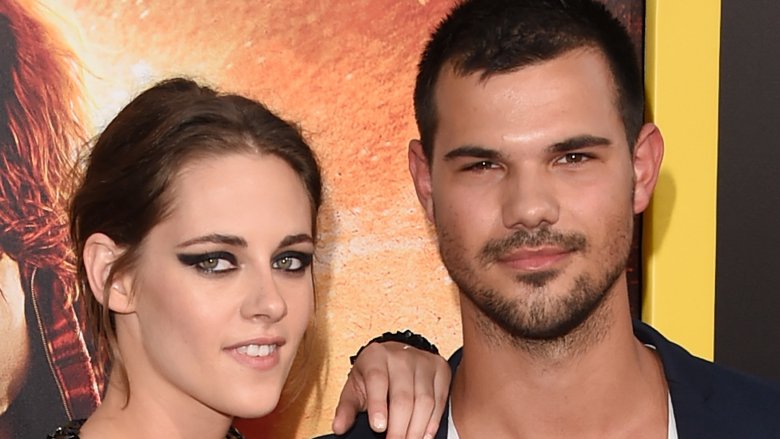 The first order of business here is to address the big elephant in the room: Twilight. Because although Taylor Lautner's co-stars, like Kristen Stewart and Robert Pattinson, have gone on to somewhat successfully distance themselves from the series, he hasn't been as lucky. Case in point: The internet went into a frenzy when Stewart showed up to Lautner's birthday party in February 2019. The actor's attendance spurred a ton of headlines, like W magazine's article: "Kristen Stewart Had a Twilight Reunion With Taylor Lautner at His Birthday Party."
Clearly, Lautner is still very much attached to the franchise whether he likes it or not. He can't even have a 27th birthday bash without it stirring up press about his role, which ended way back when in 2012. And to be perfectly honest, we can understand why movie execs might be hesitant to give Lautner a shot considering he hasn't done much to shed the character of Jacob. It would be one thing if he managed to snag other roles like Stewart has, but for now, his most popular work to date is still Twilight.
Taylor Lautner didn't branch out while he had the chance
When Twilight hit theaters in the fall of 2008, Taylor Lautner, Kristen Stewart, and Robert Pattinson instantly became household names and the hottest young actors in Hollywood. During the franchise's four-year run, Stewart and Pattinson were looking toward their future and immersing themselves into roles to avoid being typecast. Stewart starred in the indie flicks Adventureland and The Runaways, while Pattinson tried his hand at being a non-vampire, romantic leading man in Water for Elephants and Remember Me, before switching gears and looking for arthouse projects instead of mainstream success.
Since audiences were used to seeing Stewart and Pattinson in other roles, it became easier for them to transition away from Twilight immediately. Lautner, on the other hand, only had a bit part in the 2010 ensemble romantic comedy Valentine's Day and Abduction on his resume between Twilight installments. We'll discuss Abduction later, but choosing projects wasn't one of Lautner's strong suits.
Three years after the last Twilight film hit the big screen there was already talk of Lautner potentially being a one-hit wonder. "It's not easy to move out of the shadow of a hit like Twilight," a Hollywood agent told The Hollywood Reporter in 2015. "But he's still very young. There's time for Taylor to become more than just Jacob." Unfortunately, it may be too late now for Lautner to escape the shadow of the supernatural drama. Not great.
Abduction did not make a leading man out of Taylor Lautner
Taylor Lautner got his first shot as a leading man in the 2011 romantic action thriller Abduction. With legendary director John Singleton at the helm and an amazing supporting cast that included Sigourney Weaver, Alfred Molina, and Jason Isaacs, the stage was set for the teen idol to brush aside the Twilight label and become Hollywood's new action hero. Spoiler: it didn't happen.
Apparently audiences weren't too keen on seeing a Lautner film if he wasn't going to transform into a werewolf at some point, and the movie bombed at the box office, grossing only $28 million domestically against its $35 million budget. Now, poor box office success doesn't necessarily mean a bad movie, but in this case, Abduction was universally panned by critics, too, and currently sits a 5% on Rotten Tomatoes and a 25 Metascore.
The only saving grace for Lautner was that a few critics didn't blame the film's abysmal showing on him. "When Taylor Lautner is the least of a movie's problems, be afraid," film critic Tim Robey wrote in The Telegraph. Okay, so that didn't sound so great, either. Fortunately, the studios gave Lautner another chance. Let's see how that turned out.
Taylor Lautner's second attempt at a leading role didn't even get a theatrical release
Although Abduction was a bust, studios still thought Taylor Lautner was a big enough office draw, considering he was just three years removed from the Twilight franchise. You have to strike while the iron is still hot, right? Enter the 2015 romantic action thriller Tracers, a movie where Lautner plays a bike messenger who discovers parkour and a girl while being chased by the Chinese mafia. Sounds exciting.
Unfortunately, Lautner's American fans didn't get to see the film unless they were at a theater on May 10, 2015, the only day of its U.S. theatrical release where it raked in a whopping $2,000. The international box office didn't fare much better, with Tracers bringing in a paltry $3.3 million. The reviews? Also bad. The film currently holds a combined 24% on Rotten Tomatoes, and Steve Tilley of the Toronto Sun seemed to have a crystal ball at his desk, opening his review with: "At the end of Twilight, poor shirtless werewolf Jacob didn't manage to get the girl. And if he's not careful, Taylor Lautner isn't going to get a career, either."
And with that, Lautner's studio career and run as a leading man was over. But let's face it, there are several movie stars who aren't really known for their acting ability, so why was Lautner's career any different? Let's find out.
Is Taylor Lautner not worth the trouble?
We don't want to dredge up any old drama, but we can't help but mention a 2011 allegation surrounding Taylor Lautner's dad, Daniel Lautner. As The Hollywood Reporter claimed, Taylor was supposedly let go by his high-profile publicist Robin Baum after three months because of his father's alleged antics. "Word is, his father, Daniel Lautner, isn't the easiest guy to work with," the outlet stated at the time.
Of course, this was back in 2011, and we're sure Taylor doesn't rely on his dad as much anymore. And if Daniel did act out of line, it's possible he has since reformed himself for the better. Still, Hollywood doesn't easily forget things, especially where it concerns so-called difficult people. Just ask Grey's Anatomy alum Katherine Heigl, who has struggled to re-enter the entertainment industry after she and momager Nancy Heigl reportedly pissed stakeholders off with their "difficult" behavior.
So did Lautner's dad torpedo his career? We can't say for certain, but it's a possibility.
Was Taylor Lautner just too expensive?
After coming off one of the most successful film franchises in movie history, we can't really blame Taylor Lautner and his agent for swinging for the fence when negotiating his salaries post-Twilight. An anonymous studio production executive told Vulture that Lautner's talent agency did "a brilliant job of convincing Hollywood that he's the next big movie star" and that's all reflected in the numbers. Lautner received $5 million for Abduction and was set to take home $7.5 million for the live-action feature about the Hasbro action figure Stretch Armstrong.
Another source told Vulture, "I remember when [Universal co-chairman] Donna Langley cast him in Stretch Armstrong, she said to me, 'He's the real deal!' And I thought, Based on what?! Based on Twilight?" A former studio marketing executive told Vulture, "Abduction is [like] selling Tobey Maguire in anything outside of Spider-Man" and predicted Stretch Armstrong would fall apart, adding, "If I were sitting on top of Stretch Armstrong now, I'd be terrified."
As if on cue, The Wrap reported that Lautner dropped out of Stretch Armstrong "due to scheduling conflicts." Lautner wasn't being offered $7.5 million anywhere else, so we assume this was a convenient excuse for both parties to save face for a project that was dead in the water.
Unfortunately, critics agree that Taylor Lautner's acting is a problem
While Jason Statham and The Rock won't be winning any Oscars any time soon, their movies are usually entertaining due to the taut action and their screen presence and charisma. Unfortunately, according to critics, Lautner has neither. Movieline's Alison Wilmore didn't pull any punches in her critique of Lautner's performance in Abduction, writing: "This may be the first film I've ever seen where when an actor goes to put his hand thoughtfully on his chin, it's so awkward I became afraid he'd somehow miss and poke himself in the eye." Yikes.
The Village Voice said not only did the movie have nothing "to do with abduction," but Lautner looks "like a stranger in his own performance." The reviews for his second outing as a leading man weren't much better. "As for Lautner, he's still not much of an actor, but at least Tracers isn't asking him to pull off any major dramatic movements. He's here to move at top speed, leap over walls, and make pained faces when the going gets tough for Cam. Anything more than that is beyond his skill level," Brian Orndorf of Blu-ray.com wrote.
Even still, two flops shouldn't be enough to end a career. So was there anything behind the scenes that led Lauter to be ostracized in Hollywood? A producer told The Hollywood Reporter, "His first movie just wasn't very good, and it didn't justify what he was asking for at the time." And on that note…
If only Taylor Lautner would have trusted his instincts
"I read the script and it absolutely terrified me and the role terrified me," Taylor Lautner told Ryan Seacrest about Adam Sandler's The Ridiculous 6 (via Daily Mail). "My role is pretty out there- he's a total country bumpkin — so I said to myself, if I just go for this and don't hold back, what could go wrong?" While we can't blame Lautner for hitching his wagon to the creator of Happy Gilmore and Billy Madison, he should have trusted his gut instincts. Because, well, the movie was a disaster on and off the screen.
Not only was the movie a critical dumpster fire with a 0% on Rotten Tomatoes, it drew even sharper criticism due to the offensive content that made even some of the cast walk off the project. According to the Indian Country Today Media Network (via Variety), several Native American actors left the set after "[taking] offense to racially charged jokes and inaccuracies during the filming of the movie," which used indigenous names as a punchline.
Netflix attempted to come to the defense of its original product, saying "the movie has ridiculous in the title for a reason: because it is ridiculous," an executive said, claiming the film was a "a broad satire of Western movies and the stereotypes they popularized, featuring a diverse cast that is not only part of — but in on — the joke." Really, though? Lautner could've avoided this controversy — and another critical bomb — by realizing he was terrified for a reason.
Taylor Lautner has bigger concerns
Messy career drama aside, it's possible Taylor Lautner took a break from Hollywood to focus on his family, as an Instagram post from August 2018 seems to suggest. In the snap, Lautner leans down to give a kiss to his little sister, Makena Lautner, who appears lying in a hospital bed. "2nd heart procedure is finally a MASSIVE success," he captioned the heartfelt shot. "Couldn't possibly look up to this little/not so little girl any more. You are much braver than I @makenalautner.. Love you so."
The details of Makena's health aren't clear, but it goes without saying that heart surgery is no joke. And we commend Lautner for being by his sister's side during this trying time, though we wouldn't expect anything less from the doting sibling. The actor does post often about his sister, after all, like this adorable shoutout he shared in July 2018: "HAPPY 20th BIRTHDAY to this cool cucumber who inspires me every single day. One day I hope to grow up as cool as you. Love you more @makenalautner."
Considering Lautner is very close to his sister, we wouldn't be surprised if he's turning down roles to be there for his family.
Romance seems to be Taylor Lautner's big priority
In even more evidence from Taylor Lautner's Instagram account, it's clear he's focusing on many different priorities outside of Hollywood these days. What are we talking about, exactly? Well, instead of sharing on-set photos or pics with other actors, Lautner's account is mostly filled with shots of his girlfriend (who is named Tay, btw) and vacation pics. It's obvious that Lautner is smitten with his lady love, whom he has dated since October 2018. And it appears the feeling is mutual, as Tay posted a glowing tribute to Lautner on his 27th birthday in February 2019. "To the man with the sweetest heart, happy birthday! Day by day you amaze me," she said. "The love, humility, and grace you radiate never goes unnoticed. Everyday with you is an adventure filled with cuddles & laughs and I am so grateful I get to do life with you!"
We're taking a wild guess here, but it seems like Lautner is too busy with his girlfriend to focus on his career. And maybe Hollywood execs have noticed, too.
Let's not close the door on Taylor Lautner just yet
Although Taylor Lautner's career seems to have reached a stalemate, don't rule out a potential comeback just yet. That's because it's possible he might work with comedian Greg Davies again, his co-star in the BBC Three's Cuckoo. Lautner received high praise for his work playing Dale on the comedy series, with The Telegraph's Gerard O'Donovan referring to his delivery as "very good indeed." And this was no small feat, as Lautner had big shoes to fill when he replaced one of the show's main stars, Brooklyn Nine-Nine's Andy Samberg, in 2014.
Lautner eventually left the show in December 2018, with actress Andie MacDowell stepping in as his replacement. And though he might not be on the series anymore, his work has left a lasting impression on the cast. Just ask Davies, who said he's open to working with Lautner again down the line. "It's an unlikely friendship," Davies told Metro in November 2017. "We're doing two more series next year. I get on really well with him. He's a thoroughly decent chap."
Sounds promising, right? We'd be pumped to see Lautner back in action, so here's hoping he can make this happen.
Is Taylor Lautner losing out on his own roles?
When director Robert Rodriguez announced his 2020 superhero flick, We Can Be Heroes, fans were excited that he would be revisiting the world of his 2005 children's film, The Adventures of Sharkboy and Lavagirl in 3-D. Netflix released photos from the movie that November, and actress Taylor Dooley was front and center, reprising her role Lavagirl. Naturally, fans expected to see Lautner back in his Sharkboy costume — but they found he had been replaced by actor J.J. Dashnaw. So, what happened?
During an interview with Decider, Rodriguez claimed the film "was never meant as a sequel," and although he brought Dolley back, he felt the new Sharkboy role wouldn't be big enough for Lautner. "But I did call Taylor [Lautner] to let him know, 'There's no dialogue. It's not about the parents. It's not really a sequel — you'd have your face covered the whole time,'" Rodriguez explained. "I wanted him to kind of look like Batman. There wasn't a big enough role for him to do."
Rodriguez went on to say that since Lautner was "such a big star after Twilight," there might have been backlash over Lautner spending the whole movie with his face covered. "Could you imagine if he was in it, and then they see it and they're like, 'Wait! His face is covered the whole time! Hey, he didn't have any dialogue!'" Rodriguez continued. "It'd certainly look like a demerit against him, and I wouldn't want that."
Don't feel too bad for Taylor Lautner
Taylor Lautner might not be lighting up the big screen and starring in must-see blockbusters like he used to earlier in his career, but he doesn't really have to anymore. According to Celebrity Net Worth, Lautner has amassed a whopping $40 million fortune — thanks in large part to the Twilight franchise. At the time of this writing, Lautner hasn't even turned 30 yet and has that much in the bank. No movies, just vibes.
While some people claim Lautner's showbiz career is washed up, the former teen wolf dropped some serious coin on an Agoura Hills mansion near Los Angeles in September 2020. Per Yahoo! Entertainment, the 5,400 sq. ft. Mediterranean-style home sits on nine acres and includes a 45-foot swimming pool, five bedrooms, and a walk-in closet "the size of a studio apartment." And it is powered by Control4 automation technology. A few months prior, Lautner had sold his previous San Fernando Valley estate to Atlanta Falcons running back Todd Gurley for $4.2 million (via Variety).
Sure, Lautner isn't making Hollywood movies anymore, but we assume he's too busy living in his new mansion to care.