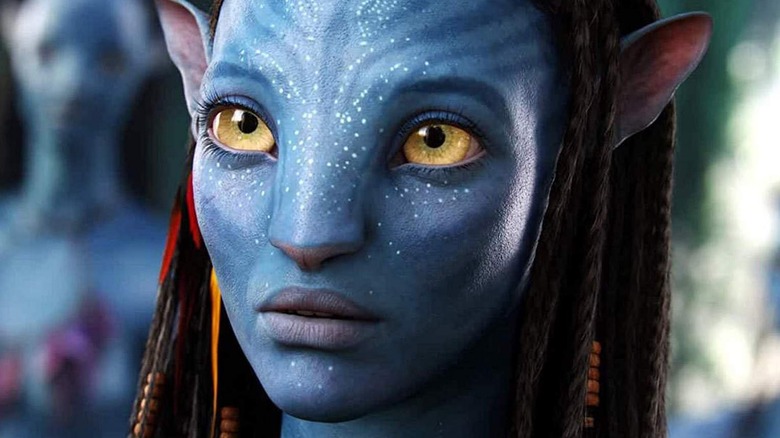 2022 promises to be a fascinating year for cinema. For one thing, this will be the first time since 2019 (barring any more pandemics) that theatrical exhibition is in full swing worldwide for an entire year. Whereas 2020 and 2021 had a steady stream of major theatrical releases for only a handful of months in their respective years, the big screen is primed and ready to be open 24-7 in 2022. For another, there's a massive slate of titles waiting to be unleashed onto the general public. Some of these are the usual films moviegoers have come to expect from American cinema in recent years, including superhero movie sequels, live-action remakes of Disney cartoons, and the latest costly attempts to make video game movies a viable genre.
But what makes 2022 exciting is the smaller oddball titles that don't have world-famous brand names, but do hail from idiosyncratic directors hoping to inject something original and interesting into the consciousness of this art form. Even the most enticing-looking 2022 blockbusters come off as running akin to this notion by offering up trailers and posters that promise something new. The medium of film has had a turbulent few years thanks to the COVID-19 pandemic, but looking at the most anticipated movies of 2022, it's impossible not to feel hope over what the future of cinema has to offer.
The Batman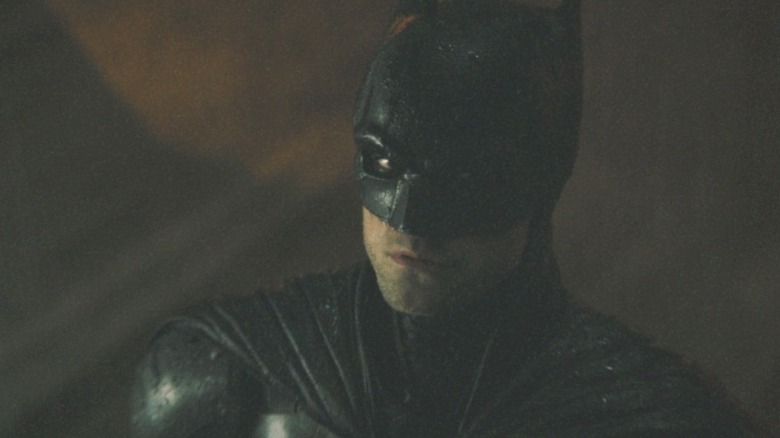 After more than three decades of regularly getting new live-action "Batman" films, you'd think there's nowhere this franchise could go next. But the marketing for "The Batman" makes it look like this new Matt Reeves feature could offer something new and extremely exciting. Specifically, the production's trailers have emphasized a film noir aesthetic that appears to merge the maximalist visual sensibilities of Tim Burton's take on the Dark Knight with the grimy tangibility of Christopher Nolan's interpretation of the character. Meanwhile, the film's vision of the Riddler (Paul Dano) appears more like the Zodiac Killer than Jim Carrey's over-the-top incarnation from "Batman Forever." That's good not just in terms of offering up something different from older "Batman" movies, it also teases a version of Batman that's more about his detective skills than exclusively punching people.
Those promising concepts are paired up with the equally intriguing cast of Robert Pattinson in the titular role. The "Good Time" leading man already looks like he's brewing something special with his take on Bruce Wayne/Batman. Pattinson headlines an enticing cast that includes everyone from Colin Farrell to John Turturro to Jayme Lawson, the latter of whom was impressive with her work in "Farewell Amor." Combine this cast with all the striking imagery seen in the film's initial trailers, and it becomes clear why, even after so many other "Batman" movies, it's hard not to get excited about the possibilities that lie within "The Batman."
Decision to Leave
It's been a while since South Korean cinema legend Park Chan-wook delivered a new feature film to movie theaters. His last film, the captivatingly twisty "The Handmaiden," was one of his very best works, making the wait for his next motion picture all the more difficult to endure. However, this master of unpredictable cinema appears poised to finally return to the big screen with his new feature, "Decision to Leave."
A mystery thriller starring Tang Wei and Park Hae-il, the scant plot details that have been revealed indicate that "Decision to Leave" follows a detective who gets embroiled in a romance with a murder suspect. However, this is one movie where the director is reason enough to keep an eye on a project. The premise for "Decision to Leave" could explore the underlying mythology of the "Oogieloves" universe and Chan-wook's participation would still be enough to make it worth watching. Though no official release date or North American distributor has been announced for "Decision to Leave," all signs point to it being ready for a 2022 bow. Film fans all over the world will be waiting with bated breath for more information on this one, given the track record of the filmmaker behind projects like "Oldboy."
Crimes of the Future
It's been too long since a twisted new vision from director David Cronenberg arrived in theaters. The body horror auteur behind projects ranging from "Scanners" to "A History of Violence" is responsible for some of the most unsettling storylines and images ever to exist in the medium of cinema. Now it appears Cronenberg will have an opportunity to add another sterling effort to his filmography with the 2022 movie "Crimes of the Future." This project will serve not just as Cronenberg's return to filmmaking, but also to one of his earliest movies. "Crimes of the Future" is a remake of a 1970 Cronenberg feature of the same name, only his second directorial effort at the time.
Comments from Viggo Mortensen to GQ about the project indicate that anyone expecting a mere shot-for-shot remake of an old feature needs to adjust their expectations. It sounds like Cronenberg is brewing up something new and bold with this "Crimes of the Future" remake. Whatever he's concocting will involve a cast that includes Mortensen, Lea Seydoux, Scott Speedman, and Kristen Stewart, among others. Having apparently already completed principal photography, it's only a matter of time now before the first Cronenberg movie since "Maps to the Stars" in 2014 graces movie screens everywhere. Long live the new flesh, er, the return of Cronenberg!
Black Panther: Wakanda Forever
Marvel Studios has a trio of movies debuting in 2022, including "Doctor Strange in the Multiverse of Madness" and "Thor: Love and Thunder." They all seem interesting in their own right, but there's no question that the 2022 Marvel Cinematic Universe title that everyone is watching with especially intense interest is "Black Panther: Wakanda Forever." Ryan Coogler is back in the director's chair, while the majority of the first film's cast has also returned, along with new cast members Michaela Coel and Dominque Thorne, with the latter portraying Riri Williams/Ironheart. Rumors also persist that "The Forever Purge" leading man Tenoch Huerta has been cast as Namor the Sub-Mariner, who would make his live-action film debut if he appeared in "Wakanda Forever."
A sequel to a pop culture phenomenon like "Black Panther" would have always garnered people's interest. However, the tragic passing of Chadwick Boseman has added a new layer of uncertainty to "Wakanda Forever." Typically, it's easy to see where a sequel to a superhero movie is going with its storyline, but all kinds of questions surround "Wakanda Forever." What will a "Black Panther" movie without Boseman look like? What story does "Wakanda Forever" explore? How will established characters like Nakia and M'Baku react to the sudden absence of T'Challa? The shadow of Boseman lingers over "Wakanda Forever" and ensures that this won't be a run of the mill superhero sequel.
The Northman
With his first two movies, "The Witch" and "The Lighthouse," Robert Eggers established himself as a fresh filmmaking voice fixated on period-era settings, grim atmospheres, and bravura performances from the actors he's assembled. Eggers has been on a roll, which means anticipation is running high for his next directorial effort, "The Northman." This film stars Alexander Skarsgard as the Viking Amleth, who goes on a revenge mission after his dad is killed.
What makes "The Northman" especially interesting isn't just that it's a new movie from Eggers. There's also the fact that it's a significantly bigger production in scale than his prior films. Footage of the feature shown at CinemaCon 2021, comprised of unfinished sequences from the movie, teased the scale of "The Northman," but also revealed that this production will be in color, in contrast to the monochromatic hues of "The Lighthouse" or the muted palette of "The Witch." It'll be fascinating to see what Eggers does with all the new visual tools at his disposal. Plus, watching actors like Ethan Hawke, Nicole Kidman, and Anya Taylor-Joy inhabiting Viking characters would sound like a riot under any circumstances.
Lightyear
If you thought the "Toy Story" saga came to an end with "Toy Story 4," think again. "Lightyear" is the newest entry in this franchise and delivers to moviegoers the original story that the Buzz Lightyear toy is based on. That's an elaborate set-up for what appears to be Pixar's attempt at doing a more jovial sci-fi film after delivering a weightier take on the genre with the 2008 feature "WALL-E." It also allows the toy division of Disney to sell a whole new army of Buzz Lightyear toys to kids worldwide, which is never a bad thing for the Mouse House.
"Lightyear" doesn't sound like an essential movie on paper, but Pixar's been rolling nothing but aces when it comes to the "Toy Story" franchise. Even after "Toy Story 3" seemed to conclude the saga on a perfect note, "Toy Story 4" managed to deliver a poignant epilogue for the story of Woody the Cowboy. If a fourth installment in the series could be pulled off effectively, who's to say the same achievement isn't possible for "Lightyear"? The teaser trailer was packed with memorable imagery and a robot cat, plus devotees of this franchise are lying to themselves if they say they aren't the tiniest bit interested in seeing what the original incarnation of Zurg looks and acts like. If it lives up to its potential, "Lightyear" could prove to be a worthy return to the "Toy Story" universe after all.
Untitled Spider-Man: Into the Spider-Verse sequel
Considering we've gotten eight different live-action "Spider-Man" movies, it was only a matter of time before the Oscar-winning "Spider-Man: Into the Spider-Verse" got a follow-up. Currently without a name, it is known that this installment in the series will add a trio of new versions of Spider-Man to the cast, including Japanese Spider-Man and a version of Jessica Drew/Spider-Woman voiced by Issa Rae. Actors like Shameik Moore (Miles Morales/Spider-Man) are also onboard to reprise their roles from the first film. Producer and co-writer Christopher Miller teased last year on Twitter that the sequel will explore even wilder visual directions than its already vibrant predecessor.
The endless amount of imagination in the first "Spider-Verse" makes the prospect of a sequel extremely enticing. While some superhero movie sequels end up just regurgitating the original movie's plot points again, the use of multiple universes in "Spider-Verse" inherently means there are limitless possibilities for the tales this film could explore. It'll also be interesting to see if this sequel ends up building on the post-credits scene of the first "Spider-Verse," which not only introduced Spider-Man 2099 (voiced by Oscar Isaac) but outfitted him with a watch that allowed him to travel between dimensions with ease. All nerdy speculation aside, if this sequel delivers anything half as thrilling as the "What's Up, Danger" scene from the first "Spider-Verse," moviegoers of all ages will be more than happy to get caught in this movie's web.
Don't Worry Darling
After establishing herself as a filmmaker of note with "Booksmart," director Olivia Wilde could have just rested on her laurels by returning to the teen comedy genre and rehashing that acclaimed 2019 movie. Instead, Wilde's sophomore directorial effort is "Don't Worry Darling," which takes the filmmaker into a new genre; thrillers. Here is a prime opportunity for Wilde to demonstrate filmmaking chops outside of low-key comedies.
While it remains to be seen if Wilde can make two great movies in a row, it is clear that she's assembled a sublime cast for "Don't Worry Darling." Headlined by Florence Pugh, the supporting cast here includes Chris Pine, Gemma Chan, KiKi Layne, and Harry Styles. The plot, concerning a 1950s housewife dealing with unsettling revelations — including a secret concealed by her husband — also sounds like an intriguing mix of Hitchcockian thrills and "Pleasantville." With this premise and that murderer's row of talent working under the direction of someone like Wilde, how could one not be excited for "Don't Worry Darling"?
Knives Out 2
One good murder mystery deserves another, so Benoit Blanc is back. After "Knives Out" became a smash, it was only inevitable that the world would be greeted with further Blanc adventures. Classic sleuths like Hercule Poirot got called back for countless further mysteries, so why shouldn't Blanc also solve an endless series of eccentric cases?
Daniel Craig is the only returning cast member for this sequel, a welcome indicator that this follow-up doesn't intend to just play like a rerun of its predecessor. While Jamie Lee Curtis and Michael Shannon are sitting this installment out, "Knives Out 2" has assembled a crop of brand new famous faces for Blanc to contend with, from Dave Bautista to Kathryn Hahn to Ethan Hawke. It isn't just in the cast that "Knives Out 2" hopes to deliver something fresh: An international backdrop also promises to differentiate this follow-up from its predecessor, as does a Netflix premiere instead of a theatrical release. Grab your magnifying glasses and donut holes folks, "Knives Out 2" is preparing to bring more mystery mayhem into our lives.
Guillermo del Toro's Pinocchio
After years of development, it looked like Guillermo del Toro's stop-motion animated take on "Pinocchio" would end up like many del Toro passion projects. Specifically, it would go unmade due to problems raising a proper budget. But thanks to the power of Netflix, this project will become a reality in 2022. Given the eccentric nature of this filmmaker's creations, it shouldn't be a surprise that this won't be a retread of the "Pinocchio" tale everyone knows. Now set in Italy under the rule of Mussolini, "Pinocchio" will chronicle a wooden boy navigating what it means to be a properly behaved child.
The thought of what stop-motion animated character designs will look like under the eye of del Toro is enough to render "Pinocchio" one of 2022's most intriguing cinematic offerings. A star-studded cast that includes Ewan McGregor, Christoph Waltz, and Cate Blanchett (among others) is just icing on the cake. Guillermo del Toro has spent more than a decade trying to bring this animated fairy tale to life; come the new year, audiences around the world will finally be able to experience his unique vision of an equally unorthodox fairy tale.
She Said
We don't get a lot of journalism dramas anymore, but the upcoming "She Said" is aiming to revive the genre by tackling a provocative storyline. This movie explores a pair of real-life journalists as they investigate the sexual misconduct allegations against Harvey Weinstein. This is a story that shook up both Hollywood and the general public. Now, director Maria Schrader and screenwriter Rebecca Lenkiewicz are shining a light on the women responsible for this Earth-shattering piece of reporting.
This still-relevant story is getting told by an impressive array of actors, including reliably superb performers Zoe Kazan and Carey Mulligan as New York Times journalists Jodi Kantor and Megan Twohey, respectively. They're joined by Samantha Morton, Patricia Clarkson, Andre Braugher, and more. Journalism dramas don't open in movie theaters every week, but if "She Said" is even half as good as the best entries in this genre — a list that includes the likes of "All the President's Men" and "Spotlight" — we'll all be wishing they dominated multiplexes more often.
Disappointment Blvd.
Unlike Marvel Studios or Pixar, independent studio A24 doesn't carve out release dates for its films years in advance. Therefore it can be hard to tell what the studio's future slate looks like. However, it does look like "Disappointment Blvd." — the newest film from filmmaker Ari Aster — will arrive in 2022. After "Hereditary" and "Midsommar," Aster has cemented a reputation as an auteur worth looking out for. Meanwhile, the scant plot details that have emerged indicate this will be an expansive project in terms of scope, a sharp contrast to the scale of prior Aster works.
Perhaps most exciting of all is the cast Aster has assembled for "Disappointment Blvd." Joaquin Phoenix has the lead role; on paper, he's the perfect person to follow in the footsteps of the fearlessly bravura lead performances delivered by Toni Collette and Florence Pugh in Aster's previous two movies. Add in an eclectic group of supporting players that includes Nathan Lane and Stephen McKinley Henderson and it's apparent why the latest work from Aster should be on every film fan's radar heading into 2022.
Jurassic World: Dominion
Those dinosaurs are stomping back into movie theaters next summer with "Jurassic World: Dominion," which will follow up on the events of "Jurassic World: Fallen Kingdom" and take place in a world where dinosaurs now roam free in America. Exact plot details are being kept under lock and key, but it's known that the cast for "Dominion" will include original "Jurassic Park" leads Sam Neill, Laura Dern, and Jeff Goldblum reprising their roles of Dr. Alan Grant, Dr. Ellie Slater, and Ian Malcolm, respectively. While Goldblum already returned to the franchise for a cameo in "Fallen Kingdom," "Dominion" will serve as Neill and Dern's first time back to "Jurassic Park" in over two decades.
The return of this trio is already enough to get "Jurassic Park" fans stoked to see "Dominion," but moviegoers should also get excited about newcomer cast members like Mamoudou Athie and DeWanda Wise who promise to inject new personality into this series. Meanwhile, the prospect of seeing "Jurassic World" leads Owen Grady (Chris Pratt) and Claire Dearing (Bryce Dallas Howard) figuring out how to help clone girl Charlotte Lockwood (Elva Trill) also suggests new storytelling territory for these movies to explore. For those who think this franchise has gone extinct, "Jurassic World: Dominion" certainly has the potential to show that life, or at least a jolt of creativity, finds a way.
Mission: Impossible 7
It's been 25 years since the original "Mission: Impossible" lit the fuse and blew up everyone's expectations for what a movie adaptation of an old TV show could be. Rather than leaning on fan-service and hollow rehashes of familiar storylines from its source material, the "Mission: Impossible" series keeps on delivering fresh new stunts and exciting storylines that keep moviegoers across the globe guessing. With all these achievements under the franchise's belt, no wonder people are so excited to see what lies in store for Ethan Hunt (Tom Cruise) in "Mission: Impossible 7."
Regulars of this series like Cruise, Simon Pegg, Ving Rhames, and Rebecca Ferguson are all coming back, but there are also lots of new cast members joining this particular adventure. Esai Morales is onboard to play the primary villain, while Hayley Atwell is portraying someone described on the Light The Fuse podcast as a "destructive force of nature" (via Joblo). As if those two weren't enough, Shea Whigham, Pom Klementieff, and Cary Elwes, among many others, are also taking on new characters in this sprawling series. Then, of course, there are the stunts, which apparently include Cruise riding a dirt bike off a cliff. With such a stacked cast and enticing set pieces, "Mission: Impossible 7" looks like a movie people will be gladly accepting the chance to see.
Aquaman and the Lost Kingdom
For years, Aquaman was a punchline, something that was mocked on everything from "Family Guy" to "The Big Bang Theory." But nobody's making fun of this character anymore now that the 2018 "Aquaman" movie became a surprise monster hit, grossing $1.14 billion worldwide and securing the title of highest-grossing DC Comics adaptation at the worldwide box office. All eyes are now on the film's sequel, "Aquaman and the Lost Kingdom," to see if the momentum behind this character can be maintained.
James Wan is back in the director's chair for this installment and both Jason Momoa and Amber Heard are returning in the roles of Aquaman and Mera. Yahya Abdul-Mateen II is also coming back in a much more prominent capacity as the supervillain David Kane/Black Manta, while Indya Moore and Pilou Asbæk are portraying new characters. It's nice to know there's a capable cast involved, but what people really want out of an "Aquaman" movie is all the staggering spectacle its predecessor delivered. If Wan can deliver on that, then Aquaman won't ever have to worry about being reduced to a punchline again.
Avatar 2
"Avatar" debuted back in 2009. Usually, a movie that impacts the global box office like that James Cameron epic will receive a barrage of sequels in short order. But Cameron has taken his time in crafting follow-ups to "Avatar," which has resulted in countless release date delays even before the COVID-19 pandemic threw a wrench into the production of all four sequels.
The first of these sequels is set for a December 2022 release and, even after all this waiting, the world of Pandora still seems surprisingly intriguing. For one thing, Cameron is good at creating cinematic spectacles, period. Second, projects like "Aliens" and "Terminator 2: Judgment Day" show that Cameron knows how to make sequels that just aren't hollow rehashes of the past. The extensive wait between the original "Avatar" and the first of its sequels also gives one hope that Cameron and company have spent that time wisely to make this blockbuster as good as it can be. No one knows if the world is still craving more "Avatar" like it was in 2009, but the reputation of Cameron ensures that "Avatar 2" is one of the most intriguing cinematic question marks of 2022.