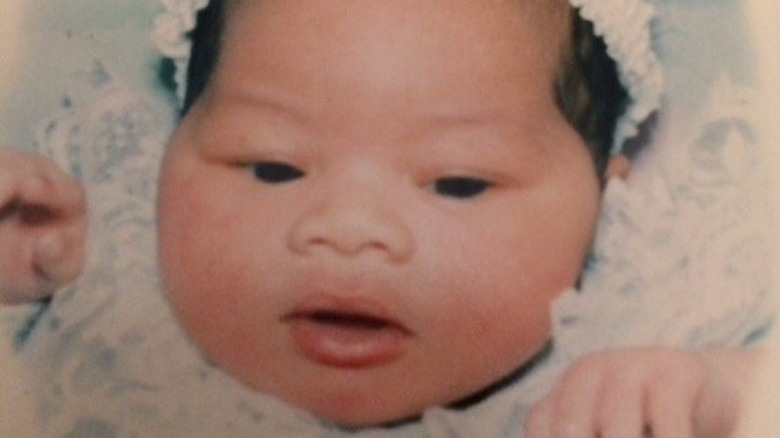 Born on December 31, 1995, Gabby Douglas was just 16 when she caught the world's attention at the 2012 Olympics where she won gold in the all-around event, as well as team gold, as noted by Biography. Douglas won team gold again in 2016, cementing her status as an unforgettable Olympian. Per her biography at the Team USA website, Douglas has also made waves at the Gymnastics World Championships, winning team gold in 2011 and 2015 and a silver individual medal in the all-around in 2015.
Douglas' show at the 2012 Games thrust her into the public eye, where she handled her newfound celebrity with grace. She's grown up a lot since her early Olympic wins and, of course, even more so since she turned her first cartwheel as a toddler. From her early days on the gym floor to her life after finding Olympic fame, the transformation of Gabby Douglas has been quite the stunning one indeed.
Gabby Douglas turned her first cartwheel at the age of 3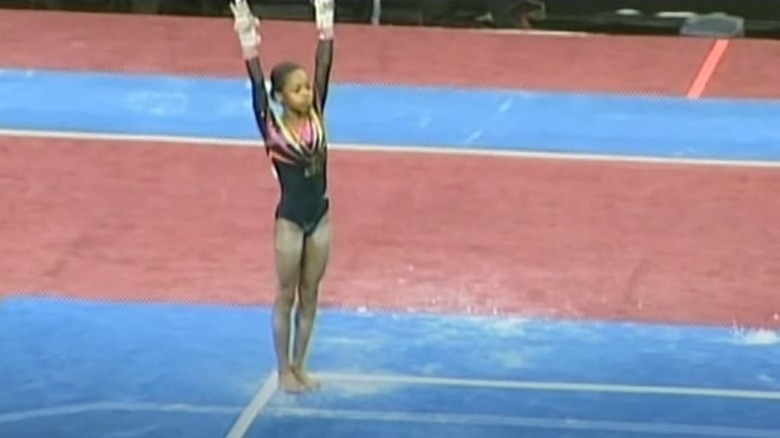 Gabby Douglas' talent for gymnastics was apparent from a young age, although it would be a few years before she actually started training in the sport. As noted by Biography, Douglas learned her first moves from her older sister, Arielle, who was, herself, a gymnast. At the tender age of 3, the younger Douglas was turning cartwheels. By the time she was 4, she was doing those cartwheels one-handed.
Arielle convinced their mother, Natalie Hawkins, to enroll Douglas in gymnastics at the age of 6. While she was very young when she started her gymnastics training, Douglas remembers that first class, as she told Harper's Bazaar. "I was young and remember cutting people in line for the trampoline," she said.
Per the African American Literature Book Club, it wasn't long before she proved her skills. Just two years after beginning her formal gymnastics training, Douglas won Virginia's state gymnastics championship. She racked up more wins over the years, and it was soon evident that she wasn't just a talented gymnast, but a possible Olympic contender.
Gabby Douglas was bullied growing up
Discovering a huge talent at a young age gave Gabby Douglas a passion and direction for her life, but her childhood was still a difficult one. For years, Douglas dealt with bullying at her gym that was so bad she even considered leaving gymnastics altogether. In an interview with Oprah Winfrey on "Oprah's Next Chapter," Douglas opened up about the racist bullying she experienced (via Insider). The comments she received were awful, with teammates joking about her being their "slave." Douglas called the bullying "offensive." She said, "I would come home at night and just cry my eyes out. Like, 'What did I do to deserve this?'"
Douglas obviously didn't quit gymnastics, but she did switch gyms. Her mother said that the move was not "all racial" but that her daughter did feel "uncomfortable" there.
The gym where Douglas trained when the bullying took place, Excalibur Gymnastics, has denied the allegations. Its CEO, Gustavo Moure, said in a statement to E! News that her "remarks were hurtful and without merit," while an athlete who trained at the gym along with the mother of one of Douglas' former teammates also denied that anything negative had happened there.