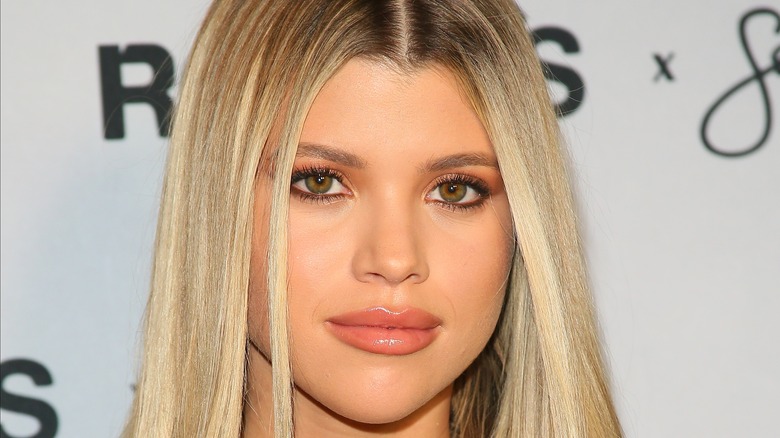 If you consider yourself a fan of reality television, pop culture, and the ins and outs of celebrity life, chances are you're a big Sofia Richie fan (or at least infatuated by her lifestyle). Sofia, of course, is the young socialite daughter of hit-maker Lionel Richie, the famed musician and "American Idol" judge who carved a space for himself in the music industry with the group the Commodores in the 1970s. Sofia, by nature of her relationships and family, has pretty much been in the spotlight since she was a kid, having been exposed to the amazing pros (associations with celebrities, business opportunities, etc.) and the heartbreaking cons (relationship exposure, substance abuse, etc) that come with fame. At only 23 years old, Sofia has capitalized on her name and street cred.
Of course, many people know her as the young woman who maintained a years-long relationship with "Keeping Up With the Kardashians" star Scott Disick, who had been in an on-again off-again relationship with the mother of his three children, Kourtney Kardashian. When Sofia hit the scene and seemingly swept Disick off his feet, people wanted to know about the woman who was 15 years his junior. So look no further: This is the stunning transformation of Sofia Richie.
Sofia Richie was a self-described tomboy as a kid, and led a pretty normal life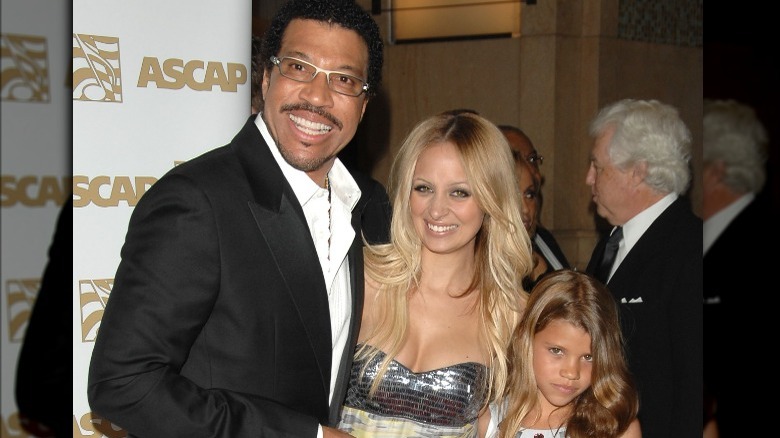 When you scroll through Sofia Richie's Instagram, what you see is the luxurious life of a model. But according to Richie, she was a tomboy growing up and didn't pay a ton of attention to the rules. She shared with Complex that while she and her mom, Diane Alexander, bonded over clothes, she was more focused on video games and playing soccer. "I was the most reckless little kid," Richie explained. "I only had guy friends. I had a Nintendo and, when I went to normal school, I used to tape it under my desk and then pull it out and play on it."
Richie shared that she even was a member of an elite soccer team all the way up until the age of 16, and it was only after a Segway crash that resulted in a broken hip that she stopped playing. Of course, Richie also ran with the likes of the Hadids and the Jenners from an early age and told Complex that all of them — Gigi, Bella, Kendall, Kylie, and her — grew up together, so her exposure to style and luxury was certainly not lacking.
The model said that she grew up quickly, but her father kept her grounded
We can't imagine what it'd be like to be famous, let alone come from a famous family, but that was the case for Sofia Richie. She shared with Complex that her dad Lionel Richie's legendary music career often led to her being surrounded by musicians — Michael Jackson was even her godfather. Despite all the fame she was exposed to daily, her dad made a point to keep her as grounded as possible.
"You get to see places kids don't normally see, and meet people that are not normal," Richie shared. "[But] there are pluses and minuses to it. You don't really get the quality time you get with a normal dad. I feel like I grew up kind of fast, but I love my life and the way I grew up." And from the looks of it, it's clear that Sofia's dad, Lionel, had faith in her own intuition and vision for her life from a young age. He shared with Billboard that his daughter was an "old soul," who was "very clear about who she is and what she wants." But still, Michael Jackson as your godfather? Can't say that's particularly relatable.
Sofia Richie emerged as a student at Celebrity High
You'd think that being the child of an incredibly famous musician would come with life-altering paparazzi, media attention, and scrutiny at every turn. But Sofia Richie wasn't exposed to the entirety of that spotlight, and even went to high school with other kids. But let's be clear: She went to Oaks Christian, which has been dubbed "Celebrity High" given that its student body has included the kids of celebrities like Joe Montana and Tom Selleck (via Los Angeles Daily News). Oh, and it costs $30,000 a year.
"I went to Oaks Christian, if you've heard of that? It's in the Valley," Sofia told Complex. "I went there for two years, and that's where I got my sense. My family wanted church to be a place where we all went together. My dad was always traveling and my mom was always working. School is where I did Bible classes and studied God." But after those two years with her famous classmates, Sofia joined her dad Lionel Richie on the road and traveled with him while he worked. It was then that she shifted to home-schooling, but she still held onto the religious teachings that Oaks Christian imparted on her.
Sofia Richie's dad had a hand in how she developed into her fame
As the daughter of a legendary musician, Sofia Richie's dad Lionel Richie had a hand in how she grew up and transitioned into the public eye. She told Elle in 2014 that when she was growing up, she had been friends with children of other industry professionals who were in the "Hollywood" scene but noted that she spent most of her time outside of that scene, possibly because her dad had a pretty tight lid on Sofia's exposure.
"My dad is more strict because of my sister. I feel like now he's on the preventative side — it's not like I'm doing anything bad, but he went through all that with Nicole, so he's just strict to prevent it from happening again," Sofia told Elle. Of course, she is referring to the conflicts in which her older sister, Nicole Richie, found herself during her younger years, most notably being her drug use. As noted by People, Nicole used both cocaine and heroin and credited her drug use to boredom. "I think I was just bored, and I had seen everything — especially when you're young, you just want more," Nicole said.
All eyes were on Sofia Richie when she turned 18
In 2016, just before she turned 18, Sofia Richie told Billboard that the milestone equated to "freedom," and all eyes were on what she was going to do next. At the time, Sofia was linked to Justin Bieber, and the two went on a "romantic trip" to Mexico to celebrate her big birthday (don't forget, the drinking age in Mexico is lower than it is in the United States). She proceeded to tell Billboard that after ringing in her newfound freedom and adulthood, she'd be taking the steps to move out of Lionel Richie's house located in Beverly Hills, simply saying, "It's time to go."
Of course, Lionel didn't seem to let his little girl go without guiding her in the right direction, but Sofia recalled her dad's well-intended but perhaps misguided attempts to get her on the right path. "One night he intercoms me, like, 'Come have dinner in the studio.' So I go down and it's my dad and Pharrell Williams. I'm like, 'I can't just sit here and casually have a dinner with you two! I'm so sorry, I've got to go back upstairs.'" Pharrell? An intercom in the house? Sofia lives a very different life from most of us, that's for sure.
Sofia Richie's modeling career began to blossom with time
If you don't know Sofia Richie for being Lionel Richie's daughter, or for being Scott Disick's long-term girlfriend (now ex, we should add), then you probably know her from the modeling world. Sofia told the Evening Standard that after being home-schooled for four years and being on the road with her dad, she decided to turn her attention to modeling after her friends and family encouraged her to give the modeling agency a try.
At just 15, Sofia signed a modeling deal and appeared in Elle and Marie Claire. By 2016, she had been chosen to be the face of Material Girl, the fashion line started by none other than Madonna and her daughter, Lourdes Leon. As a massive Madonna fan girl, Sofia was "obsessed" and called the experience "insane and overwhelming." "I have met [Madonna] several times with my dad. I think she is a good role model because she is independent and strong," Sofia said. As for Leon, the model revealed at the time, "We have a lot of mutual friends and they think we should link up, because we are so similar."
Sofia Richie became a household name when she started dating Scott Disick in 2017
We've been following the Kardashians since their show "Keeping Up With the Kardashians" began airing. At the center of Kourtney Kardashian's drama was (and still is) Scott Disick, her ex-boyfriend and father of her children. Since Kardashian and Disick broke up, the "Lord" has been on the dating scene and made intense waves when he started dating Sofia Richie in September 2017 — he was 34, and she was just 19, as noted by Bustle. The two made their relationship public via Instagram and made their first official appearance as a couple in December 2017 at the DuJour Magazine Art Basel party in Miami Beach. A source told Us Weekly at the time that the new couple "remained close the entire time."
Of course, Lionel Richie had some thoughts on the matter when his then-teenaged daughter started dating a father in his mid-30s. A source told Us Weekly that he was "scared to death" about Sofia's latest fling, but shockingly, Disick wasn't phased by Lionel's comments at all. Sofia maintained to E! News that her dad was "very supportive," but in the interview, Lionel made "a hand gesture that looked like a gun pointing at his head" at the remark. Yikes.
The stunner began collaborating with brands to create her own sense of style
Sofia Richie is from an impressive family, but she hasn't fallen into their shadow. Richie is creative in her own right, and she proved that as she transformed into an influential social media presence. To solidify her presence in the fashion world, 2019-era Richie collaborated with Frankies Bikinis, allowing the budding star to make her first real stamp on the industry she was busting into.
Frankies Bikinis noted during the launch of the Richie collaboration that the young model was the "perfect 'it' girl to collaborate with." She ticked all the boxes — femininity, confidence, California lifestyle. And to make a good thing better, Richie came to the table adamant that her suits be available to a variety of body types. "A big focus for us was making sure the silhouettes were flattering to different body shapes and sizes because no body is the same," Richie said, before adding that she wanted to bring elements of her "tomboy flare [sic]" style to the collection. "Whether I am wearing baggy jeans with a fitted tank … or styling my swimwear with a pair of sweatpants and sneakers, I love to have that perfect mix of femininity and tomboy," she said.
The up-and-coming model didn't want to be a mom-figure to Disick's kids
Sofia Richie was practically still a kid herself when she started dating Scott Disick, and the model on-the-rise suddenly found herself trying to appeal to Disick's three kids that he shares with Kourtney Kardashian. As noted by People, Richie and Disick tried to get his kids as comfortable around her as possible, and on one attempt, the five of them went out for dinner to try to break the ice. As noted by People, the dinner was brief, and the entire thing was a little awkward.
"You could tell that the kids don't know Sofia well because they weren't holding her hand. Instead, they all stayed close to Scott," an insider spilled. "Scott and Sofia were not affectionate. The kids seemed fine with her, but all sat close to Scott." The insider went on to reveal that Richie was employing a "gentle approach" to try to win over Disick's kids, but maybe it didn't work. After Richie and Disick split (more on that later), a source revealed to Entertainment Tonight that Richie didn't want to be a stepmom to Disick's kids, but rather wanted to focus on her own life.
Lionel Richie had something to say about his young daughter's relationship with Disick
As briefly aforementioned, Lionel Richie had some thoughts about Sofia Richie's transformation from budding 18-year-old model to girlfriend of mid-30s Scott Disick. It seemingly was not the evolution in his daughter's growth that Lionel had hoped for, and he made his feelings known on the matter. As noted by E! News, Sofia was "infatuated" by Disick, and although Lionel wasn't thrilled about it, he tried his best to appeal to the couple.
"Lionel has accepted their relationship but still isn't entirely 100 percent on board with Scott mostly because of the age difference and how young Sofia is," a source revealed. "Lionel can see how happy Sofia is though so he is definitely making more of an effort with Scott." Of course, Lionel is known as an "honest, up front kind of guy" and he made it clear to his daughter that his father-daughter relationship with her was his priority. As such, he swallowed his genuine feelings about her relationship and seemingly tried to make nice, even spending the holidays with Sofia and Disick in 2019. "He's trying to be there for Sofia and to be supportive of her despite his reservations about her relationship," the source continued.
After three years, the budding model ended her high-profile relationship with Scott Disick
Sofia Richie was only 19 when she started dating Scott Disick, and it's safe to say that she transformed into a leading lady during that time. When it was announced that the couple decided to call it quits three years later, we weren't witnessing a young, up-and-coming model obsessed with her boyfriend — instead, Richie came off as a decisive woman who reportedly knew exactly what she wanted out of her life and relationship.
According to Disick himself, via People, Richie gave him an "ultimatum" towards the end of their relationship: It was either Richie or Kourtney Kardashian — Disick couldn't have both. They briefly reconciled after the ultimatum was given but eventually pulled the plug on their relationship. "I thought I would give it a try and make her more of a priority, but then even when doing that, I feel like she just started wanting to push Kourtney out," Disick said on "Keeping Up With the Kardashians." "And I said like, that's the most important thing to me is my kids and that's my family, and the only family I have." Say what we will about ultimatums, but it's clear that Richie knew what kind of life she wanted.
Sofia Richie thrived professionally in the wake of her breakup
Some people go through a breakup and are derailed for a good chunk of time — after all, enduring such a huge life change can really seem to throw things off. But that certainly did not seem to be the case for Sofia Richie, who all but thrived in the aftermath of her breakup from Scott Disick. Yes, we'd seen her thrive as a happily in-a-relationship lady, but when she struck out on her own, it seemed as though the world was at Richie's fingertips.
Over the years, Richie's profile and fame had grown exponentially, and her influence was reaching over 6.5 million people on Instagram alone when she was just 22 years old. As such, her business portfolio transformed, and as noted by The Things, Richie became the face of a number of brands, proving to the world that she certainly didn't need a man on her arm to make it big in her business. Included in Richie's brand and designer contracts were the likes of Pretty Little Thing, Rag and Bone, Mermade Hair, and more. With increased attention and sponsored posts, according to The Things, likely came even more brand collaborations, pointing to the budding success of the young star.
The model transformed into a thriving 23-year-old with a new boyfriend
A lot of us came to know Sofia Richie through her relationship with Scott Disick, but the young model hasn't missed a beat since breaking up with the "Keeping Up With the Kardashians" star. In fact, she's out in the world making the relationship choices that she wants. As noted by People, she has a new beau in Elliot Grainge, a Los Angeles-based music producer. Richie and Grainge were first spotted together in January 2021 in Beverly Hills and made things Instagram official (because how else do people confirm their relationships now?) in early April 2021 with a cute photo of them kissing.
The couple made a splash in the news yet again when they made a romantic getaway to St. Barts in April 2021, and Richie was sure to share snaps of their vacation on social media. It's a change that Richie's family can certainly get behind too, as her dad is reportedly a fan of Grainge's. A source told E! News that Lionel Richie has been friends with Grainge's dad for some time, and the legendary musician "completely adores" his daughter's new guy.
Sofia Richie is thriving within the fashion world
Sofia Richie has evolved from the famous tomboy child of Lionel Richie into a star in her own right. From her impressive social media following to her classy wardrobe to her brand collaborations, it seems as though the world is at her fingertips. And as noted by The Zoe Report, Sofia has some impressive accomplishments under her belt, proving that her reign is just getting started. Notably, Sofia and her sister, Nicole Richie, collaborated on a collection for the House Of Harlow 1960 clothing line, and Sofia reportedly brought her "modern street style" to the table.
"Sofia is young and on the street … boots on the ground," Nicole said of her sister and their work together. "It was very cool to watch her bring in these very current pieces that I probably never think to bring in on my own." And that's not all! As of publication, one of Sofia's latest collaborations is with Rolla's Jeans, where she lent her fashion eye to the brand's classic denim and western style (via Yahoo! Life). It's safe to say that we're just seeing the tip of the iceberg when it comes to Sofia's career and accomplishments, and we can't wait to see what she accomplishes!