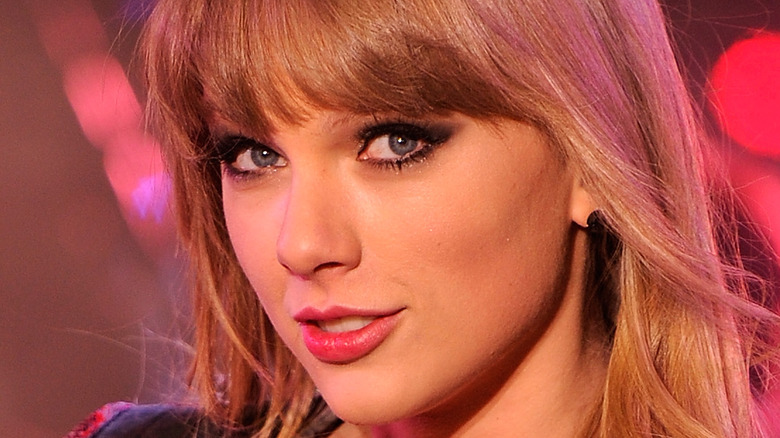 "Red," Taylor Swift's fourth studio album, was initially released in 2012 to rave reviews. It was praised for its songwriting, versatility, and maturity. The album gave us unforgettable hits like "22," "We Are Never Ever Getting Back Together," and "All Too Well."
Nearly a decade later, in 2021, Swift released a second version of the same album as part of a campaign to re-record her entire back catalogue. "Red (Taylor's Version)" includes almost perfect copies of the original songs, along with a number of brand new recordings of some of the songs Swift wrote in her "Red" era that never made it onto the first album. For fans, it's a perfect excuse to relive one of Swift's best-loved albums. In fact, Rolling Stone even wrote that the new album "makes a classic even better." It's safe to say that "Red" will go down in history as one of the most important albums of Swift's career. Want to discover more about what Swift has called her "only true breakup album?" Here is the untold truth of Taylor Swift's "Red."
This is the reason why Taylor Swift called the album Red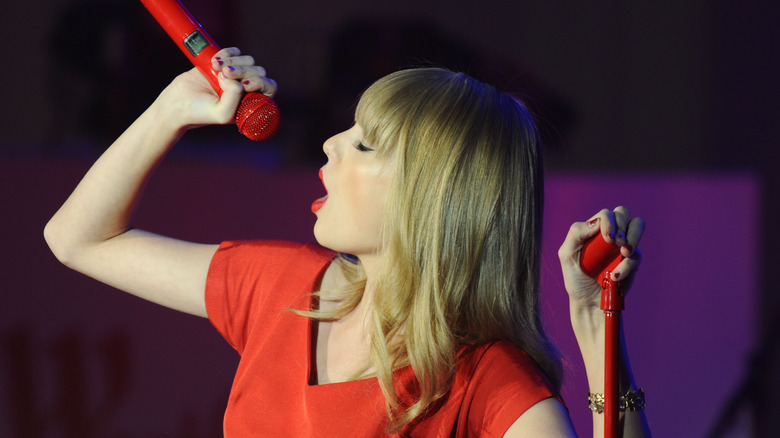 Back in 2012, when "Red" was first released, Taylor Swift was … well, going through some stuff. She had just turned 22, and had recently experienced her first taste of heartbreak. It should come as no surprise that the songs she wrote during that period were pretty emotional.
As the singer-songwriter told "Entertainment Tonight Canada" at the time, she called the album "Red" because the album covered some of her most extreme emotions: "The idea of 'Red' being the album title is that, you know, red is a really bold, intense color, and these are all really bold, intense emotions that I've written about." In another interview with "Access Hollywood," Swift explained that the album included songs about the "good red emotions, which is like love and passion and you have, like, anger, jealousy, all that other stuff." This album really does give us the full spectrum of emotions that rise up when we're young and in love — and "Red" is the perfect name for it!
Red reflects two years of Taylor Swift's life
When "Red" came out in 2012, it had been two years since Taylor Swift's last album, "Speak Now," which was released in 2010. As Swift explained to "ET Canada," this meant that the album reflected two whole years of her life. "It's one of those things where I'm constantly writing and I'm constantly having things inspire me in my life, so there are songs from two years ago, there are songs from three months ago," she explained, "and to kind of have that span of time reflected in the songs is really amazing."
And Swift certainly did a lot of growing up in those two years. For one, she had a brief romance with Jake Gyllenhaal, which led to her first experience of heartbreak. Plus, she spent her time honing her craft as a songwriter. "I think the biggest change and the best change is my sense of curiosity when it comes to wanting to learn more, wanting to expand what I do," she explained to The Country Daily.
Swift learned a lot about herself and her craft in those two years — just compare "Red" to her previous album "Speak Now" and you'll hear just how much she grew!
Taylor Swift originally wrote around 40 songs for Red
Taylor Swift is nothing if not prolific — she writes a lot of songs! In the two years between "Speak Now" and "Red," Swift churned out between 30 and 40 new songs. Of course, not all of them were recorded the first time around. "I had to choose 16 that would end up on the final record," she told "ET Canada." "So it was a really difficult process, and you end up having to look at these songs under a really harsh microscope."
Swift went on to explain that she had to narrow down the final tracks by thinking about which songs felt complementary to each other. Some of the tracks became bonus tracks, and others were never released. At the time, Swift didn't know if the songs would ever come out. "Maybe someday they'll be bonus tracks or songs that eventually get put on an album years from now," she said.
Luckily, Swift had the perfect opportunity to release the extra songs in 2021 when she re-recorded the album. As she said on "Late Night with Seth Meyers" in 2021, she "dug up those songs from the crypt that they were in" and even collaborated with some amazing new artists.
She collaborated with other artists for Red
One of the things that makes "Red" such a special album is all of the amazing people that worked together to make it happen. Both Ed Sheeran and Gary Lightbody from the band Snow Patrol featured on some of the tracks. As Swift told Billboard at the time, she had asked them to sing songs on "Red" because she was inspired by them.
She also collaborated with a new team of producers for "Red," along with Nathan Chapman, who had worked on her previous albums with her. "'Red' the song was a real turning point for 'Red' the album. When I wrote that song my mind started wandering to all the places we could go," she said. "If I were to think outside the box enough, go in with different people, I could learn from and have what they do rub off on me as well as have what I do rub off on them." So, that's exactly what she did. Swift joined forces with songwriters Max Martin and Dan Wilson, and the team ended up creating an album that was fresh, new, and exciting.
Taylor Swift was extremely proud of I Knew You Were Trouble
Taylor Swift wrote a lot of amazing songs for her album, "Red." But of all of the songs on the album, "I Knew You Were Trouble" was one of her favorites. In an interview with "Access Hollywood" she said, "There's this song on the record that I really like called 'I Knew You Were Trouble' that is so different than anything that I've done before." Swift was especially proud of this song because it was a huge departure from her usual style. "For me to kind of step out of the box and do that was one of the things that I was most proud of, because this album really explores the edges, you know?"
She went on to explain that the song was inspired by a real life romance with a guy that she knew was bad for her. "That song is less about, like, 'You broke my heart, shame on you,' it's like, 'You broke my heart, shame on me, I totally ignored the red flags.'" This song definitely took Swift in a new musical direction — plus, it showed just how much she'd grown as a person! No wonder it's one that she was proud of.
The singer wrote Sad Beautiful Tragic on a bus
One of the saddest ballads on "Red" is the song "Sad Beautiful Tragic," which is a bittersweet look at a broken relationship. As Taylor Swift told Billboard, the song was "really close to [her] heart." She explained that she hadn't written the song right after the end of a relationship — instead, she had come up with the idea for the song much later. "I remember it was after a show and I was on the bus thinking about this relationship that ended months and months before," she said. "The feeling wasn't sadness and anger or those things anymore. It was wistful loss."
Swift said that she started writing the song then and there, trying to capture the good and the bad sides of a long-gone relationship. "It's kind of the murky gray, looking back on something you can't change or get back," she mused.
There are plenty of fan theories about the inspiration behind the songs on Red
One thing that Taylor Swift fans love to do is speculate on the inspiration behind her songs. Many of Swift's songs on "Red" are about her relationships, so fans have plenty of theories about which ex-boyfriends inspired which songs.
Many of the songs on the album are supposedly about Jake Gyllenhaal, who the star dated in 2010. As Insider notes, the line "twin fire signs, four blue eyes" in "State of Grace" suggests that the song is about Gyllenhaal, who is a Sagittarius with blue eyes. In the song "All Too Well," she sings about a scarf that an older ex kept after their relationship ended. Gyllenhaal was older than Swift and was seen wearing a scarf that Swift had initially worn on one of their dates. The song "Holy Ground" is potentially about Joe Jonas, who Swift had dated years before. As Swift said in one press interview about the song, "Years had gone by and I finally appreciated a past relationship for what it was, rather than being bitter about what it didn't end up being."
Red marked a turning point in Taylor Swift's music
"Red" was Taylor Swift's fourth album. She had already established herself as one of the most famous country singers in the world. With "Red," her music took a dramatic turn. In fact, it was the first time Swift marked her transition from country star to pop star. As she put it to Rolling Stone in 2020, "I was standing on a state line, and I had a foot on either side of the border line."
With "Red," Swift became more experimental, adding adventurous drum beats and even dubstep influences to her country roots. "It was sort of like my college years of going out and trying stuff," Swift said, describing her bolder sound on "Red," adding, "It was really sort of the beginning of everything that I'm doing now." If you're looking to pinpoint the moment in Swift's career when she really came into her own as an exciting, even groundbreaking musician, "Red" is definitely that moment.
Why Taylor Swift re-recorded Red in 2021
Taylor Swift announced back in 2019 on "Good Morning America" that she planned to re-record her back catalogue of music. Her first re-record, "Fearless (Taylor's Version)," came out in April 2021. "Red (Taylor's Version)" was her second re-record.
Swift explained her reasoning for re-recording "Red" in an interview with Seth Meyers shortly after the album was released. "I've always wanted to own my own music," she said. As she explained, she tried to buy her own music a few years ago, but instead it was sold to someone else. "And so I just figured, I was the one who made this music first, I can just make it again," she said. "So that's what we're doing."
When the album was released, Swift posted a heartfelt message on Instagram, writing, "Red is about to be mine again, but it has always been ours. Tonight we begin again."
Here's the story of the famous 10-minute version of All Too Well
Most pop songs are around three or four minutes long. So, when Taylor Swift wrote "All Too Well," a 10-minute ballad, for the album "Red," she knew she had to cut it down. As she told "Good Morning America" at the time, "It started out probably like a 10-minute song, which you can't put on an album and I had to filter it down to, like, a story that could work in the form of a song." So, Swift cut the song down.
However, when she returned to the album in 2021 and recorded her own versions of the songs, she had the chance to revisit the original 10-minute version. As she explained on "The Tonight Show," the song had always been her favorite one on the album. Her fans had also latched onto the song, even though it wasn't a single. So, when she had the chance to re-record the album, it seemed natural to include the original version. "That's the thing that I'm most excited about, 'cause it's the original lyrics," she said.
Taylor Swift asked Phoebe Bridgers to collaborate on her re-record of Red
One of the most exciting new collaborations on "Red (Taylor's Version)" is the song "Nothing New." As Taylor Swift told Seth Meyers on "Late Night," she had wanted to work with Phoebe Bridgers. "If she sings it, I will listen to it," Swift gushed about her fellow singer.
Swift thought Bridgers would be the perfect person to sing the song with her, as the song is about becoming old news in the music industry, and they're both artists with similar experiences in the industry. "I really wanted another female artist who I loved to sing it with me," she said.
So, Swift sent Bridgers a "very long text" asking her to join her on the song. Apparently, Bridgers was only too happy to accept. "Her response was, 'I've been waiting for this text my entire life,'" Swift recalled. Talk about a dream team!
She knew exactly what she wanted to do with the All Too Well short film
In addition to releasing the 10-minute version of her song, Taylor Swift also released an "All Too Well" short film starring Sadie Sink and Dylan O'Brien. As Swift told Jimmy Fallon on "The Tonight Show," she had been involved in every part of the filmmaking, from the writing to the casting to the directing and the acting. And, as she explained, casting Sink and O'Brien two actors made her job easy. In fact, the final even ended up including a long shot of the pair improvising because they worked so well together.
"The actors, Sadie and Dylan, they just gave everything, and I trusted them so much … I had a feeling if you put these two people in a room and you trust their instincts, magical things could happen," she told "Entertainment Tonight." Sounds like Swift doesn't just have good instincts when it comes to music — she's also a brilliant filmmaker!
Taylor Swift got to revel in nostalgia with her fans when she re-recorded Red
Obviously, re-recording her old albums has made Taylor Swift look back at the previous periods of her life when she originally recorded those albums. When she re-recorded "Red," she had the chance to revisit being 22. But for Swift, it was also an exercise in communal nostalgia, as she got to experience this nostalgia alongside her fans.
"Going back and reliving these things with the fans and this time around I get to really — I get to do things that I know they wish I would've done the first time," she said on "Late Night with Seth Meyers." As Swift explained, she had spent the last 10 years listening to her fans' opinions about "Red" so that when she re-recorded it, she could make the music videos and the singles that her fans had always wanted her to make. After all, the best kind of nostalgia is the kind that takes something from the past and makes it even better.
Taylor Swift had a much better time releasing Red the second time
There's no denying that Taylor Swift's "Red" era wasn't the easiest time for her on a personal level. She was dealing with the issues that come with fame, the struggles of growing up, and, of course, the crushing experience of heartbreak. So, when she first released the album, she had a difficult time. As she recalled to Seth Meyers, "I think that I was so focused on like, 'Is anyone going to like it,' and then I was also like, at the time, like, honestly, really sad." In fact, Swift even remembered having to take breaks between interviews to cry.
However, this time around, Swift gets to enjoy the release of the album. "I have got like sunglasses on and like a mojito," she said, giving a peace sign. "It's chill this time … I'm telling you, it's much better this way," she said. As Swift explained, looking back on the ups and downs of your 20s when you're in your 30s ended up being the perfect experience.