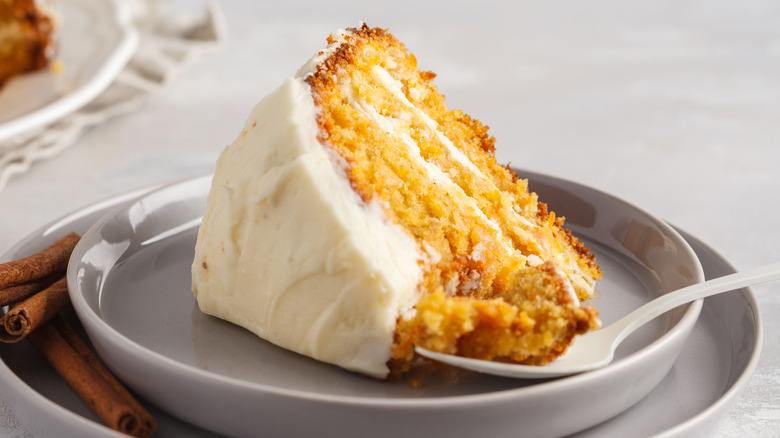 Nothing makes you a hero to friends and family like treating them to a home-baked cake. And during last year's COVID-19 shutdowns, some of us got really good at baking really fast, according to CNBC. We craved the comfort that home-baked treats could provide, and we wanted to show our loved ones how much we cared. And besides, what else was there to do while stuck at home for weeks on end?
But not all of us proved to have a knack for baking — and as NPR reports, even many of us already skilled in baking and cooking have gotten a bit burned out. Baking can be big fun if you're in the right mood and have plenty of time. But let's face it, making cakes is work, and cleaning up after a major baking project is a drag. Luckily, you can now have the reward and bragging rights of home-baked cake with just minutes of work and no special skills. That's right, these three-ingredient cakes require only basic supermarket ingredients and are easy enough for even first-time bakers to master.
This three-ingredient flourless chocolate cake will make you swoon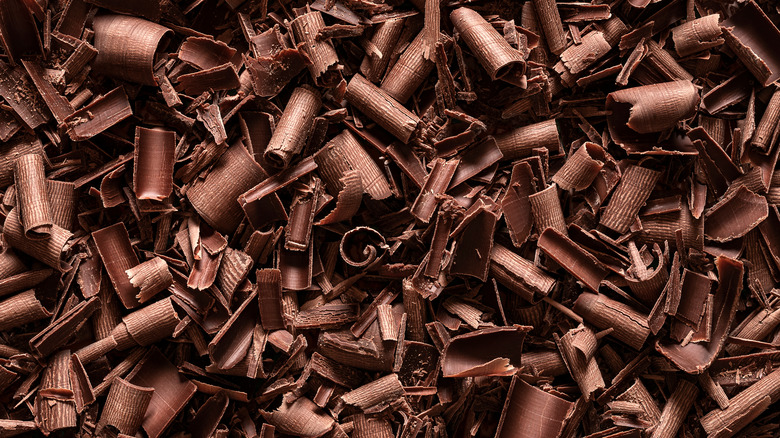 Since it first hit the scene back in the '80s, flourless chocolate cake has been a go-to Valentine's Day and anniversary dessert choice in fancy restaurants because it hits all the right notes — the creamy, dense texture and intense, bittersweet chocolate just feel fancy, festive, and grown-up, while offering the same chocolatey comfort as your favorite childhood brownie.
Because of its reputation as a special-occasion dessert, flourless chocolate cake isn't something a lot of people think to make at home — which is too bad, because it's a cinch to make. This three-ingredient version from Gimme Some Oven contains just chocolate (use the best you can find), butter, and eggs. All you have to do is beat the eggs, melt the butter and chocolate together, mix them into the eggs, and bake. The only cheffy technique you need is an easy one: you bake the cake in a water bath, which means you put the foil-wrapped cake tin in a larger pan and pour hot water into the pan until it comes halfway up the side. This will ensure your cake has the moist, luscious mouthfeel you know and love.
Mix and match flavors with this super-easy cake recipe
Most home cooks have a handful of easy go-to recipes — the ones they know by heart and love because even without looking at the recipe, they know they'll get it right every time. Consider this three-ingredient cake from Just a Pinch your new favorite back-pocket recipe; all it requires is cake mix, pie filling, and eggs. Baked in a bundt pan, it looks like something your grandmother would have made — in other words, like something you spent hours working on.
Even better than the sheer simplicity of the recipe is the fact you and those you're feeding will never get bored of it. The reason? Because it can be made to produce a completely different cake flavor every time. By changing up your choice of cake mix flavor and pie filling, you can create flavor combos as traditional or experimental as you want. Apple and spice cake? Or lemon cake and blueberries? How about yellow cake and peaches? Your friends will think you're a baking maven with a million recipes up your sleeve.
If you love chocolate and cherries, here's your new favorite cake recipe
Chocolate and cherries are a classic combination — think cherry-filled ice cream bonbons, boozy chocolate-covered cherry cordials, and the old-school dessert trolley favorite Black Forest cake, a three-layer chocolate cake filled with cherries and whipped cream. Something about the rich earthiness of chocolate and the tart fruitiness of cherries just make them a perfect combo; like any great couple, each brings out the best in the other.
If you crave Black Forest cake but the idea of trying to engineer a three-layer cake makes you break out in hives, have no fear. Betty Crocker, the patron saint of time-pressed and technically challenged bakers everywhere, has devised a super-simple, but equally luscious alternative. This chocolate-cherry dump cake is dead easy. As its name implies, all you have to do is dump the ingredients — cherry pie filling, chocolate cake mix, and melted butter — into a greased pan and bake. You don't even have to stir them together. The result? A moist, pleasantly gooey treat that's even better a big dollop of whipped cream.
This peanut butter mug cake is ready in minutes — and keto!
Mug cakes have become a very big deal because they're not only super fast and simple to make (mix a bunch of stuff together in a mug, microwave, and voila!), they're also simply adorable. Who wouldn't crave a fresh-from-the-oven personal-sized cake served in their favorite mug?
But not all mug cake recipes are created equal. Regular mug cakes can be scrumptious, but like most scrumptious things, can add inches to your waistline in no time flat. And a lot of fat-free diet cakes are aren't exactly a party in your mouth — more like a barely edible no-fun zone. This is why this three-ingredient peanut butter mug cake from The Big Man's World is such a find; it's not only keto (no flour or sugar, only monkfruit sweetener for sweetening), but inherently decadent because it's largely made of peanut butter. And like other mug cakes, it's a snap to make. Just mix the ingredients and microwave for about 45 seconds to enjoy a sweet, rich, nutty, yet healthy treat.
A surprise ingredient makes this super simple cake extra flavorful
Ice cream and cake are a classic party combo, and for serious ice cream lovers, ice cream cakes are even better. But the food blog In Katrina's Kitchen takes the ice-cream-and-cake combo to the next level with this ingenious bundt cake recipe, which technically requires only two ingredients: softened ice cream and self-rising flour. (The third and optional ingredient is sprinkles, which add a welcome and festive touch.) Just mix them together, pour into a bundt pan, and bake for about half an hour.
This recipe sounds crazy, but it actually makes sense when you break down the ingredients. Self-rising flour contains the leavening needed to produce a light and airy cake; ice cream contains sugar, eggs, cream, and flavorings, all normal cake ingredients. So using ice cream basically saves you the time and trouble of finding and measuring out the four or five separate ingredients you'd otherwise need to get a flavorful cake with a good texture. And even better, you can switch up the flavor of your cake just by using different flavors of ice cream.
Here's a pumpkin spice cake that's ready for the oven in seconds
So say this year, your family is asking you to step up to the plate and bring a dessert for Thanksgiving dinner. You're swamped at work, so making complicated pies from scratch is out, but bringing a supermarket pie doesn't feel right either; it would broadcast to everyone you love that you're just phoning it in. You could always treat everyone to something from a fancy bakery, but it's pricey, and you have to place your Thanksgiving orders a week in advance. And Thanksgiving is tomorrow.
Have no fear — this pumpkin dump cake from Spend With Pennies is here! It requires only three easy-to-find ingredients: a box of spice cake mix, a can of pureed pumpkin, and eggs. Just mix them together, pour them into a baking pan, and bake. It takes a grand total of half an hour to make (including baking time) and hits all the right notes for fall: warm pumpkin spice, a gorgeous golden hue, and a rich, moist crumb. To make it even more festive, top each serving with a scoop of ice cream.
This decadent chocolate mug cake can be yours in minutes
Mug cakes are perfect for those times when you need a little self-care. These single-serving, warm and spoonable treats aren't designed for sharing, so they give you a convenient excuse to take some time out to spoil yourself. And even better, they're easy to make — most recipes don't require any special techniques — and they cook up in a flash in the microwave.
This chocolate mug cake from Love in My Oven is a terrific example. Made with just cocoa, maple syrup, and an egg, this personal-sized treat is intensely chocolatey with a luscious texture somewhere between a cake and a pudding. You can make it as sweet or bittersweet as you like by adjusting the amount of maple syrup you use, or if you're feeling ambitious, you can jazz it up with whipped cream, chopped nuts, or fruit. As an extra bonus, this cake has no flour, so it's a great recipe if you're avoiding gluten or want to pamper a gluten-intolerant friend.
Apple dump cake is a homey treat you can whip up in a flash
Let's be honest, the term "dump cake" doesn't sound all that appetizing, but don't let that put you off. These easy cakes, which basically involve dumping stuff in a pan and baking it, taste way better than they sound and have become a hit with busy home cooks and eaters alike. As their name implies, they're homey, down-to-earth affairs, meant to casually spooned into a bowl or cut into squares for serving.
This super simple apple dump cake from Cooking Perfected makes a cake a bit on the softer side — like a cross between a cobbler and a cake, perfect served warm with a scoop of ice cream or whipped cream. Like other dump cakes, it works brilliantly because each of its ingredients — in this case, just yellow cake mix, canned apple pie filling, and butter — does a lot of heavy lifting. The cake mix contains sweetening, flavoring, and leavening to keep the cake fluffy; the apple pie filling adds moisture, tanginess, and spice; and the butter adds richness and keeps the cake tender. In short, they do all the work so you don't have to.
Decadent, rich Nutella cake? Yes please!
There's no doubt someone out there who doesn't love Nutella, but we haven't found that person yet. The beloved chocolate-hazelnut spread has been a breakfast and after-school snack staple for European kids for decades, but it's only in recent years that U.S. foodies have discovered and embraced it. Smeared across a piece of toast or a slice of apple, it just seems to make ordinary foodstuffs feel festive and special.
This decadent Nutella cake from Dinner Then Dessert is the ultimate flex for showcasing its distinctive flavor; Nutella isn't used just as an accent, but as the base for the cake itself. And because the recipe calls for a large quantity of Nutella (a cup and a half, or close to a normal-sized jar) and has only two other ingredients (eggs and flour), the flavor of the Nutella really pops. The final cake is moist, dense, and seriously rich — an elegant special treat to be enjoyed in small slices. And you don't have to tell anyone how easy it was to make.
Everyone will think you spent hours on this three-ingredient Christmas cake
We know — Christmas cake (a.k.a. fruitcake) is polarizing: you either love it or hate it. But either way, Christmas simply isn't complete without it, and enjoying a big slice of it (or mercilessly mocking those who do) is a hallowed holiday tradition.
Dedicated fruitcake lovers, however, know another difficult truth about this holiday treat: traditional versions take forever to make, as well as serious baking chops. Fans of the "Great British Baking Show" may recall Mary Berry's show-stopping, marzipan-and-royal icing-covered masterwork — which needs to be baked and cured with multiple doses of brandy and rum for three months. Yikes.
Luckily, there's an easy option for busy, fruitcake-loving mortals who don't plan their Christmas dinners three months in advance. This recipe from Bake Play Smile requires only three ingredients: mixed candied fruit, coffee, and self-rising flour. Only one tiny bit of planning is needed: remind yourself to soak the fruit in the coffee the night before you bake for optimal results. The next day, stir in the flour, pour into a cake pan, toss it in the oven, and you'll have a real-deal fruitcake with only a few minutes of actual work.
This cookie butter cake is a super simple, spicy delight
If your favorite part of plane travel is reaching cruising altitude and finally getting your plastic-wrapped package of those crunchy, spicy gingerbread-like cookies that come with your drinks, you're in good company. They've grown so popular they've become a flavoring in their own right. Additionally, cookie butter is a sweet, creamy spread that basically lets you enjoy several cookies concentrated into a single bite. It's basically the closest you can get to mainlining cookies.
It's also the secret ingredient in this genius cake recipe from Fitwaffle Kitchen, which sounds too strange to actually work. All it contains is cookie butter, eggs, and baking powder. But if you look more closely, the recipe is pretty logical: because cookie butter is made from cookies (duh!) it contains flour, sugar, and fat, all standard cake ingredients, not to mention all those yummy spices. Eggs and baking powder are standard cake ingredients that add lift and texture and keep cakes from turning out like hockey pucks. The end result is a moist, dense-in-a-good way cake that will surprise your guests.
Here's an easy cake that's not only festive, but low in calories
A saying in the fashion world asserts that "nothing tastes as good as thin feels." Well, guess what? It's a lie. Of course we all want to stay at a healthy weight, but for most normal people, giving up sweets for life is a deal-breaker. After all, who wants to live to be 100 and have the bragging rights of a size 0 waistline if you're going to have to subsist on carrot sticks and plain rice cakes for the rest of your life? No thank you.
Fortunately, there are plenty of ways to enjoy sweet treats without ballooning into Jabba the Hutt. Take, for instance, this piña colada cake from Hungry Girl. Not only does this moist, tender treat tastes like a tiki bar umbrella drink on a plate, but it's only 166 calories per serving. And best of all, it's so easy to make it's almost embarrassing: just mix together yellow cake mix, canned crushed pineapple in juice, and fat-free coconut-flavored yogurt and bake.
This colorful, fruity cake is a great recipe for novice bakers
For novice bakers, the idea of baking a cake can seem like an intimidating prospect; nobody wants their friends and family to see them in the kitchen looking like an outtake from "Nailed It!". And traditionally, cake-baking was a complicated process with a steep learning curve. In standard from-scratch recipes, bakers need a gentle touch and a good eye for the right batter consistency to ensure a tender crumb, not to mention the skill to frost and decorate the finished cake.
But even master bakers have to start somewhere, and if you're new to the baking game, this pretty fruit cocktail cake from Fuss Free Flavours is a good place to start. It has only three ingredients (canned fruit cocktail, self-rising flour, and sugar), and requires no fancy techniques or special skills. The recipe includes lots of pictures and clear instructions, so you won't have to guess if you're doing things right. When you're done, you'll have a colorful, fruity dessert — basically, a streamlined upside-down cake. Even better, it's completely vegan, so it's cholesterol-free and a good treat for your vegan friends.