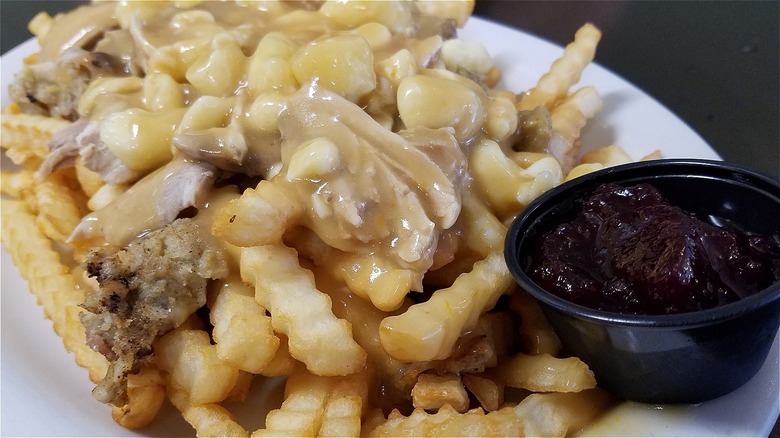 With most holidays, the day after can be kind of a let-down. On December 26, the lights and Christmas tree start to look a little sad; after eight days, you're probably ready to be done with chocolate gelt; and by Easter Monday, any eggs still hidden in the couch cushions may be starting to stink. There are two major exceptions to the post-holiday blues, though: on February 15th, candy goes on sale, with no romantic expectations attached! Even better, though, is the day after Thanksgiving, when everyone is free to indulge in all of their favorite leftovers in the best possible way: alone in the kitchen in their pajamas, with no need to take a polite bite of that icky green bean casserole Aunt Tilda made or make awkward conversation with the in-laws.
By day three of the long Thanksgiving weekend (that's Saturday, if you're counting), just plain turkey, stuffing, et cetera begin to lose their luster, and the task of finishing up that fridge full of food starts to seem daunting, indeed. That's where a little repurposing comes in. Take that turkey, gravy, and mashed potatoes and turn them into something new and exciting!
Turkey Salad With Cranberries And Pecans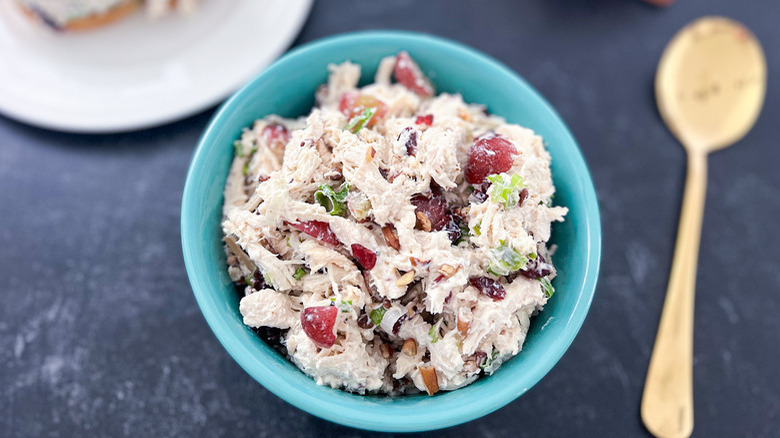 If you're still in the mood for Thanksgiving flavors after the holiday is over, you may appreciate this turkey salad recipe. Just plain turkey salad is an easy way to use up that leftover meat since all you need to do is chop the turkey, add some mayo, and spread it on bread. With this slightly more upscale recipe, however, the turkey is reunited with it's Thanksgiving bud, cranberries! While we used dried cranberries to add a little tang to the salad, you could always try stirring in a few spoonfuls of leftover cranberry sauce to serve a similar purpose. Plus, if you've got some nuts left over from that pecan pie, you can always toast them and toss them in to add some crunch. If you spread this salad on little toast squares, those could make the perfect canapes for an early holiday season brunch.
Instant Pot Turkey Soup
Got an Instant Pot? Let it take care of that leftover turkey for you. Sauté some veggies (or use the Thanksgiving leftovers, if you happen to have carrots and onions on hand), then toss a few handfuls of chopped turkey into the pot. Add broth and seasonings and let the mixture cook for just 5 minutes, since the Instant Pot does things, well, instantly.
If you want to turn this into turkey noodle soup, though, it's going to take a few minutes longer since you can't cook noodles using the pressure mode.
Recipe: Instant Pot Turkey Soup Recipe
30-Minute Chicken Pot Pie
A comfort food classic, if you've only ever had frozen pot pies, you probably have no idea of what the dish can truly bring to the table, so to speak. While this recipe calls for using cooked chicken meat, there's no reason you can't use some of your uneaten roast turkey, instead. In fact, if you have any biscuits left over from your Thanksgiving dinner, you can skip the puff pastry step, as well, and repurpose two types of leftovers in a single dish.
Creamy Turkey Wild Rice Soup
Plain old turkey soup may not be met with that much enthusiasm if you dish it up in the days following the Thanksgiving holiday, but you'll probably get a much better response if you follow this recipe. While yes, it does make use of the leftover bird and all your usual veggie suspects (those being carrots, onions, and celery), it dresses them up with a creamy soup base. What's more, rather than noodles or plain old white rice, the carb component comes from slightly chewy, nutty wild rice.
Poutine
It's a wonder that poutine hasn't really caught on in the U.S., as this Canadian invention combines a few things close to America's heart: french fries, cheese, and gravy. Well, that is the basic formula, as you can customize your saucy loaded fries any way you like. This, we feel, is what makes this dish just perfect for an after-Thanksgiving snack.
Slice those leftover roasted potatoes into thin wedges, then crisp them up in the oven to turn them into oven fries. Top this base with your turkey gravy, and even add some shredded roast turkey, if it strikes your fancy. And don't forget the cheese! A nice sharp cheddar would add some tang and really take this dish to the next level.
Traditional Yorkshire Pudding
While this may seem like an unusual problem (and definitely one of first-world magnitude), what can you do if you have a surplus of leftover gravy, and are running low on turkey or mashed potatoes? Good gravy! as Charlie Brown would say. Of course, you could always make a second, slightly smaller Thanksgiving meal (à la Ina Garten); or you could reuse the gravy to top some poutine (see above). But another option would be to bake up a batch of delicious muffin pan mini Yorkshire puddings and use them to soak up all of your extra gravy. These impressive looking puffs are much easier to make that you might think.
Homemade Turkey Soup
If you are a zero waste kind of cook, you may want to use up every last scrap of your Thanksgiving leftovers, right down to the turkey bones. Yes, you can actually do this! Well, maybe you won't be eating the actual bones themselves, but you can get the good out of them by boiling the entire turkey carcass to make a tasty broth. Strip the meat from the bones, add some veggies (surely you've got leftovers of those, as well), then simmer the whole thing to make a hearty soup.
So tired of turkey? Strain the stock and store it in the freezer for winter! We're sure you and your family will welcome the sight of a homemade turkey soup come February.
Thanksgiving Rice Pilaf
This fall-flavored rice pilaf was initially imagined as a side dish to be served on Thanksgiving day, but with a few tweaks, it will also work well as a way to repurpose any leftovers. It's built on a base of wild rice, although if you have leftover rice of any type from your holiday meal, you could use that instead. Likewise, you could repurpose any leftover veggies by chopping them up finely and stirring them into the rice. Not a vegetarian? This rice dish would taste great topped with some shredded turkey as well.
If you want to get experimental, you could even try using whole-berry cranberry sauce in place of the dried cranberries, though you might need to reduce the amount of broth a bit to compensate for the extra moisture. Sure, the pilaf will have a slightly different (sweeter) taste, but you never know, it could turn out to be just the flavor you're craving!
Leftover Thanksgiving Pizza
Thanksgiving pizza is something that Domino's or Pizza Hut aren't too likely to introduce to their menus, since most Thanksgiving foods are the kind of toppings that make pineapple seem downright traditional. Still, when you're staring down a fridge full of leftovers, what have you got to lose?
Spread mashed potatoes, turkey, cranberry sauce, stuffing, and gravy over a pizza crust -– this recipe provides instructions for making your own, but you're more than welcome to use a store-bought crust instead. Top the pizza with plenty of cheese, bake it in the oven, then give your creation some kind of ironic, hipstery name and serve it up to your foodie friends. Voilà! All of your Thanksgiving leftovers, taken care of in one fell swoop.
Leftover Rotisserie Chicken Soup
Rotisserie chicken? Well, you know, that's actually not a bad idea at all for a tiny little Thanksgiving dinner à deux … but even if you've gone all-out with a 20-pound turkey, rotisserie chicken recipes can still be your friend! Grocery store rotisserie chickens are what people living on their own buy to have "planned-overs," and a recipe like this soup, made with leftover-on-purpose chicken, works just as well with leftover Thanksgiving turkey.
All you'll need is a few veggies (maybe you've even got some of those leftover, hmm?) and a handful of pasta, and you'll be all set with a soup that can see you through the star of cold and flu season. (Who says turkey soup can't be good medicine, too?)
Easy Turkey Tetrazzini
A favorite of thrifty domestic divas and divos (we imagine them all wearing aprons and pearls) who know that nothing fancies up that leftover Thanksgiving bird like cream sauce, turkey tetrazzini is one of those recipes that's been around a long, long time. The spaghetti helps stretch things out, while the Italian name makes the dish sound so much more sophisticated than plain old turkey noodle casserole.
Our version ups the ante by adding cream cheese and mozzarella for an easy, cheesy dish that will taste fresh and new long after you grow tired of turkey sandwiches.
Lazy Pierogi
If you've never had a pierogi, you obviously don't have a Mitteleuropean babcia, nor are you likely to live in the Midwest. Sadly, you're missing out on one some amazingly delicious dumplings — and also one of the best ways ever devised for using up leftover mashed potatoes.
If you'd like to try pierogi but you're not in the mood for any complicated post-Thanksgiving meal prep, never fear. This shortcut recipe makes use of wonton wrappers to form the dumplings, so all you'll need to do is fill the skins with cheesy potatoes and onions. Quickly pan-fry the pierogi and serve them with a side of sour cream for a tasty snack.
Turkey Barley Mushroom Soup
Barley is an often overlooked grain. Why no love for this nutritious, delicious ingredient? Perhaps because, unlike certain trendy grains that have only recently come to our attention, barley has been a good old American standby for centuries.
Unlike many other cereal grains, barley is hearty enough to hold its own in a soup, and in this recipe it makes the perfect foil for leftover roast turkey. (We're willing to bet you have most, if not all, of the soup's other ingredients on hand from the big meal as well.) The addition of mushrooms to the mix not only adds some extra umami flavor, but makes this a filling dish that's perfect for a cold winter night.
30-Minute Fried Rice
Fried rice is a staple dish everyone need in their repertoire. It's a one-pot meal with carbs, veggies, and meat, and can be customized to include just about anything you've got in the fridge. While this recipe starts out with uncooked chicken, you can easily swap out that protein for cooked turkey, instead. As for the mixed vegetables it calls for, surely you've got some of those leftover from your Thanksgiving meal, too? While sweet potatoes may not be a traditional ingredient in fried rice, there's no reason they wouldn't make for a flavorful addition. Just be sure to tailor your spices to match your added ingredients.
Recipe: 30 Minute Fried Rice Recipe