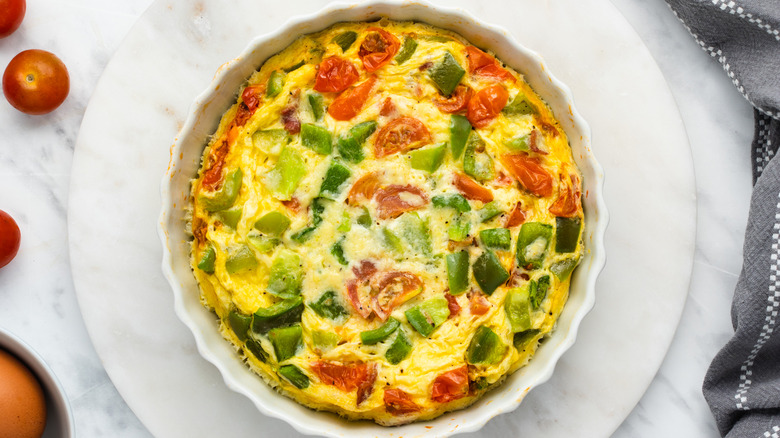 When it comes to great breakfast foods, a classic frittata has to be at the top of our list. We love this dish because it's filled with fresh veggies, eggs, and usually cheese. A frittata is also relatively healthy yet filling at the same time. Most of the time, frittatas can take a long time to make, but with this awesome recipe, you simply need to set aside about 15 minutes, which is pretty sweet if you ask us.
Recipe developer Catherine Brookes came up with this simple and delicious recipe that you can make using only a microwave. Yep, you read that right. No preheating or messing around with the oven — you can just pop it right into the microwave to cook it. "You can't go wrong with this recipe! Using the microwave saves so much time, so it's perfect for lunch or dinner on a busy day," Brookes raves. "And you can add whatever veggies you have left over in the fridge." Sounds great to us!
Keep reading to find out how to make this delicious dish.
Gather the ingredients for your frittata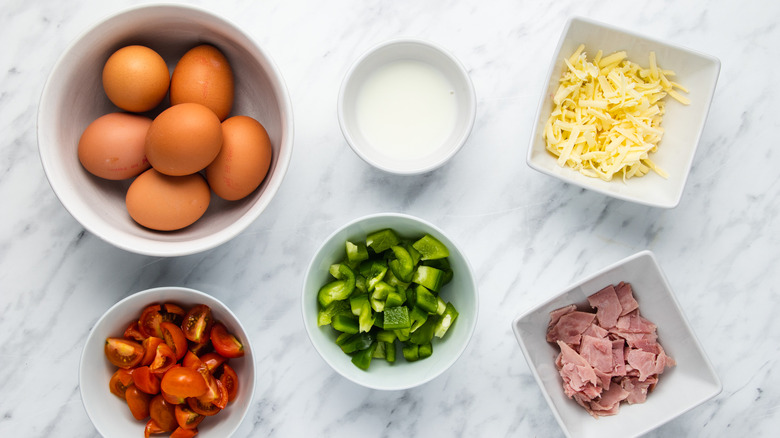 Are you ready to start cooking? If so, make a grocery list and head to the store. Be sure to check your pantry and fridge for items that you may have at home already. The first stop you will need to make is in the produce section. Grab a green pepper and a few cherry tomatoes. Next, head to the refrigerated section and grab some pre-cooked and sliced ham. As this is a frittata, you will also need six large eggs. Next, grab some milk or non-dairy milk if you'd prefer.
The recipe also calls for grated cheddar cheese and a little bit of salt and pepper.
Grease a dish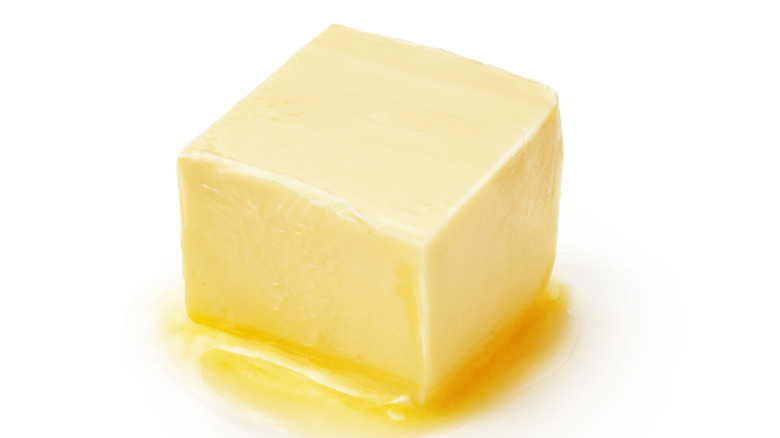 Now that you have all of the items in front of you, grab a dish that can go in the microwave. "I used a seven-and-a-half-inch round dish," Brookes says of her dish of choice.
Using either butter or cooking spray, grease the inside of the dish well. By doing this, it ensures that nothing will stick to the bottom or sides. Trust us — you want to eat as much of this frittata as possible. Another plus? Greasing ahead of time will also make cleanup a little easier. Who wants to be stuck scraping stuff off of the sides of the dish after you eat? Not us!
Dice the pepper and tomatoes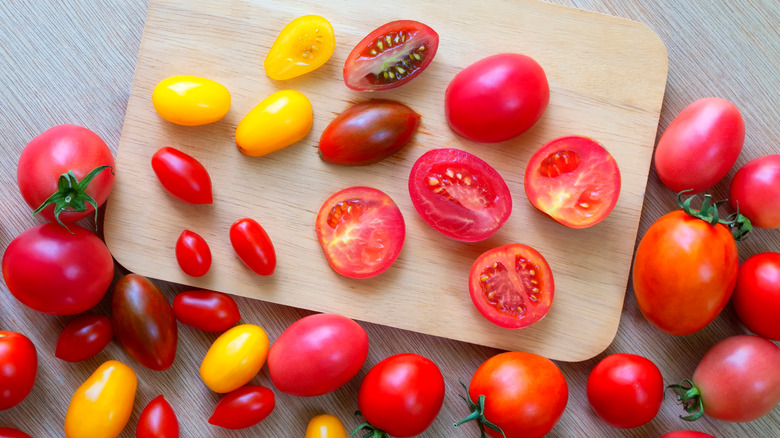 Now that you have the microwave-safe dish oiled or buttered, it's time to tend to the rest of the prep work. Take out your green pepper and wash it well. A little bit of water and a paper towel will do just fine. Once it's dry, grab a cutting board and a sharp knife. Then, dice the green pepper into quarters, and set it to the side.
Next, take out eight cherry tomatoes. Like the green pepper, be sure to wash these well. Then, place them on the cutting board and cut them into quarters.
Combine the ingredients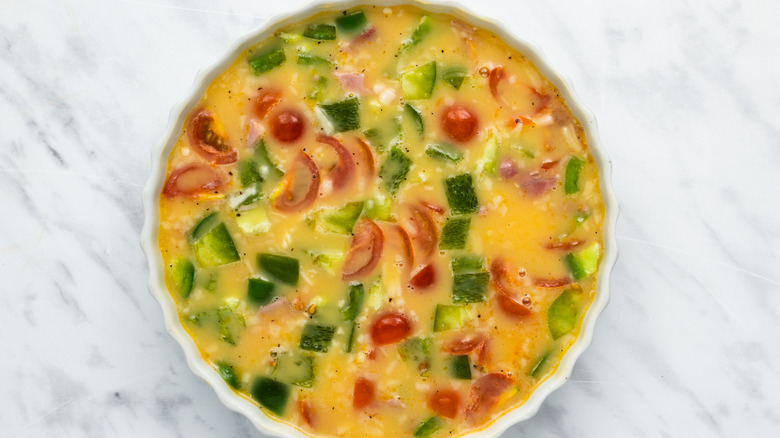 Take out a large bowl that is big enough to fit all of your ingredients. First, crack your eggs and toss them into the dish. Then, add the milk and the shredded cheddar cheese. At this time, you can also add a little bit of salt and pepper to taste. Using a whisk, mix the ingredients well to combine.
In the meantime, add the pepper, tomatoes, and ham to the greased dish and spread them evenly on the bottom, then microwave for about a minute on full power. Then, pour the egg mixture on top and pop it in the microwave for another six to eight minutes or until the egg is completely set. Brookes says that she loves using a microwave "because it's super quick and easy!"
Serve and enjoy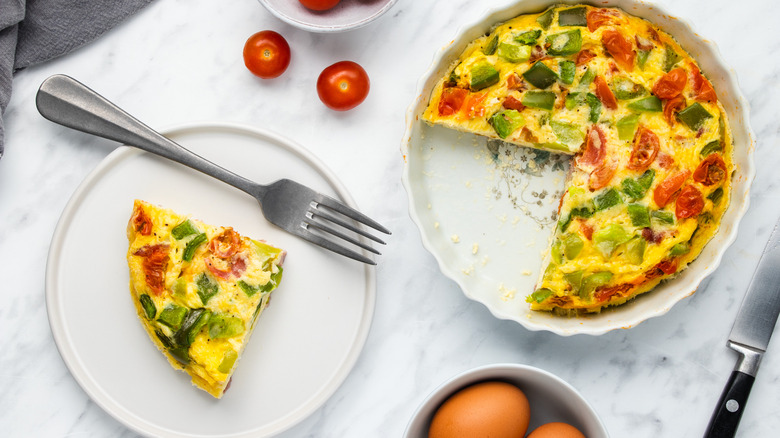 Once your timer goes off, pop the frittata out of the microwave. Be careful, as the dish will be extremely hot when it's done cooking. You can use the same dish that you microwaved it in to serve, or you can transfer it to another plate. This frittata is great on its own, but it would also do well with a little bit of starch on the side. As for additions to this meal, Brookes says, "fries, potato wedges, or rice and some extra salad are good."
If you happen to have leftovers, that's fine! "Keep in the fridge for up to two days. You can reheat portions in the microwave or oven," Brookes notes. We hope you love this yummy breakfast dish as much as we do!
½ green pepper
8 cherry tomatoes
¼ cup cooked sliced ham
6 large eggs
2 tablespoons milk (or non-dairy milk)
⅓ cup grated cheddar cheese
Salt and pepper to taste
Grease a microwave-safe dish with a little butter or cooking spray.
Dice the green pepper and cut the cherry tomatoes into quarters.
Add the eggs, milk, cheese, and some salt and pepper to taste to a bowl or jug, and whisk together to combine.
Add the pepper, tomatoes, and ham to the greased dish, and spread out evenly in the bottom. Microwave for 1 minute on full power.
Pour over the egg mixture and microwave for another 6 to 8 minutes or until the egg is completely set.
Serve and enjoy.