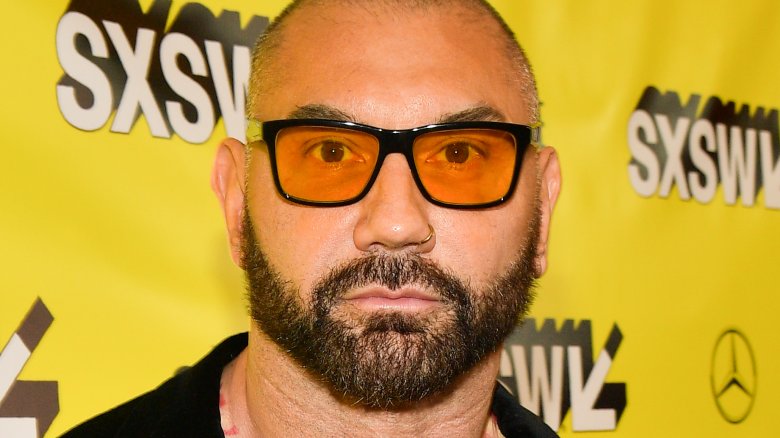 Whether you know Dave Bautista as the fearsome WWE superstar Batista or the resident metaphor misunderstander of the Marvel Cinematic Universe, Drax the Destroyer, he's one of the world's leading providers of intimidating shirtless characters. Bautista has slowly raised his profile over the years, and while he's becoming a blockbuster juggernaut who could potentially give Dwayne "The Rock" Johnson a run for his money, the wrestler-turned-actor has also been able to deliver the goods in roles that require fewer spinebuster moves and more nuance. After all, Bautista's role as Drax makes it clear that the big man has a knack for comedic timing, and it's difficult to imagine any other WWE alum in his turn as Sapper Morton in Denis Villeneuve's Blade Runner 2049.
It takes an extraordinary person to make it in both the WWE and Hollywood, and Bautista has lived a truly extraordinary life to get where he is. Unfortunately, that doesn't mean his life has been particularly nice. Throughout the years, he has endured (and, on occasion, caused other people to endure) all sorts of debilitating difficulties. Here's a look at the tragic real-life story of Dave Bautista.
​Dave Bautista's rough childhood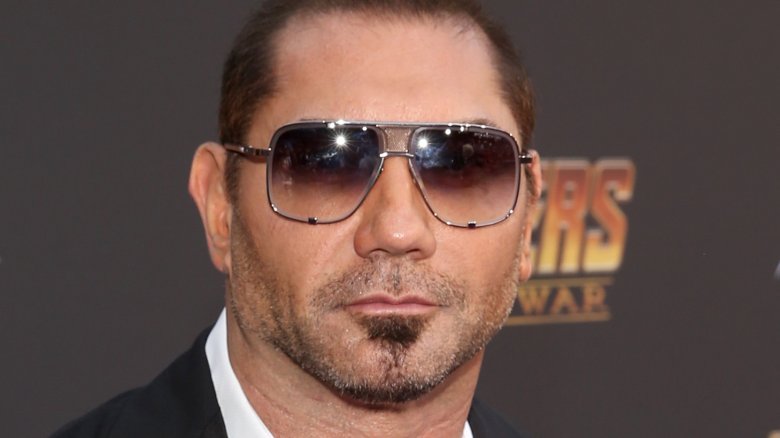 There's no easy way to put this: Dave Bautista had a really, really difficult childhood, as detailed by the man himself in his book Batista Unleashed. He was born in 1969, and he says the Washington D.C. area he grew up in was one of the nation's poorest throughout the 1960s, 1970s, and 1980s. As he was growing up, crack cocaine was about to make its entrance, murders in the neighborhood were common, and according to him, life expectancy for children was "worse than in many third world countries." Bautista goes on to say that homelessness and corruption ran rampant, and even honest folks couldn't trust the police.
If that sounds like the most dystopic imaginable place to grow up, Dave Bautista immediately raises the stakes by casually mentioning that three people died on his doorstep before he turned 9. In an interview with the Tampa Bay Times, he elaborates on one particular death, where his mother found a man dying of a gunshot wound outside their house. She called for help, but the officials took too long and the man didn't make it. Meanwhile, Bautista, his sister, and several other children were happily playing outside nearby. They were so accustomed to violent sights that they didn't even shed a tear, and after Bautista's mother saw this, the family promptly moved to San Francisco.
​Dave Bautista and the Drax affair
Dave Bautista's role as Drax the Destroyer in Guardians of the Galaxy propelled him to mainstream fame, but according to Wired, the dream gig could get surprisingly nightmarish at times. It has been reported that Bautista was nervous when he auditioned, but that isn't quite true. He has corrected the record: He was actually terrified. His first day on set wasn't any better because apart from his own nerves he was unfortunate enough to start filming two weeks later than everyone else. When he arrived, the others already in the zone, and the anxious giant had to scramble to catch up.
Bautista eventually calmed down and found his groove, but when existential terror went away, physical discomfort filled the void. The role required buckets of makeup and body paint, which took four hours to apply and another hour and a half to remove every day. Because the full upper-body treatment didn't really allow the actor to sit down, he had to go through the entire process by leaning on a little saddle-like perch instead of lounging in a comfortable makeup chair. However, getting it all put on wasn't as bad as having to don the Drax "costume" for many consecutive days. Dave Bautista said that by the third or fourth day, his skin started to get sensitive, and by the sixth consecutive Drax day he just wanted to peel his skin off and hit the showers.