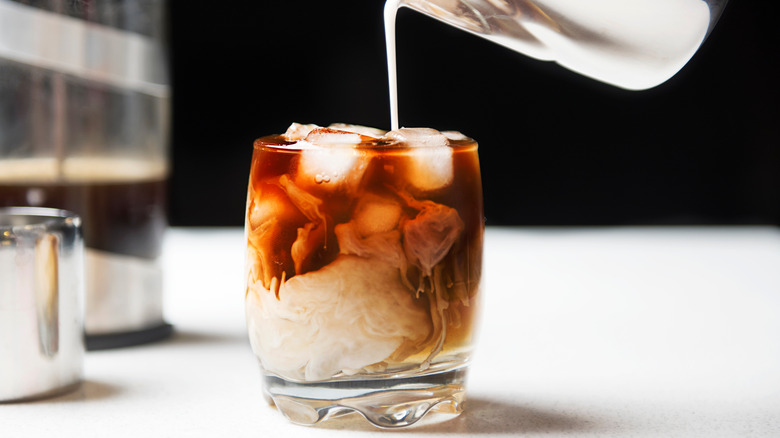 Although cold brew was invented in Japan in the 1600s, it only recently became popular in the United States. The cold brew craze of the mid-2010s saw a rapid increase in sales, with some stores even replacing iced coffee entirely with its more concentrated relative. Fans of cold brew appreciate its bold taste, which benefits from a much slower brewing time, as well as its increased caffeine content.
Since the initial buzz, a plethora of cold brew makers appeared on the market. Standard devices feature a brewing chamber that empties into a decanter, which allows the flavor to bloom and the grounds to be separated out. However, some models do the brewing and the serving all in one place. Classic brewers take their time, steeping grounds between 12 to 48 hours and drawing out each individual flavor in the process. However, some devices churn out cold brew in as little as 15 minutes! Some are smaller, some are bigger. Some make concentrate while others produce a diluted mixture that is ready to drink. With so many options out there, how do you pick the best one for you?
We understand that coffee is deeply personal, so we've broken down some of the best brewers on the market that suit a variety of needs. Whether you need a quick caffeine fix while you're running out the door or want to savor every sip, read on to find the best cold brew coffee maker for you.
OXO Good Grips 32 Ounce Cold Brew Coffee Maker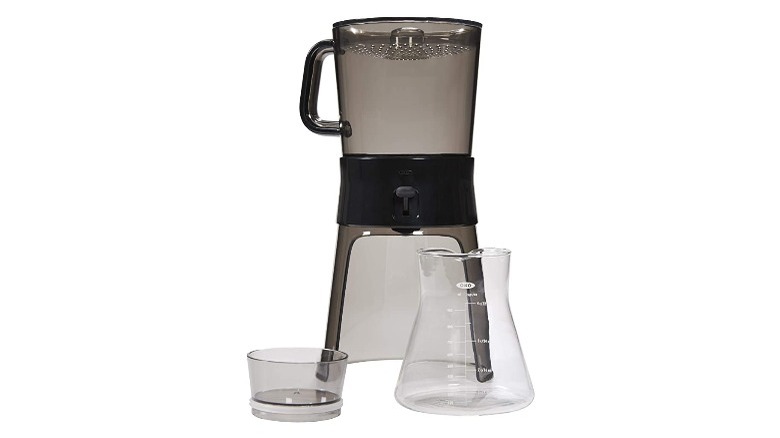 Oxo's products are consistently rated best-in-class, and their Good Grips Cold Brew Coffee Maker is no exception. This brewer utilizes a rainmaker head to evenly distribute water over the grounds, which prevents the coffee from over steeping and becoming sludgy. Additionally, its stainless steel filter is made of "ultra fine" mesh to stop any loose grounds in their tracks. After brewing for 12-24 hours, the concentrate empties into a well-marked glass carafe with the flip of a switch. Oxo's three-step system is easy to set up, and Brew Coffee at Home noted it resulted in less mess than other models.
Reviewers love the coffee from this maker, which was described by The Spruce Eats as a "smooth and highly concentrated cold brew" with "no grounds present." Coffee enthusiasts in the Amazon comments noted "it makes the best coffee" out of any cold brewer they'd tried, and that it is "so much smoother on the tongue and easier on the tummy" than traditional drip models.
Reviewers' main qualms are the cleanup (all parts require hand washing), the size (some say it is quite large for only making only 32 ounces) and the price point (at the time of writing, it was $50, roughly $15-20 more than similar capacity brewers on the market). In our opinion, if you make a lot of cold brew, the extra few bucks are well worth it: this OXO brewer makes one stellar cup of coffee, and has a near-perfect 4.6 rating on Amazon to prove it.
Bialetti Cold Brew Coffee Maker
For a convenient gadget that doesn't skimp on quality, try the Bialetti Cold Brew Coffee Maker. This device is a brewer and a pitcher in one, which means that you don't have to strain your coffee into a carafe before serving it. Even better, it is small enough to fit in the fridge, so you won't have to spend an extra hour waiting for it to get cold after 18-24 hours of brew time. And feel free to make a large batch — the design keeps the cold brew fresh for up to two weeks in the fridge.
The name of the game with the Bialetti is a quality brew that is easy to attain, and this small device definitely delivers. One Amazon customer called it "absolutely perfect" and "a lot less messy" than their previous cold brew device. Another insisted "This pot is the only option if you want strong cold-brew coffee!"
CNET loves the Bialetti for its low price point, its wide-mouthed filter basket which eliminates grounds spills, and, of course, the extra strong coffee it makes. In fact, the Bialetti performs better than other compact coffee makers thanks to its free-floating filter, which spins around in the water and agitates the grounds to extract the maximum flavor (kind of like when you pulse a tea bag up and down). Its filter also holds more coffee than similar models, making it a great choice for those who prefer their coffee extra concentrated.
Hario Mizudashi Cold Brew Coffee Pot
As far as on-the-go brewers go, there are two categories: the ones that are small in size, but take the same amount of time as the big guys to brew; and the ones which are both smaller and more efficient. The Hario Mizudashi Cold Brew Coffee Pot is the latter. While it can be hard to attain the same depth of flavor in these shorter-brewing machines, Hario is successful on that front. HomeGrounds points out that there is room for extra grounds in the Hario beyond the factory recommendation, and that slightly increasing the grounds to water ratio will leave you with a strong cup of coffee in no time. They also note that it is budget-friendly and uses only three parts, making it "a very approachable system."
Like the Bialetti, the Hario is a brewer-carafe hybrid, giving it points for ease of use. The difference between the two models is the shape: The Hario is slightly smaller and skinnier, making it a better choice for cupholders and folks on the move.
This maker is ideal for those who want a quick and hassle-free experience, but don't care as much about the specifics of the brew. If you're a coffee snob who wants to taste each note of your beans, this might not be the device for you. However, if you're just trying to quit your Starbucks or Dunkin' addiction (like these reviewers), look no further than the Hario.
Filtron 30L Cold Water Coffee Concentrate Brewing System
The Filtron Cold Water Coffee Concentrate Brewer is an all-inclusive kit that produces top-quality coffee concentrate. It is also one of the largest out there, producing up to 1.5 liters of concentrate, which, when diluted, translates to a whopping 4.5 liters of coffee from a single brew. Even better, the quantity here is paired with quality, as the Filtron has earned hundreds of five-star Amazon reviews, including a rave that indicates it produces the "perfect cup of coffee." It is also supposed to be very sturdy: Multiple customers on the Filtron website claim to have had their kits for 40 years!
While reviewers give the Filtron incredibly high marks for taste and durability, its sheer amount of moving parts turns some customers off. This brewer requires a coffee bowl, a water bowl, a wool felt pad (with its own plastic storage container), a rubber stopper, a grounds guard, a decanter, and paper coffee filters — that's seven components. One Amazon customer noted that although the Filtron's coffee has "the best taste … this thing is not quick or simple to use." Additionally, it takes up a decent amount of space on the countertop and is not the most aesthetically pleasing brewer. However, if you drink a lot of coffee and want it to be life-changing every time, this brewer is still a great option for you.
Toddy Cold Brew Coffee Maker System
This simple brewer is the original American cold brew system. Since launching in 1964, The Toddy has sold over a million units to date. While it's not the prettiest device to look at, its large size and "strong, potent concentrate" (via The Spruce Eats) make it stand out from the crowd. Using 12 ounces of coffee grounds to make over a liter of coffee concentrate, this device makes roughly 14 individual beverages per brew, which is pretty high.
Are there fancier cold brewers? Yes. Are there better looking ones that take up less space on the countertop? Also yes. However, the Toddy is a classic for a reason. Reviewers at The Spruce Eats, The Coffee Maven, and HomeGrounds all love it, mostly for its concentrate's superlative strength and clarity. The Toddy is well-suited to those who care more about a trusty, long-lasting product and strong coffee than newfangled bells and whistles.
Ninja Hot and Cold Brewed System
For those who want more out of their cold brewer, consider the Ninja Hot and Cold Brew Coffee System. This machine makes cold brew, iced coffee, hot coffee, as well as hot and cold teas. It's variety of brew modes, including a stronger "rich" mode and a cool "over ice" pour, ensures you'll have a beverage for whatever mood you're in. The Ninja also has great size control, with six specific brew measurements ranging from a small mug to a full coffee pot. It also comes with a "smart scoop" which makes for the perfect ratio of grounds to water, and a built-in milk frother that makes hot or cold foam. Seriously, this thing is like the Swiss Army Knife of coffee makers.
The only downside to this multi-faceted machine is that, like on a giant menu at a restaurant, no individual option will be the best-in-class. Little Coffee Place noted that the cold brew "isn't as strong" as one from a dedicated brewer, a complaint which several unhappy Amazon reviewers agreed with. However, plenty of people still like it, like Consumer Buddy, who says it's "just as smooth" as brews from longer-steeping models. Additionally, it is one of the best-reviewed brewers on Amazon, with 84% five-star ratings. For a machine that is easy to use, a snap to clean, and provides great variety, we recommend this Ninja model.
County Line Kitchen Cold Brew Mason Jar Coffee Maker
Before there were dozens of great cold brewers on the market, there was the simple Mason jar method, which involved letting beans steep at the bottom of the jar before being filtered out. County Line capitalized on this humble technique with their Cold Brew Maker, which is basically just a slightly higher-tech version of the method with the same nostalgic feel. County Line's brewer consists of three pieces: a classic Ball Mason Jar, a sippy cap with a "leak-proof" lid (and optional handle!), and a fine mesh stainless steel filter. This brewer is far preferable to the more rudimentary Mason jar method because the strainer screws into the lid, which means there won't be grounds free-floating in your brew that you'll have to strain out later. It also means the brewer doubles as a pitcher, which gives you one less thing to clean in addition to saving you time by eliminating the straining process.
The Spruce Eats loves this brewer, which they note is "especially great for parties" thanks to its large, 2-quart capacity and vintage aesthetic (If you want something on the smaller side, don't fret, because this maker comes in a one quart size as well). The Spruce Eats also appreciated the durability of the materials and the "smooth," "potent," and "delicious" flavor it produced, although they noted a few grounds found their way past the filter. If you still aren't convinced, go look on Amazon, where County Line's legion of supporters have written nearly 15,000 five-star reviews.
OXO Compact Cold Brew Coffee Maker
For a classic-style brewer that takes up a minimal amount of space, try the OXO Compact Cold Brew Coffee Maker. It's essentially the same as the larger OXO model — which means it has the same great taste and aesthetic charm — it just has the added perk of being size-efficient. Not only does this mean it takes up less of your precious counter real estate, but it can easily steep in the fridge, which removes the extra step of cooling the coffee once it's done brewing.
Pure Wow loves this coffee maker for its ease of use, as well as its ability to not "upset the delicate balance of refrigerator organization." Additionally, they note that the Compact's 24oz output is not as small as it sounds, as the concentrate is meant to be diluted and can actually run "about seven drinks." Other reviewers rave about this product, calling it "Ingenious in the fact that it's brain dead simple to use while providing great results." For cold brew at its finest (and simplest!), the OXO Compact is a great choice.
Cold Bruer Drip Coffee Maker
The Cold Bruer Drip Coffee Maker is the perfect choice for coffee connoisseurs. Its makers strived for a "clean and functional design while also making no compromises to the brewing experience," a goal which they certainly achieved. The clear, borosilicate glass tower allows you to witness the full journey of each individual drop, making for a lovely viewing experience. Additionally, the coffee it produces is top quality. The reviewer at Seattle Coffee Gear described how the extraction "does something really unique with the flavors" in that it "pinpoints" each individual taste. Amazon customers agree, with one user saying the Cold Bruer "pulls some amazing, unique flavors out of the coffee grounds."
The Bruer also receives high marks for speed, coming in at only four hours on its quickest setting. You can also adjust the brew speed for a bolder, more concentrated flavor, but the longest batches still only take 12 hours, which is shorter than most makers. The Cold Bruer is perfect for people who want a hands-on brewing experience, and those who want to taste each specific flavor in their beans.
Takeya Cold Brew Iced Coffee Maker
The Takeya Cold Brew Iced Coffee Maker is another great brewer for folks in a hurry. Like the Hario and the County Line, this three piece brewer-carafe hybrid makes brewing coffee a snap. However, unlike the previous two models, this brewer is made from (BPA free!) plastic, making it a great choice for those of us with butter fingers. If you've got kids, cats, or a hectic morning routine, this sturdy product could be for you. (One reviewer even said she puts it in her luggage while traveling!) It's also a steal, coming in at just under $20 at the time of this writing. Its price point makes the Takeya is the perfect gift for coffee lovers, or a great starting point for burgeoning enthusiasts.
The coffee maker proves that low prices don't equate to bad quality. The Takeya is a cult favorite, with nearly 50,000 reviews on Amazon and an 80% five-star rating. It is also beloved by Food 52, who called it "a unicorn of a coffee maker," as well as Business Insider, who named it "one of the best cold brew makers you can buy." If you want a brewer that is easy to use, nearly indestructible, and gets the job done well, the Takeya could be for you.
KitchenAid KCM4212SX Cold Brew Coffee Maker
KitchenAid was somewhat late to the party, releasing their Cold Brew Coffee Maker in 2017, but the time they took in carefully designing the brewer was well worth the wait. It's aesthetically great, made of shiny stainless steel and glass which won't alter the taste of your brew. The intuitive design requires only a few pieces: the base, from which coffee is both brewed and dispensed; a stainless steel steeper basket; and a lid to keep everything air-tight. Its square shape means it will be easy to find room to store it in the fridge, plus it's sturdy enough that it won't accidentally topple over. And, last but not least, the coffee is dispensed via spigot, so you don't have to lug the whole thing out every time you want a top-off.
Some reviewers, like the folks at Roasty Coffee, list the small 28-ounce capacity as this brewer's main drawback. However, since it makes a concentrate, those 28 ounces translate to 14 cups of coffee, which means it is hardly the smallest on this list. Additionally, while Roasty Coffee discovered some sediment at the bottom of the carafe, Everything Kitchens noted the "raised bump pattern on the bottom of the glass which prevents the fine sediment from going into your coffee." Although the KitchenAid is definitely one of the more expensive models on this list, it's thoughtful design makes it a great choice for those willing to splurge a little.
Gourmia GCM6850 Automatic Digital Cold Brew Coffee Maker
If you want your cold brew in a fraction of the time, the Gourmia GCM6850 Automatic Digital Cold Brew Coffee Maker is the brewer for you. This little guy pushes and pulls the water over the grounds, allowing the coffee to brew quickly. Its four modes (light, medium, bold, and concentrate) last only four to ten minutes! It even has an option to run the whole brew over ice before serving, which means you don't have to wait for it to cool down in the fridge.
Of course, this expedited process does come with some downsides. Number one is the price: The Gourmia retails at a little over $100 at time of writing, making it one of the most expensive options on the list. Additionally, despite its best efforts, the coffee will definitely be less complex and intense than one with a brew time over 24 hours. One reviewer notes they run the machine four times on the longest cycle to get their desired concentration. However, when you consider the difference between 40 minutes and a whole day, running the brewer for several cycles hardly seems like an inconvenience. Plenty of people also like the coffee just as it comes, including CNET, so this should only be a problem if you prefer a super strong brew. Lastly, CNET reported the Gourmia outperformed its competitor, the more expensive Dash Rapid Cold Brew System, in that it was quieter and easier to use.