It's fun to watch people who are at the top of their profession compete in challenges. That's why there are so many competition shows on TV these days. But it's also fun to watch people who are really bad at something try their hand at said task. Case in point: the Food Network show Worst Cooks in America.
The premise is simple: two professional chefs pick teams out of a pool of contestants who are truly awful in the kitchen. Everyone goes through a quick training session before being put to the test in various cooking competitions. The worst cooks are eliminated until the last person standing is named the best of the worst and receives a cash prize. The chefs in charge — which have included Anne Burrell, Bobby Flay, Beau MacMillan, Robert Irvine, Rachael Ray, Tyler Florence, and Alex Guarnaschelli — get the satisfaction of knowing they made at least one person a better home cook.
Worst Cooks in America has the kind of longevity that most competition shows can only dream of. It's lasted a full 20 seasons so far and has inspired one spin-off. It's also made Food Network history by featuring the first openly transgender woman on the network. Here's what else you need to know before getting too deep in the back catalog of all things Worst Cooks in America.
Worst Cooks in America contestants are locked in a house together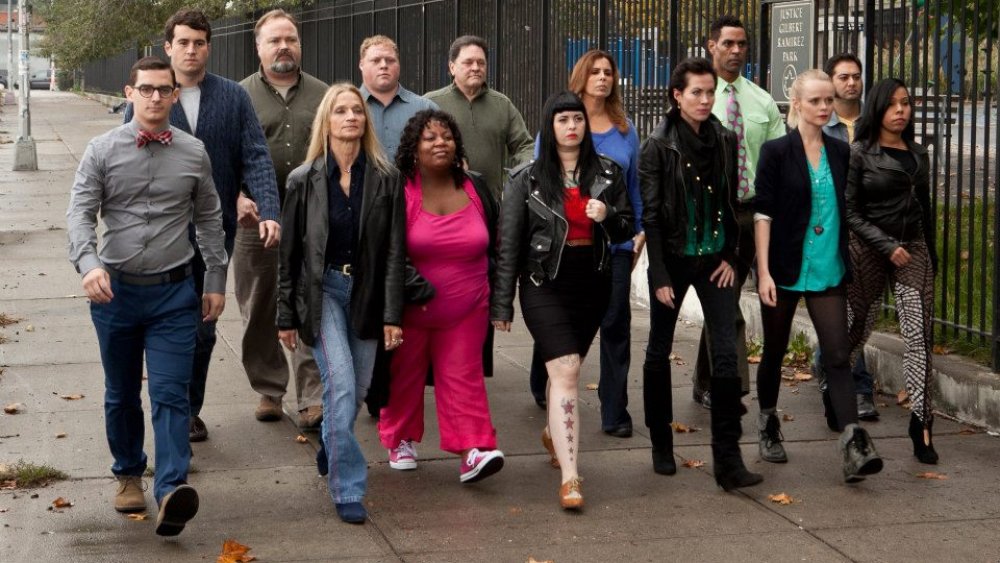 Once the contestants (or recruits, as they're called on the show) are selected, they're isolated from the world for up to four weeks. Former contestant Michael Haydin told the News Times in 2013 that he had to take time off from work after he was selected for the fourth season. Then, "all the contestants were sequestered in a house in Brooklyn," Haydin said. "We weren't allowed any contact with the outside world — no cellphones, no internet, no TV, and definitely no cookbooks."
In that way, it's not unlike other reality TV competitions. Though, it's debatable exactly how much the outside world could help someone who never learned basic kitchen skills while living in the outside world. Yet unlike some other shows famous for drama between contestants, there aren't reports of steamy behind-the-scenes romances or rivalries. In fact, it seems like everyone has gotten along just fine despite being in competition for the same $25,000 prize. Anna Altomari, a contestant in 2011, told the OC Register that, "There was no drama in our house." Instead, everyone became friends and chatted about their cooking skills (or lack thereof).
The worst kitchen fails make people questions whether the show is real
There's a good chance that even the worst cook you know is nowhere close to as bad as the contestants who make it on Worst Cooks in America. It's enough to make some viewers question the veracity of the entire program. People on Reddit's r/foodnetwork suspect some of the contestants may be actors, simply pretending to be utterly clueless. One person on Reddit noted that the "show seems to have some of the dumbest, most inept people."
One incident seemed to especially push people toward thinking it's all fake: the moment when a contestant tried to use the dull side of a knife to cut food. The point of the initial boot camp section is to teach the basics, and it seems like the most simple of simple knife skills, like using the sharp part of the blade, would be included in that. Training or not, as another Reddit user pointed out, "nobody is so inept in the kitchen that they use a knife upside down."
Others questioned the veracity due to the celebrity seasons. The Jersey Shore's Mike "The Situation" Sorrentino, for example, was on Worst Cooks in America despite being known for his Sunday dinners he cooked up for the Jersey Shore house. Sorrentino, for his part, told Food Network before the season that he isn't the best or the worst chef, but is simply "not bad" when it comes to basic Italian food.
Worst Cooks in America contestants are by many accounts, actually that bad
Casual viewers posting on sites like Reddit aren't the only ones with doubts. Contestant interviews with local newspapers and publications frequently return to the issue of if a person can really be that bad. The answer … is yes.
In 2015, former contestant Holgie Forrester, who was 67 at the time, told the Desert Sun that she once tried and failed to deep fry a grilled cheese sandwich for a boyfriend that left her. She added that she never learned to cook because she thought it was a waste of time. Haydin, from the fourth season, told the New Times that he "would burn grilled cheese and undercook chicken," and that whatever he tries to cook "either comes out pink or black." When talking about her experience prior to appearing on the show in 2011, Altomari told the OC Register that she never learned to cook because she lived at home with her mom, and that "growing up in an Italian family, your mom spoils you."
Altomari also shed some insight on how bad cooks are verified as being awful from the start: "They have you answer questions in different ways," she told the paper. "It was a process. It was nonstop. You fill out paperwork, fill out questions. It was an ongoing thing making sure that you are really truly who you are."
Anne Burrell said the contestants mistakes range from cringe worthy to dangerous
The kitchen can be a dangerous place for anyone, but especially for people who aren't familiar with the ins and outs of everything needed to cook a meal. It's even more dangerous when those people are thrown into a high-pressure competition environment where they're required to use sharp knives and fire. In one series of the show's highlights, a contestant who works as a certified safety inspector spotted hazards all around him like raised surfaces, open flames, and plenty of people who don't really know what they're doing.
Burrell, who has seen the full range of bad cooks over the past 20 seasons, has seen it all. She told PopSugar in 2013 that the contestants need to learn everything, which can lead to some funny situations before they transform into semi-respectable cooks. It can also lead to some unsafe situations.
"Yeah, some things are cringe-worthy," Burrell told PopSugar. "I cringe when people are dangerous; when I'm scared they're going to hurt themselves. That's when I get nervous. Other things they do to food — instead of [being] cringe-worthy, it's more eye-rolling. There are definitely some silly situations."
Worst Cooks in America boot camp is a culinary school crash course
While the competition portion of Worst Cooks in America typically gets the most attention for the high pressure fails, the boot camp where the contestants learn is where the real magic happens. Here, the chefs teach their groups of contestants how to use kitchen tools and which flavors go together. In an episode from the first season, for example, Burrell teaches the contestants everything they need to know about how to make a Tuscan soup, from the difference between a clove and a bulb of garlic to the proper way to devein a shrimp.
In an interview with People in 2019, Burrell called the boot camp "a crash culinary school course." A season 15 contestant named Brittany Carel told the Miami New Times that the contestants start boot camp at dawn every day to learn and face spontaneous challenges.
"We really put the recruits through the wringer," Burrell told People. "We ask a lot of them and I tell people on the first day, whether you're here for a little bit of time or you're here all the way to the end, being on this show will change your life. If you leave boot camp without having learned anything it means you didn't want to. I don't think one recruit in the 15 seasons that we've done can say that they left without learning anything."
The celebrity version of Worst Cooks in America is for charity
For the average contestant, the possibility of winning the $25,000 prize for being the best worst cook in America looms at the end of every season. Celebrities, however, do not have the incentive of personal gain (other than cooking skills learned and publicity, of course). Instead, the winning celebrity contestant gets to donate money to a charity of their choice. In the first two celebrity seasons, that amount was $50,000, while every celebrity season after concluded with a $25,000 donation.
Jenni "JWoww" Farley won the first celebrity season and chose to donate the $50,000 to Pick Your Paw Animal Rescue. She told Food Network that once the money was deposited she planned to "have a big-a** dog party at my house — or wherever I can." Loni Love, who won the second celebrity edition, donated the $50,000 to the American Red Cross. La Toya Jackson donated her winnings to Race to Erase MS, and Tonya Harding donated the money to St. Jude Children's Research Hospital. In the latest celebrity season, former Bachelorette contestant Wells Adams won and donated the $25,000 to the Nashville Humane Association.
Worst Cooks in America celebrity contestants range from Playboy models to stars of The Office
Thousands of people put their names in the mix to be contestants in the regular seasons. The range of personalities was just as wide when it came to the celebrities chosen for the six celebrity editions. Many are actors — Oscar Nunez, who plays Oscar in The Office, for example, as well as stars like Nolan Gould from Modern Family and Catherine Bach from The Dukes of Hazzard. Reality TV stars are regular contestants as well, like Chris Soules from The Bachelor and Sonja Morgan from The Real Housewives of New York City.
Then there are the celebrities who come from more out there lines of fame. Harding, for example, was famous for her conflict with Nancy Kerrigan during the 1992 winter Olympics long before becoming a reality TV star. Gossip blogger Perez Hilton joined for the third celebrity season. In the first celebrity season, the show brought on Kendra Wilkinson, who was a Playboy model and one of Hugh Heffner's girlfriends before she reached more mainstream fame on the E! show The Girls Next Door.
Worst Cooks in America was a major hit from the start, but has lost viewers
Any show that runs for 20 straight seasons is clearly doing something right to bring the people in and keep them there. For Worst Cooks in America, the audience was present from the start. According to Cinema Blend, the premiere of the first season of Worst Cooks in America in 2010 helped draw Food Network's highest-rated and most-watched Sunday night with Super Chef Battle: An Iron Chef America Event and Worst Cooks in America bringing in an average of 3.7 million viewers. Clearly, people like watching cooking competitions.
It proved harder to sustain that high viewership, however. According to Nielsen data provided to The Daily Meal, the show averaged 927,000 viewers between the ages of 18 and 49 in 2010. Still, that's nothing to scoff at. For comparison, Guy Fieri's Diners, Drive-Ins, and Dives averaged 675,000 viewers in 2010. Over the years, the number of people who watch Worst Cooks in America has waxed and waned in popularity, with season premieres drawing the biggest audiences. Viewership numbers from ShowBuzzDaily show that the 2015 premiere had more than 2 million viewers, while the premiere in the second celebrity season in 2016 drew more than 1.1 million viewers.
The show featured the first openly trans woman on the Food Network
Season 20 of Worst Cooks in America was the most diverse yet and featured Domaine Javier, the first openly transgender woman in Food Network's history.
Javier didn't win the season — the top spot went to Ariel Robinson — but shared her experience on the show in a July 2020 Instagram post. "The honor of becoming the first-ever openly transgender woman in Food Network's history is extremely soul-stirring," Javier said. "Somewhere, a 'lost' person tuned-in to Food Network, caught a glimpse of me, & told herself, 'I am who I am, and it's OKAY.' I can rest easy knowing I've made such impact. An impact significant enough for you to embrace my quirkiness & support me through the good & bad. Nothing goes unnoticed. I hope I made y'all proud."
While her casting was a first for Food Network, it wasn't Javier's first time onscreen or her first time making history. According to her IMDB page, Javier has five associates degrees, a bachelors, and masters degree in nursing. Javier also became the first transgender woman in the U.S. to be named a homecoming queen in 2010. The following year, she was featured on MTV's True Life and later found time to squeeze in small theater and TV roles in between her studies.
Worst Cooks in America inspired a baking spinoff
In 2016, Food Network decided to try and expand the Worst Cooks in America series with Worst Bakers in America. The first hosts were celebrity pastry chef Duff Goldman and TV chef Lorraine Pascale, and the concept was pretty much the same as the original, just with a more narrow focus. The contestants still went through a boot camp, but it focused on sweet and savory baked goods like sugar cookies and wedding cake decorations. Like in the original, winners receive a grand prize of $25,000.
Worst Bakers in America didn't have the same sticking power as Worst Cooks in America, however. The second season didn't come until 2019, and was hosted by Pascale and Jason Smith, who had previously competed in Food Network shows like Holiday Baking Championship and Food Network Star. The latest season forced contestants to blind taste test confections, guess baking ingredients based on touch alone, and decorate with a strict time limit, according to a press release. The competition included making everything from pâte à choux to designing 3-D animal cakes.