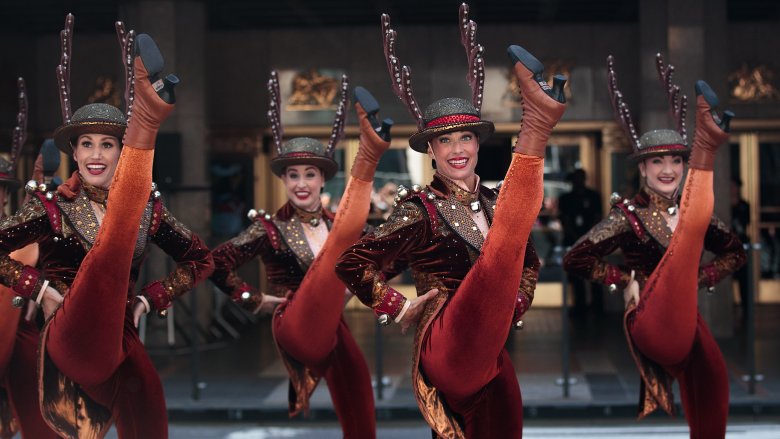 For over 90 years audiences have gotten a massive kick out of the Rockettes. Originally christened the Missouri Rockets, the legendary precision dance troupe formed in St. Louis in 1925, seven years before Radio City Music Hall opened. When the not-yet-Rockettes traveled to the Big Apple, they caught the eye of showman S.L. "Roxy" Rothafel, leading to the creation of the New York-based Roxyettes, who became the Rockettes. Their machinelike synchronization and unstoppable vigor made them a mainstay at Radio City, where their productions featured weekly alongside classic films like King Kong and Mary Poppins over the course of more than 700 movie openings.
Far more than just performers, the Rockettes provided lightheartedness in America's darkest hours. According to the Oregonian, their trademark Christmas Spectacular was specifically created to make people smile during the Great Depression. Rockettes also entertained U.S. troops in Berlin during World War II. Over the years they crossed paths with infamous figures, grappled with personal hurdles, inspired rioters, and had weird experiences, and collectively became a prominent monument to American culture. Here's the untold truth of the Rockettes.
They're surrounded by poop and naughtiness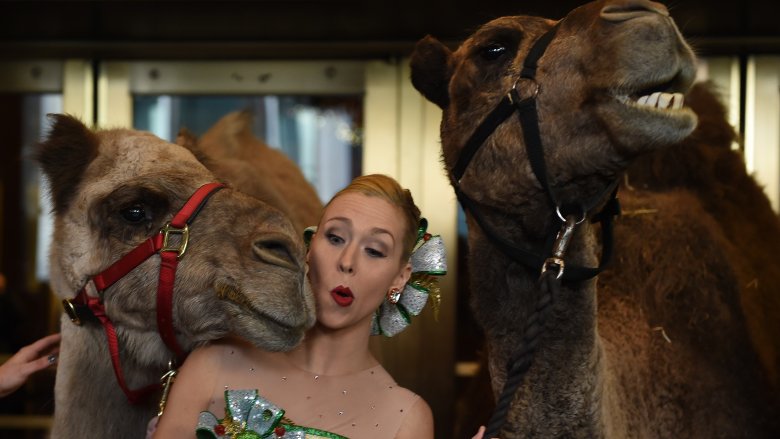 You can't have a Christmas Spectacular without Santa, Baby Jesus, a bunch of children left wondering whether Jesus believes in Santa or vice versa, and of course Rockettes. You also need heaps of camel poop. That's not an official requirement, but the nativity scene incorporates live camels, which are apparently way better at retaining water than holding in excrement. Former Rockette Jennifer Jiles recalled getting poo on her shoe pretty regularly. "I had to walk behind the gold camel for four years," she explained, "and it would poop all 75 feet across the stage."
Poop wasn't the only kind of filth Jiles encountered. In her one-woman show, Kicking and Screaming, she revealed that stagehands would pack "fake salamis" in their pants. According to onetime Rockette Sabra Lewis, the ladies got naughty in a different, much weirder way. Specifically, they sometimes acted out R-rated scenes with the teddy-bear costumes from their "Nutcracker" because they occasionally went nuts from all the dancing.
They brought unsexy back
A ton of unsettling things happened in the Victoria era, but it wasn't all bad because it brought us the Rockettes. As history's tightest pearl-clutchers, Victorians weren't keen on the dirty dancing of the period. Maybe they were just turned off by the fact that a chorus line of voluptuous show girls was unappetizingly known as a Beef Trust. Per the New York Times, England's prim and proper counter to erotic beef dancing was a group called the Tiller Girls.
The Tiller Girls managed to be flagrantly unsexy by suppressing their individuality and moving with robotic precision. These characteristics are echoed in the Rockettes, whose founder Russell Market set out to form an American variant of the Tiller Girls. Granted, he wasn't protesting a Beef Trust, but he did found the group in Missouri, which produces tons of beef. To achieve uniformity, each Rockette must be between 5'6" and 5'10" tall, and height differences are hidden by their alignment onstage. Similarly, their signature eye-high kicks are specifically executed to create the illusion that their feet reach the exact same height. Every glimmer of differentness is stamped out, fostering a "lack of sex appeal" that just might be the key to the Rockettes' longevity.
Richard Nixon hit on a Rockette
More than 75 million people have attended the Rockettes' annual Christmas Spectacular since 1933. Among those millions was ex-President Richard Nixon. According to Charles Hall, who played Kris Kringle at the event for three decades, Tricky Dick "would come to the show quite frequently — usually by himself." The thought of Nixon, who covered up a murder and indiscriminately bombed civilians during the Vietnam War, having any sort of soul, let alone a Christmas spirit, might be oddly heartwarming. But Nixon probably felt the warmth in his Yule log.
Supposedly, when Nixon was around women he tended to think with his little Richard. As a congressman he allegedly tried to sleep with JFK's wife, and as president he reportedly tried to seduce female staffers by oafishly groping them or "[making] moves and then withdrawing." Unsurprisingly, things got awkward when he met a Rockette. Nixon went backstage at Radio City to see Rockette Darlene Wendy Frank, who was dressed in a nativity costume. Seemingly eager to stuff a Trojan stocking, he flirted with Frank, prompting a member of his visibly uncomfortable security team to urge Nixon to leave. Nixon allegedly replied, "Can't you see I'm busy talking to this beautiful woman?" Frank found him "charming," but he never asked her out. Flirtation is a tricky thing.
Harvey Weinstein gave them the creeps
In 2017 fat cat Hollywood producer Harvey Weinstein was accused of decades of sexual harassment, verbal threats, and at least three rapes. He also seemingly confessed on tape to committing sexual assault. However, when it came to light that the dude is bad news, it didn't come as a huge shock to the Rockettes because they had worked with him.
In 2014 MSG Entertainment, which runs Radio City Music Hall, tapped Weinstein to serve as the new producer for the Rockettes' Spectacular in hopes of revamping the show before its debut. An unnamed source with close ties to the troupe told New York Daily News that "a lot of (the dancers) thought he was a creepy old man," adding, "they're relieved he won't be standing in the back of the dark theater taking notes." Feel free to shudder while you think about that.
MSG Entertainment CEO James Dolan expressed his regrets about placing women in the path of a predator by writing an apology song called "I Should Have Known." We should probably let you know that Dolan worked with Weinstein for years and, and according to at least six women Dolan knew about the abuse but did nothing.
The senseless death of an ex-Rockette
Alexis Welsh brought joy to audiences as a Rockette in the mid-1980s. But in 1991 her life was cut short by an unhinged assailant. As detailed by the Associated Press, a stranger with an 11-inch butcher knife attempted to snatch Welsh's bag and stabbed her repeatedly when she screamed. She was 30. Her killer, identified as Kevin McKiever, had a history of vicious behavior. Two years prior McKiever stabbed a different woman with an ice pick and set her apartment on fire.
New York Daily News reported that McKiever was homeless and mentally ill. A court deemed him incompetent to stand trial twice before he was ultimately convicted of murder. McKiever's explanation for the slaying suggested a stunning detachment from reality. Alarmed by what were likely Welsh's screams, McKiever surmised, "She must have been a witch or something." He received a 30-year prison sentence. Many viewed Welsh's senseless death as an emblem of New York's poor handling of mental health issues among the homeless.
The Rockettes launched a weeks-long protest against Disney
Quick, what do you get when you cross a Rockette with a Mouseketeer? A Rocketeer. Sounds awesome, right? Well, in 1985 Disney disagreed, perhaps because it was saving the name "Rocketeer" for a future movie or maybe because the company would rather rule the world than share it. Either way, it sucked for the Rockettes, since Disney was renting Radio City Music Hall from late June to late August for a production starring Mickey Mouse and Donald duck.
Up to that point that Rockettes had performed during the summer for over half a century, per the LA Times, but the 36 Rockettes who planned to appear for two movie premieres had their invitations rescinded by Disney. The ladies weren't welcome in the Summer House of Mouse because, as Disney's vice president explained, the company wanted "to give the audience a total Disney experience."
Feeling let down by management, the Rockettes protested outside Radio City Music Hall for three weeks. They also started a petition that amassed more than 30,000 signatures, according to the LA Times. Public figures lent their support, and New York's lieutenant governor called David Rockefeller (because the Rockefeller Group owned Radio City) on the Rockettes' behalf. The avalanche of public pressure convinced Disney to do an about-face, which the Rockettes celebrated by wearing mouse ears.
Suntans used to be forbidden
Until the 1980s the Rockettes were sort of like the Ford Model T in that their productions had an assembly line quality to them and there was a time when they only came in one color. Except, unlike the monochromatic Model T, that color wasn't black. Every member was whiter than a Beatles album. In fact, Rockettes founder Russell Market admitted to banning dancers from getting suntans because he didn't want a Rockette to "look like a colored girl."
During the early 1980s the reason for the snow-white lineup shifted a bit. Then-director Violette Holmes insisted that inserting "one or two black girls in the line would definitely distract. You would lose the whole look of precision, which is the hallmark of the Rockettes." The group's monolithic whiteness wasn't lost on Japanese-born dancer Setsuko Maruhashi, who remarked, "Everybody looks like everybody else!" when she first watched the Rockettes in 1978. Nonetheless, in 1985, she tried out and became the first nonwhite Rockette. In 1987 Radio City Musical Hall finally opened its exclusive doors to a black Rockette, a trailblazer named Jennifer Jones, who debuted on one of the grandest stages in sports: the Super Bowl.
A Rockette's harrowing battle with bulimia
With only 80 spots and fewer than 80 openings each year due to returning members, Rockettes are under constant pressure to keep their place in the lineup. That includes maintaining a certain weight. Rockettes undergo pinch-based body fat testing, and those deemed too heavy, get placed on a list, receive written warnings and, if they don't shed enough pounds, get suspended.
Ex-Rockette Greta Gleissner dreaded the thought of landing on the list of Rockettes who needed to drop weight. Suffocating under mounting stress and anxiety, Gleissner developed bulimia, an eating disorder often marked by periods of binge-eating followed by a form of purging such as vomiting or excessive exercise.
Gleissner reached her lowest point toward the end of her Radio City run. Compelled to binge, she gorged on McDonald's food and a two-pound mozzarella ball. Suddenly, she started choking on the cheese. "I really thought I was going to die," Gleissner recalled. "It was the worst thing in my life." After completing the season, she departed from the iconic Rockettes and sought help. She later became an eating disorder specialist.
They inspired one of the most famous moments of the Stonewall Riots
The Rockettes have become so deeply embedded in American culture that their famous kickline has been imitated by NFL players after a touchdown and referenced in the intro to a Simpsons episode. But for as pervasive as they are, no one (especially not the police) expected to see a Rockettes kickline during the Stonewall Riots.
For context, the Stonewall Riots were a days-long violent uprising by members of the LGBT community in response to harassment and abuse by police. It went down in 1969 at the Stonewall Inn in New York. For homosexuals and people who led alternative lifestyles the establishment served as an oasis in an otherwise socially hostile desert. This proved especially true for drag queens, who, as the Atlantic noted, were often ostracized by both straight and gay people. They were also favorite targets of police looking to arrest Stonewall patrons, according to the New York Times.
When the regulars at Stonewall fought back, it was fittingly the drag queens who created one of the more memorable moments. While there was plenty of literal stone-throwing and a firebomb, a group of drag queens formed a line and raised their four-inch heels a la the Rockettes. As one witness recalled, police were taken aback by "drag queens doing a Rockettes kick line and sort of giving them all the finger in a way." Or maybe, just maybe, they were impressed.
Being a Rockette is agonizing work
Simply glimpsing the Rockettes in action could give you secondhand exhaustion. According to Rockettes.com, when business booms, they do up to four shows and 650 kicks in a day. Speaking with the New York Times in 2005, the dancers confirmed even higher figures. When things were in full swing, they performed five shows and 1,500 kicks a day with only one day off a week. That equals up to 9,000 kicks and 45 hours of performing each week over the course of a three-month high season. For comparison, the average American likely takes fewer than 5,000 steps daily.
The insanely strenuous regimen puts a hurtin' on those dancers. One rookie Rockette told the Times just how tough it can be to function the morning after a show: "I woke up in so much pain, I felt like I was moving even when I wasn't. I'd known it would be tough, but I did not expect this." As you probably guessed, that pain comes with a lot of foot and leg injuries.
Athletic trainer and former Rockette Elaine Winslow-Redmond said she treated "upwards of 300" injuries each season when she first started tending to Rockettes. Back then they worked while hurt because they feared getting fired or replaced. Winslow-Redmond taught them to "think like athletes" and focus on recuperating, and injuries decreased dramatically.