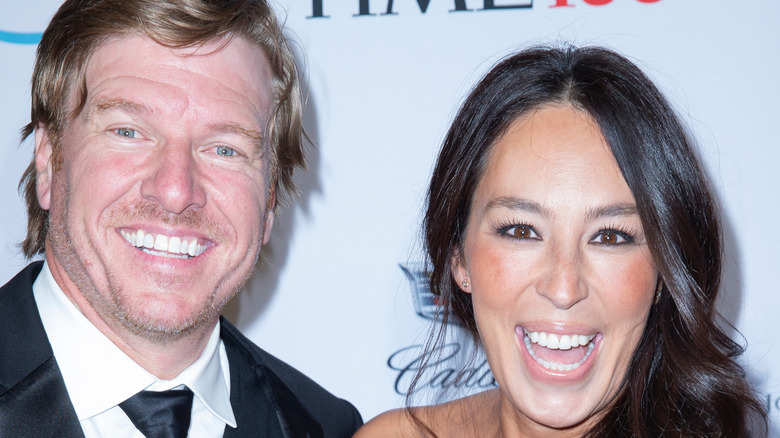 HGTV's beloved show "Fixer Upper" is one of the networks most popular series of all time. It stars Chip and Joanna Gaines, a married couple revitalizing the houses of Waco, Texas, one fixer upper at a time. In the process of working their home makeover magic, the pair have championed numerous design trends over the course of the show's run. Whether making something old new again, livening up living rooms with potted plants, or incorporating cute vintage pieces, there is plenty of good design advice to be found on "Fixer Upper." And it's easy for fans of the series to recreate Joanna's style in their abodes, according to HGTV.
However, not all of the "Fixer Upper" remodels are worth replicating at home for yourself. Between the dream-worthy kitchens and inspiring curb appeal, Joanna and Chip have had a few design fails. Not all homes deserve to be covered head-to-toe in shiplap or the modern farmhouse style, nor does every home makeover project require knocking down walls. Here we rank some of the worst home advice dished out on "Fixer Upper."
The fake fireplace on Fixer Upper just looked strange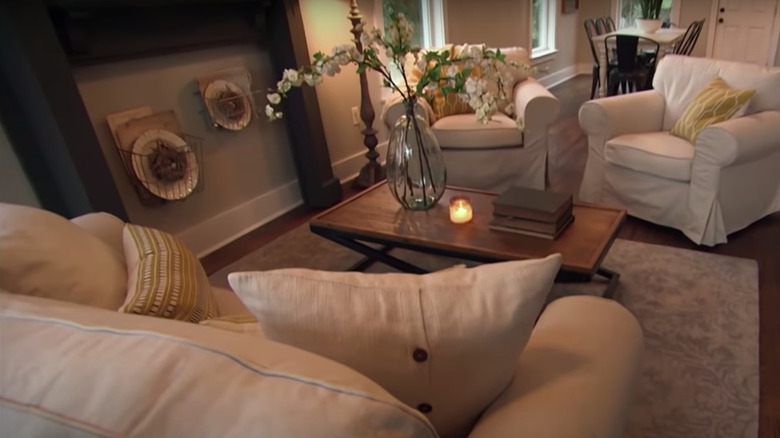 The first season of "Fixer Upper," which aired in 2014, was filled with design highs and lows. According to IMDb, Episode 6 follows Chip and Joanna Gaines as they renovate their friend and furniture designer Clint Harp's home. When Clint and his wife, Kelly Harp, bought the rundown property for just $10,000, it was infested with rats and squirrels, littered with garbage, and had crumbling walls. Built in 1913, the house had definitely seen better days. However, Chip and Joanna transformed the fixer upper into a beautiful home by completely gutting the inside and replacing all mechanical systems. After a new roof, insulation, and windows, Clint and Kelly's rundown home was almost unrecognizable.
Along with the remodels, Joanna and Chip incorporated some vintage design elements that recalled the home's 100-year-old history. Highlights include a master suite with its own sitting area, a dining table designed by Clint himself, and rooms with 10-foot ceilings. While the renovations certainly got many things right, one design decision fell flat: In the living room, Chip and Joanna installed a faux fireplace mantel and hung what appear to be bird nests inside. While mock fireplaces can be a great way to get a cozy feeling without real flames, the result on this episode just feels strange. This is one design tip not worth trying at home.
Knocking down walls isn't as easy as Fixer Upper makes it seem
Most episodes of "Fixer Upper" feature a scene where Chip Gaines knocks down a wall or two. In Episode 10 of Season 3, Chip and Joanna Gaines remodel the home of David Ridley, the first single guy to appear on the show. During demolition day, Chip memorably sits on a toilet while tearing out a wall. While the end result of the renovation dazzled with "Fixer Upper" staples like shiplap, a farm sink, and concrete countertops, the reality is that tearing out walls in your home is not always this fun.
The demolition process might look like fun and games on TV, but in real life tearing down your home's interior walls isn't exactly easy (via Fox News), nor is it something you should always do during renovations. Tearing down a wall to create a more open space will not magically add value to your home and can sometimes just leave you with one less room. Before picking up that hammer, make sure you're not tearing down a lead-bearing support wall or that there's not plumbing and electrical surprises inside. It's always best to consult with a full-service remodeling company before knocking down a wall.
Floating bedside tables were a Fixer Upper fail
"Fixer Upper" is known for its rustic and charming design elements, courtesy of Joanna Gaines' great taste. However, the show is not immune to design fails. In Season 3, Episode 1, Joanna and Chip Gaines renovate the early 1900 home of Noah and Jessica Dansby in Hillsboro, Texas. The home has an impressive history, drawing visitors like Eleanor Roosevelt in 1939 when it was a residence where young woman could learn the art of homemaking as part of the National Youth Administration. In their remodel, Chip and Joanna create a livable, 21st-century space for the family of five while honoring the home's rich past. They retain original elements such as the shiplap walls and pine floors throughout the house.
In one of the four bedrooms, Joanna and Chip installed hanging tables on either side of the bed. The tables are suspended from the ceiling with a wire rope and literally float. This design element might look cute and eye-catching, but it fails to overcome its impracticality. Imagine the balancing act it would require just to keep a mug of tea and a newspaper from falling over. This is one place that definitely requires a stable surface.
Joanna Gaines has gone overboard with home staging
If you've ever sold a house, then the term "home staging" is most likely familiar. Staging is the art of preparing a home to make it look visually appealing to potential buyers, and includes arranging furniture, adding plants, and sprucing up both the outside and inside of a property. Basically, you are dressing up your home in its finest clothes. Understandably, staging plays a necessary role on "Fixer Upper," with Joanna Gaines decorating the interior spaces to make them look homey and nice. Her design staging choices have gained her plenty of devoted fans and followers over the years, but there have been a few missteps along the way.
On Season 2, Episode 8, the "Fixer Upper" team renovate a home for Brandon and Kristen Haire in Waco, Texas. The new couple's house was livened up with a farm sink, French doors, and giant wall clocks — but it didn't stop there. Joanna's staging went a bit overboard by decorating the coffee table with a bowl of moss balls and other random knick knacks. She even used a vintage book as a coaster for fresh tulips and stacked wooden frames on top of each other at crooked angles in an attempt to look casually cool. The result proved that too much staging can just look plain awkward.
Weird signage is not uncommon on Fixer Upper
The popularity of displaying "Live, Laugh, Love" signs in the home might have faded in recent years, but decorative wall art still managed to make its mark on HGTV TV shows like "Fixer Upper." Strange signage appears in multiple home renovation projects on the series, including Season 1, episode 11 and Season 1, Episode 7. In Episode 7, the phrase "Today is a good day for a good day" is hung on the wall facing the entryway. Apart from the awkward spacing which makes it difficult to read, the phrase is also a bit strange. Then in Episode 11, signage returns, this time with the word "Home" displayed on a dining room wall. Instead of looking cheery or welcoming, however, the bold black lettering feels impersonal and off-putting.
Luckily, there are plenty of more personal and beautiful ways to fill your walls. Instead of word wall art, opt for family photos or finds from your local flea market. Art posters and plants are a great way to add personality to your living space without hanging another "Live, Laugh, Love" sign on the wall. In fact, here are some easy tips for choosing the perfect artwork for your home.
There is such a thing as too much reclaimed wood
Joanna and Chip Gaines' signature farmhouse style wouldn't be complete without a healthy dose of reclaimed wood. The couple love to utilize rustic wood with unique characteristics in their interior designs on "Fixer Upper." Most reclaimed wood is sourced from old barns, houses, and warehouses and brought back to life for a new purpose. Not only is the weathered wood look aesthetically pleasing, but it is also more stable and durable against everyday life than newly harvested wood.
Despite its obvious charm, Joanna and Chip have shown that it's possible to go overboard with reclaimed wood. During renovations on Season 2, Episode 1, a small farmhouse owned by the Batson family was given a modern upgrade. Reclaimed wood played a starring role in the remodel, with everything from accent walls to bookcases featuring the material. The kitchen is decorated with tons of used wood — even the stove hood is covered in the material. Let's hope it's not a fire hazard!
You won't always get 100% return on investment
In Season 2, Episode 1 of "Fixer Upper," Chip Gaines makes the claim, "No risk, no reward" before starting a fireplace demolition. This philosophy is evident throughout the show. In fact, every episode seems to includes a scene where Chip reveals the numbers to homeowners, noting the purchase price of the house, how much money was put into it, and the new worth of the home. However, not all of the renovation budget goes into the new value of the home. Despite "Fixer Upper" suggesting that owners have built-in equity, homeowners do not always get a 100% return on investment when completing a home remodel. Often insurance rates will rise because fixer upper properties are considered a liability to insurance companies.
There are also other factors to take into consideration when undertaking an extensive home remodel. For example, if you fix up a house so that it surpasses the value of other homes in the neighborhood, you will often not get a good return on investment because the property will be too luxurious for the area. Long story short, not every risk you take in your home renovation will result in a reward.
Fixer Upper is notorious for shiplap everything
Chip and Joanna Gaines' passion for shiplap is no secret. The wide wood paneling makes frequent appearances on "Fixer Upper," beginning in Season 1, Episode 2. Originally used for waterproofing ships, the rustic material is typically associated with rural farmhouses and seaside cottages. While at first the inclusions of shiplap on the show were mostly nods to the home's original historic construction or to add character to a room, the material soon began appearing in places that made no sense.
In Season 3 Episode 1, for example, shiplap is inexplicably put over the mantel of a tiled fireplace, and subsequently included in renovations made on their downtown Victorian-style bed and breakfast. Additionally, one of the best examples of Joanna and Chip going overboard with shiplap occurs on the Season 3 finale, when the living room of a 1919 bungalow is covered wall-to-wall in the paneling. Watching "Fixer Upper" would have one believe that every home in Waco, Texas is filled to the brim with shiplap.
Modern farmhouse style doesn't belong in every house
Another trend that "Fixer Upper" helped revive is the modern farmhouse style, which combines the traditional farm aesthetic with sleek and minimal contemporary elements. Thanks to Joanna and Chip Gaines, modern farmhouse seems to have appeared in some form or another in almost every home in America. The look is characterized by comfortable furniture that makes you want to kick back and relax, along with a neutral color scheme and antique accessories. Most modern farmhouse designs will include wrought iron elements, barn board details, and pine furniture.
While modern farmhouse is undoubtedly a cool take on country living, "Fixer Upper" again goes overboard with the aesthetic by including it in almost every home renovation project. Not every house deserves décor items that look like they've sourced from a barn. For example, in a YouTube clip from the Season 3 Victorian bed and breakfast renovation, rustic materials like shiplap and reclaimed wood take centerstage. Much like shiplap, not every home should be given a modern farmhouse makeover.
Open shelving is a Fixer Upper favorite, but should it be?
On "Fixer Upper," open shelving is praised by Joanna Gaines for being a unique and fresh design element perfect for use in the kitchen or other areas of the home. Plenty of popular episodes feature open shelving concepts, including Season 2, Episode 1.
However, before taking this advice from the show, it's worth considering whether you are ready to fully commit to the trend. Open shelving means everything will be on display, including your haphazardly stacked Tupperware, disorganized spices, and stacks upon stacks of dishes. You can no longer simply shut a cabinet door and forget about the mess. If you are a minimalist, making the transition to open shelving is perhaps a relatively painless process. But for the rest of us, it could spell disaster and mean lots of time spent tidying, dusting, and organizing. There should definitely be some storage space that's not on display so you can stow bigger items away from sight.
Patios with wooden furniture and no roof aren't advised
"Fixer Upper" does a great job of designing outdoor spaces perfect for entertaining and hosting, as seen on Magnolia. Joanna Gaines is known for creating backyard decks and patios that take your breath away. She often incorporates cozy design elements such as fireplaces, herb gardens, and hanging light decorations to help families take their outdoor living to the next level.
One trend featured on "Fixer Upper" that should be approached with caution is placing wooden furniture outside without a proper roof or overhead covering. Unless properly treated and weatherproofed, sunlight, rain, and moisture could all damage the furniture over time. If you want your pieces to last, choose a paint for exterior use and use a few coats. After letting furniture dry inside for a few weeks, you can place it outside. Keep in mind that the best way to preserve your outdoor patio furniture is by arranging it under a solid roof.
Contrary to Fixer Upper, neutral color palettes aren't always a good idea
Chip and Joanna Gaines have come a long way from the first season of "Fixer Upper." Just look at their use of color. In Season 1, episode 3, the duo designed a bland bedroom for Becky and Heath Ivy in Woodway, Texas. The room featured a drab neutral color palette and wall-to-wall carpeting, proving an all-neutral approach doesn't always work. Not only is the design scheme incredibly boring, but it's also hard to keep clean and fresh.
However, the use of neutral paint colors provides a clean slate for brighter pops of color to shine and lend personality to a space. From vibrant yellow couch cushions to a blue statement wall or patterned bathroom tile, there are plenty of ways to incorporate color into your home without going overboard. The good news is that later seasons of "Fixer Upper" incorporate a much more playful and free use of color.
Small coffee tables aren't very practical
Your living room coffee table might just be one of the most important pieces of furniture in your home. Between holding books, drinks, snacks, and other decorative household items, it's a prominent focal point that ties a room together. Since it is often placed in the center of the room, people will be able to see it from all angles.
"Fixer Upper" often includes pretty good coffee tables in their design projects, but Episode 7 of Season 2 featured one of the poorest excuses for a coffee table. The fixer upper was designed for a couple looking for a home close to Waco's Baylor University. The thin plank bench used in the living room could barely fit a plate, let alone magazines or other essentials. Apart from being impractical, it also brought the entire look of the room down. A good coffee table should spark conversation and add interest like a work of art, not make you or your guests feel uncomfortable.