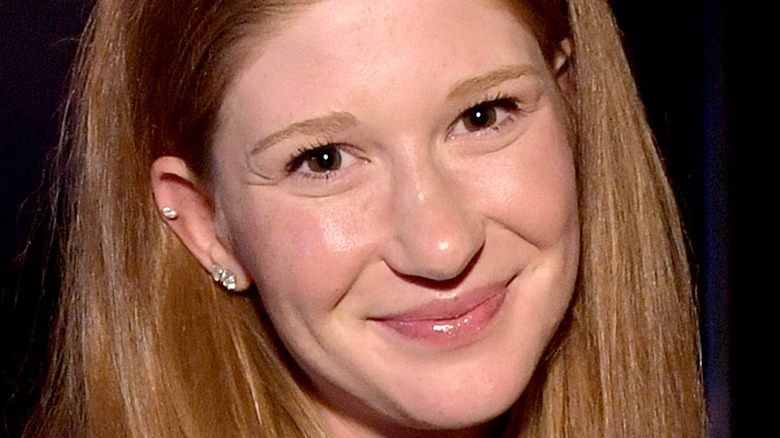 Jennifer Gates, the eldest of Bill Gates and Melinda French Gates' three children, is about to become a married woman. The 25-year-old professional showjumper and medical student will exchange vows with her fiance Nayel Nassar this upcoming weekend. Nassar, a fellow equestrian who represented Egypt at the Tokyo Olympics, proposed in January of 2020 (via Town and Country).
Gates gushed about her man in a heartfelt announcement post on Instagram at the time. "You are one of a kind," she wrote of him. "I can't wait to spend the rest of our lives learning, growing, laughing and loving together. Yes a million times over." Nassar shared a similar sentiment and provided a closer look at the gorgeous engagement ring in a sweet Instagram post of his own.
"I still can't wait for forever after with you," he wrote on the one-year anniversary of their engagement (via Instagram). Less than a month later, he shared an adorable Valentine's Day message and noted that they'd celebrated the holiday together five years in a row (via Instagram).
The couple appears to share a storybook romance, and their upcoming nuptials are shaping up to be an event worthy of their love story. Here's everything we know about the occasion.
Jennifer Gates will tie the knot on her farm in North Salem, New York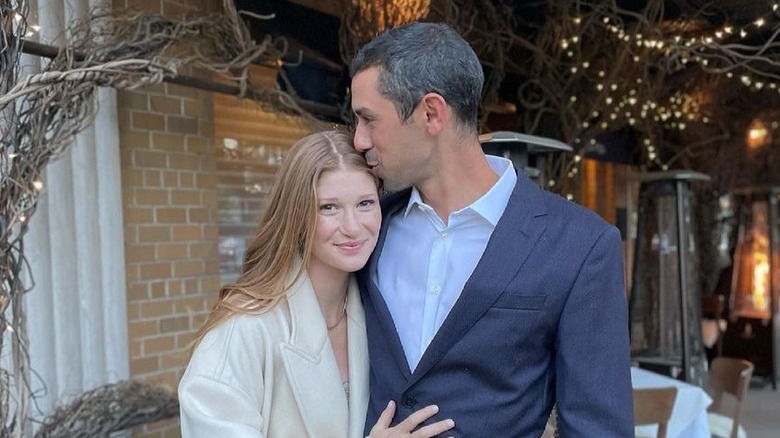 One of the most important questions to ask when planning a wedding is where it will take place. A venue, more than almost any other component of the big day, will help guide the aesthetic. Considering her father Bill Gates' massive net worth, it's a safe bet that Jennifer Gates and Nayel Nassar could've gotten married anywhere they wanted.
However, what better option than somewhere that carries personal meaning for the bride and groom? Gates and Nassar will say "I do" on the 124-acre horse farm her parents purchased after she graduated from college in 2018. The property — located in North Salem, New York — was worth a pretty penny. According to the New York Post, the sprawling estate carried a nearly $16 million price tag when her since-divorced parents picked it up.
The wedding the duo will throw on the grounds should be every bit as extravagant. The publication noted that several temporary structures have been built on the site over the last two weeks, including glassed-in pavilions and a large stage. The Daily Mail also captured photos of several white tents going up. "One day to the next another giant structure is popping up," a neighbor said.
The couple hopes to have an outdoor wedding
Although workers have erected several temporary structures on the property, it is believed that Jennifer Gates and Nayel Nassar hope to get married outside. "Jenn's hoping the actual ceremony can be outdoors," a neighbor told the Daily Mail. "But in case the weather is bad, they've put up huge tents in one of the fields and they're also rushing to build several state-of-the-art, temporary steel-and-glass pavilions."
We don't know much about the property itself. However, the Daily Mail noted it was made up of three parcels of land that were combined into one when purchased. Architectural Digest reported that it has now been owned by at least two historic families. It was previously owned by Duncan Dayton, heir to the Dayton-Hudson Corporation. If the name isn't familiar, that's because it was switched over to the Target Corporation in later years.
The gorgeous estate will host even more famous faces for the wedding. One of Gates' neighbors told the Daily Mail that "a lot of dignitaries" will be in attendance. Although they didn't name any names, it's worth pointing out that Bill Gates and Melinda French Gates have hung out with former President Barack Obama before. Maybe he'll be in attendance?