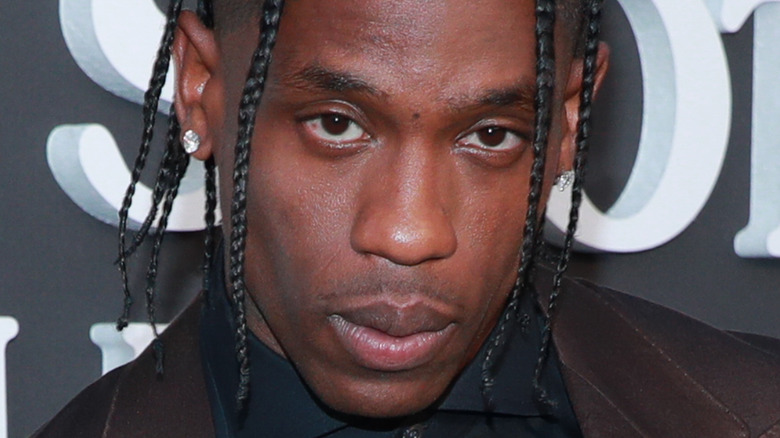 Seemingly predicting his future success, Travis Scott's name was once stylized with the dollar sign — Travi$ Scott — like when he interviewed with Complex in 2012. That year, most people heard Scott for the first time on the song "Sin City" featured on the compilation album "Kanye West Presents Good Music Cruel Summer." It was an incredible turnaround for Scott who not long before was struggling to get by. He remembered saying, "I'm homeless right now" when he received a call to work with Kanye West. The two rappers met up in New York and according to Scott, "First thing he gave me was a Doritos taco from Taco Bell." Not long after, Scott would be able to afford more than just fast food as he became one of the hottest rappers by the end of the decade. Following his first two albums, Scott earned his biggest breakthrough with his 2018 album "Astroworld." The record was "inarguably his strongest to date" per Pitchfork, and turned Scott into a rap superstar.
As of 2021, Scott was worth an estimated $60 million according to Celebrity Net Worth. Beyond his smash hits like "Sicko Mode" featuring Drake, Scott became a businessman with multiple endeavors to increase his bank account. With so much dough, Scott made extravagant purchases, which weren't always selfish. Other times throughout his career, Scott lost some of his money for reparation.
It's time to follow the dollars and find out how much Travis Scott is really worth.
Travis Scott loved music as a kid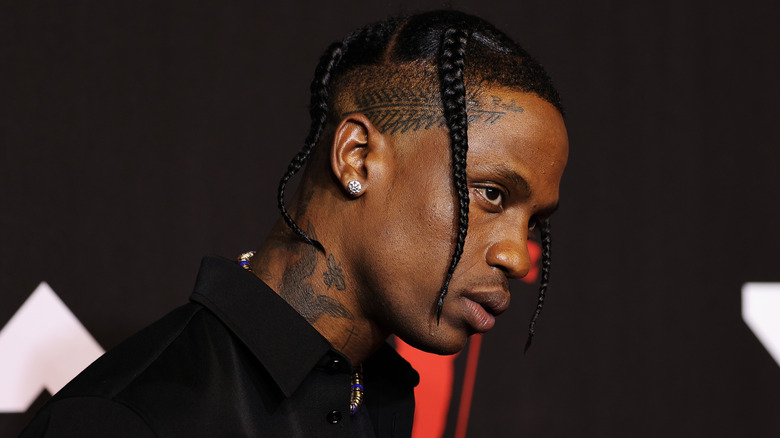 Jacques Bermon Webster II was born in Houston, Texas, in 1991. Years later, he would become known as Travis Scott. In the documentary "Look Mom I Can Fly" (via the Houston Chronicle), one of Scott's former counselors said of the young man, "Jacques had a spark in him that made him move through the world with great, boundless energy, motivation, creativity and genius." Scott grew up in a middle-class suburb near Missouri City, Texas and lived in the Houston area until he was about 19 years old.
As a young man, "I used to stay with my grandma in the hood from ages one to six," Scott recalled to Complex. His love for music started at an early age, thanks in part to being part of a family of musicians. His grandfather was a jazz composer and Scott's dad played the drums and piano. At the age of three, Scott received his first drum set. "I was playing drums extra hard, like I wasn't going to fail with that s***. I was a drum master," he recalled. Drum kits for juniors, like the Questlove Pocket Kit created by the famous drummer of The Roots, sell for hundreds of dollars on Amazon. The young man also followed his father's skills by learning to play the piano, but eventually he pivoted to "the electronic sound" and began "making beats."
Travis Scott's comfortable beginnings
For his early education, Travis Scott stayed in the Houston area of Texas. "I went to private school in elementary and middle school," he told Complex. This likely cost significant money because Missouri City private schools can range from $2,000 to $9,900 per year, Community Impact estimated in 2017. His parents were successful enough to spend the money for their child's private education. Scott shared with Complex, "My mom worked for Apple and my dad owned his own business." As for his time in class, Scott said, "I loved private school. It was like the freshest b****** and all my homies were rich as f***." Meeting these other children also laid the foundation for Scott to dream big. He remembered that private school "showed me a whole other taste level of life. That's when I knew, s*** is way bigger than Houston."
When Scott became a teen, he switched from private school and attended Elkins High School in Missouri City. In the documentary "Look Mom I Can Fly" (via the Houston Chronicle), Scott praised his high school counselor for helping him while studying and said "she saved my life in high school." Scott was more than ready to excel in class and he even graduated early from high school at the age of 17. "I'm smart man. I wasn't a dumb***," he told Complex.