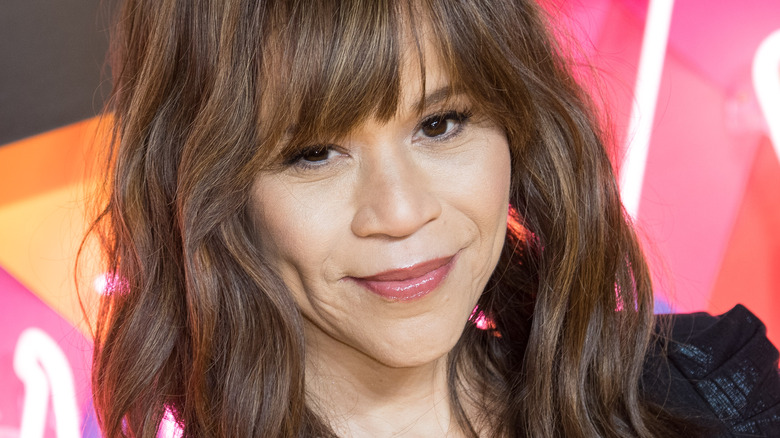 When proud New Yorker Rosie Perez moved to California to help her struggling cousin look after her two kids, she had no intention of becoming famous. The Brooklynite worked a number of part-time jobs while studying biochemistry at college, and in her down time, she liked to go dancing at local night clubs. The 19-year-old was throwing shapes at a joint called Florentine Gardens one fateful evening when she was spotted by a talent scout from the long-running music and dance show, Soul Train. "Being a teenager, being asked to go on Soul Train, it was just — it was mind-blowing," Perez told Esquire.
Perez's movie career got started in similar fashion. Legendary filmmaker Spike Lee cast the diminutive dancer as his girlfriend in 1989's Do the Right Thing after a run-in at Funky Reggae, her favorite club. "He was having a private party there," Perez explained to the Chicago Tribune. "I was on top of a speaker, and he told his bodyguard to pull me down … He tried to hit on me, so I had to dis him." Lee saw star quality in this feisty woman, who would receive widespread praise for her turn as firecracker Tina. She went on to establish herself as a Hollywood actress and, later, a TV personality, which is quite remarkable when you consider the odds she was up against.
From her turbulent and violent childhood to her overseas COVID-19 ordeal, this is the tragic real-life story of Rosie Perez.
Rosie Perez believed her aunt was her mom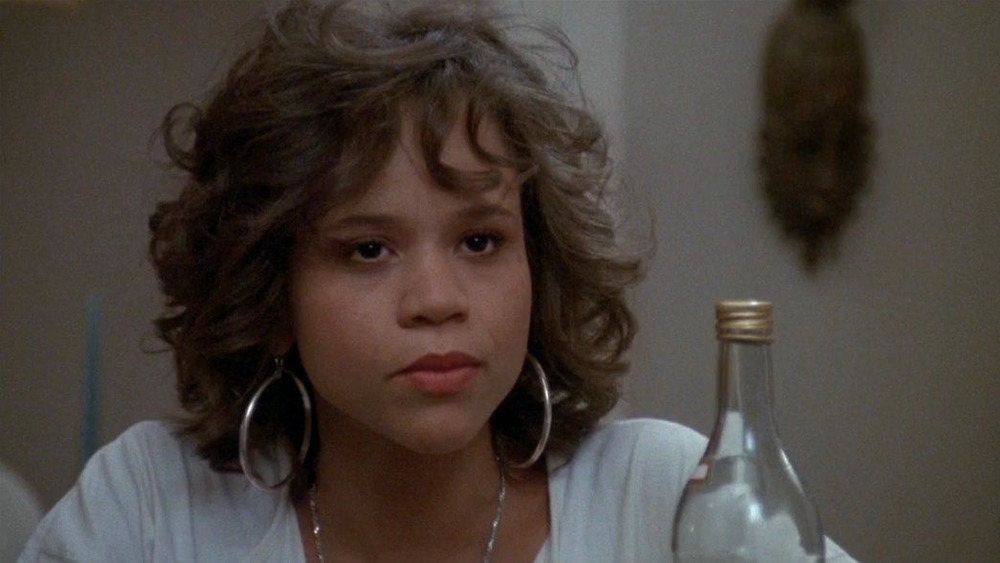 Rosie Perez took a deep dive into her troubled upbringing in her 2014 memoir, the brilliantly titled Handbook for an Unpredictable Life: How I Survived Sister Renata and My Crazy Mother, and Still Came Out Smiling (with Great Hair). In the book, the Daily News reports, the actress revealed that her mother briefly left her longtime husband for another man when she fell pregnant with his child. They moved into a Brooklyn apartment together, but things were over before Perez was even born — her dad jumped out of the window when her mom allegedly pulled a gun on him and didn't look back. Perez's mom returned to her husband just before she was born, but there wasn't a place for the child.
Luckily for Perez, her paternal aunt was happy to have her. She moved in with her as an infant, and would spend the first three years of her life believing she was her mother. The arrangement worked for everyone — until Perez's mother showed up out of the blue and "demanded" the child be turned over to her. With no legal right to keep hold of her, Perez's aunt reluctantly let her go, and a matter of days later, her mother did the same thing.
Perez hadn't been back with her mom more than a few nights when she was suddenly abandoned at a Catholic children's home in Westchester County. "From the day I could remember her, I felt rejected by her," Perez told Aljazeera America.
Rosie Perez was terrorized by a 'sadistic' nun
Being ripped away from her loving aunt was traumatic enough for three-year-old Rosie Perez, but her move to St. Joseph's Catholic Home for Children was made all the worse by the abusive nuns. Not all the staff at the home were violent, but a handful of bad eggs reportedly used to make Perez's life hell. "There were certain people that were supposed to be taking care of me that were hurting me," the actress told Aljazeera America. "It was confusing at first: Who's my mother? Who's my aunt? Why am I here? Who are these people with the funny scarves on their heads?"
The worst perpetrator was the woman referenced in the title of Perez's memoir, Sister Renata. "I think she was a little bit more sadistic than the standard strict nun," Perez went on to explain. "She went overboard." Perez went as far as calling Sister Renata "evil incarnate" in her memoir, going into detail about a disturbing incident that allegedly took place when she was just six years old.
After she was caught giggling, Sister Renata ordered her to stand face-up against a metal locker for an hour. According to Perez, the nun pulled up a rocking chair and kept watch. "After a few minutes, which felt more like an hour, my eyes started to close shut," Perez wrote. "… Bam! Sister Renata banged my head into the metal locker." Sadly, this wasn't an isolated incident — the abusive nun used to backhand Perez across the face regularly, the actress claimed.