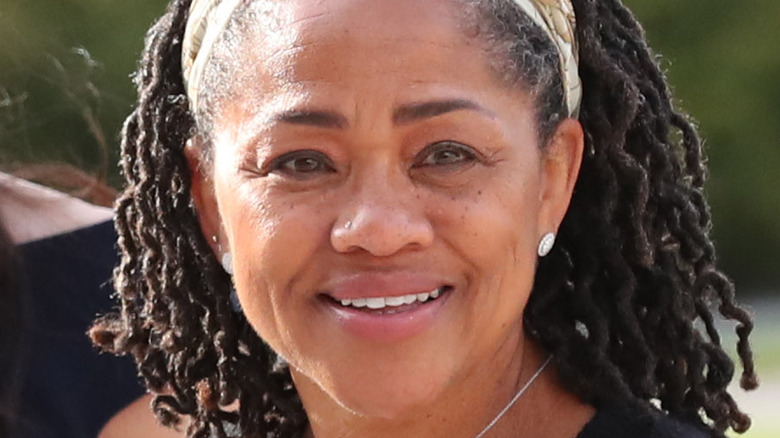 Maintaining a private and grounded life when your daughter is one of the most recognized faces on the planet is a tall order, but Doria Ragland achieves it with grace and dignity. Being Meghan Markle's mother puts her in high demand, but you don't see Ragland on red carpets or talk shows, even in defense when her name is getting dragged through the tabloids.
Being such an enigma makes Ragland all the more fascinating to the media, who can't seem to score an interview with her. But through the words of her daughter, the world is slowly getting to know the coolest yogi grandma on the planet. "My mom's a yoga instructor, but she does social work, as well, and she works specifically with the geriatric community," Meghan wrote for Glamour. She noted her mom's "life-long sensitivity to nurturing and caregiving," but added, "At the same time my mom has always been a free spirit." From her creative and service-oriented career path to how she met Meghan's dad, here's what we do know about Doria Ragland.
She met her ex-husband on the set of a long-running soap opera
Doria Ragland first met her ex Thomas Markle in a place of high drama. While she was filling in as a make-up artist on the set of the long-running soap opera "General Hospital," she encountered a tall, Caucasian lighting director who was 12 years older than her, according to the Daily Mail.
"It was the late Seventies when my parents met, my dad was a lighting director for a soap opera and my mom was a temp at the studio," daughter Meghan Markle wrote in an essay for Elle magazine. "I like to think he was drawn to her sweet eyes and her Afro, plus their shared love of antiques. Whatever it was, they married and had me."
Along with their age difference, Markle was also divorced with two children from a previous marriage. The couple began dating and were engaged to be married shortly after. While Ragland moved on from daytime TV, Markle continued to work on "General Hospital," for which he won a Daytime Emmy for his work, and worked on other shows like "Married With Children" (per Toronto Sun).
Her wedding to Meghan's dad was at a Hollywood temple
After dating for only six months, 23-year-old Doria Ragland tied the knot with Thomas Markle in a ceremony as unconventional as the new couple was at the time. Per the Daily Mail, they were married in 1979 on LA's sunset strip at a Self-Realisation Fellowship Temple, founded by an Indian yogi dedicated to spiritual discovery through yoga and meditation. Ragland, who "was fascinated by alternative religions and yoga," looked adorable in a button-down white blouse tucked into a flowy belted skirt, with tiny flowers in her hair.
As they said their vows, Markle must have made an impression on Ragland's family. "None of the family knew anything about Tom until we got the wedding invitations," said Ragland's brother Joseph Johnson, whose son served as the couple's ringbearer.
Sadly, Ragland eventually divorced Markle when their daughter Meghan Markle was just 6, but they stayed amicable and raised her together. Meghan quoted Dr. Martin Luther King, Jr. in her now-defunct website, The Tig, as she reflected on her parents' union during an era when interracial marriages were far less common (per ET), "To my mom and dad for choosing each other not for the 'color of their skin, but the content of their character.'" Neither Ragland nor Markle has since remarried.
Her white neighbors sometimes mistook her for the nanny
Doria Ragland and husband Thomas Markle welcomed a daughter, Meghan, less than two years after their wedding, in 1981 (via Biography). The California couple raised Meghan in the Valley in a community that was mostly white. The book "Meghan: A Hollywood Princess" revealed that when Ragland was out with Meghan, people "would assume they were not related and would ask where Meghan's mother lived" (via Fabiosa).
In an essay on her mixed-race identity for Elle magazine, Meghan Markle reflected on the types of microaggressions Ragland faced. "And there was my mom, caramel in complexion with her light-skinned baby in tow, being asked where my mother was since they assumed she was the nanny," she wrote.
Markle said her parents "crafted" the world around her to make her feel "special," not "different," but that despite their efforts, they couldn't protect her from the realities of racism in America (or across the pond) forever.
Her daughter describes her as a free-spirted yogi
If her bohemian wedding didn't clue you in, Meghan Markle's mother is a bit of a hippie. Her daughter happily fleshed out this image in a post she penned about her mother on The Tig. "Dreadlocks. Nose ring. Yoga instructor. Social worker. Free spirit. Lover of potato chips & lemon tarts. And if the DJ cues Al Green's soul classic 'Call Me,' just forget it," she wrote in 2014.
Doria Ragland, who nicknamed Meghan "Flower," co-parented with Thomas Markle following their divorce. Her bond with her daughter grew, and Meghan considers their relationship closer than a typical mother-daughter bond. "We can just have so much fun together, and yet, I'll still find so much solace in her support," she wrote for Glamour. "That duality coexists the same way it would in a best friend."
According to People, Ragland still lives a very similar lifestyle, as a dedicated yogi with an affinity for nature and her pets. "She walks her dogs multiple times a day, or takes them hiking," a neighbor shared. "She is often spotted heading out with her yoga mat." Such a contrast to the more buttoned-up royal family, Ragland is fascinating, but to the disappointment to tabloids everywhere, she keeps things lowkey and private.
Prince Harry sought her blessing before proposing to Meghan
Coming from a family that's steeped in tradition, it's probably not surprising Prince Harry decided to go through all the proper channels before popping the question to Doria Ragland's daughter, Meghan Markle. But it's still pretty romantic! According to Us Weekly, Ragland was present when the young couple made their first joint appearance together at the Invictus Games in Toronto. He didn't squander the opportunity, according to a source, and asked Ragland's permission to marry her daughter. "He thought it was an opportunity for them to celebrate a special moment," they said.
With Ragland's blessings locked in, the Duke of Sussex proposed to Meghan Markle two months later. Though he's said to have also asked Meghan Markle's father, Thomas Markle, before proposing, the two have never met in person. But Harry's relationship with Ragland — whom he calls "mom," Express reports — seems to be ideal. According to a source, he's "always been incredibly close to Doria — and never more so than now."
Meghan Markle reportedly considered having her mother walk her down the aisle
To put it lightly, royal weddings are kind of a big deal in the U.K. Add in the dynamics of race, a slight age difference, and Meghan Markle's previous marriage, and it's enough for tabloids to constantly churn out stories. So when Doria Ragland's American daughter was preparing for the entire world to watch her wed, she leaned on her mother for support. Harper's Bazaar reported that it was thought Ragland would step in and walk Markle down the aisle when her father had a sudden medical emergency and couldn't attend the nuptials.
In the end, Ragland escorted her daughter into the church, where Markle then walked down the aisle alone most of the way, until Prince Charles stepped in for the final steps (per Elle). The suggestion to include Prince Charles was reportedly made by his son Harry, given his longtime ceremonial experience as a royal. "There are few people on the planet who are more experienced than Prince Charles when it comes to set piece events like this," a source said. "In contrast if her mother was by her side, it would have been down to Meghan to perform that calming role," as they were watched live by billions of viewers.
According to CNN, Meghan Markle made history as the only royal bride to walk down the aisle unescorted, symbolically establishing herself as "a strong, independent woman who is prepared to challenge royal norms." In other words, following in her free-spirited mother's footsteps.
She's a CEO
From makeup artist to yoga instructor to social worker, Doria Ragland has had an amazing ability to redefine herself professionally. While Meghan Markle's mother has made some boss moves in her career, now she's quite literally the boss. Ragland currently serves as CEO of the senior care management company Loving Kindness in Beverly Hills, the Daily Mail reports. Per its website, Loving Kindness uses a holistic approach, balancing mind, body, and spirit in their care. Though she came on board in 2020, there's little trace of Ragland's famous name on the company website, which very much seems to be by design.
Prior to her current job, Ragland worked at a mental health clinic, but ended up leaving when the media stormed her life during royal wedding season. An insider told Us Weekly that Ragland was overwhelmed by the attention and resigned "because there had been a lot of calls from the media asking to speak with her because her daughter was marrying Prince Harry." They added that she considered a shorter leave of absence, "but recognized that the interest was only going to continue after the wedding," a lesson she's certainly considered with her next career move.
Meghan Markle's mother is buddies with Oprah
If having a princess for a daughter isn't wild enough, Doria Ragland can also call the queen of television her personal friend. Oprah Winfrey cozied up to Ragland prior to the royal wedding, inviting her to an intimate lunch at her home. Per ET, the new friends did yoga on Winfrey's lawn during the relaxing afternoon together.
Of course, the press went wild over the pair meeting up, and rumors spread that Ragland left Winfrey's home carrying gifts that were meant to bribe her into a juicy exclusive interview (via Express). But Winfrey squashed the rumors during an interview by revealing the kind of details about their date that the press was all too hungry for. She said that Ragland was just carrying her yoga mat and a basket of Ragland's favorite fruit from one of Winfrey's trees. "For all of the people who said I am getting her gifts and I'm trying to bribe her for an interview," Winfrey said, laughing, "they were kumquats! If kumquats can get you an interview, I'm all for it!"
Winfrey attended the royal wedding weeks later, an event she described as a "cultural moment." "I think it's bigger than them and I think it bodes well for hope for all of us," she said.
She's a doting grandma
In 2019, Doria Ragland became a grandmother when her daughter, Meghan Markle, gave birth to a sweet little son with a very big name. Per Royal.uk, Archie Harrison Mountbatten-Windsor is seventh in line for the throne. Official photos of Archie meeting Queen Elizabeth included his maternal grandmother looking on lovingly. Us Weekly reports that she spent several weeks with her daughter and son-in-law to help them care for her infant grandson before she returned home to California.
Luckily for Ragland, her daughter is much closer to home these days. Following the birth of her second grandchild, Lilibet, in 2021, Ragland gifted Meghan and Harry with her time, becoming a hands-on grandmother to the young parents. "Meghan's so grateful to have her mom to lean on, and Harry just adores her," a source told Us Weekly.
Lilibet Diana was named after her great-grandmother, Elizabeth, whose nickname is Lilibet, and her late grandmother, Princess Diana. But the duke and duchess also call her Lili, which could be a subtle nod to Ragland, who called Meghan "Flower" when she was a child.
She inspired a best-selling romance novel
Doria Ragland's daughter has had quite the fairytale romance, what with the actual prince husband and all. But it's not hard to imagine how Meghan Markle's free-spirited and seriously cool (not to mention gorgeous) mother could have her own love story spin out of this newfound royal life.
After Queen Elizabeth invited Ragland to Christmas with the royal family, Vulture reported that a librarian tweeted about the amazing possibilities the scenario had as a romance novel, saying she now needed a charming love story "about the single mother of a new Duchess falling in love with an appropriately aged royal retainer while spending Christmas at Sandringham."
This kind of royal fan-fiction resonated across the Twitterverse, reaching all the way to bestselling author Jasmine Guillory. "I VOLUNTEER AS TRIBUTE," she tweeted, cheekily referencing "The Hunger Games." Not only did Guillory volunteer, she came through with the novel "Royal Holiday" that was published in 2019. Whether or not Ragland has given it a read, however, remains to be seen.
She reportedly supported Meghan and Harry's decision to step away
When Meghan Markle and Prince Harry were making the decision to resign from their royal duties, Doria Ragland was allegedly all for her daughter taking the huge step. According to the Mirror, Ragland was a "silent force" behind the decision. A source said Ragland was a rock to the couple, bridging the distance by traveling "back and forth for the last few weeks." The source added, "And when she's not with them, she is on the phone constantly."
And it's not hard to see why Ragland would be on team #Megxit. Along with the tabloid frenzy that followed Markle, even when she was hidden behind closed doors, the institution's handling of the American princess has come under scrutiny. Harper's Bazaar reports that Markle was advised to "lie low," that she couldn't seek treatment for severe depression, and that Ragland was especially distraught by the imposed isolation her daughter faced. During a visit in 2019, she and Markle couldn't even leave her home to grab coffees in town. Per the Daily Mail, Ragland was "worried about Meghan … and is relieved that her daughter is putting her mental health and well-being first."