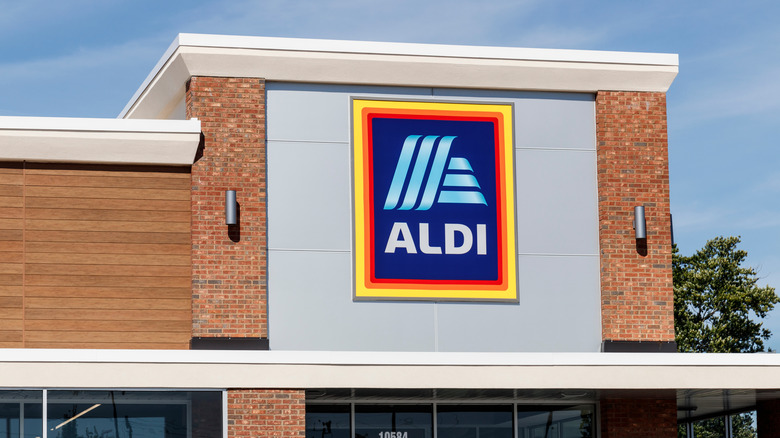 A well-stocked pantry swoops in like a superhero when you're either completely out of meal ideas or simply don't have the time to venture out to the supermarket and gather together last-minute ingredients to throw together for one big rushed and messy meal. When you begin your pantry essentials journey, it can be tough to figure out what to line those shelves with. You want to fill that space with things you'll actually enjoy at some point in the future as opposed to ingredients that might seem nice at first but will never see any usage.
That's where Aldi comes into play. They have an amazing selection of ingredients and other packaged products that'll ease any fear you have of going about your culinary adventure the wrong way. So when you finally do decide to restock, you'll definitely want to consider the supermarket chain's own line of products which are cheaper than their name-brand alternatives and tend to offer similar quality. Step inside, peruse the aisles, and return home with these must-buy Aldi staples which deserve a spot in your pantry.
Carlini Extra Virgin Olive Oil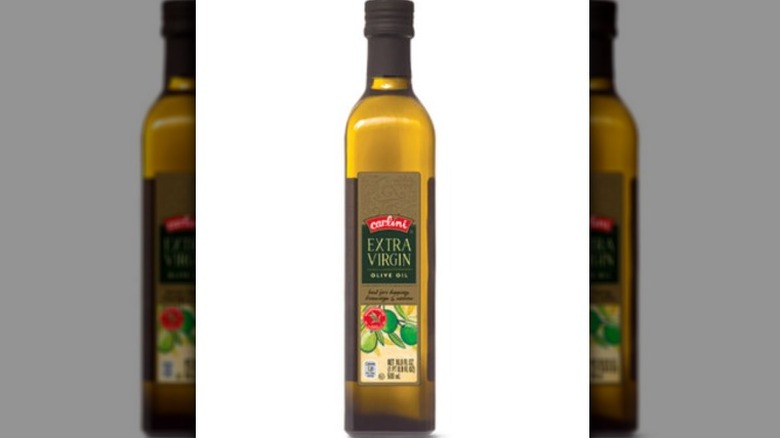 No kitchen is complete without cooking oils. There are a whole variety of options, from avocado to vegetable to canola, but the one kind that always reigns supreme is extra-virgin olive oil. You can use EVOO in place of butter when firing up a skillet-top meal or pour it over a salad for a healthier alternative to a salty and fatty supermarket dressing.
Not only does the oil lend a rich flavor to whatever's cooking in it, it's a main source of added fat for the Mediterranean Diet, one of the healthiest eating regimes a person can follow. Although EVOO is liquid fat obtained through olives, it's a beneficial kind of fat that your body actually welcomes (monounsaturated fats), not the saturated gross stuff that's pumped into so many processed foods (via Healthline).
The downside of EVOO is bottles can be pricey, but Aldi's Carlini Extra Virgin Olive Oil is a solid low-cost option. It's ideal for the casual home cook, with a perfect 5-star rating on Influenster.
Burman's Mayonnaise
Mayonnaise can be a polarizing condiment. It's fairly simple to sell someone on ketchup or mustard, especially if they're eating a hamburger or hot dog. But when you break out the fatty white stuff, some people tend to cringe. This is likely because mayonnaise doesn't have a strong flavor profile like other condiments. It really just lends a fatty and rich texture to whatever you smear it on, and some people just don't crave that additional mouthfeel.
But for those who do love a dollop (or three) of mayonnaise and don't want to pay Hellmann's prices, they should have a jar of Aldi's Burman's Mayonnaise in their pantry ready to go when it comes time to slather up a sandwich with fatty goodness. Can you even imagine a BLT without mayonnaise? It teeters on culinary blasphemy.
Burman's Mayonnaise not only gives a meal the rich and fatty flavor that other mayonnaises offer, but it also has a slight tang to it that hits you on the tongue immediately and gets you excited to take that next bite. The flavor almost has an umami sensation that kicks off your mayo addiction into full swing. Don't stock your pantry without it.
Fit & Active Healthy Chunky Chicken Noodle Soup
"Fit" and "active" are two words that are becoming increasingly more popular. Most of us could probably use more exercise in our daily routines, but the hustle and bustle of everyday life makes it so darn hard to fit in a fitness class or at-home gym routine. Even if you're having trouble finding the time to crank out some burpees, the least you can do is make sure your diet is on point. When it comes to weight loss, what you eat is actually more important than hitting the gym for a grueling workout, according to the Mayo Clinic. Stocking your pantry with healthy food is vital when it comes to keeping off the pounds and feeling more energized overall. That's why you should have a few cans of Fit & Active Healthy Chunky Chicken Noodle Soup from Aldi on your shelf at all times.
Canned soup can unfortunately be one of the sneakiest foods when it comes to sabotaging a healthy diet. Even though the pictures on the cans show vibrant vegetables and plump pieces of protein, oftentimes the broth is loaded with sodium, which raises blood pressure and causes heart problems after prolonged use (via the Cleveland Clinic). This soup, however, uses all white meat chicken and contains less sodium than standard supermarket options. So if you're looking to indulge in a rich and flavorful soup that plays much easier on your heart, this is the route to take.
Casa Mamita Taco Mix
When it comes to dinner excitement, few nights get people more stoked than taco night. Serving up some seasoned meat in a warm tortilla wrap or crispy shell kicks those salivary glands into action and puts a smile on your face. Plus, there are so many different fixings that pair perfectly with your handheld meal that the combinations are almost endless. This is why taco night is awesome, but it's even better when you have a packet of Casa Mamita Taco Mix on hand to season your ground protein of choice.
Aldi offers the seasoning packets in both Original and Low Sodium, so if you're looking to keep things on the healthier side, that option is readily available. And unless someone has an uncanny palate that can detect sodium to a tee, no one is going to notice you used a lower sodium variety. That's a win for both your appetite and heart health. Have a few packets of these in your pantry so when taco night rolls around, you're ready with a burst of spice-filled flavor.
Chef's Cupboard Scalloped or Au Gratin Potatoes
Potatoes are the perfect side dish to any dinner. They're filling, flavorful (depending on what kind of spices you add to them), and you get a helping of veggies with each portion. Mashed potatoes are usually the go-to for most people, as they simply require the boiling and then mashing of the tuber. However, if you want to wow dinner guests with an even better potato dish, absolutely invest in the Chef's Cupboard Scalloped or Au Gratin Potatoes at Aldi. It kicks your dinner game up from 10 to 11, and that's exactly what you want when making a meal.
Trying to make scalloped or au gratin potatoes on your own can be a huge hassle without a mandolin to slice each spud into evenly thin discs, which is why these already prepared packages are so convenient. So long as you have boiling water, butter, and milk handy, the final product is just a few simple steps away. The scalloped potatoes come with a cheddar cheese sauce, and the au gratin ones have a cheddar and blue cheese sauce, for an extra kick of flavor. The difference between the two versions is the au gratin potatoes develop a firm crust over the top while in the oven, which adds an awesome cheesy crunch with every bite. Every pantry needs a box of these.
Northern Catch Chunk Light Tuna
When it comes to grabbing a convenient and easy portion of protein to help give you some additional energy throughout the day, tuna fish is a great option. You can eat straight from the can, put it on a sandwich, or add a variety of other ingredients to make a delicious tuna salad. That's why your pantry should always have several cans available for when you don't want to make a whole meal but are craving something packed with protein (22 grams in a half cup) that's super simple to make. For this reason, you gotta stock your shelves with Northern Catch Chunk Light Tuna from Aldi.
You have the option to get the tuna in oil, but it's a healthier alternative to stick to the stuff that comes packaged in water. The ingredients for Northern Catch are skipjack tuna, vegetable broth, water, and salt. Now, if you're trying to avoid salt altogether, you may want to look elsewhere for a quick bite to eat, but if you don't mind a little sodium then the sheer amount of protein in each serving makes this a great option. Plus, the can indicates that this tuna is dolphin-safe which is another reason to go with Northern Catch.
Reggano Cheesy Skillet Dinner Kit
When it comes to whipping up a quick and filling meal, pasta always screeches in as the number one option. But that starchy goodness is made infinitely better when you mix in some cheese, veggies, and meat. That's exactly why Aldi hits a home run with their Reggano Cheesy Skillet Dinner Kits. It's a super convenient way to make a meal that appears like it took a ton of time and effort, but in reality they're quick fixes that leave hungry friends and family more than satisfied.
The best part about these kits is that they come in three different flavors: chicken and broccoli, ultimate cheeseburger, and creamy beef stroganoff. Now, keep in mind that even though the front of the boxes show meat, there's a big label on them alerting you to the fact you have to add your own proteins (similar to a product like Hamburger Helper). The boxes contain the pasta, cheese sauce, and variety of seasonings that pair well with pretty much any meat you add to it. Keep one of each in your pantry for a quick meal that strikes all the right flavor chords.
Tuscan Garden Salad Dressing Mix Packets
Everyone needs leafy greens in their diet, and there's no better way to get your daily dose of veggies than a big hearty salad chock full of an assortment of nutrition-filled spinach leaves, tomatoes, and onions. But, anyone who's ever tried munching down a dry salad knows how difficult a feat it is. You need some kind of dressing to enhance the flavor, of course! One of the most best ways to dress your veggies comes in the form of Aldi's Tuscan Garden Salad Dressing Mix Packets. The packets contain all the spices you need to mix with just a few other ingredients and voila! You have a delicious dressing to pour over your salad.
The packets come in two different flavors: Italian and Ranch. This offers you the option of something zesty and vinegary or something creamier and richer. If you decide to go with the Italian seasoning packets, just make sure you have some vinegar and a touch of oil on hand to mix with it. The dressing also serves as a great marinade for meat as well. For the Ranch option, mix the seasoning with milk and mayonnaise and let it sit in the fridge for at least 30 minutes so the flavors come together while it thickens. You can also use the packet to make a ranch dip using sour cream, so you have two great options to choose from. No pantry is complete without these nifty Aldi dressing packets.
Peanut Delight Creamy Peanut Butter
We all remember those days as children throwing back a brown-bagged peanut butter and jelly sandwich in the elementary school cafeteria. The sandwiches were a quick and easy way to fill our little stomachs up enough so we had energy to go hard on the playground at recess. Ahh, those were the good old days. Nowadays, we probably don't throw together too many of those for lunch, but that doesn't mean it's not important to have some peanut butter on hand in our pantries. That's why you should make Aldi's Peanut Delight Creamy Peanut Butter a necessary addition to your pantry supply.
Peanut butter is a great commodity when you want something rich and healthy, and this Jif alternative offers an inexpensive way to enjoy all that nutty, spreadable goodness. Jars are available in 18 and 40 ounces and, no surprise, it's cheaper if you buy in bulk. If you prefer some texture, go for Crunchy. Aldi also offers a pricier organic peanut butter option under its Simply Nature line.
Simply Nature Organic Ginger
If you're trying to avoid eating bland meals every day (of course you are), it's imperative to keep a wide variety of spices and seasonings on hand to add to a dish. There are the obvious ones like salt, pepper, onion powder, and garlic powder, but you should really look outside of those common four options for other seasonings that not only enhance flavor but have amazing health benefits as well. This is where ginger stands out among its spice brethren, and that's precisely why you need Simply Nature Organic Ginger in your pantry at all times.
But as we mentioned According to dietician Candace O'Neill (writing for the Cleveland Clinic), the root vegetable is "beneficial for inflammatory-related conditions and pain relief." It also "reduces enzymes that break down carbohydrates and so it helps with glucose (sugar) metabolism."
Loading up your spice rack can be a pricey proposition, which is why we recommend checking out Aldi which offers several seasonings that are cheaper than the competition, including Simply Nature Organic Ginger. The evidence is pretty clear that you need to head to Aldi and get a jar ASAP.
Simply Nature Organic Tomato Basil Sauce
There are plenty of different pasta sauce options out there, and everyone has their own personal favorite. Some choose a richer alfredo sauce full of heavy cream and cheese (and let's not forget a boatload of calories), while others prefer a creamy vodka sauce. But when it comes to stocking your pantry, a jar of classic tomato sauce is a must, and that's where Simply Nature Organic Tomato Basil Sauce swoops in for the kill.
The first thing that makes this sauce infinitely better than the basic stuff that only uses tomatoes is the fact it also includes basil, which is one of the best ingredients to pair with a hot bowl of noodles and red sauce. So right away you know this sauce takes dinner seriously. And according to Aldi, in each half cup of sauce there's a full serving of veggies, so if you forgot to eat your salad that day, you can make up for it without stressing. And during your Aldi shopping trip, you might as well pick some Simply Nature Organic Pasta to complete your meal.
Fusia Asian Inspirations Asian Stir Fry Sauces
Aldi is fully aware of just how awesome a meal becomes once you pour on a healthy drizzle of flavorful sauce, so they've done all our appetites a favor with their line of Fusia Asian Inspirations Asian Stir Fry Sauces. Put down the phone and forget all about that order to your local Chinese food takeout spot that's been on your mind all day. It's time to take matters into your own hands.
Aldi doesn't just have one measly choice to pick from. They loaded up their options to include three different savory sauces: General Tso's, Sweet & Sour, and Teriyaki. Those three are all you need to whip up a fantastic Asian-inspired meal that'll have friends and family scratching their heads as to how you mastered such a delicious dish so quickly. The secret is Aldi, so get those three suckers in your pantry stat.
Aunt Maple's Buttermilk Pancake Mix
Nothing screams breakfast quite like a hot stack of flapjacks. A heaping platter of those doughy discs covered in buttery syrup sends people of all ages sprinting into the kitchen to grab some before they're gone. That's why keeping a box of pancake mix in your pantry is essential for those mornings when you want everyone to wake up and get excited for a filling feast to start their day. With that in mind, head over to your friendly neighborhood Aldi's and snag a box of Aunt Maple's Buttermilk Pancake Mix.
All it takes is one glance at the picture on the box of those fluffy pancakes to know you made the right choice. The mere fact they're of the buttermilk variety means they're going to be lighter and fluffier than other brands. All you have to do is simply add water (an ingredient we all have handy), mix together thoroughly, and then ladle out onto a greased skillet until they're golden brown on each side. Plus, you can even get Aunt Maple's syrup to pair with them.