Dining probably isn't the focus of your trip to Disneyland. But if you're heading to Anaheim for the resort's blow-out holiday celebration (now through January 9), we suggest making the extensive and exceptional seasonal food and beverage offerings at Disneyland Park and California Adventure a priority.
Just like the Matterhorn Bobsleds, there are two tracks to embark on for your eating journey. Both parks offer exclusive holiday items, but at California Adventure, you can also take advantage of the Festival of Holidays. The annual celebration includes a culinary program with a similar format to the park's popular Food & Wine Festival, with pop-up dining kiosks. If you want to make the most of your Disneyland experience, we highly recommend purchasing a Sip and Savor Pass. The $56 lanyard includes eight tabs which can be exchanged for what's on offer at the kiosks (not including booze and souvenir items) as well as select options at some of California Adventure's permanent eateries.If you're sticking with Disneyland Park, not to worry. There are plenty of sweet and savory seasonal treats to be had there, too. Just remember to order in advance via the Disneyland mobile app, if possible.
If you know the lay of the land, are open to new experiences, and are willing to brave lines, you're in for a memorable culinary experience. Here are some suggestions for the Disneyland holiday food and drink items you should skip and the ones that are an absolute must-try.
23. Churro Toffee Cold Brew Latte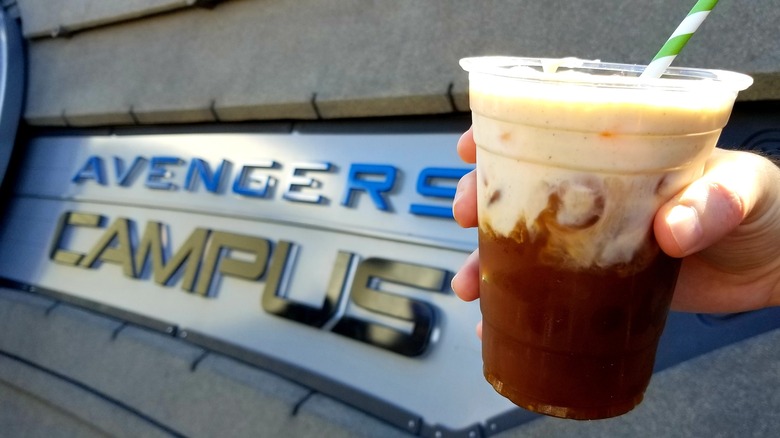 We wanted a pick-me-up to jumpstart our day, but this cold brew latte (available at the A Twist of Tradition kiosk in California Adventure) was a little bit of a letdown. Beyond the caffeine, the major draw for the coffee-based beverage was the promise of churro toffee, one of our all-time favorite Disneyland sweets. The crunchy, salty, cinnamon-y goodness is sprinkled atop the drink, and we relished every moment a tiny shard got sucked up through our straw.
But unfortunately, the actual cold brew, made with Joffrey's Coffee & Tea Company Mexico Origin-Blend coffee, was disappointing. For all we know, the beans themselves may have been fantastic, but the heavy-handed addition of demerara and cinnamon sugar, vanilla bean and almond milk, and whipped cream (not to mention the aforementioned churro toffee pieces), completely dominated the flavor of the actual coffee. Each sip was overwhelmingly sweet and, at times, oddly and off-puttingly sour. You'd be much better off opting for a plain ol' cup of cold brew and a side of that incredible churro toffee. Save your Festival of Holidays Sip and Savor pass for another item.
22. Bao Bun with Seasonal Fruit
This is another Festival of Holidays offering that we're sad to report didn't quite deliver on its promises. That's in part because Chinese bao has become a Stateside sensation over the past few years. Normally the steamed, handheld bun is wrapped around a savory filling such as a slab of pork belly (if you never tried one before, think of it as an Asian taco).
We appreciate that Lucky Fortune Cookery in California Adventure got creative and decided to go the dessert route with bao. Unfortunately, the cream and berry-dominant filling just didn't mesh appropriately with its fluffy counterpart. It came across like it was conceived after a midnight munchies kitchen visit from a chef with a few leftover items cobbled together. We found ourselves eating around the bun and simply digging into the interior on its own. A fun and fresher fruit-forward offering would have been preferable, especially with the preponderance of heavy items on the Festival of Holidays roster.
21. Pork Pozole
We had high hopes for this hearty traditional Mexican stew that is a particular favorite during Christmas time. Sadly, the house-made pozole that is being served up at Paradise Grill in California Adventure (a tasting portion is available via Sip and Savor), as well as Rancho del Zocalo in Disneyland Park, didn't quite deliver. To be fair, a piping hot stew isn't exactly suited for a 90-degree day (which was the case during our visit to Anaheim … in November!), but the main issue here is that the pozole didn't bring nearly enough heat as far as spice goes.
On the plus side, it was certainly sufficiently chunky, with ample pieces of hominy and tender, lean pork, along with fixings that included chopped onion and sliced radish. The broth, however, was in desperate need of some more guajillo chili firepower. If you still want to try this one out, be sure to ask for some extra lime wedges to give your bowl a bit of extra zing.
20. Holiday Martini
The Lamplight Lounge, located at the entrance of California Adventure's Paradise Pier, is hands down our favorite place to eat and imbibe on the entire Disneyland property. It's hard to beat the spot's combination of inventive food, a wide range of booze, and a fantastic view of the Pixar-Pal-A-Round. If you can, make it a point to grab a nighttime reservation to marvel at the Mickey Ferris wheel's full fluorescent glory.
Unlike the cocktails being poured at the Festival of Holidays kiosks, the Holiday Martini is handcrafted, so this drink already garners extra points for that. But this might just be the case of too much of a good thing, given the cocktail's cloying combination of vanilla vodka, peppermint, chocolate liqueur, and Frangelico, plus a chocolate and peppermint candy rim. Classic martinis of the James Bond mold are a study in simplicity, and this is not that. But if you do happen to be a fan of sugary and creamy dessert cocktails, then the ultra-sweet and rich Holiday Martini may still fit the bill.
19. Peppermint Beignets
If you have a hankering for some beignets while at Disneyland Park, head to the Mint Julep Bar, the shoebox-sized food and drink outlet that is tucked away in New Orleans Square. While the doughnut-like treats may not be on par with what you might find being fried up in the actual Big Easy or even at Ralph Brennan's Jazz Kitchen in Downtown Disney, they're still pretty good. The beignets here are served warm and, naturally, shaped like Mickey Mouse's dome.
This holiday beignet twist is the same as the standard version, only with a pink peppermint addition to the dusting of powdered sugar. The flavor addition is worth the minimal additional cost, providing a welcome minty touch that is just subtle enough. You'll also want to drop a buck on the chocolate dipping sauce which really brings out the peppermint and distracts from the dryness of the beignet.
While the sugar quotient didn't quite match the avalanche of powder that we were used to, that was a-okay for us — we were more than happy to avoid the mess (plus, pink isn't really our color). Just remember to enjoy your beignets (which are served three or six to an order, per tradition, in white paper bags) fast, as they lose steam quickly. Also keep in mind that if you want to wash your beignets down with a refreshing mint julep, they are of the non-alcoholic variety since you're on the dry (except for Club 33) side of Disney.
18. Nashville Hot Turkey Slider
Is there anything hotter on the dining scene right now than Nashville hot chicken? Disneyland, especially over in California Adventure, does a great job when it comes to keeping up with food trends. So, it's no surprise that a variation of the spicy bird showed up on the Festival of Holidays menu.
Available at the Winter Sliderland kiosk, the Nashville Hot Turkey Slider is really more of a tender with the standard accoutrements of white bread on the bottom and a couple of thin dill pickle slices on top. While we appreciate the seasonally appropriate poultry swap, the spice blend also seemed to deviate from the Nashville norm. With a slight tang and orange hue, it was as if the turkey made a stopover in Buffalo before landing in Music City. Still, we were fans of the heat and crunch and would gladly incorporate the tenders into our Sunday tailgate spread. We'll just have to bide our time until Disneyland ends up on Postmates.
17. Green Alien Holiday Macaron
Whatever you think about Disney food, there's no denying that the park goes all out when it comes to the visual appeal of its treats. Case in point: This ultra-adorable "Toy Story"-inspired macaron. It's the little touches that we really appreciate here, like adorning that smiley three-eyed Little Green Man with a Santa hat and a mini candy cane for some festive flair. Over the past few years, Disneyland has developed an obsession with the French confection known as the macaron. And while this might not be our favorite of the bunch as far as flavor goes (that honor goes to the jammy Raspberry Mickey Macaron from Jolly Holiday Bakery Cafe, if you're wondering), this one isn't so bad. The alien Santa delivers with a hand-piped marshmallow cream and chocolate ganache filling.
Just make sure to head to Tomorrowland (specifically Alien Pizza Planet) immediately after arrival. That's because, with all that Instagram appeal of the treat, this one is poised to be one of the most coveted food items during the holiday season. We expect that it will sell out early each night. Also, if you're considering bringing your macaron home, don't — that delicate meringue shatters easily, so take your picture and then allow yourself to enjoy the treat.
16. Holiday Brownie
Here's another dessert stunner that also happens to deliver on the flavor front. The Holiday Brownie, courtesy of the Jolly Holiday Bakery Cafe, is sufficiently fudgy, but a tad denser than your standard homemade squares. It's also a bit on the sweet side, but that's balanced out by the white chocolate mousse which reminded us more of a cream cheese frosting. (Perhaps it was the visual resemblance that threw us off.)
But it's all the colorful additions that adorn the Holiday Brownie that we really appreciate. The red and green sprinkles studding the white chocolate mousse, the slivers of white chocolate presents, and the Christmas tree cookie (which reminded us of a mini ice cream cone) all help to make this the dessert that keeps on giving. You may be fully capable of baking delicious scratch-made brownies at home, but let's face facts. Unless you can harness some pastry sorcery, it will likely be difficult to pull something this elaborate off.
15. Shrimp and Grits
Along with the Nashville Hot Turkey slider, Shrimp and Grits is the other dish that represents Kwanzaa on the Festival of Holidays lineup. It's currently served up at Holiday Duets, the first stop on the festival food tour, and it will definitely start your culinary journey on a high note.
The shrimp, true to their name, are on the small side, though rest assured they're cooked well and are rather flavorful. But it's the tiny pieces of andouille sausage that almost steal the spotlight, offering your palate a welcome trio of smoky, salty, and spicy.
It's the grits, however, that hold this Southern specialty back from greatness. While seemingly simple to whip up, the polenta-like cornmeal porridge is deceptively tricky to master. What's more, when it's not served up immediately, grits can start to get stiff. If you find that to be the case, make sure you give your grits a stir before you dig in, which will hopefully improve the texture.
14. Calamansi Melon Lemonade
If you're stopping by Holiday Duets for an order of Shrimp and Grits, make sure to also grab an icy cup of Calamansi Melon Lemonade to wash it down. The Filipino-inspired beverage is remarkably refreshing, especially in the afternoon when the mixture of sun and crowds can make the park seem a bit unbearable.
Thankfully, this isn't the achingly sweet, artificial-tasting concoction that tends to be the standard for theme park concessions. The lemonade portion of the beverage is house-made and its brightness is further illuminated by the addition of calamansi, a citrus fruit grown in the Philippines that Andrew Zimmerman aptly describes as a "cross between a lime and a tangerine." A hint of that sweet mellow melon helps round things out.
Calamansi Melon Lemonade is a non-alcoholic drink, but we're hoping that down the line the Disney mixology team gives this the margarita treatment with a tequila and triple sec addition.
13. Beef Pot Roast on Potato Roll
Pot roast is one of those vintage Americana dishes that seems to have fallen by the wayside in recent years. At its best, the braised beef is the perfect dish for winter — rich, hearty, and so tender you won't require a knife to enjoy it. But too often, the preparation often results in a dry, grey slab of beef that isn't worth revisiting (perhaps that's why it's popularity has suffered). But we're happy to report that the version offered at Winter Sliderland is a departure from that mediocrity and is a prime example of how pot roast should be served. The beef is meltingly tender and juicy, while a drizzle of horseradish cream gives the meat a sharp kick.
Our qualms here are with the bread. Similar to the bao situation, we found ourselves eating around the potato roll, which was too dense and chewy for our taste. With so much feasting throughout the day it was a fairly easy decision to sacrifice those extra carbs.
12. Mickey Gingerbread Cookie
This colorful cookie isn't to be confused with the Gingerbread Mickey, which is available at the Jolly Holiday Bakery Cafe and the Grandma's Recipes kiosk in California Adventure. While that treat is a hot commodity and has the edge in the looks department (picture your standard gingerbread man, but with mouse ears), the Mickey Gingerbread Cookie wins out when it comes to taste.
That's not to say that it doesn't also look snazzy, with those signature mouse ears coated in red and green milk chocolate. The cocoa addition is an improvement over the basic frosting on the Gingerbread Mickey, too. Meanwhile, the cookie base is also a cut above. It's moist and chewy, but most importantly, it doesn't simply taste of spice. While the signature root often gets lost in the shuffle, in this case, the ginger is prominent but not overpowering. Be sure to pick up a few for friends and family when you're heading out of either Disneyland Park (it's available at Candy Palace and Candy Kitchen on Main Street) or California Adventure, where you can find it at Trolley Treats on Buena Vista Street.
11. Loaded Latke
Enjoy this spin on the signature dish of Hanukkah at Smokejumpers Grill in California Adventure, but just remember to bring your own dreidel. The Loaded Latke (there are actually multiple potato pancakes in the order, by the way) is topped with a sizable portion of chopped smoked brisket that is more Texas barbecue than Bubbe. This is Smokejumpers, after all. While the meat is tender, we could have used some more firepower in the seasoning department, but the Silk soy yogurt-horseradish sauce at least brings in some heat and extra flavor reinforcement.
The latkes, however, are the featured attraction, and deservedly so. They are of the thin and crispy variety which happens to be our number one potato pancake preparation of choice. Despite being suffocated by that mound of brisket, they manage to maintain their crunch to the very end.
And, as a bit of a tip for those looking to hack their Disney food experience: If you loaded up the Winter Sliderland pot roast on top of the latkes it would be a pairing of Chip and Dale proportions.
10. Holiday Cake
During our Disneyland Halloween time food tour, we couldn't get enough of the churro-flavored Coco Cake which ended up being one of our favorites at the park. Thus, it shouldn't be a surprise that the Holiday Cake was on our list this time around. While it didn't quite rise to the level of its Pixar-inspired cousin, it definitely brought us some cheer.
If you're a chocoholic, this will definitely feed your addiction with multiple layers of moist devil's food cake paired with a luscious and colorful chocolate mousse. On the outside, there's a snow-white buttercream frosting. But that's not all. The cake is topped with a Christmas-shaped dollop of green buttercream and adorned with sprinkles for even more pops of color. It's a hefty portion for $5.99 and can easily feed two people. Grab a friend or loved one, head over to the Plaza Inn in Disneyland Park, and dig into a slice.
9. Holiday Snack Molecules
It makes perfect sense that the Holiday Snack Molecules is an Avengers Campus offering. The festive trail mix offers a little bit of everything — salty, sweet, sour, crunchy, chewy, savory, spicy — making the sum greater than its parts. That said, the Mexican hot chocolate caramel corn rises above the pack sd the Holiday Snack Molecules' Iron Man, if you will.
Beyond the taste, we appreciated the little things with this package, like having the name "Scott L." scribbled on each bag — in case you're not immersed in the MCU, that's a reference to Ant-Man's civilian name, Scott Lang — and the literal small touch of including itty bitty popped sorghum (essentially mini popcorn).
Available at Pym Tasting Lab (another Ant-Man reference), it is the only food item on the Avengers Campus that can be redeemed for a Sip and Savor tab. Grab one for yourself — it's an ideal on-the-go snack for grazing throughout your day at Disney — and a few more bags to give as gifts for the holidays.
8. Pork Broth Noodles
Speaking of blockbuster Disney franchises, Star Wars: Galaxy's Edge is essentially treated as its own separate domain at Disneyland Park. As such, you won't find any "official" holiday food items there. You will, however, encounter some festive eats in celebration of Life Day.
What's Life Day, you ask? Well, you obviously never bore witness to the 1978 television catastrophe known as "The Star Wars Holiday Special." That's either a good thing or a missed opportunity depending on your tolerance to kitsch. It features the debut of Boba Fett, plus Bea Arthur, Harvey Korman in Julia Child drag, and Chewbacca's son Lumpy, so it's an acquired taste.
Long story short, Life Day is basically Wookiee Christmas/Hanukkah/Kwanzaa/Diwali, and though "The Star Wars Holiday Special" doesn't establish whether Pork Broth Noodles is a dish traditionally served during the holiday, it absolutely should be because it's delicious. Like the "Holiday Special," the soup fuses some elements that probably shouldn't be collaborating, but in this case, they actually work well together. It's Japan meets Italy in a bowl with a rich tonkatsu broth (a popular porcine base for ramen), sliced pork (tender and lean), bok choy, and a yuzu tomato compote married with angel hair pasta and pesto. Head to Docking Bay 7 Food & Cargo and get slurping!
7. Braised Pork Belly Adobo
If you're a Festival of Holidays regular then you'll be pleased as wassail punch to know that this Filipino specialty is back on the menu. The dish, which is available at Holiday Duets, features an unctuous slab of just-fatty-enough pork belly that nearly melts in your mouth. Vinegar (along with soy sauce, garlic, and a slew of spices) is a key component in an adobo marinade. In this case, it strikes the perfect balance in the meal, being just present enough to cut through the richness of the meat without overwhelming it.
If the pork belly wasn't indulgent enough, it also lies on a bed of fragrant garlic fried rice. But in a land of corn dogs and ice cream topped funnel cake, this cheat day, or rather, cheat week, the combo doesn't seem out of place. At least you'll get more than enough steps in during your park visit.
If you're accustomed to a spiral-cut holiday ham and want to shake things up in the pig department, the Braised Pork Belly Adobo is a must-try.
6. Impossible Arepa Encantada
Over the last couple of years, Disneyland has taken a big swing with its plant-based offerings. In this particular case, they hit it out of the park. This inventive meatless option shares a Colombian connection with the Madrigals, the spotlight family in Disney's latest animated feature, "Encanto."
The arepa base is prepared with dairy-free queso-stuffed maiz and, while the "cheese" component is subtle, the disc is flavorful and sturdy without being too dense. Oftentimes, we must admit that arepas can be thick as a brick, but that was not the case here.
But it's the picadillo-like topping that really impresses. If it wasn't already known that this was Impossible Foods ground meat, we would have been none the wiser. The fusion of the faux-beef, chopped veggies, and gravy sings like a Disney musical interlude. We couldn't get enough of it. Hopefully, this becomes a regular option on the Disneyland food roster.
5. Holiday Sandwich
If this was a preview of our upcoming Turkey Day dinner, then we'll have plenty to be thankful for. Compiling Thanksgiving leftovers into a single, scrumptious bite isn't a new concept (everyone from Padma Lakshmi to Christina Tosi's Milk Bar has gotten in on the action). But this version, available at Jolly Holiday Bakery Cafe, is among the best we've had.
It offers a well-constructed contrast of sweet and sour cranberry sauce, savory stuffing, gravy, and roasted turkey. It's that last item that is often the downfall to such dishes. Turkey tends to dry out easily, especially when thinly sliced, but in this case, it was sufficiently juicy with a pleasant smokiness.
This sandwich strikes the perfect contrast between familiar and fresh. We were, however, torn on the bread, which was of the basic rustic white variety. On one hand, we enjoyed the simplicity of the choice. Yet we also couldn't help but think if ciabatta would be an improvement.
4. Honey Guava Pisco Punch
The Festival of Holidays menu crisscrosses Latin American and, thankfully, that includes a taste of Peru. Pisco probably isn't the first thing that comes to mind when you think of drinking at Disney, but this dynamic punch from the Merry Mashups kiosk is sure to make a lasting impression.
The South American brandy imparts a distinct fruitiness that compliments the thick, tropical guava nectar. The duo would have been just fine, but we didn't object to the spicy honey syrup that comes with just enough heat to linger on your tongue. Ginger helps to amp up that spice while acidic lime is called in to tone down the sweetness. Honey Guava Pisco Punch fires on all cylinders and it's perhaps the most memorable cocktail we've ever sampled at California Adventure.
This can be enjoyed as a mid-day quencher or a festive nighttime cocktail, plus it will help you drown your sorrows when you can't snag a boarding group spot for Rise of the Resistance (we write from experience).
3. Candy Cane
You've probably hung, then eaten a candy cane before … but likely never one quite like this. The Happiest Place on Earth is one of the very few spots in the country that continues the old-fashioned tradition of making hand-pulled candy canes. The laborious, multi-hour process, which you can observe first-hand at Candy Palace and Trolley Treats, results in a fabulously crunchy peppermint twist that is in a whole other league than the stick-to-your-molars candy canes you're probably used to.
This extra special treat could easily be at the top of this list, but a couple of issues hold it back. With a price tag of nearly $20, it's a bit of an investment, though the candy canes are rather hefty, with each weighing in at around 5.25 oz. If cost isn't an issue, then be prepared to arrive at Disneyland early and wait in line. Because the process to make them is so complicated, daily production is limited, and "limited" is a buzzword that tends to get Disney fans salivating.
If you make the cut, you'll receive a wristband and be asked to return at a later time. Also, note that production alternates between Candy Palace and Trolley Treats, so if you don't have a Park Hopper ticket, there's a 50-50 chance you won't have the opportunity to buy one. Make sure to have a backup plan, though rest assured that there are plenty of other sweets to choose from.
2. Esquites Carnitas Mac & Cheese
Disneyland's Pan-Latin food offerings are extensive and while we've mentioned a few of our favorites for the holidays, the Esquites Carnitas Mac & Cheese simply can't be beat. If you haven't had the pleasure of becoming acquainted with esquites, it's essentially elote (or street corn) in a cup, blending corn kernels, cheese, mayonnaise, and a hit of chili. Those elements show up here sans the mayo, but the queso (a blend of Monterey Jack-like Oaxaca and cotija, which is reminiscent of Parmesan) successfully fills that creamy void — and quite frankly, the mayo isn't needed.
Too often, mac & cheese is plagued by mushy pasta, but in this case, the elbows were pleasantly al dente. They're also ridged, allowing the cheese sauce to achieve maximum clingage. We're always a fan of a bread crumb topping, but it turns out the combination of spiced puffed rice and crispy corn kernels does an even better job of providing crunch and texture. You'll also encounter tiny bits of chili pepper with each bite that offer just not enough heat without overwhelming the dish.
And then there are the juicy strands of carnitas, which may seem like overkill, but we weren't complaining, not with pork that is this tender and delicious. This is truly comfort food at its finest.