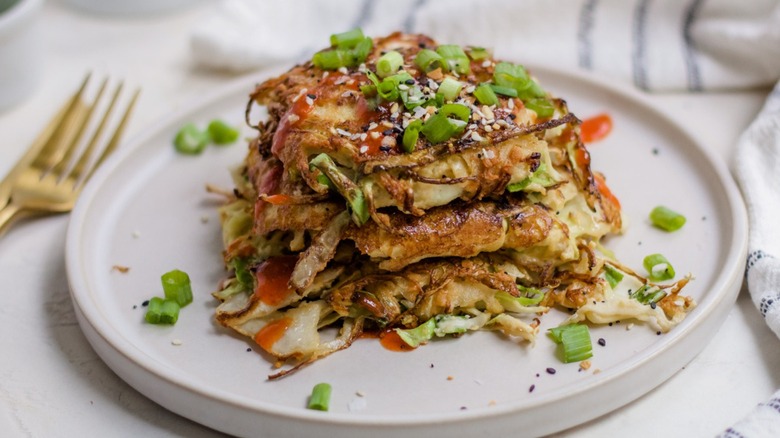 Ever walk through your supermarket's produce section when they're selling bags of pre-shredded cabbage and think to yourself, "What would I ever do with this much cabbage?" Well, one delicious possibility comes to you today from recipe developer and dietician Jaime Bachtell-Shelbert, who blogs at Wholly Nourished. "Cabbage pancakes are served at some Japanese restaurants," Bachtell-Shelbert explains to Health Digest, and what a brilliant way they are to make use of cabbage, which is, as Bachtell-Shelbert notes, "packed with vitamins and minerals, most notably vitamin K, vitamin C, and folate" as well as "antioxidants that fight inflammation." Moreover, cabbage is a good source of fiber, she adds, and that helps keep your digestive system running smoothly.
When Bachtell-Shelbert stumbled on a particularly delightful version of cabbage pancakes while dining out in Cleveland, Ohio, this past summer, she felt compelled to recreate it. As it turns out, the recipe for cabbage pancakes that Bachtell-Shelbert came up with is as easy as it is delicious and authentic-tasting. "This
requires only a few simple ingredients," Bachtell-Shelbert explains. "It also whips up really quickly. Who doesn't love a quick dish? Add a side of
edamame
, and you're all set."
Gather your ingredients for cabbage pancakes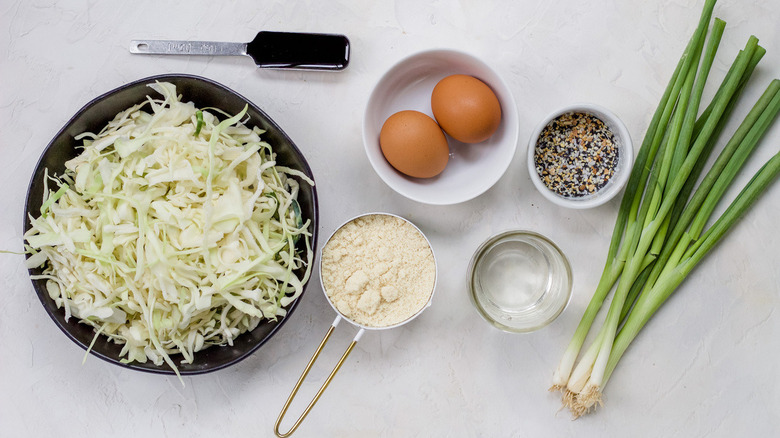 Bachtell-Shelbert's recipe for cabbage pancakes starts with a very light and gluten-free pancake batter base, consisting of three-quarters of a cup of almond flour, two eggs, half a cup of water, and a tablespoon of soy sauce or tamari (a gluten-free substitute for soy sauce, which may contain wheat), which lends that umami punch. Then, of course, you will need eight ounces of shredded cabbage, which as noted above, you can purchase pre-shredded in most supermarkets. Also pick up some scallions, which lend a sweet and mildly pungent flavor. The scallions will need to be chopped, but Bachtell-Shelbert will walk us through that below.
To pan-fry these cabbage pancakes, all you will need is two teaspoons of coconut oil. However, for an extra kick of flavor, you can feel free to add a couple of drops (that's really all it takes) of sesame oil to the pan. In addition, Bachtell-Shelbert recommends sriracha, sesame seeds, and more chopped scallions for topping your cabbage pancakes, but you can feel free to get creative with your toppings.
Before we start mixing stuff together, let's prep the scallions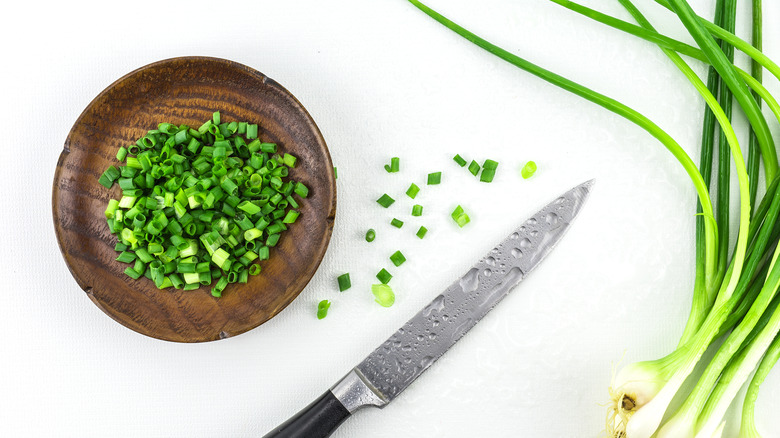 If you have purchased your cabbage pre-shredded, then the only significant prep you'll need to do for this cabbage pancake recipe is to chop up your scallions. To do that, first wash and pat dry your scallions, and then slice off the root portion (the root is the small white bulb at one end of each individual scallion, along with thin white shoots growing from it). Discard this piece. Then, simply thinly slice the scallions crosswise.
Now, we mix together the scallion pancake ingredients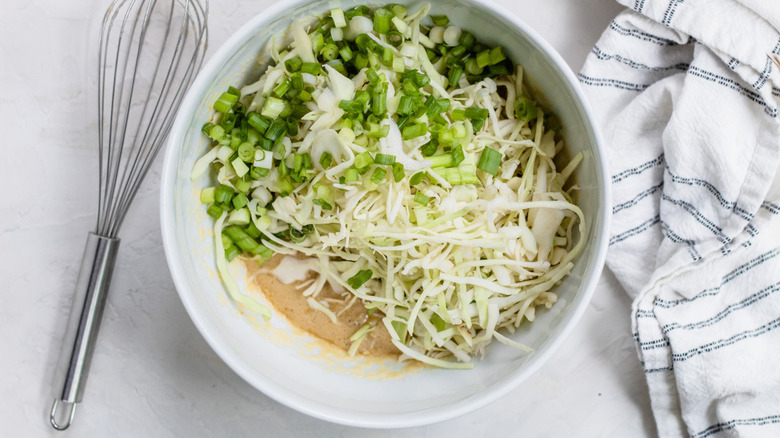 Once you've prepped the scallions, it's time to mix the ingredients together to form your cabbage pancake batter. Start by cracking the eggs into a mixing bowl, then add the water, the soy sauce or tamari, and the almond flour. Use a whisk to break up the eggs and otherwise combine these ingredients. Then gently fold in your shredded cabbage and your thinly sliced scallions until the cabbage and scallions are thoroughly mixed throughout the pancake batter.
Form the cabbage pancakes and pan-fry them to crispy perfection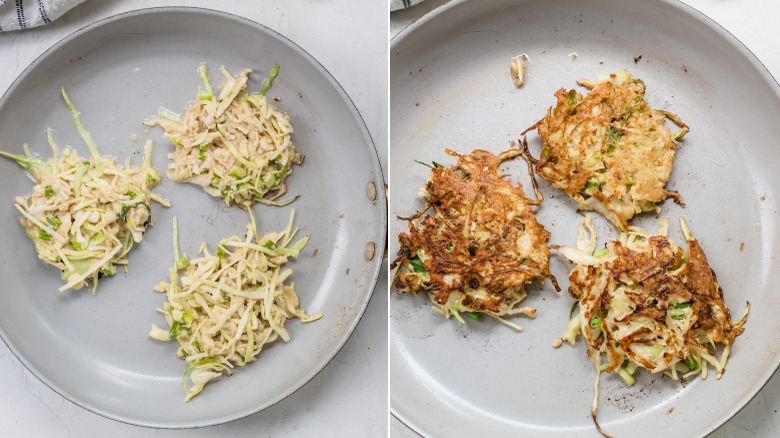 Assuming that, like Bachtell-Shelbert, you're working with a medium-sized skillet, you're going to be pan-frying these cabbage pancakes in two batches. Start your first batch by heating up half of the coconut oil (and a drop of sesame oil if desired) over medium heat. When the oil is sizzling, you're going to start forming your cabbage pancakes and dropping them into the pan. To form your cabbage pancakes, you can use a half-cup measuring cup as a "mold." Simply pack the cabbage pancake mixture into that half-cup measuring cup, and drop the resulting pancake (which may seem more like a "clump" to you at this point) into the skillet, leaving room around each one. Giving the cabbage pancakes a bit of space will help them to crisp up. Use the back of the measuring cup to flatten the pancakes as shown.
Cook each cabbage pancake on each side for three to four minutes until golden brown. Repeat with your second batch, and then serve your cabbage pancakes with sriracha, sesame seeds, and some additional sliced scallion.