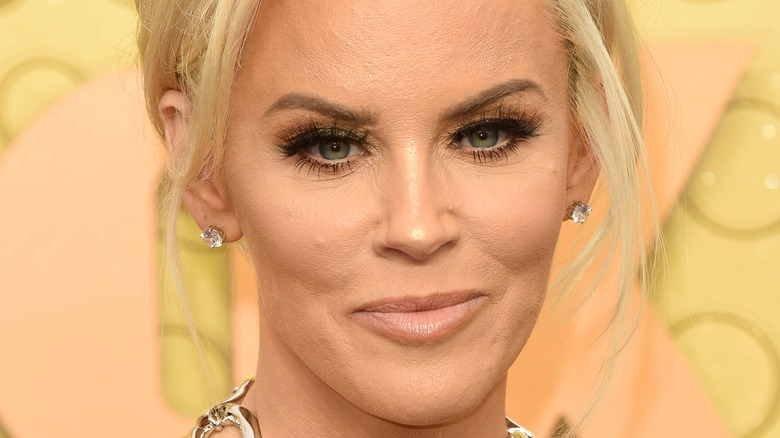 From her photos in the pages of Playboy magazine to her hosting duties on trashy MTV dating show "Singled Out" to her role in Trey Parker and Matt Stone's bawdy comedy "BASEketball," Jenny McCarthy appeared to spend her 1990s heyday going out of her way to offend her strict Catholic family. Nowadays she's managed to offend quite a few more people.
Yes, thanks to her anti-vaxxer beliefs and championing of disputed remedies, the one-time Playmate of the Year has become a very different kind of controversial poster girl in recent years, with The New Yorker writing, "By preaching her message of scientific illiteracy from one end of this country to the other, she has helped make it possible for people to turn away from rational thought."
What's more, she also finds the time to get into it with other public figures. From public feuds to one-sided battles to deeply uncomfortable interactions, Jenny McCarthy sure does seem to have a gift for ending up in drama with other celebrities.
Mariah Carey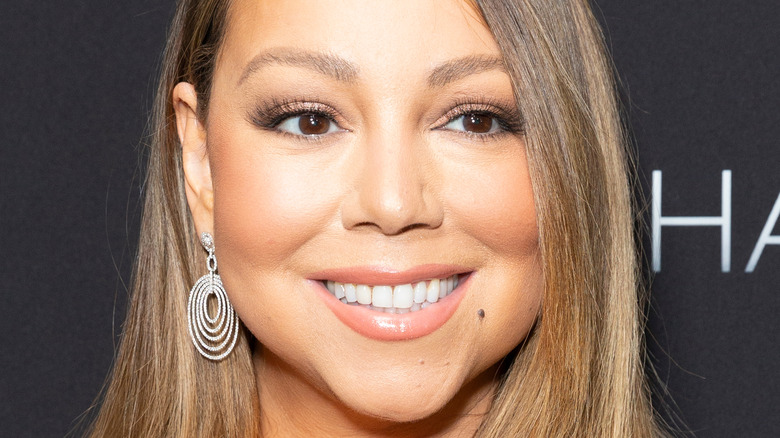 In 2016, Mariah Carey attempted to welcome in the New Year with a medley of her greatest hits on "Dick Clark's New Year's Rockin' Eve" only to become plagued by technical mishaps. Initially, co-host Jenny McCarthy felt sorry for Carey's plight, telling listeners of her Sirius XM show (via ET), "It was just, it was so bad, and then for a moment I said, 'Take a step back, Jenny, and try to find some empathy right now.' And I did." However, all empathy went out of the window when she learned the chart-topper had called out the show's producers for using the production mishaps to "humiliate" her.
"Now I do understand our egos of course want to blame everyone but itself for mistakes, but I literally had a visceral reaction to her saying that Dick Clark Productions did this on purpose and for ratings," an enraged McCarthy said. She then criticized Carey for failing to do a soundcheck beforehand, argued her octave-spanning voice isn't what it once was and claimed she was simply too far away from the prompters to see that they were actually working. Carey did take to Twitter after the disaster to write, "S*** happens. Have a happy and healthy new year everybody! Here's to making more headlines in 2017."
The multiple Grammy winner has never responded to McCarthy's shade-throwing directly, but one could argue that her silence is a zinger in itself. No, it doesn't sting quite like "I don't know her," but it's something.
Lala Kent
Jenny McCarthy certainly didn't hold back when the subject of Lala Kent came up during her appearance on "Watch What Happens Live" in 2016. "A full-blown hooker" was how the guest described the "Vanderpump Rules" star while discussing a trip to Italy which Kent had initially said was a modeling job.
McCarthy told host Andy Cohen, "I'm sorry, but the girls that go on trips with these men that have tons of money and these young girls; it's just like those websites, you know, those sugar daddy websites. That, to me, is a form of prostitution. And she says she didn't spread her legs. Everybody else did except for her. Sure, Lala. Sure."
To her credit, Kent appeared to take the jibe in good humor, responding on Twitter (via Bravo), "Shoutout to Jenny McCarthy for shoutin' me out on #WWHL and shoutout to Hugh Hefner for putting that b**** on the map." And the reality star seemed to have forgotten all about the judgmental talk three years later when she agreed to appear on McCarthy's Sirius XM radio show. On this occasion, the couple engaged in the more wholesome topics of having a baby and getting hitched.
Tara Reid
In 2016, Tara Reid appeared on Jenny McCarthy's Sirius XM radio show with the sole intention of promoting "Sharknado 4." Indeed, the actor certainly wasn't impressed whenever talk turned to matters outside the so-bad-it's-good Syfy franchise, something the host appeared determined to do regardless.
Things got off to a frosty start when McCarthy began discussing Reid's recent appearance on "Marriage Boot Camp," with the guest responding (via EW), "It's not worth the time to talk about … Babe, I asked you, please let's not talk about this show. We're all here about 'Sharknado.'" Switching gears, McCarthy asked how she got in shape for the B-movie, only for Reid to sardonically reply, "It's not like you really need to get into shape. It's 'Sharknado.' They're fake sharks."
When McCarthy brought up the subject of any future plastic surgery, Reid snapped back she'd clarified "about 100 times" she has no further plans to go under the knife which is when matters got really ugly. As the "Josie and the Pussycats" star left the chat abruptly, McCarthy said, "Good luck to you, too, and I'm so excited about 'Sharknado' and I hope you stay married … I hope your knees get a little wobblier than they already are." Reid fired back with a quip about the host's breasts before sarcastically complimenting her advice-giving skills. In a statement given to E! News, Reid's rep claimed her client had been bullied during the interview and accused McCarthy of shifting the "conversation for her personal gain."
Amanda Bynes
Jenny McCarthy versus Amanda Bynes must surely go down as one of the most quickly-resolved celebrity feuds of all time. In 2013, a tiff between the two materialized when the former shared a post on Twitter which stated that the former Nickelodeon star's Manhattan apartment was being visited by cops. "I hope they get her help," McCarthy tweeted (via E! News), adding, "Enough of this circus."
But it turns out that there wasn't actually any circus on this occasion, and an enraged Bynes was more than happy to put the "Scream 3" star straight. "I need help? What are you talking about?" Bynes replied (via E! News). "Aren't you 50 years old? I'm 27, you look 80 compared to me! Why are you talking about me?" The "She's the Man" actor then called McCarthy "ugly" before telling her in no uncertain terms to shut up.
Instead of exacerbating the situation, McCarthy quickly apologized before insisting that she was simply looking out for the former child star. A forgiving Bynes soon responded, "Thanks! I'm sorry I offended you. You're beautiful! I was lying! I'll delete our tweets!"
Amy Schumer
Amy Schumer didn't appreciate Jenny McCarthy being so rude to Tara Reid on her Sirius XM show in 2016. The "American Pie" star walked out of her interview with the host after being pressed on subjects she'd explicitly said were off limits, and while appearing on "Opie with Jim Norton," the "Trainwreck" actor argued that things went way too far.
"It really seemed like she was just bullying her," Schumer said. "You know what it's like, people come in and they'll be like, 'Hey can you not talk about this thing' and you'll be like, 'OK' and sometimes you'll f*** with them, but she didn't need to do, I don't know. … I mean [to be like], 'You're not walking out of here until I hurt your feelings.' Like just what are you doing?" Reid later told TooFab that Schumer was "a cool girl" for speaking out on her behalf.
Schumer also revealed on "Opie with Jim Norton" that she has something of a personal beef with McCarthy after an incident in which "The Masked Singer" judge was rude to one of her friends. The comedienne revealed that she thought of taking aim at the former Playmate in retaliation on the third season of "Inside Amy Schumer" but ultimately decided to stick to her own rule: "I don't know Jenny, I've never met her — I'm sure she can be charming like when it behooves her. But be nice to other women, especially other women in this disgusting f***ing business, that's all I can say."
Jim Carrey
In 2012, Jenny McCarthy told Howard Stern (via Us Weekly) her former longterm boyfriend Jim Carrey had avoided seeing her son Evan following their split. The former Playmate claimed she'd asked her ex to get back in touch with her only child, whose father is actor/director John Mallory Asher, several times without any luck.
McCarthy added, "I tell [Evan] that someday you'll cross paths, meet again … it's hard. He's been in therapy. It's a process, he's working on it." The "Dirty Love" star admitted she still loved and respected Carrey, but this sentiment wasn't exactly returned in the rubber-faced actor's response. In a statement published by E! News, Carrey wrote, "I will always do what I believe is in the best interest of Evan's well-being. It's unfortunate that Evan's privacy is not being considered. I love Evan very much and will miss him always."
Interestingly, McCarthy ended up defending her ex when Shia LaBeouf called his parenting skills into question on Twitter two years later (via E! News). In retaliation for a jibe the comedian made at the Golden Globes, the "Transformers" star claimed Carrey had also abandoned the daughter he shares with first wife Melissa Womer. But while co-hosting "The View," McCarthy said (via Us Weekly), "Jim is a great father. He loves Jane more than anything in the world. Shia did apologize and Jim did take it, but the whole thing is, do not bring our children into it."
Charlie Sheen
It's fair to say Jenny McCarthy didn't handle the news that Charlie Sheen was HIV-positive in a particularly sensitive manner. Shortly after, she told her Sirius XM radio show listeners (via Salon) the actor should have disclosed this information much earlier, referring to the fact the pair shared several on-screen kisses in "Two and a Half Men": "I feel like in playing a love interest, you would think there would be some type of, I don't want to say criminal issue, but I don't even know how to feel about that."
McCarthy went to wonder why he wouldn't have to disclose his HIV status to production when she had to disclose that she gets cold sores. This is despite the fact that unlike herpes, HIV can't be passed on simply via kissing. The proud anti-vaxxer did later acknowledge this but maintained that there was "a double standard in the industry."
As you'd expect, Sheen was more than happy to set the record straight while appearing on KIIS 1065's "The Kyle & Jackie O Show," and in a typically left field way. He said (via News.com.au), "Jenny McCarthy should go back into her past and murder her math teacher, you know why? Because her simple math skills are s*** … She's like, 'I kissed him! I touched him!' And I was like, 'B****! Your math sucks, I didn't have it then!'"
Julie Chen
Jenny McCarthy's appointment to daytime talk show institution "The View" in 2013 wasn't exactly greeted with universal applause. Pretty much the entire scientific community spoke out about the hiring due to the star's anti-vaccine beliefs. The Every Child by Two group even wrote to producer Bill Geddie and host Barbara Walters to argue her "unfounded claims that vaccines cause autism have been one of the greatest impediments to public health in recent decades" (via The New York Times).
McCarthy's uninformed medical opinions aside, many still felt she wasn't an appropriate casting. Julie Chen, a regular of main rival "The Talk," was one such dissenting voice, telling Howard Stern the show's newest recruit was another sign it had lost its way. "Because what made 'The View' so popular and so good was that you had five different women from five different walks of life discussing politics," she began. "What put them on the map and made them good and famous, they don't do that anymore. No one wants to hear Jenny McCarthy talk about the New York mayoral race or politics."
Chen, whose sentiments were echoed by colleague Sharon Osbourne, added, "I think they were trying to lighten the mood at the table — more gossip, more fun, more laughs … what happened was, in my opinion, 'The View' doesn't know what it is now." Of course, McCarthy ultimately didn't get much chance to talk about anything. She was given the boot after just a year.
Jim Jefferies
The dominant reason why Jenny McCarthy has become something of a punchline, particularly for those on the stand-up circuit, has been her anti-vaxx stance. McCarthy believes her son's autism was caused by vaccines. Jim Jefferies sure didn't pull any punches when he approached the subject on his 2016 Netflix special "Freedumb."
The Aussie brought the house down while reflecting on a conversation he'd had with his then-girlfriend Kate Luyben about inoculating their son Hank (via Scraps from the Loft): "And I said, 'Why isn't he vaccinated?' And she goes, 'I think it leads to autism.' And I went, 'Oh, what medical evidence do you have that it leads to autism?' And she said, 'Jenny…' And I said, 'Don't even f***ing say 'McCarthy.' Don't even say it, 'cause that's not evidence, that's Jenny McCarthy." Jefferies went on to say that he had nothing personal against the star but that he preferred not to get his medical advice from "a comedian and a Playmate." In the same special, Jefferies talked about being diagnosed with autism in his 30s.
On an episode of "I Don't Know About That with Jim Jefferies," the titular host spoke with pediatrician Dr. Faith Hackett about vaccines, who confirmed that the purported link between autism and vaccines has "been debunked." Dr. Hackett also name-dropped Jenny McCarthy when referencing the anti-vaxxer movement.
Philip Labonte
You wouldn't expect the worlds of former Playmate-turned-reality TV regular Jenny McCarthy and the frontman of Springfield's premier death metallers All That Remains, Philip Labonte, to collide. But the former's fervent anti-vaccine beliefs ensured that they both appeared in the same news story in 2015.
Labonte, more used to beefing with bassists about gun control, told Radio.com (via AntiMusic) that he pointed the finger for the rise of the anti-vaccine movement squarely at the star of "Santa Baby 2: Christmas Maybe." The rocker said, "It's her fault! She's the one who started the whole 'You're gonna get autism' thing. So, nice f***in' job, Jenny! But, you know, it's science. It's a real thing. It's like this: polio isn't a problem anymore. You know why? Because of the polio vaccine!"
And Labonte, whose band released a 2018 album title "Victim of the New Disease," also suggested that the likes of McCarthy should be hit where it hurts if they refuse to have their kids inoculated. "I heard someone on the news this morning suggest a fairly realistic solution: if you don't want to vaccinate your kids, they can't go to public school," he said. "I would take that a step further, and say if your kids aren't going to public school, that should be reflected in your taxes."
Christina Applegate
Jenny McCarthy didn't exactly cover herself in glory when she grabbed Christina Applegate for a chat on the red carpet while covering the 2019 Emmy Awards for Fox. Firstly, there was the question which suggested that the interviewer, or more likely her producers, hadn't done the research on the "Dead to Me" star (via HuffPost).
McCarthy initially stepped in it when she asked Applegate, "I know you were nominated for 'Friends' being a guest star role, tonight you're nominated for your show, first time, right? Lead Actress?" Of course, she'd already received two nods in the category of Outstanding Lead Actress In a Comedy Series for another sitcom, "Samantha Who," as she was keen to point out during the painfully awkward chat, adding, "But that's okay. We don't have to talk about that." To add insult to injury, Applegate also won Outstanding Guest Actress in a Comedy Series for her work on "Friends." On top of all that, McCarthy implied she was significantly younger than Applegate, when in reality, there's only a year between the two. Unsurprisingly, this bonkers interaction got a lot of attention on Twitter.
Now, we are not body language experts or anything, but based on everything Applegate said and did, we'd bet a buck or two that she was not happy with the TV host. For starters, when McCarthy suggested this was her first Lead Actress nod, the "Anchorman" actor, as The Cut put it, "responds by looking like she wants to die."
Melissa McCarthy
File Jenny McCarthy and Melissa McCarthy alongside the likes of Berry Gordy and LMFAO's Redfoo, Jason Sudeikis and George Wendt, and Nicolas Cage and Sofia Coppola on the list of Hollywood celebs you'd never have guessed were biologically related. Yes, the two McCarthys are cousins, a fact that Jenny was more than happy to show off with an Instagram throwback snap in 2015.
The "John Tucker Must Die" star also stood up for her Oscar-nominated relative two years earlier following a scathing New York Observer piece about "Identity Thief" where writer Rex Reed said a "tractor-sized Melissa McCarthy" is a "gimmick comedian who has devoted her short career to being obese and obnoxious with equal success." "That's obnoxious in itself," Jenny said to E! News when asked about the review. "For anyone to attack like that, it's just wrong and hurtful, and it doesn't do anyone any good—not even Rex Reed, you know?" And Jenny even gave her cousin her first official acting gig with a small part on her eponymous sketch show.
But according to reports, things may not be as pally between the pair as Jenny likes to make out. An anonymous insider once claimed to Star that the Playmate once told Melissa she'd never make it in Hollywood due to her size — a story which Jenny told People was total bunk. The "Bridesmaids" actor then added fuel to the fire when she admitted to Howard Stern (via Us Weekly) that she'd be skipping Jenny and Donnie Walhberg's nuptials as they both live in "opposite worlds."
Rhea Durham
Speculation about how Donnie Wahlberg's family feels about the New Kids on the Block star's wife Jenny McCarthy has been rife ever since the pair first got together. Brother Mark Wahlberg got tongues wagging when he failed to show up for the pair's wedding in 2014. As ET reported, he maintained that he was too preoccupied with his daughter's birthday to attend. But it's the "Three Kings" star's wife who appears to have made her dislike most explicitly.
According to the Boston Globe, Rhea Durham took to Twitter in 2015 to post, "Don't you think after age 25 it might be strange for a woman to dye her hair pink, purple, green or any color of that sort??? #needattention?" It didn't take Jessica Fletcher to work out that the inspiration for such a damning tweet was her sister-in-law who happened to be sporting a striking pink hairdo at the time.
Donnie sure knew who was being referred to, responding to this obvious bit of shade-throwing by tweeting, "Imagine the depth of pain somebody must be in, to be unkind to another human being." Durham later said sorry for the unkind message, which she also deleted, but by then she'd once again sent the gossip sites into overdrive.
Derek Peth
Jenny McCarthy made herself another famous, well, semi-famous enemy in 2016 when she insulted a tearful eliminee from "The Bachelorette." No stranger to the concept of dating shows, the former "Singled Out" host tweeted, "Is it wrong that I have a maniacal laugh while watching Derek cry?"
McCarthy was referring to Derek Peth, the Season 12 contestant who was sent packing after a two-on-one date when Jojo Fletcher realized she'd rather spend more time with love rival Chase McNary. Derek couldn't hold off the waterworks during his exit, a fact played upon by mischievous producers who played "Don't Cry for Me Argentina" over all his tears (he was in the South American country at the time).
Peth appeared to take all the mockery in good humor, tweeting, "When a man cries in Argentina … a unicorn is born" and using the hashtag #mantears. However, he did take umbrage with McCarthy's remark, firing back that her enjoyment of watching him blubber was "as acceptable as your fight against vaccines."