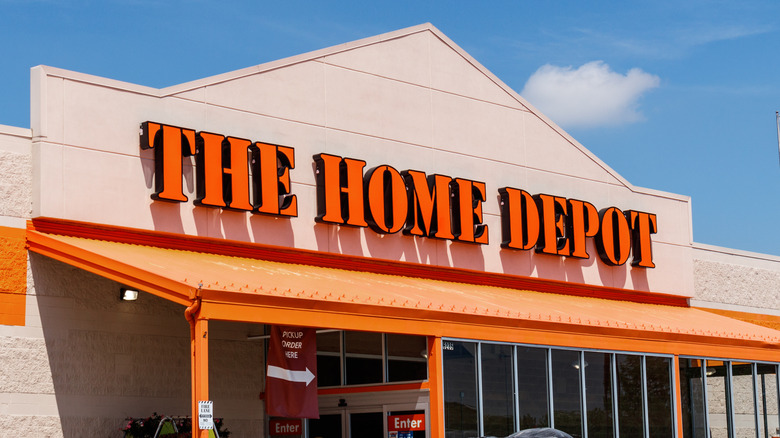 Whether you're tackling a big home repair project, itching to start your own garden, or hoping to invest in some new appliances, there's a good chance Home Depot has whatever you could possibly need. But if you're not taking advantage of all the store has to offer in terms of savings and other hacks, you might be missing out on the best deals — and the most enjoyable shopping experience.
Browsing a Home Depot store or perusing the website can feel a bit overwhelming, though. After all, the shelves — both real and virtual — are filled to the brim with different products. And while it's likely you won't ever need to purchase everything, narrowing the possibilities down can definitely help you stay on track and save a few bucks while you're at it. From money-saving opportunities like coupons and rebates to simple hacks that can help both novices and pros alike, Home Depot makes purchasing tools, decor, and other supplies a breeze. All you really need is to figure which mistakes you might be making when you're shopping at Home Depot, and you're set.
Buying tools instead of just renting them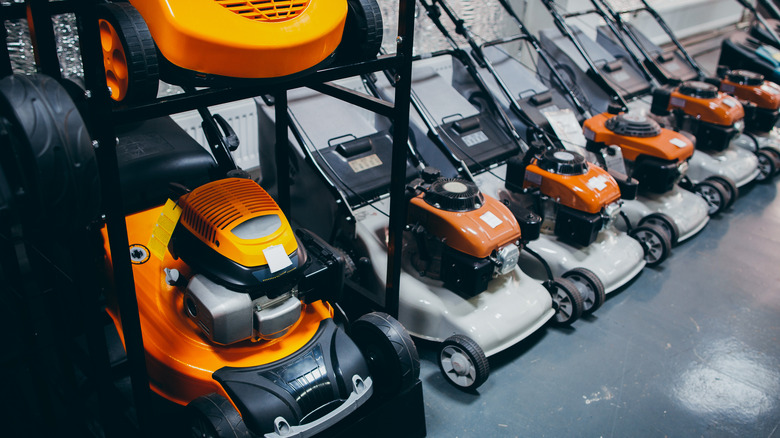 Though you might need a specific — and expensive — tool to complete a project, it's not always worth it to buy it outright. Unless you're expecting to use whatever product you're purchasing enough times to make it worth the cost, you might be better off renting equipment. Thankfully, both indoor and outdoor tools are available for rent from the Home Depot website. You'll find everything from classic power tools (like saws and handheld sanders) to larger equipment (like tractor loader backhoes and scissor lifts). Even if you're just looking for something as simple as a utility vacuum or lawn mower, Home Depot has your back. No job is too small — you can always find a tool that can help make at-home projects easier.
When you visit the Home Depot tool rental page, you'll be able to see just how many different tools are out there. Then, once you've selected the type of tool you wish to rent, there are a few steps you'll want to take to ensure the simplest rental process possible. The Home Depot website recommends that you arrive to pick up your rental with a valid ID (like a driver's license, passport, or other identification) at the ready. In addition, make sure you have a credit card to pay for the rental deposit. Following these steps will help make renting any tools a breeze.
Not checking for rebates
Similar to coupons, rebates allow you to save money on specific products a store offers. And, in the case of Home Depot, anyone with Internet access has hundreds of rebates right at their fingertips. All you have to do is visit the Home Depot rebate center: your go-to place for searching for rebates at your local store. When you reach the webpage, you can enter your city or zip code to see what rebates are available nearby. From there, a list will appear with certain items that offer rebates.
Of course, it's important to not confuse a rebate offer with a classic coupon. While coupons give you a discount on a product right as you buy it, rebates often provide a partial refund after you've already paid. Per Inc., you'll typically need to fill out a form in order to actually receive your rebate. This process might also include proof of purchase, too — so it's always important to keep your receipts or a tag from the item. To help make things simpler, though, the Home Depot rebate center will give you a download link to any rebate form you might need to complete (right next to each product with an available discount, no less). So while rebates can include a few extra steps, they're a helpful way to save cash on larger, more expensive items.
You pay full price for paint
Buying paint for any project can get expensive — but there's a Home Depot shopping hack that can save you cash when you need to buy gallons and pints of paint. The Home Depot "oops" paint section could very well become your DIY saving grace. Essentially, this section of Home Depot includes various paints that the store has too much of or, per Hunker, were mixed incorrectly (resulting in a color a customer did not want).
Gallons of "oops" paint will typically be offered at $5 or more with pints as low as $1. If you're not particularly picky about what color paint you want — or love a good DIY adventure — the "oops" section is a great place to start your painting journey. At the very least, you should consider browsing this section of Home Depot to see what colors are available at a major discount. You never know what stunning colors of paint you might find if you give it a chance.
Hunker also suggests taking the time to look at the label before deciding on a purchase. Because "oops" paint can come in different finishes as well as colors, you want to double-check that you're choosing the right type and color of paint for your project. Better safe than sorry!
You don't check out the Special Buy of the Day
Though you might be headed into Home Depot for a specific item, it never hurts to check the store's Special Buy of the Day. Found on the Home Depot website, this page allows you to see all the deals available for a specific day. And while it's easy to assume this page would only include a few products, you might be surprised with just how many options there are. In fact, this particular page is split up into categories — so you can browse different sections for the best deals.
When you visit the Special Buy of the Day page on the Home Depot website, you'll find categories like "Hand Tools" and "Automotive Tools," among others. Each of these sections has multiple daily deals listed in them, too. Whether it's a small or large tool, there's a chance you might find exactly what you need at an amazing price.
It's important to remember, though, that these deals are only available for the day they're shown. The Home Depot website even has a countdown clock on the page so you know exactly how long you have before the specific discounts disappear. If you see something you definitely need (or want) for a project, don't hesitate to snag it before it goes back to full price.
You're not taking advantage of their Low Price Guarantee
One of the easiest ways to ensure you're getting the absolute best price on any item at Home Depot is by taking advantage of their price guarantee. If you peruse the Home Depot website, you'll find that the store offers a "Low Price Guarantee" for customers. Essentially, if you find a product at Home Depot that you'd like to buy but it's cheaper from a different retailer, Home Depot will match that price — so you can always expect the lowest prices.
And luckily, this includes both ordering online and in-store shopping. For those ordering items from Home Depot online, there are a couple of things to check so that you can ensure you'll get the lowest price. First, the item from a Home Depot competitor must be able to be shipped to you. In other words, if you find a product at a lower price from somewhere other than Home Depot, you have to actually be able to order it and have it shipped to you. Second, Home Depot will only accept price adjustment requests from whoever actually purchased the item. So, no sending in your partner or friend to fight for a lower price.
Of course, there are a few exceptions to the "Low Price Guarantee." This includes seasonal and clearance items, open-box products, rebates or one-time-only offers, and deals from membership-based retailers — among others. To double-check if your purchase qualifies or not, you can always check the Home Depot website.
You haven't mastered the price tag hack
Many retail stores have specific codes they use to label items in their system — including Home Depot. Per The Krazy Coupon Lady, one of the easiest ways to check if you're getting the lowest price on a product is by learning what certain price tag codes mean. If you take a close look at some of the numbers on any item, it can give you a big clue as to whether or not it's worth purchasing at that time.
Say you pick up a product and the price ends in a three. That means that this item will not get any cheaper. What you see is the lowest price. In fact, once a product is marked at this price, it will be taken off the floor (and either thrown or given away) after three weeks. If you see a product like this, you should probably buy it before it's gone for good.
Understanding what prices that end in three mean isn't the only trick, though. The Krazy Coupon Lady also recommends keeping an eye on items that have yellow clearance labels on them. Specifically, you should look for these yellow labels that end in six. This means that the price will reduce again after six weeks. If you're not sure about whether or not a product is worth it, you will have a bit more time to get a lower price.
You're not using coupons
This might seem like a no-brainer, but heading to Home Depot without having perused the site for available coupons could end up costing you major savings. Thankfully, it's incredibly easy to check for deals on your computer or phone. The Home Depot website has a specific page dedicated to coupons. And often, you'll find a coupon that applies to any in-store purchase. So no matter what you might be shopping on a given day, you can usually save money.
It's important to note that many Home Depot coupons are available when you sign up with your email and phone number. This could be for the general store or specific offers related to style and decor or gardening. Home Depot also includes their rebates and Special Buy of the Day offers as part of their coupon page — so make sure to check in those sections, too. Regardless of your interests, though, you can typically find a deal that correlates with the products you need.
You're throwing out your receipts
It's often tempting to throw away our store receipts after you've purchased an item, but it's important to resist the urge in the case of Home Depot products. Per the Home Depot return policy, the store will take your purchase back if you aren't fully satisfied — but you do have to have proof that you bought it. For this, you'll need a copy of your receipt (or shipping confirmation, if you shopped online).
Say you accidentally misplaced your receipt, though. Is all hope lost? Are you stuck with a product you don't really want? Don't fret — there's a chance you're okay. Sometimes, Home Depot can actually find your purchase in their system, as long as it hasn't been more than 30 days. You might be out of luck if you didn't use a debit or credit card, though. So if you pay with cash or check, make sure you hold onto those receipts.
When you go to return an item at Home Depot, make sure you have the card you used to purchase the product and a form of identification. If you paid with a card, the return can go back directly onto it, exchanged for something else, returned as cash, or given to you as a store credit. If you use a store credit or gift card initially and then want to return your item later, though, the money will be given to you in the form of store credit — and not directly to you via card or cash.
You haven't signed up for the Home Depot Garden Club
For those who are constantly at Home Depot securing items for their garden, greenhouse, or backyard, the Home Depot Garden Club might be the perfect money-saving opportunity. In fact, when you sign up for the Garden Club, you'll instantly receive $5 off — sent to your email inbox. This "club" is essentially a place to get all the information about discounts in relation to gardening supplies — not to mention, some extra-helpful tips for making the most of your plants.
The Home Depot Garden Club is a great place on the retailer's website to get all the advice you might need while also saving money. You can even use the Home Depot Garden Club Calendar to plan out what, exactly, you can plant throughout the year. From adding tropical plants to your home in January to planting vegetables in June, there are so many tips and tricks available to you — in addition to product recommendations.
When you sign up for the Home Depot Garden Club, you'll receive exclusive deals when coupons and special buys are periodically sent to your email, so make sure they don't go straight to your spam folder. You might just check your email one morning and find a deal on the exact seeds, planter, gloves, or gardening hose you've been hoping to purchase. And, of course, it's totally free to join.
You forget to shop holiday sales
Like many other retailers, Home Depot offers store-wide sales during certain holidays. And knowing which days of the year the store is likely to give you a serious discount can help you plan your visit. Per Groupon, there are plenty of different holiday sales from which to choose, too. So if you miss one, have no fear. You'll likely find there's another day of discounts just around the corner.
Home Depot offers sales during many holidays. If you're waiting for some special deals, mark these occasions on your calendar: Presidents' Day, Memorial Day, Fourth of July, Labor Day, Black Friday, and Cyber Monday. Though the actual dates and deals during these holiday sales change from year to year, you'll typically find some incredible discounts on or around these holidays.
Of course, that's not all. Home Depot also has what they call their "Spring Black Friday" — the retailer's one and only spring sale. Keep an eye on the Home Depot website for the actual dates when this happens. Considering it's the only big Home Depot sale in the spring, you won't want to skip it. In addition to their spring sale and all the holiday sales, Home Depot also has an After Christmas sale (typically right after Christmas — per the name) and a Green Monday sale (usually mid-December). So whatever your seasonal or everyday needs might be, you have a good chance of finding a holiday sale that saves you money.
You're not getting free shipping
For those who aren't avid Home Depot shoppers, you might have missed that the store offers free shipping on over 1 million items each day — per the Home Depot site. Because of this, it's always a good idea to double check whether or not you can score free shipping on whatever products or tools you need. In fact, most orders that total $45 or more will qualify you for free shipping. You might as well add that extra item you were eyeing, in that case.
Of course, there are always exclusions, so it's recommended that you look at the product details on the Home Depot website to make sure your item is eligible for free shipping. Wondering about those heavy appliances you might be ordering? Don't sweat it. Most major appliances come with free shipping — so you can rest easy knowing those heavy items will be shipped to your home without too many extra fees.
If you can't wait for shipping but need to order online, though, there is another free option. Many products on the Home Depot website are available through in-store pickup. For products that your local store (or stores) already have in-stock, you can simply order them online and then head to the store as soon as they're ready — usually just a few hours. This serves as a great time-saving alternative to having to browse a store. And, of course, you still save on shipping.
You haven't joined the Home Depot Pro Xtra loyalty program
Ultimately, the Home Depot Pro Xtra membership works best for folks who get a lot of materials and other items from Home Depot for their companies. According to Workiz, those who sign up for this service will be provided with someone with whom they can work directly — and who can help find the perfect products for your business, along with having materials sent to a worksite. Plus, there are several other perks to this membership.
Home Depot Pro Xtra also includes volume pricing, up to 20% off on paints and stains, and Text2Confirm Authorization — which allows employers to authorize purchases made by employees with a text. The best part, though? It's free to join. Whether you're an electrician or own a landscaping company, you can join this loyalty program by simply signing up on the Home Depot website. The form will ask for your name, your company's name, your company's address, a phone number, and your trade/business. Once you've filled that out, you're on your way to serious savings.