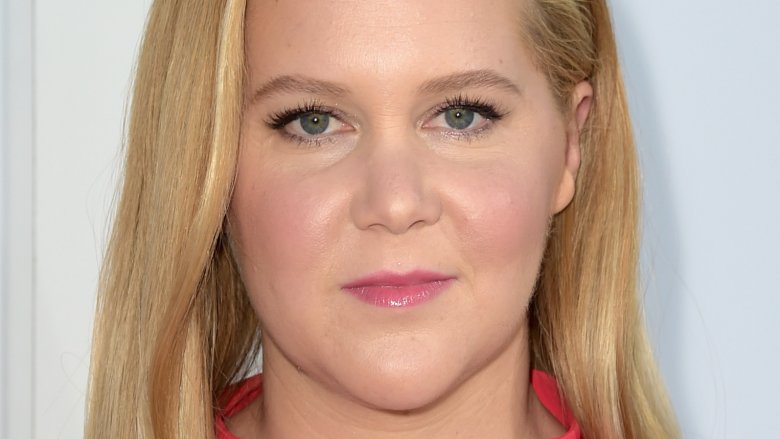 Amy Schumer and Chris Fischer became one of Hollywood's "it couples" after secretly getting married in a February 2018 ceremony. And, as to be expected, they've been pretty darn private about their romance.
Schumer, one of America's most popular comedians, rose to fame as a queen of comedy with her bold and unfiltered stand-up routines. With her Comedy Central show, Inside Amy Schumer, busy touring schedule, and multiple successes at the box office, the Trainwreck star has become one of the world's highest-paid comedians. Her husband, on the other hand, has lived a much more low-key life as a celebrated chef. In addition to winning the James Beard Award for his critically acclaimed 2015 cookbook, The Beetlebung Farm Cookbook, he's helmed the Beach Plum Restaurant in Martha's Vineyard, Mass. since 2013.
Not only are these two at the top of their careers, but they're also totally in love. And while these lovebirds are undoubtedly couple goals, there's much more to their fast-paced relationship than meets the eye. How much do you really know about this power couple? Here are some of the stranger facts about their marriage.
A rebound relationship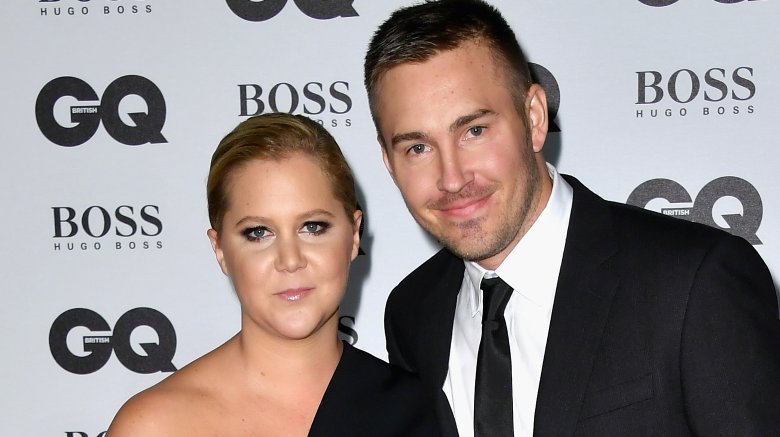 Fischer is technically Schumer's rebound following her long-term romance with furniture designer Ben Hanisch. The former couple had dated for nearly two years after meeting online, but they called it quits in May 2017.
Just before their split, the topic of marriage had come up during the Snatched star's appearance on Howard Stern's SiriusXM radio show. "We are talking about today," she told the shock jock (via People). "I love the idea of committing to someone and making that choice and I want to have a family but right now, we are not in talks."
Two weeks later, a rep for the comedian confirmed their breakup, simply stating, "Amy and Ben have ended their relationship after thoughtful consideration and remain friends." According to an E! News source, "As time went on they realized they weren't on the same page or heading in the same direction."
But it all worked out for Schumer in the end, as she and Fischer would hit it off soon after.
Chris' sister played matchmaker
Schumer and Fischer might be known for moving fast, but they actually got off to a slow start after meeting through the comedian's personal assistant — Fischer's sister, Molly, who played matchmaker.
As the Inside Amy Schumer star explained during her 2018 appearance on The Howard Stern Show, the orchestrated meet-cute occurred while she was filming her movie I Feel Pretty in Martha's Vineyard. Since Fischer worked nearby, Molly arranged for him to visit the stand-up's vacation house and cook dinner.
They hit it off immediately and began hanging out as friends, but things didn't heat up until much later when the chef made the first move. "He came up behind me and he put his arms around me and he kissed my neck," Schumer said. "And it was on and then we were just so open with each other. There was no nonsense." She continued, "I got that feeling where all the blood goes to all the places. It just changed … We'd been friends for, like, six months before [dating]."
Dating in secret
Schumer and Fischer were notoriously private about their blossoming romance, having secretly dated for months before finally going public with their relationship in February 2018.
"I'm dating this new dude," the Leather Special star said at the Hilarity for Charity Variety Show in June 2017, only a month after she and Hanisch split (via Elite Daily). "He's awesome, he's like Stephen Hawking, sexually."
Apart from dropping that single hint, the two managed to keep their relationship completely under wraps — well, mostly. Schumer and her then-mystery man first sparked dating rumors when they were spotted grabbing dinner together in New York City that November. Two months later, the cute pair were photographed again while attending a taping of Saturday Night Live in support of host Jessica Chastain.
Shortly after, Schumer made their relationship status Instagram official, posting a photo booth picture of the couple sharing a kiss at Ellen DeGeneres' 60th birthday party.
Chris isn't famous
Fischer may be a celebrated chef who is well known in the restaurant world, but he's completely "normal" by Hollywood's standards — a.k.a. not famous. "He's totally not into the celebrity world and [Amy] likes how off the grid he is," a source told People. "He's a really genuine guy who's very close to his family."
While he tends to keep a low profile as he runs his family's farm in Menemsha, Mass., that doesn't necessarily mean the celebrated chef didn't already have some pretty impressive connections to the entertainment industry before wooing his future wife.
Fischer made a name for himself while working as a sous chef for Food Network's Mario Batali in New York City's high-end restaurant, Babbo. He had met the now-disgraced celebrity chef through pal Jake Gyllenhaal, who just so happens to also be friends with Schumer. Small world! Fischer's expertise in the kitchen even impressed then-President Barack Obama and First Lady Michelle, who visited his Beach Plum Restaurant — one of their favorite date spots — in 2013. No big deal.
An unexpected proposal
After their slow-burn start, things heated up really quickly between these two, and it wasn't long until marriage was on the table.
Fischer popped the question only a few months into their relationship. While detailing the unexpected proposal on Howard Stern's radio show, Schumer recalled how the chef had woken her up, held out an engagement ring, and simply said, "I got you this." It may just be the most chill proposal in history, but the comedian, who was still wearing a night mask and ear plugs, said yes.
But that's not to say she rushed into walking down the aisle. "You know that I'm not like a fool. I'm not impulsive like that," Schumer said on The View two months after tying the knot (via People). "We have known each other for about a year now and we've been living together already for six months. So you know it's not a long courtship but it's not like we had a great weekend in Vegas and threw in the towel. I'm not going to settle. I don't want to settle. I met the one."
Adele almost officiated their wedding
Only two days after confirming their relationship on social media, the couple secretly got married in a star-studded ceremony in Malibu, Calif. The surprise wedding had been set into motion by a drunken conversation between Schumer, Jennifer Lawrence, and Adele.
"We were real drunk one night and talking about how we wanted to get married and Adele was like, 'Well, I can marry you,' and we were like, 'OK, cool,'" Schumer explained on SiriusXM's Jim and Sam Show. "We were making a whole plan." However, in the cold light of day (and with the renewed clarity of sobering up), the "Hello" singer backed out. "The next day, [Adele's] like, 'Hey, we're not really like friends,'" the comedian continued. "She got ordained to marry her good friends, so I think she was like, 'They'll be kind of annoyed if I just start marrying random basic b****es.'"
Luckily, comedian John Early stepped in to officiate, and he married the couple while dressed in drag, as he channeled one of his most popular characters, Vicky. Planning the rest of the last-minute wedding took Schumer about three days. According to People, after finding a white dress and choosing "Rainbow Connection" to accompany her walk down the aisle, the bride-to-be sent out a text-invite to friends and family, which simply read, "I'm getting married on Tuesday. I hope you can come."
Exchanging unconventional vows
Not unlike their relationship's trajectory, the couple's vows were a mix of the romantic and the truly unconventional. After professing their love, they roasted each other in front of their 80 guests, including A-listers like Jennifer Lawrence, Jennifer Aniston, Larry David, and Jake Gyllenhaal.
"People are wondering, 'Why the rush?' and it's because I truly cannot wait another second to be your wife — I love you," Schumer can be heard saying in their beautiful wedding video, while Fischer told her, "I love you Amy. You bring happiness and joy to every part of my life. You are the best thing to ever happen to me." (Excuse us while we go cry now.)
However, things soon took a turn for the inappropriate. "In my vows I go, 'But I promise I'll keep going down on you, even though everyone tells me I won't,'" the comedian told Howard Stern. "And his were like, heckling me too. He was like, 'The other day I lost a tennis match and you called me a f**king loser.' It was all like awful s**t."
And, while it isn't a competition, Schumer knows how her vows stacked up against Fischer's. "Mine sucked!" she joked on SiriusXM's You Up With Nikki Glaser (via Us Weekly). "His blew me out of the water so hard."
JLaw's roasted Schumer at the wedding
Schumer's friends took a page out of the newlyweds' book and turned their traditional wedding toasts into moving yet hilarious roasts. And, of course, bestie Jennifer Lawrence was up first.
"[She] made a really sweet toast," the comedian told Howard Stern (via Newsday). "It was really sweet, y'know, because we just joke around so much. But to hear her say, 'You're the matriarch now and it's a role you'll be so good at, and I know you love fiercely' — and then she also said, 'I wish for you patience, which you don't have.' Like she kinda also roasted me, but it was really sweet."
Up next were Schumer's non-celebrity, hometown friends. They enlisted the help of comedy legend Larry David, who simply told them, "Don't do it." As the actress recalled, they promptly ignored the Curb Your Enthusiasm star's advice. "I was ready to, like, cry, when they went up to make a toast," she said. "They go up and they're like, 'Amy empowers women.' And they each went down the line and said how I'd empowered them. But it was things like, 'Amy taught me how to shoplift!' … I'm like, 'My new in-laws are here! How about just reel it in a little! Say I'm a good hugger!'"
Shutting down rumors
Shortly after tying the knot, Schumer took to Instagram to officially clear the air on one particular rumor surrounding the couple's surprise nuptials — namely, that they only got hitched because she was allegedly expecting her first child. "No I'm not pregnant," she bluntly wrote in a text-post, adding, "And no gifts but thank you for asking. Instead please consider [a] donation to everytown for gun safety."
However, that's not to say that having children hadn't crossed their minds. "Are we talking kids?" Howard Stern asked Schumer, to which she replied, "Maybe. Well, I got a little dog and I really love her so — that's the first step. But then, y'know, now I have nieces and whatever" (via Newsday). At that time, all the comedian knew for certain was, "You're in, you're done. He's mine, I'm his. We've partnered up. We've committed to be partners for life and we meant it." And really, that's all that matters.
Their romance is relationship expert approved
Much has been written about Schumer and Fischer's surprising, whirlwind romance, but one relationship expert spoke with Bravo TV in 2018 about the positives of fast-moving, rebound romances.
"Some people just decide and it's stable and permanent and positive and for their own emotional security," the expert, who simply went by Theresa, said. "Rebound relationships actually work, they can be the healthiest ones because you often know more clearly what you want, rebound relationships have a bad rap but can be the best things because you have a clearer sense of who you are and what you want."
She added, "Less time between a break-up and a new relationship generally predicts greater well-being, higher self-esteem, and more respect for a new partner … Individuals who tend to be emotionally stable were actually more likely to have a shorter amount of time between a relationship's end and a new one's beginning."
This path may go against common sense to some, but it sounds like it may actually be the way to go for certain couples. Who knew?