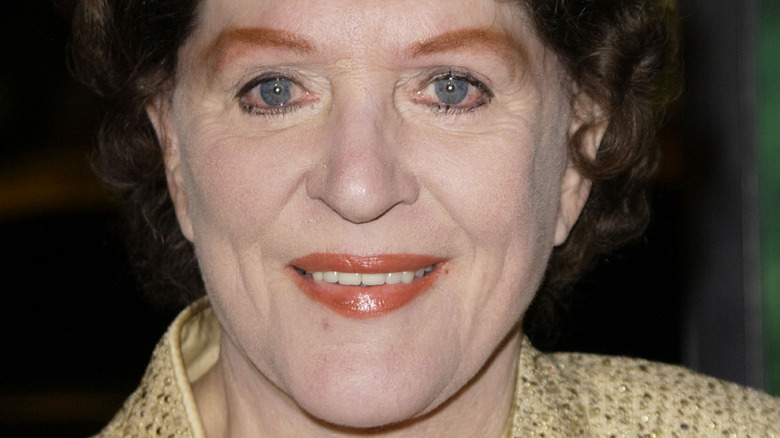 If you watch "Star Trek," you may have heard a familiar female voice across most of its different incarnations. Every time a computer is used in the series, viewers hear a woman's voice acknowledge commands or read out data. Starship computers are voiced by actress Majel Barrett, a role that has made her beloved to the Trek fandom and one that she reprised over the years before her death. Barrett also has a different, more personal relationship with the franchise: She also happens to be the wife of "Star Trek" creator Gene Roddenberry.
Cleveland.com reported Barrett was born in Columbus, Ohio, in 1932, as Majel Hudec. Her family had moved to the Cleveland area when she was a year old and grew up there. She left Ohio to go to the University of Miami. Ever since she was a child, she had taken acting classes and even starred in plays at regional theaters.
The official website of "Star Trek" said that even though Barrett loved acting, she was initially going to school to become a legal clerk. She went to law school for a year before deciding to pursue acting full time after getting a bad grade in contract law. Barrett moved to New York but thought the competition for roles was too stiff. It wasn't until she moved to Los Angeles that her career took off.
She worked with Lucille Ball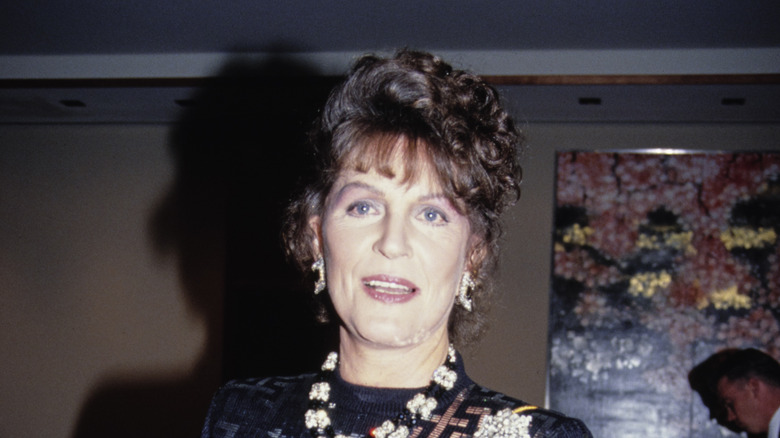 Today, Barrett is most famous for "Star Trek," but the show is not the only iconic series where she performed. After moving to Los Angeles, Barrett worked at the Pasadena Playhouse, where she was cast in the play "All for Mary." But this was Hollywood, not New York, and the real money was to be found onscreen.
She signed with Paramount and was cast in several movies as well as the popular shows of the time. Barrett had roles in films like "Black Orchid," "Young As We Are," and "The Buccaneer." Barrett also appeared in seminal TV shows like "Leave It to Beaver," "Dr. Kildare," and "Bonanza."
According to Star Trek.com, a chance meeting with comedy legend Lucille Ball during an acting class changed Barrett's trajectory. Ball signed her to an exclusive contract with her production company Desilu. This allowed Barrett to be in an episode of "The Lucy Show." After she left Desilu and worked on the MGM show "The Lieutenant," she met the man who would change her life.
She had an affair with Roddenberry
Barrett first met Gene Roddenberry on the set of "The Lieutenant," an hour-long drama that lasted one season, 1963-64, on NBC. Roddenberry was the creator and executive producer of the series.
It wasn't until a few years later that Roddenberry and Barrett married. Roddenberry was married when they first met, but he chose to pursue a relationship with Barrett anyway, explained The National Review. Their affair was an open secret (and Roddenberry was known as a serial womanizer who would be absolutely canceled for the way he ran his shows) and lasted for years before he divorced his first wife.
Roddenberry cast Barrett in the first pilot of the original "Star Trek" series as Number One, but Star Trek.com noted NBC, where the show aired, didn't like that a woman was second in command of a starship, and they reshot the pilot with a different Number One. Barrett was cast again as Nurse Christine Chapel when the show was picked up.
Barrett and Roddenberry married in Japan in 1969 and the two stayed together until his death in 1991. They had a son together.
Trek was not her only gig
Barrett is most well-known to fans as the computer voice, but real "Trek" fans know Barrett has had a far more significant role than that. She's so tied to the show, beyond her relationship with its creator, that fans called her the First Lady of Star Trek, wrote the Los Angeles Times.
Aside from the Nurse Chapel, who appeared in the original series, Barrett also starred as another character on the show. When the spin-off "Star Trek: The Next Generation" came out, Barrett was tapped to play Lwaxana Troi, the domineering, loud, and gregarious mother of Deanna Troi. IMDb said Barrett appeared in 104 episodes of "TNG" and 33 episodes of "Star Trek: Deep Space Nine."
As for her best-known contribution, Barrett provided the computer voice for all starships in most "Star Trek" programs. Before her death in 2008, Barrett recorded lines to voice the computer for the reboot movies. And Barrett wasn't just in "Trek"; she was also in an episode of the sci-fi series "Babylon 5."
Barrett also provided the voice-over for another form of present-day transportation. Per the Times of UK, Union Pacific Railways used her voice for their trains.
She loved space
As befitting the First Lady of Star Trek, Barrett had an interest in promoting science. One way this manifested is by serving on the board of governors of the National Space Society (NSS). She also served on the NSS board of directors.
The NSS is a non-profit group that helps create programs to prepare people for spacefaring. Their goal is to work towards resettlement in space and educate people on why the study of space is essential.
Barrett, along with Roddenberry, was also honored by the Space Foundation for contributions to space exploration. Their work on "Star Trek" has inspired so many to see the beauty of space and become engineers and astronauts.
Barrett was also a fierce advocate for land-based animals. The Los Angeles Times said she was dedicated to animal rescue. On her death, the Roddenberry family asked mourners to make a donation to two animal rescue charities in her name.
Her final frontier
In 2021, William Shatner became the oldest person to go to space and the first actor playing a Federation starship captain to reach the edge of space, at least momentarily, in real life. But Shatner, the first to play Captain James T. Kirk in the "Trek" franchise, is far from the first person from the "Star Trek" universe to think about traveling to space.
After inspiring an entire generation of space travelers, both Roddenberry and Barrett will have a chance to boldly go, too, after a fashion. Their ashes will be aboard the Celestis memorial flight dubbed, fittingly, Enterprise. The company said its tentative launch date is June 2022. Roddenberry's ashes had already been to space before, back in 1997, per Space Daily. When the Enterprise flight launches, it will be the culmination of a long journey into space for Barrett.
Barrett's influence stretches beyond space travel. Her work voicing the Enterprise, Voyager, and basically most of the shows' computers inspired the creation of voice assistants on our phones and homes. Not bad for the First Lady of Star Trek, who is more than the voice that calls out the self-destruct sequence.