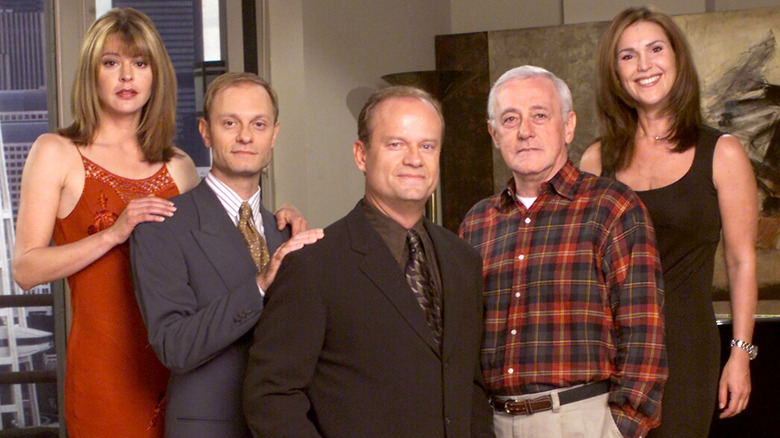 "Cheers" was a pillar of NBC's much-vaunted "Must See TV" Thursday night lineup when the beloved barroom comedy said goodbye in 1993. Yet that wasn't the end of the story; in September of that same year, new sitcom "Frasier" launched, focusing on tavern regular Dr. Frasier Crane, played by Kelsey Grammer.
The new series followed Frasier as he relocated to his hometown of Seattle, where the Harvard-educated psychiatrist took his skills to radio and offered advice to callers along with his on-air catchphrase: "I'm listening." The show became an instant hit, with Grammer joined by David Hyde-Pierce as his brother Niles; John Mahoney as Martin, the Crane boys' retired cop father; Jane Leeves as Martin's caregiver, Daphne; and Peri Gilpin as Frasier's producer, Roz. "Frasier" ran for 11 hit seasons before ending its run in 2004 — with a new revival ordered by the Paramount Plus streaming service in 2021.
In the years since "Frasier" went off the air, some of the familiar faces from the show have since left us, including one of the show's series regulars and numerous guest stars. Read on to remember the "Frasier" stars we've sadly lost.
John Mahoney played Frasier's gruff dad, Martin Crane, for 11 seasons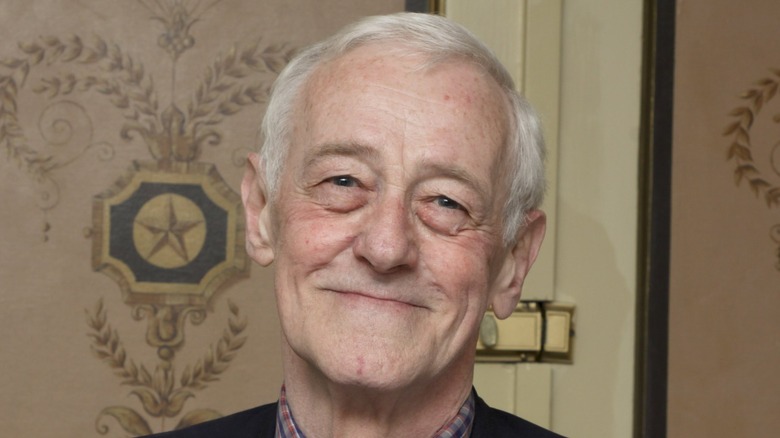 For 11 seasons, John Mahoney played Martin Crane on "Frasier," a role that brought him two Emmy nominations. Sadly, Mahoney died in 2018 at age 77, with TMZ later revealing the cause of death to be lung cancer, brain disease, and seizures. In an interview with Fox News shortly before his death, Mahoney candidly discussed overcoming cancer twice previously. "I just absolutely refused to be beaten by it," he explained, admitting he'd "made some of my biggest movies when I was diagnosed."
Mahoney gravitated toward acting fairly late in life. After immigrating to the U.S. from his native England at age 19, he spent years working as an English teacher, and then as associate editor of a medical journal before pursuing his passion for theater. "I just felt I had to try acting one more time. And if I fail, I fail," he continued. "But if I don't, maybe I can find some sort of happiness and fulfillment in life."
Ultimately, Mahoney joined Chicago's famed Steppenwolf Theatre Company, which led to roles in such films as "Moonstruck," "Say Anything" and "In the Line of Fire," to name just a few.
Both dogs who played Eddie on 'Frasier' have passed away
Martin Crane's dog, Eddie, became one of television's most popular canine characters. Eddie was played by Moose, reported "Today," a Jack Russell terrier who passed away at the ripe old age of 16 in 2006. In addition to playing Eddie, Moose had also played the titular dog in the movie "My Dog Skip."
According to the New York Post, Moose retired midway through the course of "Frasier," and was replaced by his own son, Enzo. As the dogs' trainer Mathilde DeCagney told the Post, father and son did not get along. In fact, she admitted the two dogs "actually hate each other with a passion" and needed "to be separated at all times, which is pretty common in Jack Russell males." Like his dad, Enzo lived until age 16, dying in 2010.
Moose also wasn't particularly fond of his onscreen owner, as the late John Mahoney recalled in an interview with Fox News. "He bit me twice," said Mahoney of his canine co-star, but conceded that on the whole he and Moose "got along all right." Joked Mahoney: "He was a temperamental actor as far as I'm concerned."
Marsha Kramer recurred as Frasier's radio colleague Tooty the Story Lady
Frasier Crane was part of an eccentric crew of personalities at fictional Seattle radio station KCAL 780 on "Frasier," including perpetually apoplectic sports host Bob "Bulldog" Briscoe (Dan Butler) and pompous restaurant critic Gil Chesterton (Edward Hibbert). Another member of the station's on-air team was Tooty the Story Lady, played by Marsha Kramer, host of "Storytime Theater." While Tooty was mentioned occasionally throughout "Frasier," Kramer only appeared on the show twice, according to IMDb.
As Deadline reported, Kramer died in early 2020 at age 74. Her final performance was on ABC sitcom "Modern Family," in the recurring role of Margaret, assistant to family patriarch Jay Pritchett (Ed O'Neill).
Kramer's acting career spanned decades; her first screen credit was in a 1970 episode of "The Bill Cosby Show." Additional TV credits included "The Waltons," both "The Bob Newhart Show" and the subsequent "Newhart," "Touched By an Angel," "Dr. Ken," "NCIS," and daytime soap "Days of Our Lives." Interestingly enough, Kramer also appeared on "Frasier" forebear "Cheers," playing a "Talk Show Lady" in an episode in which Frasier's then-wife Lilith (Bebe Neuwirth) visited a Boston talk show to promote her new book.
Oscar nominee Bob Hoskins was Frasier's high school gym teacher in a flashback
"Frasier" attracted some A-list guest stars during its run. Among these was Oscar nominee Bob Hoskins, who played Frasier's abusive high school gym teacher in a series of flashbacks to his school days. Just over a decade after he guest starred in that 2003 episode, BBC News reported that Hoskins died at age 71. "Bob died peacefully at hospital last night surrounded by family, following a bout of pneumonia," his wife and children said in a statement.
Hoskins' role on "Frasier" was one small piece of an impressive acting career, noted the late actor's IMDb page, beginning on British television in the early 1970s. Hoskins caught Hollywood's attention thanks to standout performances in the 1978 British TV miniseries "Pennies From Heaven," which was followed by starring roles in the films "The Long Good Friday" and "Mona Lisa" — the latter earning Hoskins' his first and only Oscar nomination (he lost out to Paul Newman).
Hoskins went on to even bigger fame in numerous Hollywood productions, but will always be best remembered for playing Toontown PI Eddie Valiant in Disney's blend of live action and animation "Who Framed Roger Rabbit?"
Robert Loggia guest starred on Frasier as a restaurateur who traumatized Niles
Robert Loggia was already an established Hollywood star when he guest starred in a 2000 episode of "Frasier," playing Stefano, owner of an Italian restaurant whose gruff/terrifying demeanor once left Niles (David Hyde-Pierce) suffering PTSD as a child. When Frasier learns he'll be honored by having a caricature of himself hanging on the restaurant's wall, Niles is still so scarred, decades later, that he refuses step foot inside the eatery.
Loggia, reported USA Today, died in 2015 at age 85, leaving behind a film and TV legacy that's the envy of any actor. As IMDb illustrated, Loggia was a frequent television guest star throughout the 1960s and 1970s, breaking out into film with a supporting role in 1982's "An Officer and a Gentleman." His high-profile turn as the Miami mob boss deposed by Al Pacino's Tony Montana in 1983's "Scarface" led to further big-screen work, including such films as "Prizzi's Honor," "Jagged Edge," and "Big," in which he shone as the toy impresario who hires Tom Hanks' boy-in-a-man's-body character — and dances with Hanks on giant piano keys in the movie's most famous scene. Other notable roles include a multi-episode arc on "The Sopranos."
In a 1990 interview with The New York Times, Loggia explained his career longevity. "I'm a character actor in that I play many different roles, and I'm virtually unrecognizable from one role to another," he revealed. "So I never wear out my welcome.
Star Trek fan favorite Rene Auberjonois portrayed Frasier's Harvard mentor
René Auberjonois had already developed a well-established career as a character actor when he guest starred on "Frasier." First seen in the series' eighth season, Auberjonois portrayed Frasier's Harvard professor, Dr. William Tewksbury. When Frasier is set to receive a lifetime achievement award, he takes offense at the seemingly innocuous note of congratulations sent by his one-time mentor. This leads Frasier to a confrontation with Tewksbury, which results in a psychiatric session that proves more revelatory than Frasier expected. The character makes another appearance later that same season, when Frasier experiences the surprise of discovering that Tewksbury is dating his producer, Roz.
Appearing on "Frasier" was a brief pit stop for Auberjonois, who died in 2019 at age 79 (via CBS News). For sci-fi fans, the actor will remain best known for playing Odo, the shape-shifting head of security on "Star Trek: Deep Space Nine." Other significant roles include playing Father Mulcahy in director Robert Altman's "M*A*S*H" (a role he didn't reprise for the small-screen version that followed), and chief of staff Clayton Endicott III on sitcom "Benson."
Alice Playten portrayed Martin's love interest on 'Frasier'
Actress Alice Playten was seen in the sixth season of "Frasier," playing the recurring role of Martin's then-girlfriend, Bonnie, in a few episodes. Prior to her 2011 death at age 63, reported The New York Times in her obituary, one of Playten's most memorable roles was in an Alka-Seltzer commercial, playing a newlywed bride whose first home-cooked meal has given her husband some serious indigestion.
As a stage actress in New York City, one of Playten's earliest roles was as in the off-Broadway production of "National Lampoon's Lemmings," a nihilistic Woodstock satire in which she co-starred with future "Saturday Night Live" stars John Belushi and Chevy Chase. Playten also put her distinctive high voice to good use as a voice actor for cartoons such as "Doug" and "My Little Pony," as well as long-running PBS radio show "A Prairie Home Companion."
In addition to "Frasier," Playten's many television credits included "The Cosby Mysteries," "Law & Order," "Third Watch" and venerable soap opera "As the World Turns."
John LaMotta played Duke on Frasier, the owner of Martin's favorite watering hole
In the first few seasons of "Frasier," Martin was known to down a few beers at Duke's, his favorite local bar. The bar's owner, Duke, was frequently referenced throughout the series. However, Duke only appeared in the flesh in two episodes of "Frasier," both times played by actor John LaMotta.
LaMotta's Duke is first seen in a 1994 episode in which Frasier and Niles join a lucrative investing group, only to discover one of the items on the agenda is to tear down Duke's. LaMotta doesn't appear again as Duke until a 1998 episode, when he's one of a few pals seen playing poker with Martin.
According to LaMotta's IMDb page, he died in 2014 at the age of 75. In addition to "Frasier," LaMotta had racked up an extensive list of screen credits spanning several decades, ranging from "Dark Shadows" to "Baretta" to "Barney Miller" to "ALF," in which he played the lovable alien's nosy neighbor. LaMatta wasn't exactly a fan of his work on the wacky sitcom, subsequently telling TMZ he thought "the show 'ALF' was a piece of s*** … worst work I ever did."
William Morgan Sheppard guest starred as snooty Mr. Drake on Frasier
Trained at London's prestigious Royal Academy of Dramatic Art, William Morgan Sheppard was an actor's actor whose career spanned six decades before his 2019 death at age 86. Among the many, many roles listed in his IMDb credits are a brief guest spot on "Frasier." In the episode, titled "The Club," Niles and Frasier attempt to sabotage the other's chances of being accepted into Seattle's prestigious Empire Club when they learn they're competing against each other for the sole vacant spot. Sheppard played Mr. Drake, the club's president.
In addition to his work on "Frasier," Sheppard earned an extensive and eclectic array of screen credits. How eclectic? He played priests on both serial killer thriller "Dexter" and raucous comedy "It's Always Sunny in California," and appeared on both "Mad Men" and the animated "Biker Mice from Mars."
It's Sheppard's association with the "Star Trek" franchise, however, for which he's best remembered. As Deadline noted, he played the recurring role of Dr. Ira Graves in "Star Trek: The Next Generation," and also appeared in an episode of "Voyager." On the big screen, he appeared in "Star Trek VI: The Undiscovered Country" and 2009's "Star Trek" reboot movie.
Screen legend Donald O'Connor played an eccentric timber baron on Frasier
Of the many, many guest stars to drop by "Frasier" during the course of the show's 11-season run, arguably one of the most legendary was Donald O'Connor. A song-and-dance man of the highest order, O'Connor's storied roster of screen credits, via IMDb, include the classic Hollywood musical "Singing in the Rain," and umpteen "Francis the Talking Mule" movies.
Prior to his 2003 death at age 78 (via The New York Times), one of O'Connor's final roles was playing wealthy timber baron Harlow Safford in the "Crane vs. Crane" episode of "Frasier." Niles is hired as an expert witness by Safford's son in his effort to have his father legally declared senile; Frasier, however, gets to know the elder Safford and comes to believe his mental faculties are intact, but that he's just an eccentric with a zest for life. As a result, Frasier agrees to testify against his brother in the trial.
The same year he appeared on "Frasier," O'Connor also appeared in a guest spot on "The Nanny." O'Connor's final screen role was in the 1997 cruise ship comedy "Out to Sea," which re-teamed "The Odd Couple" stars Jack Lemmon and Walter Matthau.
Robert Prosky was featured as a famously reclusive author on Frasier
Character actor Robert Prosky landed his big break when he was cast alongside James Caan in the atmospheric 1981 thriller "Thief." That ultimately to a role in an iconic TV hit when he joined "Hill Street Blues" as Sgt. Stan Jablonski, who took over for veteran cop Sgt. Phil Esterhaus after the actor who portrayed him, Michael Conrad, died of cancer in 1983.
Prosky, who died in 2008 at age 77, made a memorable appearance on "Frasier." In his guest spot, Prosky played famously reclusive author T.H. Houghton (loosely based on "A Catcher in the Rye" writer J.D. Salinger), who befriends Martin at a sports bar and winds up scrapping his latest manuscript due to a critique from Niles and Frasier.
Other Prosky credits of note include big-screen roles in "The Natural," "Outrageous Fortune," "Broadcast News," "Gremlins 2," and "Mrs. Doubtfire," and on television in such series as "Murder, She Wrote," "Veronica's Closet," "Touched By an Angel," "The Practice," and "ER."
David Ogden Stiers portrayed an old colleague of Frasier's mom
David Ogden Stiers was a familiar face to television viewers of the 1970s and 1980s for his portrayal of snobbish Major Charles Emerson Winchester III on "M*A*S*H," the hit military-medical sitcom that ran from 1972 until 1983. More than a decade after that series wrapped, Stiers made a guest-starring appearance on "Frasier." In Stiers' 2003 episode, titled "Fathers and Sons," he plays Leland Barton, the former research assistant to Hestor Crane, later mother of Niles and Frasier. After spending some time with Leland, Martin notices some marked similarities between Leland's characteristics and those of her sons, leading him to question whether Leland is their real father, and not him.
Prior to Stiers' 2018 death from bladder cancer at age 75 (via Variety), he had amassed a staggering array of screen credits. In addition to his "M*A*S*H" role, these included voice roles in several of Disney's animated films, appearing in "Beauty and the Beast," "Pocahontas," "The Hunchback of Notre Dame," and "Lilo & Stitch." Stiers also had recurring roles in "Stargate Atlantis," "The Dead Zone" and the sitcom "Two Guys, a Girl and a Pizza Place."
NASA legend John Glenn played himself in an episode of Frasier
John Glenn was the third American in history to venture off the planet into outer space, and the first U.S. astronaut to orbit the Earth. Later serving for four terms as United States Senator, Glenn was also a "Frasier" guest star. The NASA icon played himself in the 2001 episode "Docu.Drama," which featured Roz getting the go-ahead from management to produce a radio documentary about space travel. The initial plan is for Frasier to narrate, until he exits the project when Roz discards all the ideas he shoots at her while staying firm with her vision of the project. She ultimately brings Glenn onboard as a replacement narrator, which irks Frasier to no end.
"Frasier" isn't just Glenn's most memorable TV guest starring role — it's his only one. Before he died at age 95 in 2016 (via The New York Times), "Frasier" was Glenn's sole acting credit in a TV series. According to IMDb, Glenn's only other screen credits were providing his voice to the 2003 TV documentary "Kitty Hawk: The Wright Brothers' Journey of Invention," and voicing former U.S. President Rutherford B. Hayes in the 2003 documentary "The American President."