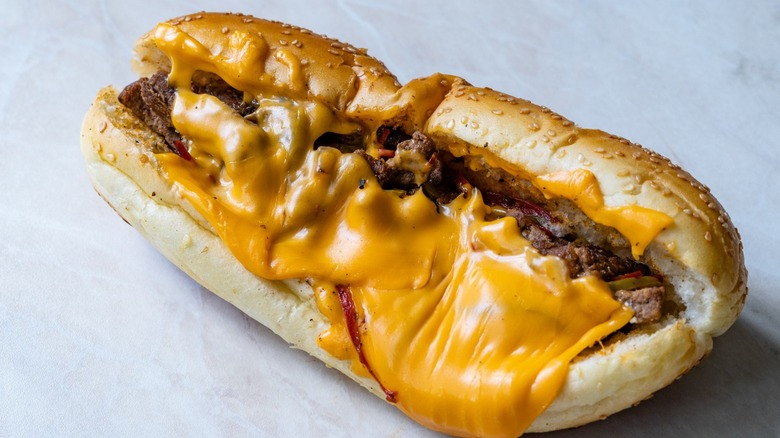 The cheesesteak is a sandwich beloved by many. It's a quintessentially American meal that comes from one of the most historic U.S. cities: Philadelphia. Now, nearly a century after Philly restaurant owner Pat Oliveri (owner of Pat's King of Steaks) created it, the cheesesteak is an essential part of American food culture (via First We Feast).
Philly gets it right by sticking to staples of the country's diet: beef, cheese, and bread. It may seem simple, but true cheesesteak lovers will obsess endlessly over the specifics of those three components. Cheesesteak purists will tell you the meat used must be ribeye, but plenty of renowned cheesesteak spots will also use sirloin. Some supporters will insist that Cheez Whiz is the necessary cheese for a "real" Philly cheesesteak. Also, most fans of the sandwich agree an Italian or hoagie roll is essential for the bread.
The Philly war over which the best cheesesteak spot has expanded outside of the simple Pat's vs. Geno's battle, reaching coast to coast. Even fast-food chains like IHOP and Arby's are making cheesesteaks. It's true, most non-Philly cheesesteak-makers are still judged on how well they can mimic the City of Brotherly Love's style. But it's a gift that no matter where someone lives in the country, they never have to go "without" the sandwich now, as onion-ordering code goes (via The Philadelphia Inquirer). Here are the absolute best cheesesteaks in America.
Shorty's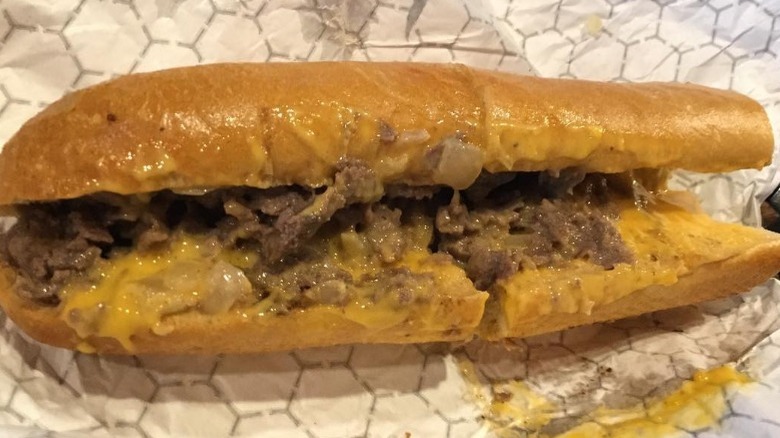 The surrounding states of New Jersey, New York, and Ohio have been in the cheesesteak game almost as long as Pennsylvania. Shorty's claims their cheesesteak is the most authentic in the Big Apple. They base that statement on the Philly-inspired ingredients used to make their sandwiches. Shorty's cheesesteak menu includes items like thinly-sliced sirloin, as well as American, Provolone, and Whiz for cheese options. Popular cheesesteak toppings like fried onions and peppers are also available.
Most importantly, Shorty's gets their bread shipped from Philadelphia. On their website, Shorty's asserts that this bread is the key to making genuine Philly cheesesteaks. In reviews, bread is often a factor in winning over their customers, who sometimes say Shorty's makes the best cheesesteak they've ever had. The NYC chain is also celebrated for its french fries. Shorty's plain fries are some of the best in the entire city, according to Gothamist. Originally founded as a single sports bar, Shorty's fame has allowed it to keep open two additional Manhattan locations.
Donkey's Place
This historic New Jersey cheesesteak joint has been around since 1943 when boxer Leon "Donkey" Lucas opened the first location in Camden (via Donkey's Place). According to the late Anthony Bourdain, Donkey's Place makes the best cheesesteak ever, period. The culinary icon visited the restaurant in 2015 for a "Parts Unknown" episode where he claimed that the best Philly cheesesteak isn't even made in Philly.
Many other patrons would agree with Bourdain. Donkey's cheesesteak was called one of the country's best by Condé Nast Traveler. The Inquirer reported that Donkey's Place was even featured on a 2018 episode of the sitcom "The Goldbergs," which is set in the region.
Despite the high praise, the cheesesteak at Donkey's Place is untraditional. The sandwich is made on a small, round poppyseed Kaiser roll rather than the typical Italian or hoagie roll. Then, Donkey's likes to stack the meat in a tall pile, topped with onions and American cheese. Although it's a specific kind of cheesesteak, there's a reason Donkey's Place is still going strong. Per NJ.com, the chain even opened a third New Jersey location in Mount Holly this October.