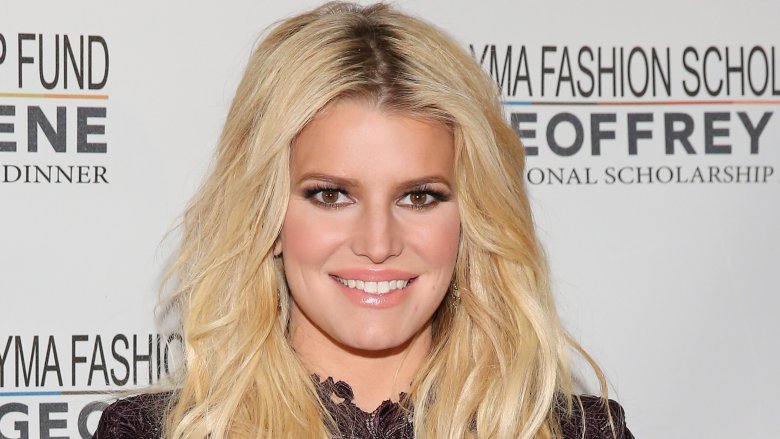 Jessica Simpson used to be one of the most famous women on the planet. From her reality TV show Newlyweds to her movie deals to her pop music stardom to her seemingly endless endorsements, Simpson was everywhere from 2003 to 2007. But by 2008, the star that had skyrocketed to stratospheric heights was falling rapidly — and a decade later, you hardly hear from her anymore. What happened, and what's she up to these days?
The whole 'chicken or fish' thing
The world was rather indifferent to Simpson until she and then-98 Degrees frontman Nick Lachey tied the knot and starred in MTV's Newlyweds: Nick and Jessica in 2003. Half the world fell in love with Simpson — and half the world decided she was a ditz — over the infamous "Chicken of the Sea" moment, in which she asked a visibly dumbfounded Lachey if the tuna she was eating was chicken or fish.
From that moment on, Simpson was the stunning airhead, while Lachey was the long-suffering working man who tolerated his dippy wife. Fair or not (remember that reality TV has a lot of editing,) those labels stuck to the couple throughout the series. Lachey was frequently depicted scolding Simpson over her spending habits, and the two bickered over everything from their love life to their furniture.
"You could feel there was tension between the two of them. They were very different people," Newlyweds producer Sue Kolinsky told Complex in July 2017. "He was a blue collar guy — he did a lot of things himself, like he and his brother would build things. He was frugal, and she had excessive taste. In the end they weren't suited for each other. The only thing they really had in common was their music. She was really young … he's seven years older than her. He wanted a family, and her father thought maybe she was too young. Her father was very involved in her life."
Lachey went on a sympathy tour post-divorce
When Simpson and Lachey split in December 2005, she was plagued with rumors of cheating on Lachey with stars such as Adam Levine, Johnny Knoxville, and Bam Margera. Meanwhile, the PR-savvy Lachey seemed to take advantage of the public's sympathy post-divorce.
Lachey played the heartbroken card, telling press he was "blindsided" by the divorce and releasing "What's Left of Me," a song about the split which went on to be his biggest (and only) solo hit. "Do I believe that I'll fall in love again one day? I certainly hope so. I certainly hope I'm not going to be the jerk, uncle, bachelor the rest of my life," Lachey said at the time (via E! News). "You know, it's not what I envisioned for myself, but at the same time, when I got married, that was it for me, you know, that was my life."
Simpson's first post-divorce professional release was her lighthearted single "A Public Affair" and her album of the same name, which image experts were divided about in terms of its success post-breakup.
Hollywood publicist Michael Levine told Today that the newly single Simpson should "individuate herself … not do things that play to that past story. What she needs to do is change the subject." Publicist Michael Sands disagreed, saying Simpson sans her marriage was "out of character … She's off the tabloids — she's not the cover girl anymore."
Her country career never took off
After Simpson's pop career hit a downturn with A Public Affair, which sold fewer than 300,000 copies, the singer turned to country. That didn't end well, either.
Sales of her country debut, Do You Know, released in September 2008, disappointed, reported The Associated Press. Though the album debuted at No. 1, its lead single, "Come On Over," a peaked at No. 18; its second single, "Remember That," stalled at No. 42, and the third, "Pray Out Loud," didn't chart. The album sold a total of just 178,000 copies.
Ian Drew explained, "Working the country market is very different … You have to spend your life on the road building an audience and she didn't really put the work in. She walked the walk and talked the talk, but she didn't have the street cred that she needed to make it work."
The poor sales resulted in Simpson being dropped from Sony Nashville.
She doesn't have a record deal anymore
In August 2017, Simpson claimed that she'd be releasing an album later that year. As of early 2018, it has yet to happen, which may be because Simpson doesn't currently have a record deal at this point.
"I am my own record deal, which is so empowering to say," she told CBS News. "Nobody has to tell me what to look like, nobody has to tell me what music sounds good."
Her films were poorly received
Simpson's forays into film haven't been successful. She played herself in a cameo in Master of Disguise (2002), which earned a 1 percent rating on Rotten Tomatoes. The Dukes of Hazzard (2005), which featured a Daisy Duke-clad Simpson heavily in its marketing, did well in theaters but was pummeled by critics, earning just 14 percent on Rotten Tomatoes. Employee of the Month (2006) fared slightly better, but still got only a 20 percent Rotten Tomatoes score. Blonde Ambition (2007) was released in only eight theaters in Texas, grossing a total of $6,000 on an estimated $10 million budget and nabbing a whopping 14 percent on Rotten Tomatoes. Her final starring role, the titular Private Valentine: Blonde & Dangerous (2008), went straight to video.
Her poor hygiene jeopardized a charity partnership
Simpson repped the charity Operation Smile, a cause dedicated to helping children born with cleft palates achieve beautiful smiles through surgery. She almost lost that deal when she revealed she doesn't even take care of her own smile.
"I don't brush them every day … My lips just slide all over the place … I can't catch up with my mouth. I need a little coating," she told Ellen DeGeneres (via ABC News) in April 2010. The singer said she uses "a shirt or something" to wipe her teeth, noting, "I know it's gross but I always have fresh breath. It's really weird but I have great breath."
Periodontist and American Dental Association spokeswoman Dr. Sally Cram explained why that's a really bad message to promote. "The biggest risk she faces is losing her teeth. You need to remove the plaque and bacteria that build up under your teeth and gums at least every 24 hours. If you don't and you let that bacteria collect for two or three days, you start losing bone around the teeth and that can lead to decay … Think of your gum as a little turtleneck collar around your tooth."
Her acne comments hurt another endorsement deal
In 2005, Simpson was a paid shill for ProActiv skincare, an anti-acne line. On its website (via Campaign US), she gushed, "I just had so much build-up and so many clogged pores that once I started using ProActiv Solution, my face was just shining. I'm passionate about ProActiv because it worked for me and gave me so much confidence."
That's a shining endorsement, right? Except Simpson previously admitted in interviews that she actually obtained her clear skin with the prescription medication Accutane. Whoops!
She had a lot of family drama
Simpson's career was largely molded by her father, Joe "Papa Joe" Simpson — and her family life has been tumultuous throughout the last decade.
Papa Joe made headlines in August 2012 when he was busted for a DUI, reported E! News.
In October 2012, Joe and wife Tina filed for divorce after nearly 35 years of marriage. According to People reported, the split came about as rumors about Joe allegedly coming out as homosexual to the family began to gain steam in tabloids such as the National Enquirer. (The Simpson family denied that Joe was interested in men.)
In July 2014, Papa Joe, then 56, was photographed vacationing with a male model named Jonathan Keith, who was 21 at the time. A source told Radar Online, "Joe doesn't want to publicly admit that he's gay."
In November 2016, Joe was diagnosed with prostate cancer, People reported, but was cancer-free by May 2017, courtesy of radiation treatments.
Perhaps in part because of all this drama, Jessica has been lying low and attending to her parents.
Her husband isn't a celebrity (or employed)
Before settling down with husband Eric Johnson, Jessica Simpson was linked to a slew of celebrity men, including comedian Dane Cook, musician John Mayer, and Dallas Cowboys quarterback Tony Romo. Johnson, unlike her past beaus, is not a celebrity and may have been unemployed when they met, which greatly decreased public interest in the relationship, despite a People magazine cover story about their wedding.
Before they walked down the aisle, a source told the National Enquirer, "Eric has been unemployed the entire time they've known each other, and he doesn't seem to have any plans to get a J-O-B. Let's face it, his job is being Mr. Jessica Simpson."
In fairness to Johnson, after so many high-profile failures in her love life (especially being unfairly and constantly blamed for Romo's poor performance on the field), she probably doesn't mind having a low-profile Mr. Mom around to help out with the kids and mug for some Instagram shots every now and then.
Her weight attracted a lot of cruel attention
Simpson was famous for her buxom, toned figure from 2001 to 2008. In 2009, however, a now-infamous snapshot of Simpson performing in high-waisted jeans went viral and attracted a ridiculous amount of negative attention.
In 2011, she became pregnant with daughter Maxwell, but by November 2012, she was flaunting her slim, post-baby body, which she credited to Weight Watchers. By 2013, Simpson was pregnant again with son Ace, and her body obviously evolved.
She later told Redbook that the "mom jeans" incident was her lowest point and that criticism about her pregnancy weight was out of line as well. "It's ridiculous and unfair. I think any woman who is pregnant and creating a life is pretty much entitled to eat whatever she wants as long as she's healthy," she said. "I wasn't going to let the media take away from what was one of the happiest times in my life."
She added of the high-waisted jeans, "What's so unbelievable is that I was probably at least 15 pounds smaller than I am right now. What's more unbelievable is that the press could create something like that out of a pair of jeans … what woman wants to be brought down for wearing a pair of jeans?"
She's focused on her fashion line
Simpson went from pop star to reality star to country star to billion-dollar businesswoman with her fashion line, and that's where her heart is now in terms of her career.
"My business is the heart of who I am. I want to make every woman feel confident in what they're wearing," she told a Forbes Power Women Summit in 2014 (via E! News).
"It's very important for me to let every woman feel included," she told CBS News. "If I make a shirt, I'm going to make sure every size is available. Because I have been every size, trust me … People are shocked that they like my brand. Maybe 'cause it's not that expensive? Or maybe because I was a cheesy pop star back in the day. I have no idea."
She's family, not fame-oriented
Having kids changed Simpson's outlook on fame and, well, life. In a blog for Parents.com (via People) in 2013, Simpson said that her kids made her feel "complete," adding, "Becoming a mom has helped me realize I'm actually proud of myself for a lot of the things I have done in my life. Having my kids has made me feel so much more at peace with myself."
Her public appearances have been messy
Simpson has made headlines for her awkward and sloppy public appearances. In May 2017, she appeared slightly out of breath and stumbled all over her words during an appearance on Ellen. In September 2015, she slurred and swayed her way through an appearance on the Home Shopping Network to promote her fashion line. TMZ cameras captured her numerous times stumbling out of restaurants and nightclubs.
Simpson never commented on the incidents, and HSN denied she was impaired on the network.
She may have a drinking problem
Some insiders believe Simpson may be battling the bottle.
"Jessica has a problem … It's been occurring on a frequent basis lately," a source told In Touch in September 2017. "The combination [of alcohol and medication] makes her loopy and disoriented." The source claimed her husband "just deals with it now. Of course he's embarrassed, but there isn't much he can do. Jessica can be really stubborn and if she doesn't want to do something, no one can make her."
It wasn't the first time she and Johnson reportedly argued about her alleged substance abuse. An insider told Radar Online in September 2015 that Johnson is "worried sick that Jess' conduct is going to start affecting their two children and that their oldest is starting to realize there's something wrong with mommy … She can't be in denial any longer about the toll that her problems have taken on her marriage, or she could lose her husband her children — and her money."
Insiders claimed Simpson's family attempted an intervention in 2015 and that mom Tina offered to go to rehab with her, but Simpson allegedly declined.