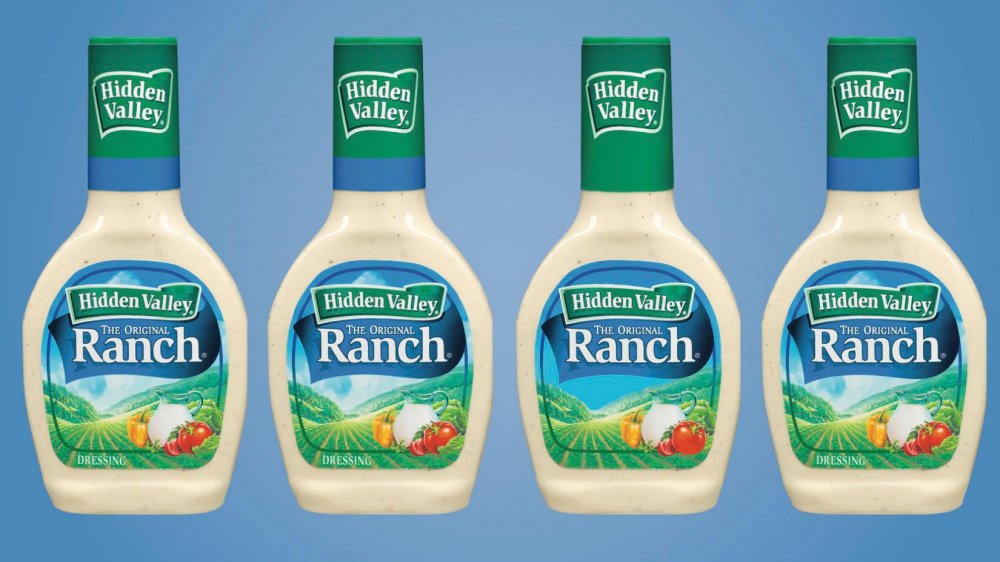 Ranch dressing is the most American of salad dressings, and it's so American that it isn't even just for salads. It's a salad dressing that goes on pizza, fries, and baby carrots. You could say it's more of a condiment. It's a Doritos flavor. It's a dip. It's a cultural phenomenon. But why is it called ranch? And why is it most notably made by a company called Hidden Valley Ranch? Is that a real place? Is it full of ranch dressing? (Yes, it's a real place. No, it's not full of ranch dressing.)
The true story of Hidden Valley Ranch is where rugged individualism, adventurous cowboys, and the romance of the wide-open American West meet food science, corporate conglomerates, and capitalism. Hidden Valley Ranch started out more or less by accident, then became a cottage industry, and then became a salad dressing superstar. Let's dive into Hidden Valley Ranch's backstory and see how it came to be such a popular salad dressing.
Hidden Valley Ranch dressing was invented by Steve Henson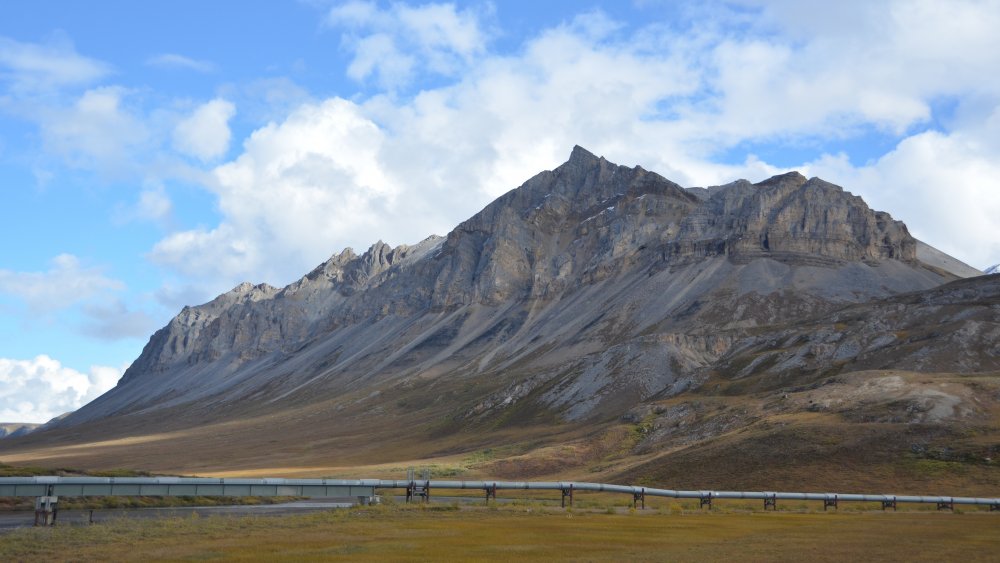 Kenneth Henson (he later changed his name to Steve), the inventor of ranch dressing and the founder of Hidden Valley Ranch, started out as a cowboy in Nebraska. With dreams of making their fortune out west, he and his wife Gayle spent three years in Alaska, where Steve worked as a contract plumber for Alaskan oil companies. That gig also included the responsibility of cooking for the crew, and Henson realized that he was going to have to get creative to get his fellow workers to eat their vegetables.
Henson told the LA Times in a 1999 interview (via Edible Alaska), "It's tough to feed men up in those bush jobs. If they don't like something, they're as likely to throw it at the cook as they are to walk out cursing. I had to come up with something to keep them happy." With necessity being the mother of invention, Henson used what ingredients he had on hand — buttermilk, mayonnaise, and some spices and herbs – to make a salad dressing. Henson's creamy salad dressing was so delicious that the work crew ate their vegetables with gusto. And just like that, the salad dressing that can now be found on every salad bar in the country was born.
There was an actual Hidden Valley Ranch
Hidden Valley Ranch is not just a brand name, but a real place. In 1956, after Steve Henson's Alaska contract was up, he and Gayle moved down to Santa Barbara, California, and bought the Sweetwater Ranch – which they then renamed Hidden Valley Ranch. Their goal was to make the ranch a dude ranch or guest ranch, with outdoor activities, a guest house, and of course, hearty, home-cooked meals.
The ranch was later described by Alan Barker, a former employee who worked at the ranch from 1959 to 1963, in a letter to the LA Times "as a sort of country club, nightclub, dude ranch in the mountains." Barker recalled, "The ranch was not received well and promptly went broke. During my stay, we lived on peanut butter sandwiches and leftovers from parties thrown there by UCSB fraternities and sororities."
The saving grace of the Hidden Valley Ranch turned out to be Hidden Valley Ranch (dressing). Guests fell in love with salad dressing, demanding jars of the stuff to take home, and soon a mail-order business for ranch seasoning packets completely took over the Hidden Valley Ranch. If you're seriously in need of soaking up the brand's history, the first restaurant that served Hidden Valley Ranch dressing back in 1963, Cold Spring Tavern, is still open today.
Hidden Valley Ranch hit the big time when they sold the business to Clorox
Hidden Valley Ranch was doing well selling seasoning packets in the 1960s and 1970s, but they really hit the big time when they sold the business to brand name bleach company Clorox. In October 1972, the small family business was officially sold to a giant conglomerate for a hefty sum. The Hensons got eight million dollars in the deal, which was a lot more money back in 1972.
In the long run, Clorox's investment has paid off several times over. In 2017 alone, Hidden Valley Ranch netted the company $450 million. Since Clorox bought the brand, the product has changed substantially. At the time of the sale, the most popular product was a flavor packet known as "BMO," or "Buttermilk Original." Interestingly enough, Steve Henson sold the dude ranch, aka the ranch after which Hidden Valley Ranch was named, before they sold the company to Clorox. When Steve Henson passed away at the age of 89 in Reno, Nevada his obituary read, "He always could tell a story and make it better."
Hidden Valley Ranch dominates the market when it comes to ranch dressing
Ranch has been the most popular salad dressing in the United States since 1992, when it overtook Italian and has ruled the salad bowls of America ever since. And it's fitting that the brand that invented ranch dressing dominates the market share of the lucrative, caloric, buttermilk dressing. Hidden Valley Ranch holds a 51 percent market share, and as of that same year, the brand had seen 19 consecutive quarters of growth.
In 2019, ranch dressing accounted for one billion dollars in sales in the U.S., overtaking ketchup and officially becoming America's most popular condiment, in addition to its favorite salad dressing. Hidden Valley decided to lean into the concept of ranch as more than just a salad dressing starting in 2012, by launching a product with differing branding and labeling on the bottle – "the new ketchup" and "for everything" – and a slightly thicker and smoother consistency. A spokesperson for the brand, David Kargas, claimed that they weren't trying to replace ketchup, but were responding to market research showing that around 15 percent of ranch users ate the dressing on non-salad food items. As for the most popular non-salad food to enjoy ranch with — well, that would be fries and chips, of course.
The Hidden Valley Ranch of today bears little resemblance to the original
In a way, it's amazing that ranch dressing even took off in the first place. Steve Henson's mail order seasoning packet business relied on Americans having buttermilk and mayonnaise in the fridge ready to go. The convenience factor was somewhat lacking. By the 1980s, Clorox had at least figured out how to add the buttermilk flavor to the seasoning packet so that regular milk and mayonnaise were all that was required make the dressing. Hidden Valley Ranch introduced the first shelf-stable, bottled ranch dressing in 1983, and that's when ranch dressing really became an American food phenom.
How did the food scientists at Clorox make ranch dressing shelf stable? Looking at Steve Henson's original recipe, it is caloric, delicious, and perishable. There was no way to sell large batches of a dressing made from buttermilk, mayonnaise, and some herbs and spices. The Hidden Valley Ranch dressing that comes from a bottle is a canola oil and soy-based product, with a lot of hard to pronounce ingredients such as "disodium inosinate" and "calcium disodium." If you'd like to try making a ranch dressing that tastes a little closer to Steve Henson's original, try a copycat recipe.
Hidden Valley Ranch at one point released a keg of ranch dressing, and not surprisingly, consuming that much ranch isn't healthy
In 2017, Hidden Valley Ranch released a five liter keg of ranch (equivalent to seven regular bottles of ranch dressing), because why have a bottle in your fridge when you can have a keg of the stuff? This Hidden Valley keg was available for a limited run online for a mere $50, offering ranch lovers the opportunity to throw an awesome party and/or test their will power. Not surprisingly, it was more ranch than most people need or should consume.
The nutrition label on a bottle of Hidden Valley Ranch lists the serving size as two tablespoons, and the keg contains 170 servings. Hidden Valley Ranch contains relatively high levels of sodium and saturated fats that, if eaten in moderation, are pretty innocuous, but, according to nutrition expert Sarah Krieger, "In a 5-liter keg, there are 170 servings of 2 tablespoons, so the consumer is in charge of how much to enjoy, but should be aware of how quickly it adds up." It's safe to say that doing a Hidden Valley Ranch keg stand would be deleterious to your waistline.
Hidden Valley Ranch doesn't just sell salad dressing
Hidden Valley Ranch has had seen quite the growth since its Buttermilk Original seasoning packet days. They sell a "secret sauce" that comes in a squirt bottle in three flavors: spicy, smokehouse, and original ranch. They sell dips, and they sell blasted creamy dipping sauces that come in squirt bottles. They sell pasta salads, breading prep kits, and dip cups.
When it comes to ranch dressing, Hidden Valley sells the Original Ranch, of course, but they also sell Original Homestyle, which according to the reviews, may or may not taste different from the original. They also sell Simply Ranch, a line of ranch dressings that claim to have no artificial flavors, preservatives, or colors. For those seeking lighter fare but who still want to get their ranch on, Hidden Valley sells Greek yogurt-based ranch as well as a line of light, fat-free, and organic dressings. They sell too many flavors to list, from millennial-friendly flavors like avocado ranch and Sriracha ranch to the old school classics like cheddar bacon ranch and Buffalo ranch.
However, not every product has been a success. Back when ranch dressing was sold as flavor dry mixes, Hidden Valley had trouble with bacon bits poking holes in the packaging of the Ranch with Bacon flavor.
A grocery store chain sued Clorox for showing Hidden Valley Ranch favoritism to club stores
Should Costco members and non-Costco members alike be able to wheel gallon jugs of ranch dressing to their cars? Woodman's Food Market, a regional grocery chain based in the Midwest, certainly thinks so. The grocery chain sued Clorox in Federal Court for declining to sell twin packs of 40-ounce bottles of Hidden Valley Ranch dressing to Woodman's, forcing the chain to buy single 32 and 16-ounce bottles instead. Woodman's alleged that the lack of large containers of ranch dressing would cause them to lose customers to Costco and Sam's Club, and that Clorox may have engaged in illegal price discrimination.
The courts ultimately sided with Clorox. In a 3-0 ruling, the U.S. Court of Appeals ruled that the case should have been thrown out after Clorox stopped selling products directly to Woodman's. This came, however, after Clorox's initial motion to dismiss the lawsuit was denied. The court also ruled against Woodman's claims of illegal price discrimination based on packaging size. In sum: just buy the regular size bottle of ranch.
Hidden Valley Ranch created a $35,000 bottle of ranch in honor of Meghan Markle
In 2018, in honor of National Ranch Day (yes, that's a thing), Hidden Valley Ranch created a one-of-a-kind $35,000 dollar bottle of ranch that was won by one lucky Hidden Valley Ranch fan on Twitter. The blinged-out bottle was bejeweled in diamonds, sapphires, and 18-karat white gold. The actual ranch dressing came on the side, and the bottle could be filled up at the winner's leisure. According to a Hidden Valley spokesperson, the bottle was designed by an anonymous A-list celebrity jeweler, and it was designed in honor of the then newest member of the royal family, Meghan Markle.
"Hidden Valley Ranch will commemorate this joyous occasion by creating a one-of-a-kind bottle to honor a fellow famous American, and remind her of the familiar flavors of her home country as she resides as royalty across the pond," Hidden Valley announced in a press release. "Renowned in these United States as the flavor that goes well with anything, Hidden Valley Ranch is honoring the great pairing of a fellow famous American with British royalty, as well as those who royally love ranch." Hidden Valley also made sure to note that ranch dressing is not available in the U.K.