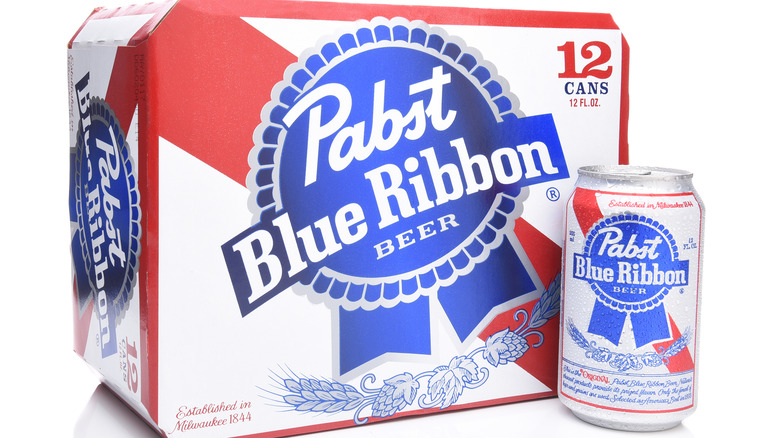 Pabst Blue Ribbon often gets a bad rap as a bland, watery, and cheap beer. It has a measly score of 68 on Beer Advocate, for one, putting it in the "poor" category. But behind the iconic blue ribbon logo is a story few beer makers can match.
What we know as Pabst Blue Ribbon was first brewed in Milwaukee by Jacob Best nearly two centuries ago, making it one of the oldest beers in the United States. Since then, the Pabst Brewing Company has grown to become the fifth-largest in the country, as the Brewers Association reports. And despite its lackluster rating, Pabst Blue Ribbon remains one of the most popular beers in America, according to YouGov.
From the first brew to the latest can, there's a lot of history. PBR has experienced a number of trials, tribulations, and outside-the-box thinking. From its actual blue ribbon awards and cheese-making business to its new line of whiskey and cannabis-infused drinks, this is the untold truth of Pabst Blue Ribbon.
Pabst Blue Ribbon has been around for over 175 years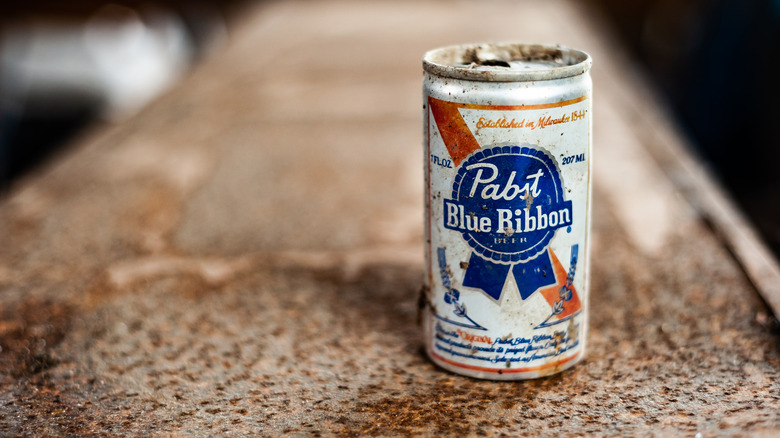 The Pabst Brewing Company, makers of the eponymous Blue Ribbon beer, traces its roots all the way back to the 1840s. It was in 1844 that German immigrant Jacob Best, Sr. established the Best and Company Brewery in Milwaukee with his four sons. That first year, the company produced just 300 barrels of beer. For comparison, approximately 2 million barrels of Pabst Blue Ribbon are brewed annually these days, according to 24/7 Wall St.
But, despite the seemingly humble beginnings, the business quickly picked up. According to Pabst, by 1872, the company was producing 100,00 barrels annually, making it the second-largest brewery in the country. By this time, two of Best's sons had left to form their own beer-making business, called Plank Road Brewery, which was eventually sold to Miller Brewing Company. This left Best's son Phillip as the proprietor of the family business. As such, he changed the company's name to the Phillip Best Brewing Company — but the title wouldn't last very long.
It's named after Captain Pabst
Not long after Phillip Best took control of the Best and Company Brewery, his sister Maria met and married Frederick Pabst. Pabst was born in Germany in 1848. At the age of 12, he moved with his parents to America and, eventually, Chicago. Just two years later, a teenage Pabst got a job on a Great Lakes steamboat and by the time he was 21, had become captain. From then on, he would be known as Captain Pabst.
After marrying Maria, Pabst got out of the sailing business and into beer-making. He sold off his shipping interests and accepted his father-in-law's offer to buy half of what was then Phillip Best Brewing Company. In 1872, Pabst was named president of the company, which flourished under his leadership. The brewery incorporated the latest production technology, including artificial ice machines and incandescent lights. It was also one of the first to offer public tours of the facility. By 1889, Pabst was in sole control of the burgeoning empire and the business officially changed its name to the Pabst Brewing Company.
While the captain is gone, his legacy remains. When the Pabst company rebranded its Milwaukee taproom in 2020, it gave the establishment a new name: the Captain Pabst Pilot House.
Pabst beer really did win a blue ribbon
Pabst's Blue Ribbon moniker isn't just a name. The year was 1893 and Chicago was hosting the World's Columbian Exposition, also known as the Chicago World's Fair. All the country's great designers, architects, and inventors came to showcase their work, including Nikola Telsa and Thomas Edison. According to Smithsonian Magazine, attendees included none other than captain Frederick Pabst, who entered his company's brew in the beer tasting competition. It would prove to be a momentous decision.
Pabst's Best Select, as it was known at the time, was bestowed the top beer award at the event, thus taking home the blue ribbon. The beer had won several honors previously but it was the Chicago World's Fair prize that provided inspiration for the moniker that's known around the world today. Not long after the exposition, the beer was officially rebranded as Pabst Blue Ribbon.
There used to be real blue ribbons attached Pabst bottles
Although the blue ribbon won at the 1893 Chicago World's Fair is the titular blue ribbon, Pabst Blue Ribbon had previously won the top prize at other competitions both in the US and abroad. To mark the victories, in the 1880s, the beverage makers began affixing real pieces of blue ribbon around the bottlenecks of what was then known as Best Select beer.
According to Smithsonian Magazine, by the early 1900s, Pabst was going through more than a million feet of ribbon per year, only slowing down when World War I caused a silk shortage. The ribbons became a permanent Pabst Blue Ribbon fixture in the 1930s when they began appearing on PBR cans. Two decades later, the silk ribbons were fully replaced by printed graphics, which can be found on every Pabst Blue Ribbon bottle and can to this very day.
The Pabst company made cheese during Prohibition
For its first 70 years, the Pabst company seemed to be unstoppable. By the 1870s, it had already become the second-largest brewery in America. It all came to a screeching stop in 1920, when Prohibition went into effect, banning alcohol nationwide.
What could have been a crippling blow to the Pabst Brewing Company instead became an opportunity. As it turned out, Pabst was as well prepared for Prohibition as a beer maker could be. According to Atlas Obscura, the company had acquired farmland several years earlier to raise horses for its beer wagons. With the onset of automobiles, Pabst instead began raising dairy cows on the land. With Prohibition, the company shifted its focus to the dairy business and began manufacturing and selling cheese.
According to History, Pabst had several other side businesses during this time, including selling malt syrup and soft drinks, as well as leasing out factory space to Harley Davidson. But none of these were more successful than its cheese venture. All told, Pabst sold more than 8 million pounds of its cheese spread, known as Pabst-ett, during the 13 years Prohibition was in effect. When the ban on alcohol was repealed, the company sold its cheese business to Kraft.
The Pabst company may have invented the six pack
Few developments in the evolution of buying and selling beer have had more of an impact than the six-pack. For the first time ever, you could now carry six beers in one hand! What could be better than that?
How this handy product came to be, however, is up for debate. Some say that a soft drink manufacturer first devised the idea of packaging six drinks together, according to VinePair. Meanwhile, Coca-Cola claims to have invented the six-pack back in 1923. Other theories say it was the invention of Anheuser Busch of Budweiser fame or the historic Ballentine Brewery in New Jersey.
Others attribute the six-pack to the Pabst Brewing Company. VinePair reports that the brewer conducted a study to determine the maximum number of beers a woman could comfortably carry into her home, landing on six. According to Pabst, the company started selling packaged beer in cans in 1935.
Pabst Blue Ribbon nearly went extinct
According to the AP, the Pabst Brewing Company does not brew its own beer. Instead, for the past 20 years, Pabst Blue Ribbon has been manufactured by MillerCoors. In 1999, the two companies signed an agreement that said Pabst would pay MillerCoors to brew its beer for the next two decades. Things seemed to be going just fine until the deal's expiration was in sight. The contract allowed for two five-year extensions, but neither side could agree on who had the right to give those extensions the green light.
MillerCoors wanted to end the partnership, claiming the contract gave it sole discretion on extending the deal. Pabst disagreed. In 2018, the two sides went to court. Pabst claimed it didn't have the capacity to manufacturer enough of its own beer, nor could any other brewer in the country. If this partnership ended, it could mean the end of Pabst Blue Ribbon. "It really is an existential issue for Pabst because it has no real alternatives," a company lawyer said at a trial hearing.
The beer gods smiled upon Pabst. According to NPR, just as a panel of jurors was deliberating the case, the two sides came to a settlement in which MillerCoors would continue brewing Pabst products.
The Pabst Milwaukee brewery has shut down twice
In 1996, Pabst Blue Ribbon contracted out the production of its beer to the Stroh Brewery Company. In doing so, it closed the doors of its original Milwaukee brewery and, according to USA Today, ended 152 years of Pabst production. At the time, the company blamed the move on poor sales. "Milwaukee is down 18 percent from last year, but in other areas of Wisconsin, we're only down about 5 percent," Pabst Brewing president Lutz Issleib told the Milwaukee Business Journal. The outlet also reported that Pabst hoped to resume production at the facility in the future. That never happened. In 1999, the production of Pabst was outsourced to MillerCoors, where it's been brewed ever since.
Just when locals may have been getting over Pabst leaving Milwaukee behind, it happened again. In 2017, Pabst opened a microbrewery in the city known as Pabst Milwaukee Brewery & Taproom, later changed to Captain Pabst Pilot House. A few years later, the COVID-19 pandemic hit and like the rest of the hospitality industry, the brewery suffered.
In December of 2020, the brewery and taproom shut down for good. "It's a sad day for me, my team and Pabst lovers here in Milwaukee," general manager Adam Powers said.
Pabst used a legal loophole to create its own whiskey
In 2019, the Pabst Brewing Company celebrated 175 years of brewing beer by releasing its own whiskey (via Esquire). Rumors of the company's first foray into spirits began in the spring when MiBiz discovered a Pabst-branded whiskey label had been submitted to the U.S. Department of Treasury's Alcohol and Tobacco Tax and Trade Bureau (TTB). The label was submitted by New Holland Brewing Company but featured the iconic blue ribbon logo and mentioned Pabst founder Jacob Best.
It turns out the rumors were true. Pabst contracted New Holland to distill a new whiskey, which was on shelves that summer. But Pabst had to do some legal maneuvering to make whiskey. The company did not want to age the spirit in barrels, but legally, anything labeled whiskey must be aged.
However, as Pabst found out, there's no law stipulating how long it must be aged. "[The TTB is] like, 'You need to age it.' I go, 'For how long?' And they went, 'No determined amount of time. If it touches wood, it's a whiskey,'" Pabst general manager Matt Bruhn told Esquire. "We literally aged it in a barrel for five seconds, so we have the ability to call it what it is, which is whiskey." The result is a clear, 80-proof Pabst Blue Ribbon whiskey.
Pabst Blue Ribbon makes hard coffee
If there's one thing Pabst isn't afraid of, it's being an outlier. This was proven true in the summer of 2019 when the company released Pabst Blue Ribbon Hard Coffee. "Pabst Blue Ribbon has always been a brand that pushes boundaries and celebrates those who experiment and try new things," said John Newhouse, brand manager at Pabst Blue Ribbon. "Hard Coffee is an opportunity for us to pioneer a delicious and fun new drink."
Described by Pabst as "great tasting vanilla infused premium iced coffee with a 5 percent ABV kick," the drink is essentially an alcoholic Frappuccino. Although the unique concoction may not sound appealing, the initial feedback was surprisingly positive. According to Food & Wine, the first 160 reviews on beer rating site Untappd gave the hard coffee an average rating of 4.21 out of 5. Initially released in just a few test markets, Pabst Hard Coffee is now available nationwide.
Pabst also makes several other hard beverages
Following the debut of its hard coffee, Pabst wasted no time introducing a second new product: hard seltzer. In August of 2019, the company announced it would be making its own version of the uber-popular beverage (via Thrillist). Dubbed "Stronger Seltzer," the drink has an 8 percent ABV. "Stronger Seltzer is a fun and innovative new drink that delivers big on taste, and gives our customers something different to enjoy," Pabst Blue Ribbon brand manager John Newhouse said.
In July of 2020, Pabst added another drink to its ever-growing product line: Pabst Blue Ribbon Hard Tea. The 100-calorie, 4 percent ABV sweet tea was described by the company as "uniquely Pabstidian evolution of the seltzer market." That evolution continued the very next year, says Brewbound. That's when Pabst unveiled its hard tea variety pack, featuring four new flavors: pineapple-passionfruit, lemon, peach, and raspberry.
"We want to continue offering people fun, differentiated drinks that are shareable and surprising; drinks that make them say 'Woah, PBR did that?'" said Nick Reely, Pabst Blue Ribbon's vice president of marketing (via Brewbound).
A cannabis-infused Pabst drink may arrive soon
In fall 2020, the Pabst Brewing Company announced its most ambitious, unconventional product yet: a cannabis-infused seltzer. According to Food & Wine, the drink, known as High Seltzer, has five milligrams of THC, the main active ingredient in marijuana. It delivers what the company says is "a responsible dosage designed to make it a go to drink for both casual and experienced cannabis users." The seltzer has no alcohol, so no worries about mixing substances.
Although it bears the PBR logo, the product is the brainchild of a cannabis-focused subsidiary known as Pabst Labs. "Until the legal landscape changes, we can't produce this in-house, but the formation of Pabst Labs, a licensed cannabis operator, involving former Pabst Blue Ribbon employees and cannabis beverage experts, gave us a unique chance to grant the use of our brand to a cannabis savvy group," PBR senior brand manager Seamus Gallagher told Food & Wine.
The cannabis seltzer is currently only available in California, but Pabst is hoping for a wider rollout in the coming months.
You can find PBR around the world
Few beers are as distinctly "American" as Milwaukee-born Pabst Blue Ribbon. After all, it's the third-oldest beer in the country (via 24/7 Wall St.), and its parent company, Pabst Brewing, is the fifth-largest brewery in the United States, according to the Brewers Association.
But all this doesn't mean PBR's influence ends at the border. In fact, you can find the beer all around the world. You can find PBR in Brazil, for one. In 2018, Australia's Tribe Brewery became the country's official licensed brewer and distributor of Pabst Blue Ribbon.
In 2010, news spread that China sold cans of PBR for a whopping $44. However, this is technically not true. The Asian country sells a drink called "Blue Ribbon 1844." It's a Pabst product, but completely different from PBR. Brewmaster Alan Kornhauser explained the difference to All About Beer. "I formulated a special high-gravity ale called '1844.' It's all malt, and we use caramel malts from Germany. […] This is a very special beer; it's retailing for about over $40 U.S."
Celebrities appeared in old Pabst commercials
Could it be possible that the secret behind Patrick Swayze's legendary dance moves was an icy cold glass of PBR? If you believe a 1979 commercial, yes. Long before he was not putting Baby in the corner, Swayze starred in a commercial for Pabst Blue Ribbon. In it, the legendary actor tears up the dance floor before cooling off with a PBR (via Jezebel).
Believe it or not, Swayze wasn't the only famous face to appear in a PBR commercial back in the day. Jason Alexander did a PBR ad in 1983. A few years ago, Alexander confirmed his appearance in the commercial on Twitter but claimed he did it with baseball Hall of Famer Yogi Berra. Now, Alexander did appear next to the former Yankee — in a 1987 ad for Miller Lite (via YouTube).
In that same PBR commercial starring Alexander, you'll be able to spot a young Patricia Heaton. The actress, best known for her work on "Everybody Loves Raymond," commemorated the commercial by posting it on her Instagram in 2018, saying the spot ran during the Super Bowl.
PBR has become known as hipster beer
For all of Pabst Blue Ribbon's success over the past 175 years, it hasn't always been smooth sailing. In fact, not too long ago, PBR was at an all-time low. According to HuffPost, the 1980s began a 20-year nosedive in PBR sales that culminated in fewer than a million barrels sold in 2001, a 90 percent drop from 1975. Then something strange happened: sales skyrocketed, jumping 20 percent in 2009. By 2013, 90 million gallons of PBR were sold, a 200 percent increase from 2004.
Why the change? Hipsters. Around the same time PBR was bottoming out, the country saw a resurgence in anti-mainstream behavior. PBR leaned into the trend by marketing to the outsider crowd. Instead of airing Super Bowl commercials as the giant beer companies do, Pabst sponsored PBR-themed art shows and other eccentric events and promotions.
"[Pabst] linked themselves to a variety of things that presented the 'autonomous' image," University of Colorado marketing professor Margaret C. Campbell told HuffPost. "For example, they sponsored bike messenger rodeos, and they did it in Portland, which is a very autonomous city." Campbell co-authored a study that credited this autonomy for making PBR the "cool" beer. Whatever the cause, it certainly worked. Pabst Blue Ribbon is now one of the most popular beers in America (via USA Today).