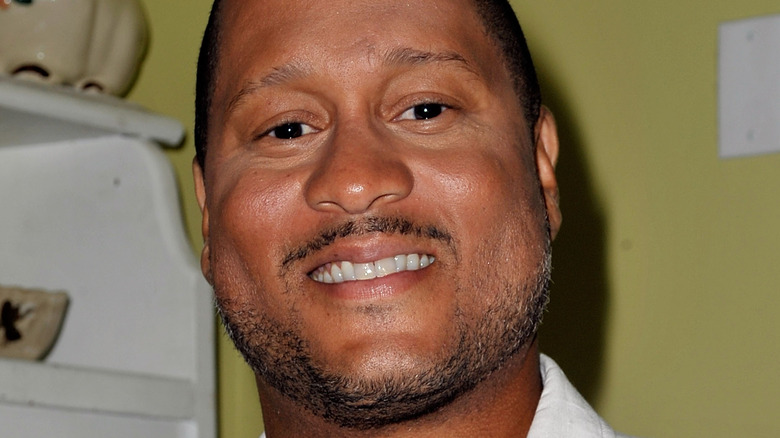 Pat Neely entered the restaurant business early on, just 23 when he opened his first Memphis restaurant. As Neely's bio notes, the next two decades saw that restaurant, Neely's Bar-B-Que, grow into one of the city's best-known eateries, earning the title of "Best BBQ in Memphis" in 1997 along with coverage (which featured Neely himself) on NBC's "Today."
In 2008, he and then-wife Gina Neely were approached by the Food Network to host their own show, with the resulting series — "Down Home with the Neelys" — proving to be an out-of-the-box hit; according to Food Network, the show was the highest-rated series to debut on the network's weekend "In the Kitchen" block, transforming the couple from regional restaurateurs to Food Network stars.
Viewers were drawn to the Neelys' easygoing banter and the affection they seemed to display toward each other on camera, not realizing that what they saw on television concealed a far darker reality — which ultimately led to the cancellation of "Down Home with the Neelys" in 2014. Since then, Neely has remained in the spotlight, venturing into different areas while expanding his presence within America's culinary landscape. To learn more about this popular celebrity chef and television personality, read on to discover the untold truth of Pat Neely.
Pat Neely's success came from humble beginnings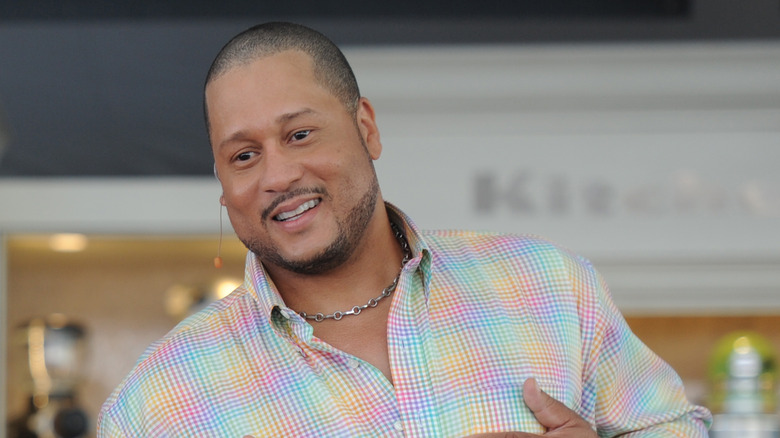 Pat Neely was definitely not born with a proverbial silver spoon in his mouth. As he told Look to the Stars, his father died when he was just 11, an event that destabilized his young life. "We didn't have a whole lot. My mother's home was in foreclosure when I was a senior in high school," he said. "There was never enough money."
However, Neely explained in an interview with Forbes, having the bedrock beneath him crumble so unexpectedly also motivated him to ensure that he never had to experience anything like that again. "That had a huge impact on me as a kid — and still does — because it made me want to make sure I had a secure, stable life," said Neely, "with the security of knowing there was a car to drive, a nice house to go home to, and the knowledge that my daughters could go to college."
When Neely launched his first restaurant, it was with $20,000 he'd borrowed by using his 90-year-old grandmother's home as collateral. "That was all I had first day I opened the doors. I was dead broke," he told Look to the Stars.
He and Gina were Food Network's first husband-and-wife hosts
The lives of Pat Neely and now former-wife Gina changed forever when James and Bobby Deen, sons of one-time Food Network star Paula Deen, paid a visit to their Memphis restaurant as part of their series "Road Tasted." As Gina told the Cleveland Plain Dealer, she and her husband hit it off with the brothers, resulting in a compelling episode of their food-travelogue series. "We were laughing and cutting up with Bobby and Jamie," she recalled. While the brothers were used to having the restaurants they profiled in their show "roll out the red carpet for 'em," per Pat, the Neelys took a different approach by putting the brothers to work in the kitchen.
The show's producer liked what he saw and flew the couple to Georgia so they could film segments with Paula Deen, which attracted the attention of Food Network's GM/senior VP Bob Tuschman. "When I saw the tape, I was instantly in love," said Tuschman. "With hosts, it starts with personality."
Before long, the Neelys were hosting their own Food Network show, "Down Home With the Neelys," becoming the network's first husband-and-wife on-air team and laying the foundation for the success that followed.