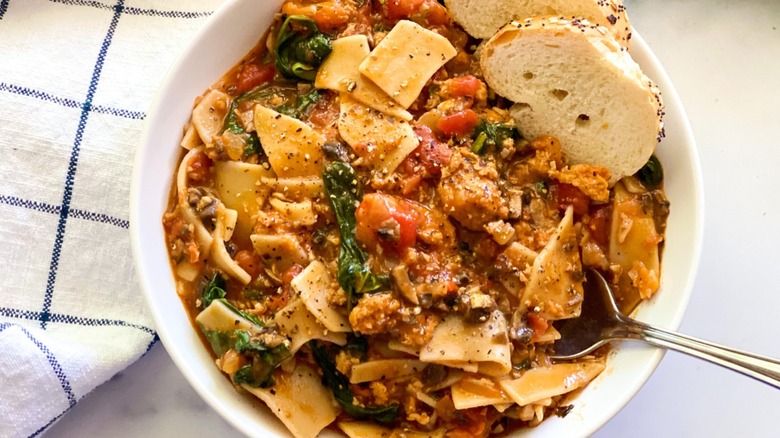 If the words "comforting, hearty, rustic, flavorful, and healthy" — which can easily describe recipe developer Miriam Hahn's vegan lasagna soup — have your taste buds all perked up, you're going to want to bookmark this tried-and-true recipe ASAP. Trust us when we say you'll want to have it on the ready whenever it's a cozy day at home, and you're craving a cozy kind of meal.
"This is one of my all-time favorite soups," says Hahn, a wellness coach and plant-based cooking class instructor. And it will soon be yours as well. Hahn estimates that she has whipped up her vegan lasagna soup 50 times and served it to at least 100 people, so you know it's delicious. "No matter who eats it, they absolutely love it and think it is real sausage," she notes.
As for how this unique recipe was inspired, Hahn says, "I wanted to make a hearty Italian soup that was completely plant-based that would help people trying to eat this way transition over." So, whether you are a longtime vegan or simply want to enjoy a meat-free meal that will still fill you up (and warm your heart and soul), you absolutely must cook up this lasagna soup. And the best part is, it doesn't have to be winter in order to fully enjoy this recipe. According to Hahn, "I like to make this mostly in the winter, however my family loves it so much we can't go all summer without it."
Gather your ingredients to prepare this delicious vegan lasagna soup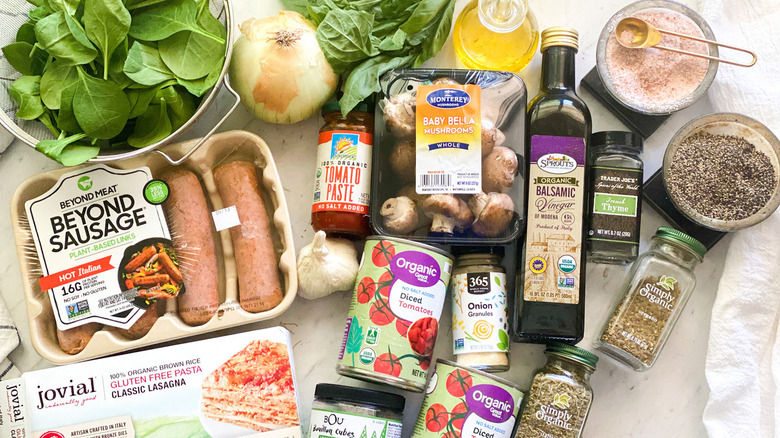 Vegan lasagna soup requires a decent amount of ingredients, but we are betting many of them are already hanging out in your pantry or fridge as we speak. So, here's what you need to round up in order to make this winning meal tonight: an onion, garlic, tomato paste, two vegetable bouillon cubes, Italian seasoning, oregano, onion powder, thyme, salt, and pepper.
Hahn also recommends using Beyond Meat Hot Italian Sausage specifically for her vegan lasagna soup, noting, "[It] can be found at most grocery stores." She adds, "The Hot Italian Sausage is the only variety offered. They don't make a mild." She also cautions home cooks, "They make a package of brats that looks very similar, but do not work well in this dish." If you cannot find Beyond Meat Hot Italian Sausage, Hahn recommends buying a Field Roast meatless sausage for a great substitute.
Finally, you'll want to be sure to have the following ingredients on hand to bring this soup from concept to kitchen: either bella or crimini mushrooms, two cans of diced tomatoes, balsamic, uncooked lasagna noodles, spinach, basil, and oil. Once all of your ingredients are gathered, it's time to get started preparing this hearty and scrumptious soup.
Make the soup base, and add in the plant-based sausage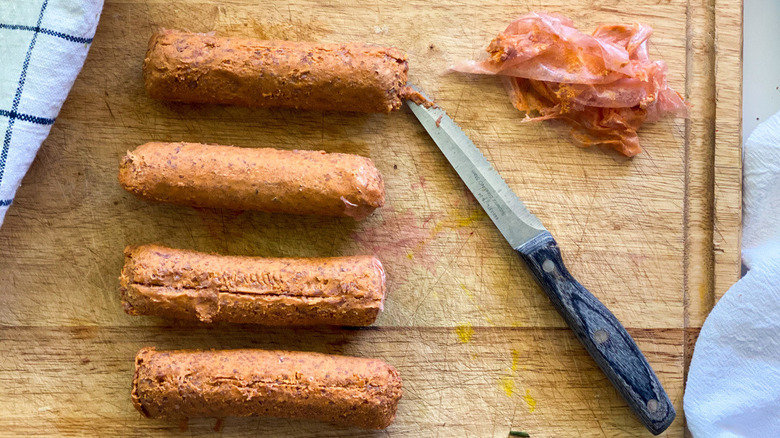 Step one to whipping up this brand new soup for dinner is to dice your onion, mince the garlic, and slice your mushrooms. You will then add the oil to a soup pot, turning the heat on the stove to medium-high. Next, add the onions to the pot, and cook them for about five minutes. "Add some water if the pan is getting dry," Hahn advises.
Now, add the garlic, tomato paste, bouillon cubes, and all the spices, with Hahn noting, "I use bouillon cubes [instead of] stock mainly because they are lower in sodium, but you can definitely use stock or water instead."
Once your additional ingredients are added, go ahead and cook everything for a few minutes more. At this stage, you will remove the casing from the sausage. "It is the easiest to do this if the sausage is still partly frozen," Hahn says. Now, add the sausage to the soup pot, breaking it apart with a wooden spoon until it is very crumbled. Finally, add your mushrooms to the pot, stirring and cooking them for five minutes. When the soup base is all set, you're ready to move on to the next step.
Add the broken-up lasagna noodles to the soup pot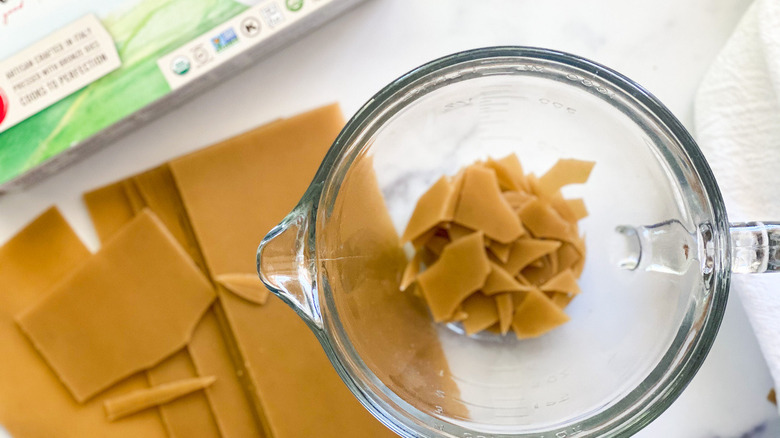 While your veggies and sausage are cooking away (and filling up your kitchen with the most amazing aroma, by the way) as well as looking bright, colorful, and oh-so inviting, you will turn your attention to prepping your lasagna noodles for this inventive and tasty soup.
The key to making this vegan lasagna soup work is to break up the noodles into small pieces. "They expand quite a bit once they are cooked, so you want these about an inch in size," Hahn notes. Once your noodles are ready to rock, add in the diced tomatoes. Then, fill up each can with water, adding that to the pot, along with the balsamic vinegar, which Hahn explains, "adds a little acidity, but at the same time, a little sweetness."
You will bring the liquid to a boil, and then add the dry lasagna noodles to the pot.
Add the finishing touches to this hearty soup, and enjoy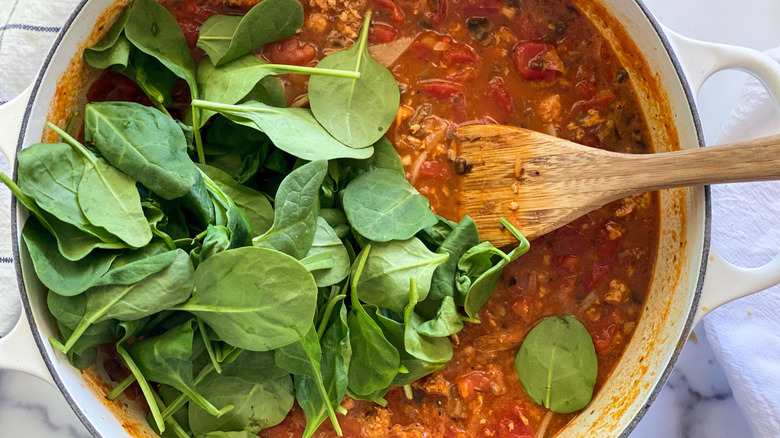 Once your broken-up noodles are added to your soup pot, Hahn instructs home cooks to allow the mixture to cook for eight to 10 more minutes, with your goal being for the noodles to be done. At that point, you will stir in your fresh spinach, and remove the pot from the heat. The final step is add fresh basil, if desired, and serve up bowls of steaming, savory deliciousness.
As far as what else you should fix to go along with this dish, Hahn says, "It is a meal in itself, but I often serve it with a green salad." Meanwhile, if you are pondering sprinkling a bit more heat on your serving, you can totally feel free to go for it. "It has a little kick to it, but for the most part, it is not too spicy," Hahn notes, adding that ultimately, this meal "tastes just like lasagna, but better!"