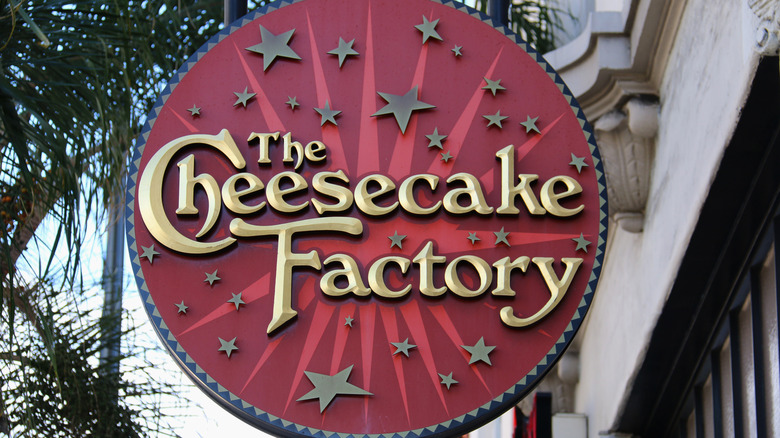 There are a lot of sit-down chain restaurants in the United States, but few are willing to go as all-in on so many aspects of the dining experience as The Cheesecake Factory. That's because everything about The Cheesecake Factory is big. The restaurants themselves, usually towering over a suburban shopping plaza or attached to a gigantic high-end shopping mall, are huge, for starters. The inside of each location is typically loaded with eye-popping, faux-classical decor, including some very impressive columns. And then there's the menu, which is as long as a novel and as disparate as a phone book, offering an example of nearly every popular cuisine, and all in portions big enough to comfortably feed a whole family. But this is to say nothing of the chain's namesake cheesecakes, which prove to be works of highly engineered sugar and dairy architecture.
The Cheesecake Factory's unbridled rejection of austerity and moderation has made it a very popular chain. Yet popularity can often complicate things, as more locations, increasingly complex moving parts, and growing attention can lead to problems. And sometimes those problems, like everything else associated with The Cheesecake Factory, can be way bigger than they ever really needed to be. Here are all the times that the restaurant chain has faced scandals and controversies that have been hard to shake, to the point that The Cheesecake Factory may never live them down.
The Cheesecake Factory tricked customers into leaving huge tips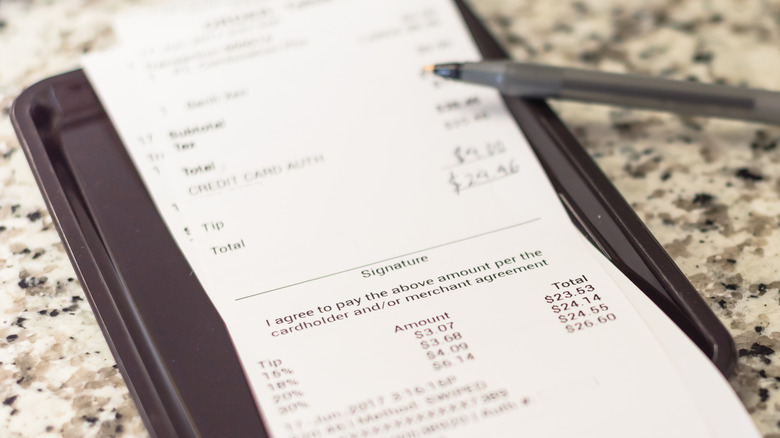 Up to 2017, according to Buzzfeed News, the Cheesecake Factory was accused of some seriously underhanded mathematical tactics that allegedly tricked customers into leaving much bigger tips than they would otherwise. When asked to split the total check between mutual parties — a common occurrence at the Cheesecake Factory, which often sees especially big groups dining out together for special occasions — the restaurant would do so readily. But then each bill had a "suggested gratuity" listed. The problem with that is that this suggestion was not a standard tip of 15 to 20 percent of the customer's individual share of the bill, but a tip calculated based on the entire check. The suggested tip sometimes ran as high as 30 to 44 percent.
Cheesecake Factory customer Marcel Goldman claims to have been suckered by the "suggested tip" practice, unwittingly leaving a 40 percent tip of $15.40 on one visit. He decided to sue after his letter to The Cheesecake Factory's corporate office seeking to correct this "billing error" was ignored. In a statement to Buzzfeed News in the wake of Goldman's suit, Cheesecake Factory spokesperson Althea Rowe put the blame squarely back on the shoulders of the customer. "All gratuity amounts listed on our guest checks are suggestions only. Guests are free to tip as they please." It's not clear how the case ended, but Goldman's attorneys did discover that Cheesecake Factory had practiced the "suggested tip" idea from 2013 to 2017.
A cheesecake giveaway was not a piece of cake for The Cheesecake Factory
Cheesecake Factory cheesecake is a premium product on the pricey side — a single slice costs about $8, according to Fast Food Menu Prices. So, when the restaurant offered this high-quality dessert for zero dollars, diners were moved to action, a rush that soon enough turned into a chaotic ordeal.
According to People, the Cheesecake Factory celebrated its 40th anniversary in December 2018. To mark the occasion, the chain partnered with delivery service DoorDash to give away a free slice of cheesecake to 40,000 people across its numerous U.S. locations. So many people jumped on their phones to get a free cheesecake that many outlets quickly ran out of the dessert, which was soon reflected on the restaurant's DoorDash order menu. "Now when I want to take advantage of your promotion for free cheesecake, it says currently unavailable on door dash!!" wrote one irate customer on Twitter. "your stores should be prepared for demand when you have a promotion like this."
Meanwhile, customers who tried to dine in at their local Cheesecake Factory found they couldn't get a table, or even gain entry into the restaurant in some cases. That's because the restaurants were packed with waiting DoorDash drivers, all while kitchen workers were stressed by the intense demand. A large crowd had gathered at a Cheesecake Factory location in Clarendon, Virginia, and police were called to the scene after a fight broke out inside, according to ARLNow.