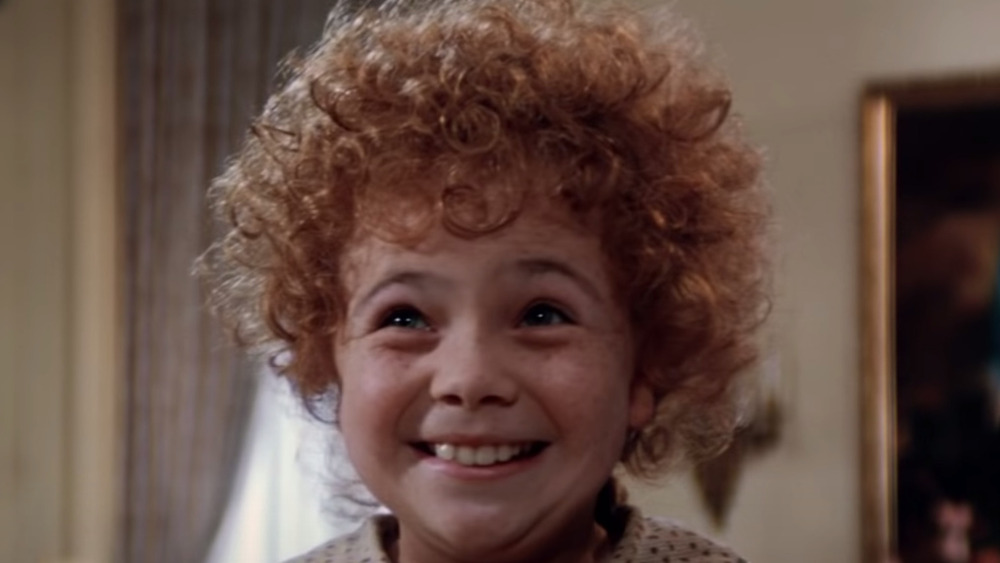 Between show tune classics like "It's the Hard Knock Life" and "Tomorrow," as well as its eponymous heroine's striking red hair and unyielding optimism, Annie has solidified a spot in hearts across the world. While the Broadway musical based on Harold Gray's Little Orphan Annie comics was the show that started it all, it was the 1982 film adaptation — and its adorable leading actor — that took the iconic story to new heights.
Aileen Quinn was only nine years old when she booked the role of Orphan Annie, beating out more than 20,000 other girls who auditioned, according to UPI. While her dazzling grin (cue "You're Never Fully Dressed Without a Smile") and trademark voice are permanently ingrained in the minds of families and theater geeks alike, the Pennsylvania native has enjoyed a quieter life despite her larger-than-life industry introduction.
While her journey has taken her everywhere from the stage to the classroom, Aileen Quinn remains just as full of light as she was when she was courting Daddy Warbucks — and the landmark role still remains close to her heart. Let's check in with what the little girl who played Annie is up to today.
To many people, Aileen Quinn is Annie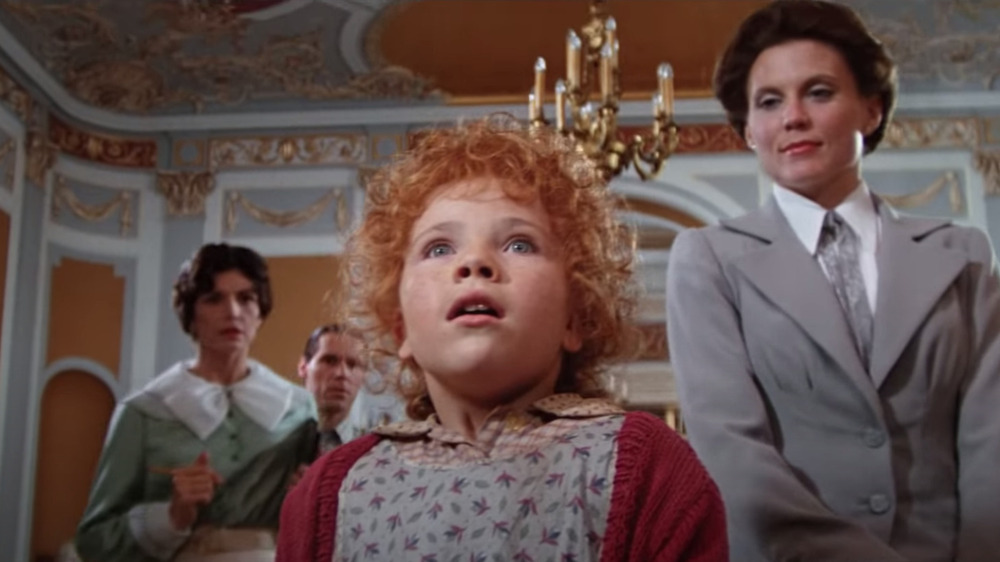 Although the film hit theaters nearly 40 years ago, Aileen Quinn is Orphan Annie to an entire generation. It doesn't matter that the musical has seen multiple Broadway revivals and remountings over the years, nor the fact that a glitzy and successful modern reimagining of the film starring Quvenzhané Wallis hit theaters in 2014. Quinn even still gets recognized for the role! "[It] kind of blows my mind that it's been 30 years, but I still get the whole, 'You seem familiar… Did you date my brother? Did we go to high school [together]? What do I know you from?'" she told Entertainment Weekly in 2012, adding, "If they're a little closer to guessing, I'll give them a hint. Sometimes I tell them, sometimes I don't."
Quinn's relationship with the character goes beyond her time on the big screen, too. When she was eight years old, she nabbed a gig working in the show on Broadway, per My Hollywood Adventure, which led to her audition for the film adaptation. After multiple rounds and a screen test, the part was hers. "I couldn't believe it," Quinn remembered. "… I felt a little overwhelmed, but also really excited."
Nowadays, Annie with her decadent red dress and golden retriever, Sandy, in tow is an iconic image, but the film was initially "a letdown at the box office" upon its release, according to Broadway.com — though it's certifiably reached "cult status" now.
She expanded her career with commercials
Aileen Quinn went from being a normal girl in Yardley, Pa., to a global superstar after the premiere of Annie. To say there was a day and night difference in her life would be an understatement. "Suddenly I was famous," Quinn recalled in an interview with My Hollywood Adventure. "My picture was in almost every newspaper in the country." Still, it was not necessarily a future her parents — including her mother, Helenann Quinn, who was an actor herself — could have anticipated. "She was the little girl in kindergarten and first grade who was afraid to raise her hand," Helenann told The New York Times back in 1982.
Aileen, on the other hand, knew she wanted to be in show business at age seven when she saw her "mom was auditioning for something." After scoring a role in Annie Get Your Gun, the younger Quinn went on to nab commercial gigs for '80s staples like Northern Bathroom Tissue, Planter's Cheese Balls, Shake and Bake, Crest, and even Chew Susie Chew. "That's a doll, you could make her eat," she eloquently explained to the Times at age ten.
Her commercial work came in handy for one of her first post-Annie gigs, where she'd don her memorable costume to hock orange juice. Sitting at a table with the other orphans, Quinn, as the character, describes being adopted as "the best of everything, lots of love, lots of kisses," and of course, lots of Minute Maid orange juice. An instant classic!
Despite Annie's success, she was largely a normal girl
Although she became a household name nearly overnight, Aileen Quinn certainly did not fall prey to the typical pitfalls that face some child actors. Ahead of her 11th birthday in 1982, The New York Times described her as "the epitome of kid: friendly, full of fidgets, with a patina of precocity over a personality that is pure child." It also helped that her mother, Helenann Quinn, was anything but the typical stage mom. She "never pushed her daughter," and kept Aileen in school even after the film's premiere. "My concern isn't so much for what she's doing now," Helenann explained. "My concern is with the end result as a human being."
According to the Times, Aileen continued to attend Catholic private school in Yardley, Pa., where she maintained "pretty close to an A average" even after filming on Annie commenced. Although the young starlet grew up receiving fan mail from admirers like Nancy Reagan, she maintained that her "life hasn't really changed that much" in an interview with Coming Attractions in 1982. Following Annie's release, she continued to audition and pursue theatre roles, but there was no big family move to Hollywood — and she liked it that way. "Once and a while when I do have breaks, I go back home and I do play with my friends and filming to me is like playing with my friends," she said. "Not in the same way, but it's something I enjoy."
There were more Annie movies planned
Part of the reason Aileen Quinn's acting career slowed down after the release of 1982's Annie was due to contractual obligations. According to IMDb, there were plans for both an Annie 2 and an Annie 3, but neither movie panned out. It's unclear whether or not it was due to the first film's lackluster box office performance or if it was an idea that kept getting pushed until tomorrow — pun intended — but it seems to Quinn that everything happened the way it was supposed to.
"I was under contract for seven years to make more Annie movies, but they never materialized," she explained to Broadway.com in 2012. "I got to have a normal high school and a normal life outside of Hollywood." Still, performing remained close to her heart even though she couldn't pursue big screen roles, and she dabbled in "regional theater gigs," where she "got to really grow up as an actress."
Not everyone loved Little Orphan Annie
Like many musical movies before and after it — sorry, Cats — the big screen adaptation of Annie faced its fair share of criticism. The film might be a cult favorite for families who grew up with Little Orphan Annie, but it only grossed $57 million on a $50 million budget, per Box Office Mojo. And while fans of the movie unanimously adore Aileen Quinn's infectious energy and radiating optimism, critics seemed to be a bit more divided.
Her performance of Little Orphan Annie scored Quinn two Golden Globes nominations for new star of the year – actress and best actress in a musical or comedy in 1983 — the same year that she was nominated for worst new star and worst supporting actress at the satirical Razzie Awards. Bit confusing. But it seems like the Razzies' nominating committee took the "Easy Street" in compiling their nominees, because most critics actually praised Quinn's performance, with The New York Times commenting on her "strutting, brassy self-assurance," adding that she was a "sweet, modest Duse" and "a mistress of understatement."
The little girl who played Annie tried her hand at acting in other films
After Aileen Quinn's contract for Annie lapsed, she starred in a musical adaptation of the Brothers Grimm's The Frog Prince, where she portrayed Princess Zora. The 1986 film may not have been a box office smash, but it largely served as a transition point in Quinn's career, showing audiences her capabilities as a teenaged actor, as well as showcasing her singing voice in a role that "[captured] the joys and pains of childhood reveries [with] the same timeless dynamic that made Annie a sensation," per Cult Film Freak. Most notably, she sported her natural hair color for the film.
Quinn also voiced Dorothy in an animated adaptation of Wizard of Oz. The film was produced by Japanese entertainment powerhouse Toho, famous for creating Godzilla, and also starred Lorne Greene. In addition to showing us there's no place like home, Quinn sang the film's main theme, "It's Strictly Up to You," as well as "I Dream of Home" and "A Wizard of a Day."
Aileen Quinn went off to college
With Annie behind her and an impressive stage resume, Aileen Quinn took a hiatus from acting to attend Drew University, where she majored in languages, according to Biography. Quinn studied political science and Spanish, even going on to study abroad in Chile for six months, per her IMDb biography.
Her love for academia led to a stint teaching theater at New Jersey's Monmouth University, where she taught drama for non-majors, as well as Acting for TV. Funnily enough, her role as a professor had a sneaky connection to her time as Annie, as she told Entertainment Weekly in 2012. The college's administration building was Oliver Warbucks' mansion in the 1982 film! "A couple years before I started teaching, I went there for a big fund-raiser to help them raise money for education," she said. "I went back for the first time and actually got very emotional."
As of this writing, it appears Quinn is no longer teaching as she's relocated to Calif. to focus on her acting career. However, she told Entertainment Weekly that her time working as a professor was "wonderful" and that she's worked with "some really good raw talent."
Theater always remained close to Aileen Quinn's heart
Considering Annie started off as a Broadway hit, it's only fitting that Aileen Quinn found a home on the stage. Not only was she working as a swing for the other orphans on the Broadway production when she nabbed the big screen role as a child, but her stellar performance demonstrated her abilities as a singer, actor, and dancer. Because of her contractual obligations to the character, her first big roles following the 1982 film were in regional theater. But even as an adult, she didn't slow down, going on to star in touring productions of Fiddler on the Roof and Peter Pan, as well as in Shakespearean performances at The London Academy of Music and Dramatic Art, per Biography.
Although she prefers "the intimacy of the screen," Quinn told Entertainment Weekly in 2012 that she quickly learned the ins and outs of live performance. "In theater, you have to be louder and bigger — that was harder for many years in my teens," she said. "But now I've conquered that. I eat up the stage. I love it." And while Little Orphan Annie might be a dream character for budding young actors, Quinn has her eyes elsewhere. "One of these days in the next 10 years, I will play Evita," she told Broadway.com in 2012, adding that "with all [her] Latin and Spanish studies," she'd especially love to take a shot at the "very demanding role."
Aileen Quinn gave some advice to other Annies
Aileen Quinn might be Little Orphan Annie to an entire generation, but she has nothing but love for the young performers taking on the happy-go-lucky mantle behind her. After the film adaptation of Annie celebrated its 30th anniversary, she had some wise words for young actor Lilla Crawford, who portrayed Annie in the show's 2012 Broadway revival. "She should just have fun and savor the moment," Quinn told Broadway.com. "Some of my fondest memories are being on Broadway at age eight [in Annie and Peter Pan]."
That same year, Quinn met Crawford and Andrea McArdle, who originated the role of Annie on Broadway, for a special three generations of Annie interview with Katie Couric. The trio even seemed to reach a consensus on their favorite musical number starring the adorable orphan: the anthemic "It's the Hard Knock Life." Quinn called it a great moment for "us tough Annie girls" to get out their aggression, adding that "even in the movie, we [got] to splash in all those buckets and the water comes out."
Quinn also experienced the musical from a different perspective when she took on the role of Lily St. Regis, who is portrayed by Bernadette Peters in the 1982 film, in a 2010 Colorado stage production. "It was so much fun, but it did feel strange because I had to be mean to Annie," Quinn told Entertainment Weekly in 2012. "And I had to be a little hoochie-mama."