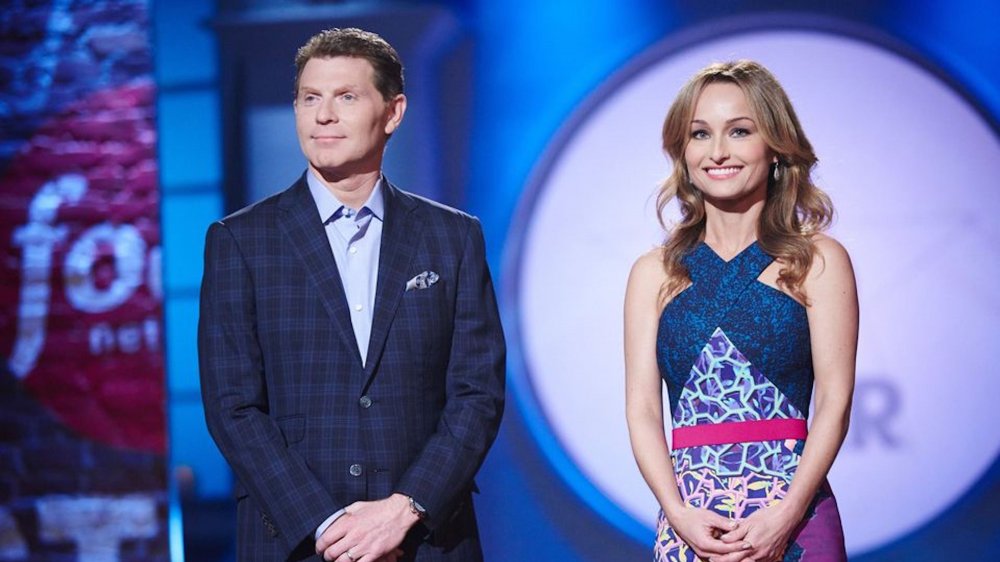 The Food Network was founded in 1993 in New York City as a cable network that put chefs front and center. In the ensuing decades, it led the charge in turning chefs into celebrities. Getting on the Food Network meant stardom for chefs who were used to being in the kitchen. Then, in 2005, the Food Network created a reality cooking show about its own star-making power: The Next Food Network Star.
The title really says it all, and in many cases, contestants on The Next Food Network Star really did become stars (a well-known guy named Guy Fieri among them). It's had its fair share of scandals over the last 14 seasons, including some made-up backstories and complaints that winners aren't getting their due when the show is over, but it's also had some incredible successes. While the future of the show is uncertain (more on that later), it's clear that it's well-loved to this day by the fans who continue to post about the show on Reddit and forums like Food Network Gossip.
Here's everything you need to know about The Next Food Network Star.
The Next Food Network Star sprang Guy Fieri into Food Network stardom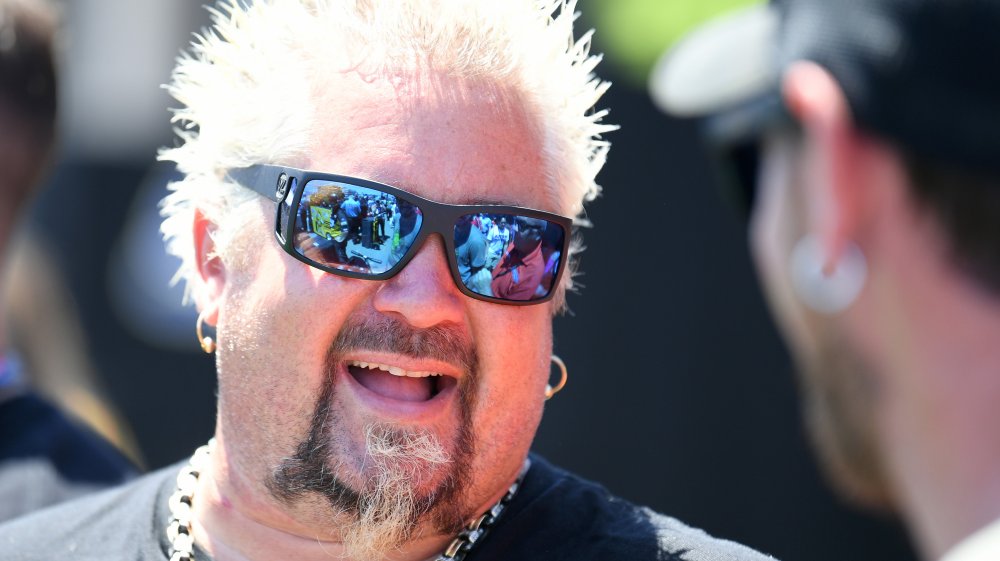 There's a good chance that whoever named The Next Food Network Star didn't guess just how big of a star they'd have by the second season in 2006. Guy Fieri didn't think his audition tape for the show would go anywhere, according to FoodBeast, because he'd previously sent in an ignored barbecue-focused audition tape for a different show. But it's a good thing he did send it in.
Known just as much for his spiked blonde hair as he is for his cooking, Fieri is what the Food Network calls a "culinary rock star." His first show, Guy's Big Bite, premiered shortly after his second season win. He followed that up with numerous guest judging appearances, Guy's Grocery Games, and, most famously, Diners, Drive-Ins and Dives. Not to mention all of his restaurants: six locations of Guy Fieri's Kitchen & Bar, Guy's Chophouse, two locations of El Burro Borracho, three locations of Guy's Bar-B-Que Joint, two locations of Guy Fieri's Smokehouse, a chain called Guy's Pic & Anchor Bar-B-Que on Carnival Cruise Lines, and a chain called Guy's Burger Joint that's in 15 Live Nation Amphitheaters and five Carnival Cruise Lines.
Guy gets a lot of flack for both his taste in food and for being over the top, but you have to give it to him: The guy really lived up to his role as the second winner of The Next Food Network Star.
Guy Fieri isn't the only one who found success after winning The Next Food Network Star
Though he's by far the most famous winner of The Next Food Network Star, Guy Fieri is far from the only one who has found success after winning on the show.
"Next Food Network Star took my career to the next level in so many ways," Jason Smith, the season 13 winner, told E! News. "One of the ways was I went from being a cafeteria manager in an elementary school and cater[er] to being on TV and getting to live my dream I had always wanted to do."
The winners of the first season, Dan Smith and Steve McDonagh, starred in the show The Hearty Boys and opened a few restaurants. Many winners went on to land book deals, like Amy Finley from season three (author of "How to Eat a Small Country"), Justin Warner from season eight ("The Laws of Cooking: And How to Break Them"), and Damaris Phillips from season nine ("Southern Girl Meets Vegetarian Boy"). That's not to mention the many guest-hosting gigs that the winners have done on the Food Network.
Admittedly, the name of the show didn't always pan out for winners of the later seasons. Season 11 winner Eddie Jackson got to host a couple of online shows in addition to one season of BBQ Blitz, while Smith, from season 13, only landed a place as a judge on Best Baker in America.
The application process for The Next Food Network Star focuses on each person's food background, among other things
To get on the network with the best in TV food media, The Next Food Network Star contestants first have to prove that they know a little something about cooking. The casting call requires applicants to submit their current occupation, what their food background is (culinary school, restaurant, or self-taught), and answer why they're a credible food source (accolades and awards in food in particular). Questions about on-camera experience are included as well.
If you dig deeper into the rules and eligibility for each contestant, you'll find a few things outside of cooking that Food Network wants to know — and more than a few rules people have to follow. For one, applicants can't be a candidate for political office and can't run for office until a year after the first broadcast of the last episode. They also can't be on any other nationally televised food shows.
Finally, there are the "subjective factors" that the Food Network takes into account. These, according to the rules and eligibility sheet, include "personality, style, presence, ability to talk about food, ability to cook, knowledge of food and cooking, experience," and more to determine "which applicants have what it takes to be a Food Network on-air personality."
Sometimes contestant vetting goes very, very wrong on The Next Food Network Star
Despite all of the questions and background checks involved in getting on the show, sometimes things can go wrong. In season three, Joshua Adam Garcia, who goes by JAG, made it to the final two contestants on that season of The Next Food Network Star. He had told producers that he had fought in Afghanistan and graduated from the New York Restaurant School — both of which later proved to be lies, according to E!. He also left the Marine Corps eight months early when he was brought down in rank from corporal to private.
The Food Network lies followed him after the show. In 2009, two years after he was on The Next Food Network Star, local newspaper reports from Ocala, Florida, mentioned his falsified military story when he was named the executive chef of an Asian fusion restaurant called Jade Dragon China Grill.
On his website, the Food Network logo looms large. It also mentions his time in the Marines and the New York Restaurant School but acknowledges that Garcia graduated in the culinary arts from the Quartermasters Academy in Fort Lee, Virginia. Regarding his Food Network appearance, Garcia keeps it short and sweet by describing that he "gained notoriety" on season three of The Next Food Network Star.
Another person who should have received more scrutiny beforehand was season ten winner Lenny McNab, who posted offensive comments on a public message board.
The Next Food Network Star hosts Giada De Laurentiis and Bobby Flay haven't always gotten along so well
A show is nothing without its hosts, and for The Next Food Network Star, Giada De Laurentiis and Bobby Flay have held it down. Flay joined starting on season four, while De Laurentiis came on as a mentor in season six and was a co-host from then on out. The two appeared to have natural chemistry, but just before The Next Food Network Star started, they had residual conflict from their time on another Food Network show.
On Iron Chef America in 2006, Flay and De Laurentiis went head to head against Rachael Ray and Mario Batali. They lost, and Flay didn't take it as hard as De Laurentiis hoped.
"We lost and he thought it was funny," De Laurentiis said about the experience, according to E! "He didn't think it was any big deal that we lost. I did not talk to him for eight months, eight months! I did not. Nothing. Silence."
Thankfully, the feud didn't last forever, and you'd never guess there was prior tension between the two judging from their work together on The Next Food Network Star.
Presentations matter to The Next Food Network Star judges almost as much as flavor
People eat with their eyes first, so the saying goes, and that's true just as much for the judges on The Next Food Network Star as it is for everyone else. One of the season 12 finalists, Monterey Salka, got the feeling for just how important presentation is when she was eliminated despite solid-tasting food because of what the Food Network described as "concerning" food presentation.
In her exit interview, Salka was clearly disappointed with how the judges weighed the taste of the food compared to the presentation of the dish.
"It wasn't the food that was the problem," Salka told the Food Network. "They actually really liked my food. … I was really happy with the dish that I put up. … What sent me home was my presentation because all of a sudden I look up and they're there, and I'm not ready. … All of my food was ready, but it was all — I didn't have my little setup to plate everything."
Her disappointment is understandable. It's no small task to prepare all of the food according to the rules of the challenge and then beautifully plate and present the food. Salka was far from alone, too. Contestants from season 11 mentioned difficulties with the presentations in their exit interviews as well.
The Next Food Network Star contestants have to create their own recipes beforehand
Jess Dang, the founder of the site Cook Smarts and the first person eliminated from season two of The Next Food Network Star, readily admits she didn't have much professional cooking experience when she joined the show. Being on TV wasn't the hardest part though — the recipes were.
On her podcast, Dang says the "scariest thing" was all of the recipes she had to create and submit. After she was accepted as a contestant (out of 8,000 applicants, she notes), the show runners asked her to send in a very specific set of appetizers, family recipes, and desserts as part of the onboarding process. She originally was hesitant, thinking that she was auditioning to be TV host, not a recipe creator. She quickly learned that "the two roles are inextricably linked," however, and that it's just as important to be able to speak with authority on her creations as it is to make them with a camera in her face.
The opportunities for The Next Food Network Star winners aren't as great as they once were
Despite the title explicitly stating that someone on the show will be, well, the next Food Network star, some fans think it's become meaningless. In a Reddit post in r/FoodNetwork, a fan described how the show lacks meaning because winners no longer go straight into their own production. "Now I don't even understand what they're competing for," the post reads. "An article in FN magazine? Really, that's it?"
In response, other fans noted that Food Network already has its fill of personalities. Also, the lack of subsequent success is no different than shows like American Idol. In another thread about an article titled "This Is How to Fix The Next Food Network Star," a poster sarcastically commented that all that's needed is a title change: "They should start by renaming the show to something more applicable: Next Guy's Grocery Games Guest Judge."
There are rumors The Next Food Network Star has finally been canceled
In the summer of 2018, the Food Network aired season 14 of The Next Food Network Star. It was the last new season to go live, and there's no word no when a next season might air. There is, however, plenty of speculation about whether or not the show has been canceled.
On Reddit, fans speculated that perhaps the network was just tired of it, the costs ran too high, or that "the whole aspect of being a 'next food network star' was getting kind of obviously false." Others joked that "there are no more tv shows to give to the winner." Another fan in the same thread anecdotally noted that their app to track new episodes of shows, called TV Time, lists Food Network Star in the "canceled shows" section rather than the "ongoing shows" section.
The blog Food Network Gossip appeared to agree with the "canceled" assessment in May of 2019. The blog noted that the casting agency the Food Network uses for the show, JS Casting, never put up a season 15 application. Additionally, De Laurentiis and Flay didn't post anything on social media about filming the show like they normally do.
Without a formal announcement, fans are left wondering.
Even people who don't win The Next Food Network Star benefit
Despite the criticisms about The Next Food Network Star winners not being given their own show, appearances often aren't a bad deal even for the people who don't win. After all, for some people, a book deal or two and the occasional guest appearance on the Food Network isn't a bad gig.
Nathan Lyon, for example, who made it to the final four in the second season, got a show in 2007 called A Lyon in the Kitchen on the Discovery Health Channel. He went on to become an Emmy-nominated chef with co-hosting and hosting gigs with PBS (Growing A Greener World) and the Veria show Good Food America with Nathan Lyon. Kelsey Nixon, the fourth-place winner in season four, landed a book deal and a string of shows on The Cooking Channel. Jay Ducote, the runner-up from season 11, went on to get a book deal, continue his writing and radio work, and start a line of spices.
That just goes to show that even those who lost still have ample opportunities to make their way into the world of food media.
The Next Food Network Star changed its name after six seasons
For six seasons, the Food Network ran with the title The Next Food Network Star. In season seven, which premiered in 2011, they went a different direction and dropped "next" to make it simply Food Network Star.
When "next" was the operative word in the title, it seemed to define the concept of the show. Winners would have a follow-up career on the Food Network, the name implied. Changing the title of the show to Food Network Star lightly insinuates that the people on the show are already becoming stars just by being on a show on the Food Network.
Still, the winner of season seven, Jeff Mauro, did indeed go on to become one of the next stars on the Food Network. He started a show called Sandwich King in 2011, which scored an Emmy nomination, and then hosted the budget food travel show $24 in 24 in 2013. He's still on the Food Network's roster and is a co-host on The Kitchen.
There's a conspiracy about how The Next Food Network Star is edited
While The Next Food Network Star is indeed a cooking show, it's also a reality TV show. And with that comes all of the editing that creates the feeling of suspense and drama even when there is none.
One theory about manufactured drama centers on season seven. A fan on Reddit's r/FoodNetwork started a thread with the statement "There is something really really shady about Food network star season 7." While the poster agreed that Mauro deserved to win on his own merits, they "couldn't help feeling that there was LOTS and LOTS of malicious editing, especially against Jyll and Penny." This conclusion allegedly stemmed from reading the eliminated contestants' exit interviews and the fact that Jyll wrote fondly of Penny on Facebook. It was enough for the person to "smell conspiracy" about the actual drama on the show.
One person who replied to the original post gave Mauro even more credit. They noted that "the editors have to work double-time to create drama when there is a clear winner, to not make it look like a runaway and to create some suspense."
Another conspiracy theory is that some of the contestants are actors cast to be the bad guy so that they can appear "in the hopper of rotating jerk characters" on other Food Network shows. As anyone who watches TV should know by now, reality TV is not 100 percent reality.