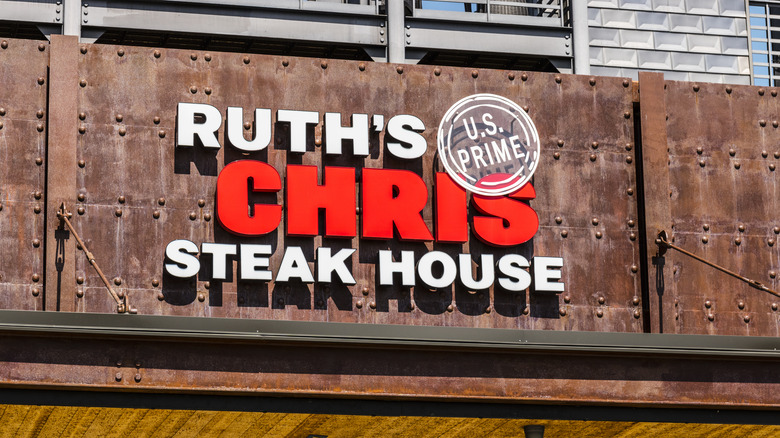 Ruth's Chris Steak House has been serving its signature sizzling steaks alongside its other popular menu items for over 50 years. When single mother and all-around inspiring human Ruth Fertel bought a restaurant called Chris Steak House in New Orleans, Louisiana in 1965, she aimed to deliver consistently good food, stellar service, and a comfortable atmosphere (via New York Times). Not long after opening at her first location, Fertel beat the odds when both a fire and hurricane threatened to upend the business. Afterward, she still continued to attract lofty clientele, gaining a new address, a name change, and some lucrative franchising (the first franchisee of Ruth's Chris Steak House opened in Baton Rouge, Louisiana in 1977). The extremely successful restaurant chain now operates locations in more than 20 different countries across the world.
All of this means that, to many diners, the meals at Ruth's Chris Steak House are top-notch. But why exactly are the steaks at Ruth's Chris so exceptionally delicious, and how have they maintained that consistency for so many years? Read on to learn the how and why behind the success of the simple but stunning meals this ubiquitous steakhouse is famous for across the globe.
Ruth's Chris Steak House has its own unique broiling process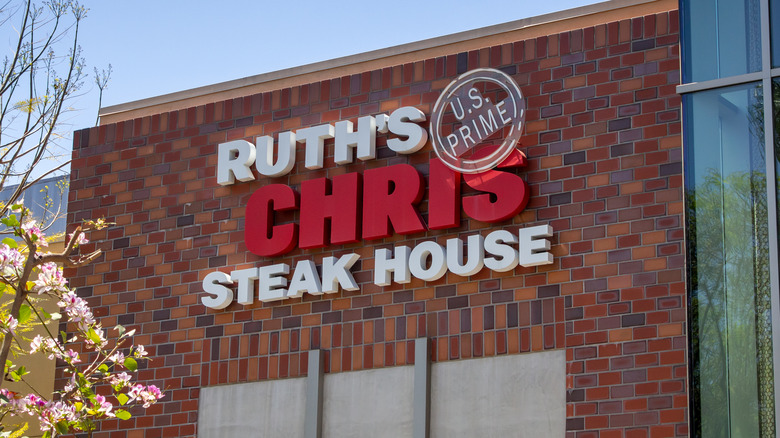 There are times when we can easily recreate the meals we enjoy at our favorite restaurants. But when it comes to Ruth's Chris steaks, it's hard to replicate the magic without a kitchen that can withstand a serious amount of heat, not to mention a kitchen gadget that successfully delivers said heat in the right manner. To that end, it's worth knowing that, as Dine magazine reports, Ruth's Chris founder Ruth Fertel happened to also be a physics and chemistry buff, having earned degrees in those subjects. She put this knowledge to good use in the steak business by designing a unique type of broiler to cook steaks at an ultra-high temperature of 1,800 degrees Fahrenheit.
Per Fox News, every steak that's now enjoyed at Ruth's Chris goes through a special infrared broiling process. The steak might also briefly hit the oven afterward if the customer requests one that's cooked beyond the "medium" range. A former chef for Ruth's Chris Steak House confirmed via Quora that "Each steak is broiled in special broilers made for Ruth's. This enriches those flavors by cooking at a very high temp."
This may sound very technical to those who are unfamiliar with advances in kitchenware, but it's kind of a big deal. According to Fine Cooking, infrared broilers are unique because they get very hot, very quickly, and tend to heat more evenly than traditional gas or electric grills and stoves.
The cooked steaks don't leave without a topping of butter
Is there anything butter doesn't improve? This dairy section all-star doesn't miss a beat when it's time to make a steak really sizzle and shine. Ruth's Chris Steak House does not shy away from the ol' butter tray either. Per the New York Times, Ruth Fertel sealed the deal with her steaks by insisting her kitchen staff top every single piece of steak with a generous portion of butter prior to serving it. Apparently, this always ensures the most flavor possible out of the experience (which, of course, it would, given that butter's involved).
This isn't just some unconfirmed bit of folklore about Ruth's famous matriarch either. As a Quora member who worked at Ruth's Chris explained in a thread, "Their little trick is they put clarified butter on the steak as it is leaving the kitchen." They go on to say that this tactic also adds to that sizzle factor the restaurant is known for. "The plate is scorching hot because they keep them in the oven and the room temperature butter hits the plate and sizzles for effect," they wrote. This means that the butter helps to really sell the steak with both taste and presentation.